Blog
chipple.net
July 19, 2014
Weekly revue: 2014 week #29 (July 12 to 18)
Food: - Lamb Rogan Josh and dam chicken biryani, at Indian-style bistro Momo no mi, Hongō
- Taco rice at Toquio coffee and desserts, Minami-Aoyama
- Nasi goreng at Malay Asian Cuisine, Aoyama
Music release news: lyrical school, Emerson Kitamura, Crazy Ken Band, COR!S, SMAP, Negicco
Playlist: Bakubaku Dokin, COR!S, Especia, Jintana & Emeralds, Dorian, Hoshino Michiru, P.O.P
This week's videos:
Emerson Kitamura "ochikochi ni" album trailer
Negicco "Festival de aimashō"
Posted on July 19, 2014 at 12:28 | Permalink | Trackback (0) | Comments (0) | Tweet |
---
July 12, 2014
Weekly revue: 2014 week #28 (July 5 to 11)
Food: - Bia Bia special ramen at Bia Bia, Koenji
- Black forest cake from Acacier, Saitama (via Isetan)
- Black forest cake from Les années folles, Ebisu (via Isetan)
- And a fun & delicious surprise birthday party (for a friend)!
New music: - P.O.P "tanoshii koto bakari arimasu yō ni" (roughly translates to "for there be only fun things"): Now that's a truly high quality first album from these twin rappers (as in identical twins) I've seen live many times. Actually including a full band with Shibuya-kei-sounding roots, P.O.P feels a mile apart from most of the hip-hop scene, in a wonderful way. A refreshing and fun album in time for summer!
- Kyary Pamyu Pamyu "Pika Pika Fantajin": Quite a fun album with a lot of variety. It's not as easy as the previous ones, which is not necessarily a bad thing though it will need some more listens to fully get into it. I got limited edition B which comes with a world tour documentary DVD with footage from Toronto (yay!), New York, Sydney (Australia) and Hong Kong.
Music release news: Kojima Mayumi, Charan-Po-Rantan, fox capture plan, hitomitoi, POiSON GiRL FRiEND, lyrical school
Playlist: Kyary Pamyu Pamyu, Kaji Hideki, hitomitoi, Scooters, Jintana & Emeralds, P.O.P
This week's video: Charan-Po-Rantan "su-dara bushi"
Posted on July 12, 2014 at 13:15 | Permalink | Trackback (0) | Comments (0) | Tweet |
---
July 5, 2014
Weekly revue: 2014 week #27 (June 28 to July 4)
Food: - Coconut chicken focaccia at Réfectoire, Harajuku
- Fish & chips, quiche, cherry pie, etc. at Bespoque, Higashi-Nakano
- Myanmar (Burma) dinner at Mingalaba, Takadanobaba, with P5ML friend Peter N.!
- Tomato chicken curry and Gobi 65 at Cochin Nivas, Shinjuku
- Cakes from Acacier, at Isetan (Shinjuku) until July 8
- Choco mint drink from FamiliMart. This year again!
Movie: Went to the Festival du film français au Japon 2014 to see "Un plan parfait" ("A Perfect Plan") starring Dany Boon. That was a really good film! And to our surprise it was followed by a talk show featuring Dany Boon himself! I loved the movie "Micmacs" in which he also played the main role.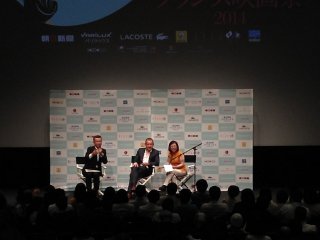 New music: A brand new song by Izumi Ookawara (Qypthone), her debut as a solo singer-songwriter. Wonderful back-band too, with regulars from Nakatsuka Takeshi's live band. Check it our in your country's iTunes store!
Music release news: KANADe, Kyary Pamyu Pamyu, Perfume, risa*risa, Yun*chi
Playlist: Shinohara Tomoe, Modern Choki Chokies, Jintana & Emeralds, Tomoki Kanda, Naka Shigeo, Bakubaku Dokin, Hanae
This week's videos: So many good new clips!
P.O.P "Watch me"
Kyary Pamyu Pamyu "Kira Kira Killer"
Hoshino Michiru "seikan renrakusen ~Night Voyage~"
suiyōbi no Campanella "Kung-fu Lady"
Posted on July 5, 2014 at 15:30 | Permalink | Trackback (0) | Comments (0) | Tweet |
---
June 28, 2014
Weekly revue: 2014 week #26 (June 21 to 27)
Food: - Fun coffee break time and pineapple & coconut cake at Sunday Bake Shop, Hatsudai
- New York style pizza slice at... Pizza Slice, Shibuya
Music event: - Went to Batica in Ebisu for "Delica LAB", an event organized by Nakatsuka Takeshi's Delicatessen Recordings. The event featured Izumi Ookawara (Qypthone), who is about to release new song "Polka dot on the paper" on iTunes (July 2), Somethiing new, an instrumental duo of ukulele/trumpet and piano, Shu Music Sax Quartet, saxophonist Shu Ishikawa-led funky quartet of just saxes, and Nakatsuka Takeshi who played a non-stop set backed by Suzuki Kaoru (RF)'s skillful drumming.
- When passing Tower Records in Shibuya last weekend, there was a promotion where I got a free copy of Funassyi's "air CD" (a CD package but with just a sticker inside, and a jacket that includes lyrics). The accompanying song produced by Konishi Yasuharu is only released on YouTube.
Music release news: Bakubaku Dokin, The Nanbatatin, Satoru Wono, Children Coup d'État
Playlist: Bakubaku Dokin, COR!S, Especia, Chromeo, Cibo Matto, Bakubaku Dokin, Nakatsuka Takeshi, Tarte Tatin
This week's videos:
Bakubaku Dokin "kaizō ningen"
Negicco "Sunshine Nihonkai" (written & produced by Tajima Takao (Original Love))
Posted on June 28, 2014 at 20:39 | Permalink | Trackback (0) | Comments (1) | Tweet |
---
June 21, 2014
Weekly revue: 2014 week #25 (June 14 to 20)
Music events: - On Tuesday was a free release event for Vanilla Beans' new single "kitto ii basho (fuchi)", a tie-up with toy Cup no Fuchico. The event was held on the roof of department store Marui Jam in Shibuya, a place usually not open to the public. There was a small stage where the girls performed 5 songs. And on the 1st floor of Marui Jam, there's a time-limited shop (until tomorrow, Sunday June 22) that has lots of Vanilla Beans goods usually sold at their concerts. I got a K*SS-inspired T-shirt from their "rock" series, which I had been wanting for a while.
Set list: (Intro: Vanilla Beans) / koi no Sniper 007 / Please Me Darling / kitto ii basho (fuchi) / watashi... fukō guse / Summer Vacation
- And on Friday evening was a DJ event with Elektel (polymoog & Ueken), held at Koenji Connection. There was some DJing but also a Ustream 30-minute live streaming, and a recording for radio.
Music release news: Scarlatti Goes Electro, Vanilla Beans, (M)otocompo, Hoshino Michiru, P.O.P, Urbangarde
Playlist: COR!S, Especia, hitomitoi, Jintana & Emeralds, Vanilla Beans
This week's video: Kyary Pamyu Pamyu movie trailer!? "Cinema JOHN" to start on July 12.
Posted on June 21, 2014 at 15:36 | Permalink | Trackback (0) | Comments (0) | Tweet |
---
June 14, 2014
Weekly revue: 2014 week #24 (June 7 to 13)
Cats: Went to cat café "Temari no ouchi" in Kichijoji! It was my first time at a cat café so I can't compare with other cat cafés, but the interior was rather large and had a kind of nature theme with much attention to detail, and there were about a dozen cats. Most cats were rather playful and friendly, each having their own attitude and traits. That was fun! I put up many more photos on Flickr.
Food: - Indian vegetarian restaurant Veg Kitchen, Okachimachi. I could even order Gobi 65 that wasn't on the menu. :)
- Mille-feuilles at A.K Labo, Kichijōji
- Wine bar Fujimaru in Asakusabashi
Exhibitions: - Went to see "Balthus: A Retrospective", a large exhibition held at the Tokyo Metropolitan Art Museum. It's the largest exhibition ever about French painter Balthus (1908-2001, Wikipedia), also featuring a reconstruction of his Rossinière atelier with many objects borrowed from it. It also teaches a lot about his ties with Japan, him having been married with a Japanese who cooperated for this exhibition. This ends on June 22.
- Dropped by friend painter Picaro Taro (aka Manabe Taro)'s exhibition at Bunkamura in Shibuya. While his recent exhibitions focused on dogs, this time it's all cats! Titled "Cats' Love", it's on until Sunday June 15.
Music events: - On June 8 was Dorian's release party for album "midori", actually released last November. Dorian had a big change of styles with this album, moving away from the 80's-inspired topical disco that had been his trademark, and instead going for sampling. His shows used to always feature a Roland MC-909, which he had been a real maestro at playing, and at this show I could verify that it's been replaced by an Ableton Push (which also seems to be a wonderful machine, so this isn't a bad thing). His show still had a lot of live keyboards which was great. Also he featured special guests Kashif (guitar), MC.sirafu (steel drum) and Videotapemusic (pianica & VJ). Dorian is one of my favorite electronic artists of the last few years and I highly recommend him!
DJ's at this event included Sunahara Yoshinori and Yakenohara, and the other bands were Pepe California and utsukusiki hikari (a project of MC.sirafu with a pianist).
- And on June 13 was a welcome party for Sylvain aka Gangpol (of French unit Gangpol & Mit), who was passing by Tokyo after a trip to Okinawa. Like last time in February last year, this was held at RRR in Ryōgoku. I could watch was some DJing by Sylvain and Kishino You-ichi. There was also a fun show of Nukeme Band, that involved a slime-controlled instrument, and Ningen Dog's light-activated dog toys. There were also "Taiwan game machines" built by Kishino-san and friends, recreating a game they played in Taiwan.
There I also bought Scarlatti Goes Electro's new album being released on Kishino-san's Out One Disc label. It includes remixes by Gangpol & Mit and Matsumae Kimitaka, and the whole was mixed by Yoshida Tetsuto.
Music release news: "World Standard.09 -A Tatsuo Sunaga Live Mix-", Sheena Ringo, Old Monk, xxx of Wonder, Le Grand Escroc, mishmash*Miki Orihara
Playlist: Especia, Jintana & Emeralds, Concert, Riow Arai, Denki Groove
This week's videos:
Funassyi "Funassyi no kaimono wasshoi!" (Produced by Konishi Yasuharu)
(M)otcompo "OK SKA"
Posted on June 14, 2014 at 19:55 | Permalink | Trackback (0) | Comments (0) | Tweet |
---
June 8, 2014
Weekly revue: 2014 week #23 (May 31 to June 6)
Food: - Ice cream cookie sandwich and mint cream chocolate cookie sandwich, at Hudson Market Bakers, Azabu-Juban.
- On May 31 we went to the last night of 246common, a time-limited outdoor market-like area where were many small shops and restaurants, including Shozo Coffee Store where our friend worked.
Art: We went to small apparel shop Blue Workerz in Shibuya to check out a wall painted by street artist ESSU. While resembling his various stickers, the whole was painted directly on the wall by the artist. This was displayed until Sunday June 1st, after which the work remains but the shop's shelves are placed back on it.
We also hit the streets to look for more traces left by Invader during his recent visit. Unfortunately many of the space invaders have already been taken down.
Music release news: Hoshino Michiru, Charisma.com, Budo Grape, T-Palette mix CD, Kyary Pamyu Pamyu
Playlist: Jintana & Emeralds, Justice, Vanilla Beans, (((sssurrounddd))), De De Mouse, Hasebe Novko, Isoda Osamu, Chromeo
Also I've had this song "Lelemon Theme" on repeat a lot! The music was written by Hasebe Novko, and arranged by her husband Isoda Osamu (both ex-Modern Choki Chokies). While a children-oriented song, it's a delightful over-5-minute synth piece with cute & heartwarming lyrics too. Love it! It can be downloaded with and without vocals at the bottom of this page.
This week's video:
xxx of WONDER "meisekimu Madonna"
(New project of Nanba Shiho, Dr.USUI, Frenesi, Julie Watai, and Kishida Mel. Video directed by Nakama Hirohisa (The Aprils), with choregraphy by Asahi Taichi (Genius).)
Posted on June 8, 2014 at 00:47 | Permalink | Trackback (0) | Comments (0) | Tweet |
---
May 31, 2014
Weekly revue: 2014 week #22 (May 24 to 30)
Food: - Afternoon tea at Mayanchi, Kamata
- Dinner at cheap izakaya Banpaiya, Ōimachi, and then menchi katsu and yakitori at nearby meat shop niku no Maekawa
- Pancakes at 364's one-day café, Nishi-Ogikubo
- Mac'n cheese at Good Meals Shop, Shibuya
Exhibition: Went to see an exhibition by street artist DENSE at Black Dallas in Kamata. Most works are on wood and use silkscreen printing, though some are hand-painted. Impressive stuff! There were rather large silkscreen pieces on wood for just ¥5000. Until tomorrow June 1st!
Music release news: "Techpri Tribute ~Techpri Happy Ever After~" (Aprils, YMCK, Sexy-Synthesizer, Prof. Sakamoto...), Shibata Satoko, Sheena Ringo, Especia, Taketatsu Ayana, Nona Reeves, "Women in Music selected by Cibo Matto", Hoshino Michiru
Playlist: Chromeo, Towa Tei, Negicco, Sunahara Yoshinori, Portable Rock, Chloe, Concert, jōdan hakushaku, Duck Sauce, Dorian
This week's videos:
Vanilla Beans "kitto ii basho"
Especia "kuru kana"
(Sunny Montreal @ 1:50!)
Especia "umibe no Satie" (Live version, VHS edit)
Posted on May 31, 2014 at 14:33 | Permalink | Trackback (0) | Comments (0) | Tweet |
---
May 23, 2014
Weekly revue: 2014 week #21 (May 17 to 23)
Food: - Pâté de campagne and Japanese beef steak "ichibo" at SAjiYA, Shibuya
- Choucroute at Kinasse, Hatagaya
- Japanese Black beef cheeseburger at Blacows, Ebisu
- Smoked duck and curries at Tapir, Shin-Ōkubo
Events: - We went to a free screening of "ART4SPACE", a short film by Invader (the French street artist behind the space invader ceramics that can be seen in many cities worldwide). He was in town putting up more of his latest pieces, and we even got to meet him for an autograph of his "L'invasion de Paris" book. :) Free screenings continue everyday at Uplink from 10:00 to 22:00 until June 2.
- The next day we went to Uplink once again, for an event held by music writer Salam Unagami. We had met him by coincidence at the Delhi airport in February, and he said he was on his way to a festival of Sufi music. In this event he and his fellow travelers talked about and presented videos of many artists they saw at the World Sufi Spirit Festival. The most surprising, and one of the best, was an artist from Nova-Scotia (Canada) named Tahir Hussain Faridi Qawwal. See a clip below.
Music event: - I went to see Cibo Matto live at Liquidroom! Their band featured Oyamada Keigo (Cornelius) on guitar, Araki Yuko (mi-gu, The Cornelius Group) on drums, and Ohno Yumiko (Buffalo Daughter) on chorus, and a great bassist they probably brought from the U.S. (whose name I can't recall). That was an awesome show, about half of it from "Hotel Valentine" with the rest from "Viva! La Woman" and "Stereotype A", and also the great "Aguas de março"!
Set list: Le pain perdu / Sugar Water / 10th Floor Ghost Girl / Emerald Tuesday / Sci-fi Wasabi / Déjà-vu / Housekeeping / Blue Train / Moonchild / Check-in / MFN
Encore: Aguas de março / Birthday Cake
Music release news: Dark Model, Hoshino Michiru
Playlist: Cibo Matto, Vanilla Beans, Jintana & Emeralds, Dorian, frenesi, hitomitoi
This week's videos:
Vanilla Beans "watashi... fukō guse"
Fanna-Fi-Allah Sufi Qawwali live in Egypt "Allah Hoo"
Posted on May 23, 2014 at 02:07 | Permalink | Trackback (0) | Comments (0) | Tweet |
---
May 17, 2014
Weekly revue: 2014 week #20 (May 10 to 16)
Food: - Gelato at Gelateria Théobroma, Kagurazaka
- A birthday party at Bespoque, Higashi-Nakano
Music event: On Friday May 9 (actually at the end of the previous week) was DJ event "Tokyo no koibito", organized by DJ 610, with regular DJs tnb, Ohtake Tetsuya and more. The special guest DJ was Yoshida Tetsuto (who produced Team Syachihoko's latest song "ii kurashi"). That was a fun event with lots of good music and friendly people. However it was the last edition because the venue (Smash'07 in Nakano) is closing at the end of the month.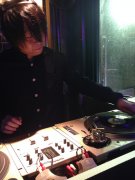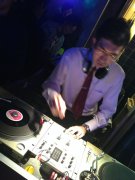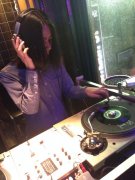 From left to right: YOSHIDA Tetsuto, tnb, Tetsuya OHTAKE
Exhibition: We happened to pass by Mizuma Art Gallery where was being held a solo exhibition by Tsutsui Shinsuke, of hundreds of small artworks he made to accompany his father's novel "seikon" (= "Stigmata") that was published as a series daily in Asahi Shimbun. Each artwork is done in a unique process that involves dead insects and wax, you can read more about it here. His father is Tsutsui Yasutaka, also author of "Paprika" and "The Girl Who Leapt Through Time". When we went up the stairs to the venue he was smoking outside and kindly opened the door for us! The exhibition goes on until May 31.
Movie: Had the opportunity to see Wes Anderson's new movie "The Grand Budapest Hotel" a bit before it opens in theaters. It's a beautiful and fantastic fast-paced movie, and was a lot of fun! It opens in theaters in Japan on June 6.
Music release news: Kyary Pamyu Pamyu, petit milady, Sunaga t Experience
Playlist: Duck Sauce, Mark Robinson, Chromeo, Cibo Matto, DJ Fukutake
This week's video:
Pharrell Williams "Happy"
(All-star Japan version directed by Nigo, feat. Funassyi, Scha Dara Parr, BiS and many more.)
"The Grand Budapest Hotel" trailer
Posted on May 17, 2014 at 10:36 | Permalink | Trackback (0) | Comments (0) | Tweet |
---
Continue reading in the May 2014 Archives.
Next entry: "Weekly revue: 2014 week #19 (May 3 to 9)" (May 10, 2014 at 22:32)
Archives
2014: July June May April March February January
2013: December November October September August July June May April March February January
2012: December November October September August July June May April March February
2011: November October May April March
2010: August May April March February January
2009: December November October September August July June May April March February January
2008: December November October September August July June May April March February January
2007: December November October September August July June May April March February January
2006: December November October September August July June May April March February January
2005: December November October September August July June May April March February January
2004: December November October September August July June May April March February January
2003: December November October September August July
Syndicate this site: RSS 1.0/RDF RSS 1.0/RDF Comments
Blog powered by Movable Type Open Source 4.1 (Movable Type 日本語版について), moblog powered by Flickr Contact et hop dans le pot de miel