Blog - November 2015 Archives
November 2015 Archives
Index
.14 (Bi-)weekly revue: 2015 weeks #45-46 (October 31 to November 13)

---
November 14, 2015
(Bi-)weekly revue: 2015 weeks #45-46 (October 31 to November 13)

Sorry, I got a bit late in updating my blog, so here's a quick summary of the last two weeks which were rather busy!

Small trip: We dropped by Mashiko for a pottery market, then by Utsunomiya to eat gyōza (the good stuff at Masashi).

I also checked out the Hitachi Seaside Park (Hitachi kaihin kōen) in Ibaraki where Kochia and Cosmos were almost in their best season.

Music events: - On November 2, I went to see Hoshino Michiru's one-man show at clubasia, a release party for album "You Love Me". That was a wonderful show, the second half of which was backed by a full band with several members from Wack Wack Rhythm Band! She had a big surprise at the end for the 10th anniversary since she debuted with AKB48.

Set list: i-ji-wa-ru Darling / Wonderland / hanashite... / kanata e / sakamichi no tochū / ame no naka no Dreamer / Interstellar / seikan renrakusen / chotto Something New / natsu nandashi / Secret Touch / gekka kōyakyoku / Misty Night, Misty Morning (w/ Yafune Tetsuro) / shippo no Blues (w/ Yafune Tetsuro) / My Tiny World (w/ Matsuo Kiyonori) / itoshi no Rosie (w/ Matsuo Kiyonori)
With band nagareboshi gakudan: sono michi / rakuen to kisetsufu / Peaberry o mitsuketara / You Love Me / mō ichido Déjà-vu / kare no Irish Setter / koshinuke danshi ni I Love You / Discotheque ni tsuretette / koi no Funfair
Encore: Wish on a Starry Night (solo on piano) / ikitai hō e (w/ nagareboshi gakudan) / Magic Hour (w/ nagareboshi gakudan)

- On November 6 was Elektel's Lounge at Koenji Connection. I got to see some fun DJing and also live performances by both of Elektel. I even got a Casio SK-200 keyboard from a friend and fan who liked my Glad en Mono show a little while ago. :) And thanks to another friend who gave me good cakes from La Marée de Chaya in Hayama! Yum!

- Then on Sunday November 8 I went to the last day of the Moshi Moshi Nippon Festival! The festival features a lot of the best and latest from Japan's pop culture, in music and more. It also has a strange system where foreigners can get free entrance. Of course I'm thankful for it! I got to see Charisma.com, suiyōbi no Campanella (who I had been curious about), CAPSULE, and Kyary Pamyu Pamyu! All of these were great! I was happy to see CAPSULE again, it had been a long time for me, and they played some songs old and new from most of their electro career, with "More! More! More", "Jumper", and much more. Kyary's set was the perfect finale!

Kyary Pamyu Pamyu set list: Fashion Monster / Candy Candy / Cherry Bonbon / Invader Invader / Ninjya-Re Bang Bang / tsukema tsukeru / Crazy Party Night

- The next day Tower Records' streaming show where regular MCs include Vanilla Beans' Lisa and DJ Fukutake. This time both of Vanilla Beans were also there to promote their upcoming single. I had to leave when things got interesting, but I at least got to see their new video in full! The end is totally crazy! It should be posted online when the single is released next week.

- November 11 saw the release of Nomiya Maki's new album, "What The World Needs Now Is Love"! I was very lucky to have the chance to get a rare promo 7" when I bought the album at Tower Records. And a few days later was an in-store performance at Tower Records Shibuya where she sang "Tokyo wa yoru no 7ji" and "sekai wa ai o motometeru" (Japanese version of the title song)! This was followed by a greeting session where I got to shake her hand and received an autographed card. :D

Exhibitions: - A quick visit at QP's new "3 TOKYO" shop in Nakano Broadway. Everything was sold out but he seems to re-stock with new works every once in a while. A nice panel is on always display though!

- We also visited Gallery TFTD on the last day of an exhibition by calligraphy artist Kakinuma Kizan, in collaboration with FESN's Kamikaze cruiser skateboards.

Food: - Sausage, salmon pie and trifle at Bespoque at Isetan, part of the British Week
- Oden at Tapir, Shin-Ōkubo
- Date & oat slice at Rose Bakery, Marunouchi
- Chocolate cake and coffee at Magali at monami, Nishi-Ogikubo

Tech: - I found an Android One phone at the Pakistanese restaurant, and bought it! Haha! Android One is an initiative by Google to make cheaper devices mainly aimed at countries where smartphones aren't all that common yet. The device I got is an Infinix Hot 2. It has a bit lower specs than regular Android phones on the market, and only supports 3G, but it seems to work very nicely. It will be perfect for traveling abroad.

- Also I got a brand new Chromecast (the new round type) sent to me from Canada! This isn't available in Japan yet, but it works perfectly nevertheless!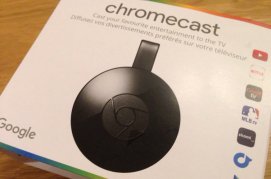 Music release news: Reina & The Blue Valentines, Ryoma Maeda & Romantic Suiciders, Nomiya Maki
Playlist: Nomiya Maki, Jintana & Emeralds, hitomitoi, CAPSULE, Sugar's Campaign, Fantastic Explosion, and much more...
This week's video: Chiroline ver.3 "Napolitan no uta"
Posted on November 14, 2015 at 21:44 | Permalink | Trackback (0) | Comments (0) | Tweet |
---