Blog - January 2008 Archives
January 2008 Archives
Index

.30 Hosaka Akane meets Recohan


.29 arcorhyme has arrived!


.23 Snow in Tokyo


.23 New style QP?



.12 Yuka Yamaguchi exhibition


.08 Windows batch files for server-side scripts?



.06 Dali record


.01 2K8

---
January 30, 2008

Hosaka

Akane meets Recohan

You might remember my reports of indies electronic musician Hosaka Akane's live shows (last year in June, August and September). She makes lovely music using her Moog, Stylophone and samples of toys, happy melodies over upbeat rhythms. Those who like Minekawa Takako, Perrey & Kingsley (think Disneyland's Electrical Parade and "Popcorn") will definitely want to check her out.

Until now her three first CD-R albums (released in 2004, 2005 and 2007) were only sold at a few select shops in Japan, such as Enban in Koenji (Tokyo) and Village Vanguard.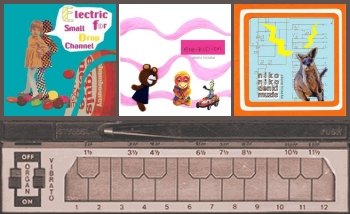 I'm happy to announce that they're now available to the world at Tokyo Recohan as a set of 3 for the low price of ¥1500 (that's ¥500 per CD)! This sums up to 30 songs, or about 120 minutes of Akane's delightful music. Each CD-R comes with cute collage artwork.
Songs can be sampled at her MySpace, and there's also a 4-minute sampler mix over at Recohan.
This is for a limited time, so catch them while you can!
Posted on January 30, 2008 at 21:56 | Permalink | Trackback (0) | Comments (2) | Tweet |
---
January 29, 2008
arcorhyme has arrived!
These days I'm one happy fan! I finally received the present offered to those who had reserved arcorhyme's two albums directly from their web site! I had placed my reservation back in November actually, just after seeing them perform 2 songs at Future vol.2, and had since been waiting impatiently for the release last week.
Actually 2 days before the release I had the pleasure to find both albums in my mailbox, along with the label's limited edition black & white slipcase that fits the 2 albums. Eagerly opening each CD, I was very pleased with what I saw, each contains a lyric sheet that unfolds into a mini-poster. Designer Sally Kubota (Sally Soul Stew, ex-Les 5-4-3-2-1) obviously put a lot of attention to detail.
As you already know if you've been attentive, arcorhyme is the new unit of Takanami K-tarō (early Pizzicato Five) with singer Nishimura Ikuyo. Music is written by K-taro and lyrics by Iku who also sings most of the songs with a soft but pitch-perfect voice (she also wrote music for one song, Koiny Baby). K-taro also sings chorus, and on a few songs lead vocals.
The concept of debuting this new band with 2 albums released at the same time is that each of the albums has a different sound. The first, "la douce vie" was recorded with a live band in studio, and the other, "Soundmatic Brain" features songs of which the base was programmed on a computer with some instruments added afterwards. In consequence, the 1st is a bit more laid back and the 2nd more upbeat with even a bunch of club-ready danceable tracks. Out of the total 16 songs are included 4 covers, of songs by Lovin' Spoonful, Carol King, Southern All Stars and the Kinks.
While each song is a catchy pop gem that I can't see myself growing tired of, here are some of my current favorites.
---
Starting with album "la douce vie", Rough Sketch is so far my favorite. It's an upbeat pop song with a catchy rhythmic chorus with hints of trumpet and xylophone. It gets stuck in my head all day.
スケッチブックに未来予報を (スケッチ) / In my sketch book
夢見るように / like future predictions seen in a dream
スケッチブックに指で描いた (スケッチ) / In my sketch book I finger-painted
消えないように / so that they don't disappear
sketch in my heart 眩しい季節を / Sketch in my heart, a dazzling season
スケッチブックにしまった / I put it in my sketch book
(Lyrics:

Nishimura

Ikuyo, rough unofficial translation by me)
Snow Queen, a cover of Carol King, features prominently the vibes of The Fascinations' Watanabe Masami. This one is completely sung in its original English lyrics, while the other foreign covers (Lovin' Spoonful's Do you believe in Magic? and The Kinks' You Really Got Me) have been partially translated to Japanese.
Koiny Baby and amai hibi ~la douce vie~ are in the same versions (as far as I can tell) as had been available on iTunes since the end of May last year, and they remain favorites.
---
"Soundmatic Brain" feels more like a concept album, with a radio-like "beep" before each song as if to get you back to reality... As reality is one thing you might forget about after listening to tracks like Don't you believe in Magic?!, the lead track for this album.
tsukiyo no hōseki ~Les bijoutiers du clair de lune~ is perhaps my favorite from the early "Secret arcoroom" CD-R, here completely redone. The song's short syncopated intro may make it sound difficult, but once you get to the main melodies everything is clear.
Sung by K-taro, the upbeat fukigen na shinjitsu has somewhat of an 80's pop taste and a chorus with a catchy bass line. One of my favorites is the closing koi no jigoku, featuring Sally Kubota on bass, and it might be a coincidence but it sounds to me like if it could be a Les 5-4-3-2-1 song! Samples of this one and several others can be heard at MySpace.
---
On each CD is also found one music video as CD-Extra content, for the songs amai hibi ~la douce vie~ and Don't you believe in Magic?. Here's the first one from YouTube:
And, the arcorhyme.com reservation present that just arrived is an autographed copy of the music score for the song "amai hibi" handwritten by K-taro for the albums' recording sessions!
arcorhyme will play an in-store live at HMV Shibuya on February 10, and hold a special workshop at a café on March 1st. The two albums "la douce vie" and "Soundmatic Brain" are on sale now. It's probably not too late to buy them at Tower Records and get the limited edition slipcase.
Now I'm already excited about the next release, which is supposed to be a remix vinyl. No word on who the remixers are, but the albums' special thanks include Halfby and Groove Unchant... Here's hoping!
Posted on January 29, 2008 at 23:59 | Permalink | Trackback (0) | Comments (2) | Tweet |
---
January 23, 2008
Snow in Tokyo
Today was a rare snowy day in Tokyo, the first time I saw snow this winter, and that some stuck to the ground. Here are some photos I took at Jōhoku-kōen in Itabashi-ku. For some reason, the baseball field's lights were on, perhaps because it was a bit dark?
By the time I got out of work, there was no more snow to be found.
Posted on January 23, 2008 at 23:58 | Permalink | Comments (0) | Tweet |
---
New style QP?
Could this be street artist QP's latest style? Note his trademark ∴ (3 dots) on the sticker in the top photo.
1. JR underpass in Yūrakuchō
2, 3. From Azabu backstreets
I'm looking forward to find more of these around town! Keep your eyes open too.
Larger sizes (of first photo) at Flickr
Posted on January 23, 2008 at 23:50 | Permalink | Trackback (0) | Comments (0) | Tweet |
---
January 12, 2008
Yuka
Yamaguchi

exhibition

Yesterday after work I dropped by Café Pause in Ikebukuro to check out artist Yuka Yamaguchi's exhibition of her drawing works. Yuka is a Japanese living in Canada, and this is actually her first show in Japan.

I have been watching her blog and Flickr since a few years, and have drawn attracted to her beautiful drawings. Most play with the human anatomy, often in a bit gory ways with missing body parts, but there's always a humorous touch that makes them feel light-hearted.

Here are a few tame ones that I like as an introduction. Click them to go to Flickr where there's more.

The exhibition is going on until Sunday January 13 at Café Pause in Ikebukuro.
Address: 2-14-12-1F Minami-Ikebukuro, Toshima-ku, Tokyo
Phone: 03-5950-6117

Posted on January 12, 2008 at 10:25 | Permalink | Trackback (0) | Comments (0) | Tweet |
---
January 8, 2008
Windows batch files for server-side scripts?
A few days ago I woke up in the middle of the night with some random thoughts that chained into remembering reading somewhere that Perl isn't a language that was meant for the web (originally anyway). Then I thought that if Perl can be used for web server-side scripting, why couldn't DOS batch files? Well, I gave it a try!
Before continuing, let me first say that I know doing this is total non-sense, and no one ever should run Windows/DOS batch file scripts on a public web server. That's in the case that someone would think doing so despite the lack of power of batch file scripts.
Nevertheless, here's my proof of concept that you can!
Posted on January 8, 2008 at 20:07 | Permalink | Trackback (0) | Comments (1) | Tweet |
---
January 6, 2008
Dali record
Today when doing some sale shopping at Kichijoji Parco, I passed a glasses shop and happened to notice this record-shaped lens cleaner! Of course I couldn't resist buying it!
It's a bit pricey at ¥2800, but you have to consider its size (12"). Then again the size is a bit big and won't fit in the average glasses case, but isn't it a must item for any record lover (especially one who wears glasses)? I think I will be using mine mostly with my iPod Touch.
The design is a bit funny, it looks like they have copied an old CBS record but changed the logo to read "GBS". It seems to be an original product of Hakusan Megane, where I bought it, as the record is titled "Have Some Fun Tonight (Hakusan Fan Tonight)".
Looking for similar on the web, I didn't find anything except that competitor Zoff gave away this original 7" record-shaped cleaner for a campaign last November.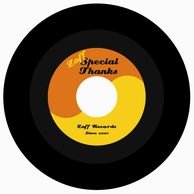 Posted on January 6, 2008 at 20:13 | Permalink | Trackback (0) | Comments (1) | Tweet |
---
January 1, 2008
2K8
Happy New Year 2008!!!
Bonne année 2008!!!
あけましておめでとう!!
Posted on January 1, 2008 at 01:03 | Permalink | Comments (7) | Tweet |
---