Blog - February 2006 Archives
February 2006 Archives
Index

.25 Peking duck




.22 New camera!



.17 SharpMusique



.12 Bar Eden


.11 E-Pak-Sa's Around the World in 80 Days with Pon-chak




.09 I lost a mitten!

---
February 25, 2006
Peking duck
Tonight I went to eat at Zenshūtoku in Shinjuku, a restaurant famous for Peking duck (aka Beijing dock), a meal in which the duck's skin is the main element.
The duck is roasted and then brought to the table, where a cook removes the best parts and serves them on a plate. The meat is dipped in sauce and placed on rice paper with onion or other vegetables and wrapped. Delicious!
One full duck is no less than ¥6800, and is eaten up quickly, so it's a bit of a pricey meal better eaten within a group of 4+ people, though they also serve halves for ¥3800.
I got to try out my camera's "food" mode which gave a nice result!
Posted on February 25, 2006 at 00:58 | Permalink | Trackback (0) | Comments (6) | Tweet |
---
February 22, 2006
New camera!

1024x576 - 1920x1080 (original)
This is my first shot with my new digital camera, Panasonic's DMC-LX1 which does native 16:9 pictures. The CCD being of a true 16:9 ratio means that it takes 33% wider than a standard 4:3 camera. Of course it can also take pictures at 4:3, which means that the sides are cut, and also 3:2 which is the standard ratio of analog cameras. Other features include fully manual controls (I'll need a bit of practice to make good use of these) and also a bunch of useful presets for all kinds of situations. Oh, and it also does video in 16:9!
I'm looking forward to take advantage of that extra 33% width for this year's sakura pictures, and also an upcoming Taiwan trip under planning!
Posted on February 22, 2006 at 21:41 | Permalink | Trackback (0) | Comments (8) | Tweet |
---
February 17, 2006
SharpMusique
I finally got set-up with SharpMusique, the free iTunes Music Store interface, without the DRM! Being quite a bit against DRM, I hadn't yet used the iTunes Music Store, but now that I've went around the DRM problem I'm more than ready to buy download-only releases, such as Konishi Yasuharu's recently started label columbia*readymade is promising.
Since I'm using Windows, I'm running SharpMusique 0.4, while version 1.0 is already available for Linux. I had some trouble getting started as an unrelated DLL in my system32 folder was in the way. Renaming iconv.dll to something else made it work!
Posted on February 17, 2006 at 22:15 | Permalink | Trackback (0) | Comments (2) | Tweet |
---
February 12, 2006
Bar Eden
Tonight we dropped by Bar Eden, a "maid bar" that opened last year in Nakano. Yes, after maid kissa and maid ge-sen, it's the turn of maid bars to turn up in Tokyo, and of course we get one early in our well-reputed otaku town.
Aside from the boss at the entrance, the small bar is entirely operated by cute-ish girls in black and white maid outfits. From anywhere in the bar they can easily be spotted by their typical maid hat. We were served by about 3 different girls, of which all but one were almost too quiet and "normal". The other one definitely stood out, running and dancing around and jumping into everyone's conversations, she seemed to be having fun and succeeded putting smiles on everyone's face. Once she seemed to have left for a break, the place seemed to lack some action, and the other maids quietly asking customers "do you need anything else?" were a bit boring.
Almost all seats were occupied during the short time we were there, mostly by 20-30 year old men though I noticed a table occupied by two girls. Probably at least a few customers were carrying like us the current local issue of Hot Pepper in which can be found a coupon for a free drink, so that all you have to pay is the seat charge (¥500 at a table or ¥700 at the counter). Good deal!
Otherwise, they have "all you can drink" 2-hour courses at ¥2800 to ¥3800 (and a non-alcohol one at ¥1800) plus seat charge.
Posted on February 12, 2006 at 23:52 | Permalink | Trackback (0) | Comments (5) | Tweet |
---
February 11, 2006
E-Pak-Sa's Around the World in 80 Days with Pon-chak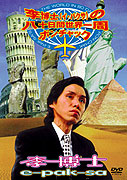 Despite its title, "E-Pak-Sa's Around the World in 80 Days with Pon-chak" (Japanese title 「李博士の八十日間世界一周ポンチャック」), this DVD re-release of the 1996 video shows Korean pon-chak singer E-Pak-Sa performing in 9 cities around the world in only two weeks. He travels to a new city almost every day, from Tokyo to Hong Kong, Bangkok, Singapore, Cairo, Rome, London, New York, Hawaii, and back to Tokyo. During the whole trip, Pak Sa eats at Korean restaurants everyday, most of the time his favorite dish, doenjang-jjigae.
The strict schedule trip doesn't go without some trouble, and contains a bunch of misadventures. First, his keyboardist Kim Su Il suddenly drops out half-way when he gets a call from Korea asking him to come back home, leaving Pak-Sa to perform alone with his boombox. Also, staff manages to forget in the Bangkok hotel's fridge the dozen of kimchee sets his wife had tenderly prepared. As days pass he misses his wife more and more, and when he can't bear it anymore and decides to call home, he is hung up to because it's in the middle of the night there. In New York he will find a new support keyboardist for his gig, but then realize that his long time friend Su Il is unreplaceable.
You couldn't expect his performances to have large audiences, and indeed he mostly performs on the street in typical sightseeing spots. While some people do stop to watch, the most he gets from passer-bys is often some laughs or "who the hell is that guy?" type of looks. He'll only find an enthusiastic audience in a Korean-Japanese restaurant in New York, and later at a final party on a yakatabune in Tokyo.
The tour's climax is probably his show in front of the three pyramids in Egypt, according to the box it was the first "concert" ever held there. While the Cairo sequence passes quickly with no live part, that show comes up at the very end of the film, closing it perfectly.
The DVD contains a cool extra in addition to the film, a Japanese TV commercial for an anti-cockroach product, featuring Pak Sa! Truly hilarious stuff!
Anyway, I of course recommend this great video to all E-Pak-Sa fans! According to Amazon Japan, they have one copy left in stock at this time. (The DVD has Korean and Japanese dialogue with Japanese subtitles.)
Posted on February 11, 2006 at 19:22 | Permalink | Trackback (1) | Comments (0) | Tweet |
---
February 9, 2006
I lost a mitten!
This is a serious call to all Tokyoites. I lost a matching blue mitten during my Wednesday (February 8, 2006) morning commute. If you see it anywhere, please pick it up for me and let me know! Thanks!! :)
Being that I commute on three lines, Marunouchi, Saikyō and Mita, each of these on a different public transport company, I got to try each of their "lost and found" system.
Mita line (Toei)
I went to the stationmaster's office of my arrival station, closest to my destination where I noticed that I had lost a mitten. The office was located inside the station's gates. I gave a description of the lost item and I was asked what train I rode, and then the man in charge called by phone the line's terminus station, and also all stations from where I got on, one by one. He also made sure that the train I rode was searched carefully, but that also came back with a negative answer. The process took 5-10 minutes, but no luck.
I was told to call back to this very station in a day or two in case it would have turned up, and gave me a paper with information about lost and found procedures and phone numbers.
Saikyō line (JR)
On my way back at night, I stopped at Itabashi station to ask. There was no sign indicating a lost and found or stationmaster office, so I asked the guy at the gates. All the information I gave was that it was lost in the morning, and I showed the remaining matching mitten. While he was also taking care of people entering or leaving the station, he searched on a computer nearby for a few minutes and came back with a negative answer. I asked if there'd be any difference asking at Shinjuku, and he said "no".
He told me that I should call JR's telephone center in a few days, and gave me a bilingual sticker with phone numbers.
Marunouchi line (Tokyo Metro)
I went to the stationmaster's office, located near west exit of Shinjuku station where there was only one man. I showed him the mitten, he looked in a cabinet and told me there was nothing like it. Then I asked "how about if it was lost on the train and went to the end of the line?", and he told me to sit down and wait a few minutes. He went to a computer and came back with a sheet holding a list of stuff that had been found on that day, unfortunately no blue mitten.
He told me to call the lost and found center on the next day, giving me a sheet with the phone number and times.
Today I called up the Tokyo Metro and JR call centers, with still no luck. I'll check with Toei tomorrow just in case, but it may well have been lost in the streets between stations, or in Shinjuku station.
Posted on February 9, 2006 at 21:51 | Permalink | Trackback (0) | Comments (4) | Tweet |
---