Blog - May 2014 Archives
May 2014 Archives
Index
.31 Weekly revue: 2014 week #22 (May 24 to 30)
.23 Weekly revue: 2014 week #21 (May 17 to 23)
.17 Weekly revue: 2014 week #20 (May 10 to 16)
.10 Weekly revue: 2014 week #19 (May 3 to 9)
.06 India 2014 #2: Jaipur
.03 Weekly revue: 2014 week #18 (April 26 to May 2)

---
May 31, 2014
Weekly revue: 2014 week #22 (May 24 to 30)

Food: - Afternoon tea at Mayanchi, Kamata
- Dinner at cheap izakaya Banpaiya, Ōimachi, and then menchi katsu and yakitori at nearby meat shop niku no Maekawa
- Pancakes at 364's one-day café, Nishi-Ogikubo
- Mac'n cheese at Good Meals Shop, Shibuya

Exhibition: Went to see an exhibition by street artist DENSE at Black Dallas in Kamata. Most works are on wood and use silkscreen printing, though some are hand-painted. Impressive stuff! There were rather large silkscreen pieces on wood for just ¥5000. Until tomorrow June 1st!

Music release news: "Techpri Tribute ~Techpri Happy Ever After~" (Aprils, YMCK, Sexy-Synthesizer, Prof. Sakamoto...), Shibata Satoko, Sheena Ringo, Especia, Taketatsu Ayana, Nona Reeves, "Women in Music selected by Cibo Matto", Hoshino Michiru

Playlist: Chromeo, Towa Tei, Negicco, Sunahara Yoshinori, Portable Rock, Chloe, Concert, jōdan hakushaku, Duck Sauce, Dorian

This week's videos:

Vanilla Beans "kitto ii basho"

Especia "kuru kana"
(Sunny Montreal @ 1:50!)

Especia "umibe no Satie" (Live version, VHS edit)

Posted on May 31, 2014 at 14:33 | Permalink | Trackback (0) | Comments (0) | Tweet |
---
May 23, 2014
Weekly revue: 2014 week #21 (May 17 to 23)

Food: - Pâté de campagne and Japanese beef steak "ichibo" at SAjiYA, Shibuya
- Choucroute at Kinasse, Hatagaya
- Japanese Black beef cheeseburger at Blacows, Ebisu
- Smoked duck and curries at Tapir, Shin-Ōkubo

Events: - We went to a free screening of "ART4SPACE", a short film by Invader (the French street artist behind the space invader ceramics that can be seen in many cities worldwide). He was in town putting up more of his latest pieces, and we even got to meet him for an autograph of his "L'invasion de Paris" book. :) Free screenings continue everyday at Uplink from 10:00 to 22:00 until June 2.

- The next day we went to Uplink once again, for an event held by music writer Salam Unagami. We had met him by coincidence at the Delhi airport in February, and he said he was on his way to a festival of Sufi music. In this event he and his fellow travelers talked about and presented videos of many artists they saw at the World Sufi Spirit Festival. The most surprising, and one of the best, was an artist from Nova-Scotia (Canada) named Tahir Hussain Faridi Qawwal. See a clip below.

Music event: - I went to see Cibo Matto live at Liquidroom! Their band featured Oyamada Keigo (Cornelius) on guitar, Araki Yuko (mi-gu, The Cornelius Group) on drums, and Ohno Yumiko (Buffalo Daughter) on chorus, and a great bassist they probably brought from the U.S. (whose name I can't recall). That was an awesome show, about half of it from "Hotel Valentine" with the rest from "Viva! La Woman" and "Stereotype A", and also the great "Aguas de março"!

Set list: Le pain perdu / Sugar Water / 10th Floor Ghost Girl / Emerald Tuesday / Sci-fi Wasabi / Déjà-vu / Housekeeping / Blue Train / Moonchild / Check-in / MFN
Encore: Aguas de março / Birthday Cake

Music release news: Dark Model, Hoshino Michiru

Playlist: Cibo Matto, Vanilla Beans, Jintana & Emeralds, Dorian, frenesi, hitomitoi

This week's videos:

Vanilla Beans "watashi... fukō guse"

Fanna-Fi-Allah Sufi Qawwali live in Egypt "Allah Hoo"




Posted on May 23, 2014 at 02:07 | Permalink | Trackback (0) | Comments (0) | Tweet |
---
May 17, 2014
Weekly revue: 2014 week #20 (May 10 to 16)

Food: - Gelato at Gelateria Théobroma, Kagurazaka
- A birthday party at Bespoque, Higashi-Nakano

Music event: On Friday May 9 (actually at the end of the previous week) was DJ event "Tokyo no koibito", organized by DJ 610, with regular DJs tnb, Ohtake Tetsuya and more. The special guest DJ was Yoshida Tetsuto (who produced Team Syachihoko's latest song "ii kurashi"). That was a fun event with lots of good music and friendly people. However it was the last edition because the venue (Smash'07 in Nakano) is closing at the end of the month.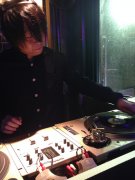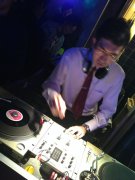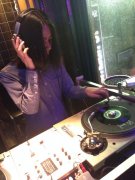 From left to right: YOSHIDA Tetsuto, tnb, Tetsuya OHTAKE
Exhibition: We happened to pass by Mizuma Art Gallery where was being held a solo exhibition by Tsutsui Shinsuke, of hundreds of small artworks he made to accompany his father's novel "seikon" (= "Stigmata") that was published as a series daily in Asahi Shimbun. Each artwork is done in a unique process that involves dead insects and wax, you can read more about it here. His father is Tsutsui Yasutaka, also author of "Paprika" and "The Girl Who Leapt Through Time". When we went up the stairs to the venue he was smoking outside and kindly opened the door for us! The exhibition goes on until May 31.
Movie: Had the opportunity to see Wes Anderson's new movie "The Grand Budapest Hotel" a bit before it opens in theaters. It's a beautiful and fantastic fast-paced movie, and was a lot of fun! It opens in theaters in Japan on June 6.
Music release news: Kyary Pamyu Pamyu, petit milady, Sunaga t Experience
Playlist: Duck Sauce, Mark Robinson, Chromeo, Cibo Matto, DJ Fukutake
This week's video:
Pharrell Williams "Happy"
(All-star Japan version directed by Nigo, feat. Funassyi, Scha Dara Parr, BiS and many more.)
"The Grand Budapest Hotel" trailer
Posted on May 17, 2014 at 10:36 | Permalink | Trackback (0) | Comments (0) | Tweet |
---
May 10, 2014
Weekly revue: 2014 week #19 (May 3 to 9)

Food: - Pizza lunch at Massimottavio, Eifukuchō
- Indian-style bistro DiL Se, Sendagaya
- Cakes from Acacier, Urawa, Saitama
- Finally made it to Sunday Bake Shop at a time while the counter is still full!

Exhibition: We went to see the solo exhibition of painter Nozaka Toshikazu at the Kawanabe Kyōsai Memorial Museum in Saitama. This is a selection of Nozaka's works from the last few years, including ones that were sold but specially borrowed from their current owners. The exhibition goes on until June 25 (the museum is closed on Thursdays and from May 26 to 31).

At the time time old and rare traditional paintings and sketches by Kawanabe Kyōsai are also exhibited, many of which feature Japanese folk creatures and ghosts.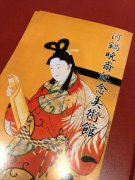 Music release news: kotringo, Harada Tomoyo, Nakatsuka Takeshi with Iga-Bang BB, Team Syachihoko, Hondalady, Kinoco Hotel, Kitagawa Katsutoshi
Playlist: Ikeda Masanori, hitomitoi, Vanilla Beans, Cibo Matto, Jintana & Emeralds, Concert
This week's video:
Concert "aimaisa kaihi"
Especia "No1 Sweeper"
Posted on May 10, 2014 at 22:32 | Permalink | Trackback (0) | Comments (0) | Tweet |
---
May 6, 2014
India 2014 #2: Jaipur

After a long wait, here's part 2 of our trip to India. After our stay in Kerala, we took a plane to Jaipur where we stayed for 2 nights (from February 21). Having done all of our Jaipur sightseeing the previous time, we were mainly there for some shopping, eating and relaxing.

To go to Jaipur, we used local flights on low-cost airline IndiGo, with a transit at Mumbai airport. That was very enjoyable thanks to all the good care for design, and the friendly retro-wigged flight attendants.

We stayed at Arya Niwas (where we had stayed in 2012), and had a few of their great vegetarian thali meals during our short but pleasant stay. On our 2nd evening there was a free sitar and tabla show (video below).

More Jaipur sights.

A big highlight for me was when we dropped by for a drink on a terrace at hotel Narain Niwas. In the garden beside was a showcase of local music with harmonium (an instrument I've been curious about) so I went to peek with my camera (videos below). A friendly Indian guy was also doing a demonstration of Rajasthan dancing puppets (aka Kathputli), and to my surprise he also spoke French and even a bit of Japanese, as he had traveled to these countries. His puppets reminded me of Guignol (famous French puppet theater), which he also knew about! Of course I couldn't leave without buying a few of those. :) The little puppet show he did for us was wonderful and very funny (with an Indian Michael Jackson from Calcutta(?!)), check out the video below.

The next day we hired a driver for the day, hoping to go to all shops and places we wanted to. This included Rana's, a shop that sells various tissues and also small bags crafted from them. We also went to the nearby LMB sweetshop for some traditional sweets to take back home.

While being with that hired driver, we also went for a silly adventure. In a blog entry found by accident, there was Tokyo's police mascot "Pipo-kun" used next to an ad for a hospital. We went down to that hospital to try to find it, but no luck. However the confused receptionist quickly led us to the hospital's main doctor's desk (bypassing all the patients?!?) to talk about what we were looking for. He said did remember that mascot but that the ad was only there for a month. Our Pipo-kun search ended there.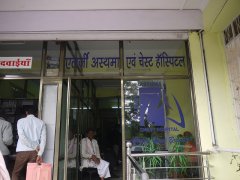 It's also around that time that our hired driver seemed to be a bit tired of us, especially because we didn't go to shops he wanted to take us to. He made an excuse and said the next stop would be our last, even though it had only been half the time we had hired him for (we only gave him half the money). We dropped by stylish café Tapri (Facebook page) and then walked to nearby interior shop Anantaya AKFD (Facebook page). AKFD founder Ayush Kasliwal also did the beautiful Mudra hands installation at the Delhi airport.
The next day we took an early morning train to Delhi. To be continued (hopefully)...!
More photos at Flickr.
---
Pandit Harihar Sharan Bhatt (Sitar) free concert at Arya Niwas
Kathputli (Rajasthan puppets)
Harmonium
Posted on May 6, 2014 at 23:33 | Permalink | Trackback (0) | Comments (0) | Tweet |
---
May 3, 2014
Weekly revue: 2014 week #18 (April 26 to May 2)

Last Tuesday was a national holiday (Greenery Day aka Shōwa Day), and we went to have a nice picnic with friends in Shinjuku Gy0en! Entrance happened to be free on that day.
Food: - Bangladeshi food meets reggae at Arun's, Ōimachi
- Lunch at Point et Ligne, Marunouchi
Exhibition: Went to (Marunouchi) House to see "Double Exposure", a collaboration of Tomizawa Noboru (hair/make-up artist for Nomiya Maki and many others) and photographer Nitta Keiichi. The concept is make-up (etc.) applied over photos, giving a unique result! Until May 11 at (marunouchi) HOUSE's "Library" (free entrance).
Music release news: Kanzaki Mitsuki (Hashimoto Tenka), quasimode, Koji Nakamura, tofubeats, Towa Tei with Shinichi Osawa, kotringo
Playlist: blue marble, Misswonda, Vanilla Beans, Au Revoir Simone, Konishi Yasuharu
This week's video: Latest funky tracks by my favorite Montreal electro brothers, A-Trak (Duck Sauce) and Dave-1 (Chromeo). I love the new Duck Sauce album, and can't wait for Chromeo!
Duck Sauce "NRG"
Chromeo "Jealous"
Posted on May 3, 2014 at 10:11 | Permalink | Trackback (0) | Comments (0) | Tweet |
---