Blog - April 2016 Archives
April 2016 Archives
Index
.29 Weekly revue: 2016 week #16 (April 16 to 22)
.17 Weekly revue: 2016 weeks #14-15 (April 2 to 15)
.09 Weekly revue 2016 week #13 (March 26 to April 1)

---
April 29, 2016
Weekly revue: 2016 week #16 (April 16 to 22)

Food: - "Hanami bentō"-themed curry set at Tapir, Shin-Ōkubo

Music events: - I went to Nakatsuka Takeshi's release party for new album "EYE"! Held at Daikanyama Unit, the venue was transformed into a mini festival with 5 food stalls, complete with a nicely designed map of the premises. Takeshi perfomed with a full band and brass section, with a total of 8 people on stage! A lot of new songs were played, even tough ones that had made me wonder "can that be really played live?!" There were also performances of Shumusic Saxophone Quartet, who wandered through the crowd while playing. That was a wonderful show! There was also some DJing by regulars of the Delica Lab event. The next Delica Lab will be held on May 24 at Batica, Ebisu.

All my other photos can be seen here.

- Record Store Day 2016 was held on April 16, and as every year there were a lot of good releases in Japan! I picked up Reina & the Blue Valentines' new 7", a beautiful 7" boxed set of the "Idol bakari Pizzicato" compilation, and a re-issue of Hosono Haruomi's "Cochin Moon" album. The last I picked up for a combination of its great jacket, the India theme (having been to Cochin before), and also because "Hum Ghar Sajan" strangely sounds so familiar. Many of RSD 2016 releases are now available to buy online (if not already sold out).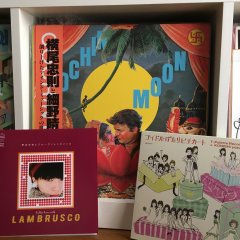 - The next day I had the great opportunity to beat some drums, recording a cover song with a friend. It had been a really long time, but I think I managed! That was a lot of fun! :) I can't wait to hear the result when other parts will have been recorded.
Music release news: Aira Mitsuki, Kyary Pamyu Pamyu, Piggy Banks, YeYe
Playlist: Hosono Haruomi, Nakatsuka Takeshi, XTAL, Perfume, Halfby, hitomitoi
This week's video: YeYe "ate a lemon"
Posted on April 29, 2016 at 12:21 | Permalink | Trackback (0) | Comments (0) | Tweet |
---
April 17, 2016
Weekly revue: 2016 weeks #14-15 (April 2 to 15)

I finally got a new iPhone to replace my iPhone 5 that was falling apart. Yay! I chose the new iPhone SE, same size and design as the iPhone 5s though with updated specs.

Food: - Vietnamese dinner at Vietnam-chan, Ōkubo
- Duck & avocado salad-style soba at Snuf Kitchen, Higashi-Koganei
- Curry at Have More Curry, Omotesandō
- Coffee and pancakes at Toquio, Minami-Aoyama
- Gelato at Chiosco by the park, Kichijōji

Music event: - I went to an in-store of True Tempo, an acoustic sub-unit of band BANK, at HMV record shop. Nakamura Dai (ex-Arch) and Hirami Fumio (Misola, ex-Love Tambourines) played a pleasant set of songs from BANK's album "True Tempo" (and some others).

Set list: True Tempo / 7 Days / Color Field / kūfuku ni tsuite / I don't know why / Step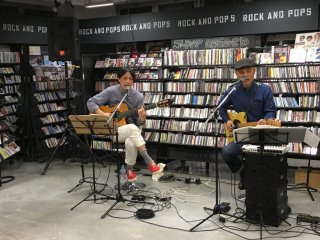 Exhibition: I dropped by Vacant in Harajuku where is being held an exhibition by Israel artist Amit Berlowitz. 4 short films are shown, as well as blank & white photographs and a room and clothing used in those. Info at Tokyo Art Beat.
Music release news: The Scooters, Perfume, Re:Served, Negicco, Denki Groove, Record Store Day 2016
Playlist: Nakatsuka Takeshi, Negicco, Perfume, Especia
This week's video: Perfume "Flash"
Posted on April 17, 2016 at 18:37 | Permalink | Trackback (0) | Comments (0) | Tweet |
---
April 9, 2016
Weekly revue 2016 week #13 (March 26 to April 1)

For this year's April Fools', I had the chance to make something really fun at work that involved cats and turned out to be quite a hit! :)

Food: - India-inspired curry at Negura, Kōenji. This tiny restaurant is only open for a limited time until July, when the building will be removed.
- Sri Lankan curry at Acala.naatha, Nakano
- Nepal dinner at Nanglo Ghar, Ōkubo
- Had a fun time at the "Wine 10" exhibition, which offers wine paired with each of the 10 art pieces. At W Tokyo (5-60-2 Yoyogi) until today Saturday April 9, from 15:00 to 19:00.

Music release news: Saoriiiii, Aira Mitsuki, Cutemen

Playlist: Pizzicato One, Scooters, Ice Choir, Nomiya Maki, Especia, Bank, hitomitoi, Dorian, nakayoshi group

This week's video:

lyrical school "RUN and RUN" (To be watched on smartphone!)

Cutemen "Gasoline Car"

Posted on April 9, 2016 at 01:27 | Permalink | Trackback (0) | Comments (0) | Tweet |
---