Blog - July 2008 Archives
July 2008 Archives
Index

.31 HKG 2008 #1: The Luxe Manor



.26 kayōkyoku bangaichi: live report


.23 iPod touch woes (Updated)



.21 arcorhyme afternoon live at Grand Cru (vol.5): report



.18 SOWL exhibition


.11 columbia*readymade's jazz-rock reviewed #4, 5



.05 De De Mouse release party: report

---
July 31, 2008
HKG 2008 #1: The Luxe Manor
We're back from a short trip to Hong Kong! It was my summer vacation and we chose to go to one of our favorite destinations in Asia. It was the 4th time I went to Hong Kong!
We left Narita on July 26 early evening and arrived in Hong Kong near 22:00. We took the Airport Express to Kowloon station, from which a free shuttle bus took us to our hotel. The Luxe Manor is located near Tsim Sha Tsui station towards Jordan.
We had a nice and comfortable room on the 13th floor. I liked that they used so many trompe l'œils in their decoration. There were fake mirrors on the wall (two of which I was sure were real until I looked closely), a fake fireplace, in the bathroom was a fake chandelier...
Another great touch was that everyday after a long day of walking, we found some sweet treats waiting in our room.
Here are some views from our room in the morning.
The entrance was also amazing, but I forgot to take photos of it. :)
Stay tuned for photos and tales of the rest of this 5-day trip (well, 3 full days).
Larger sizes and more photos at Flickr
Posted on July 31, 2008 at 12:04 | Permalink | Trackback (0) | Comments (0) | Tweet |
---
July 26, 2008
kayōkyoku bangaichi: live report
Last night was event "kayōkyoku bangaichi" organized by publisher Hotwax to celebrate the release of a book. It was held at Mona Records, a small record shop/café in Shimokitazawa.
I went there on my own, although I expected to see some people I knew. Indeed I found friends Kanae and Zonies Matsu. But my first big surprise was when I was going up the stairs that lead to the café, and I heard people talking behind me "What was his name again? konban wa!" I looked back and found Shindō Mitsuo (C.T.P.P) and his designer who recognized me from when we met back in April! :) Shindō-san was of course there to DJ for the event.
I was a little bit late and caught the last two songs of Tabuchi Jun, a young guy with a great voice. Then there was some DJing at the back, and I noticed a bit late that it was Sally Kubota (Sally Soul Stew). There were some sound problems that he later described as avant-garde. :)
The next act was Flower Meg, a sexy actress and singer from the 70's. She was accompanied by a pianist who seemed to be a famous musician of a certain age. She sang several songs, starting with a Japanese cover of "Aux Champs Élysés", between which she talked about her career. For a song called "I Love You", she chose people from the front of the crowd, asking them where they're from and whether they're in love with someone, and then having them sing the chorus with her. That was fun but I was happy to be at the back. :) There was also a VJ who showed photos of her back in the day. She had a very nice voice and still looked great to this day, she even wore a dress from when she was 19.
Next was more DJing by Hotwax' editor and then a super rare set by Shindō Mitsuo. He started by playing a lot of techno-kayō type of stuff that I enjoyed very much! He ended his set by two versions of "Tokyo Disco Night", first Koizumi Kyōko's cover and then the original by The Scooters (his own unit). I was truly happy to hear this song spinned by the man himself! He sometimes used a Kaossilator to add live beeps and blips over the music.
Last up was arcorhyme, accompanied by Sally Kubota on bass. The three performed over a prepared backtrack, and did a special kayō and neo-GS set which included a cover of Phantom Gift's "Heart ni OK!" (Sally's old neo-GS band), and closed with their own song that features Sally on the album. K-tarō's solos rocked!
Set list: Matsuo Gena's senaka o misenai de / Candies' shochū omimai mōshiagemasu / The Phantom Gift's Heart ni OK! / Hippy Hippy Shakes' hen na onna no ko / arcorhyme's koi no jigoku
That was a short but fun little set with a techno-pop and neo-GS taste!
After the show had ended I noticed a white guy across the room, and I was a bit surprised that I wasn't the only one (like it's often the case). A few minutes later he came to talk to me, his name was Nemo, he came from Australia and is visiting for about 10 days.
Kanae-chan and Matsuno-san had said they were off to DJ at City Country City, a nearby café and record shop owned by Sokabe Keiichi and where friend Mizue works. I headed there with Nemo, and we had a fun time chatting with everyone while enjoying some quiet soft-rock BGM.
Larger sizes and more photos at Flickr
Posted on July 26, 2008 at 13:51 | Permalink | Trackback (1) | Comments (0) | Tweet |
---
July 23, 2008
iPod touch woes (Updated)
Ouch... This morning I had a bit of time, so I decided to upgrade my iPod touch to the recent 2.0 version which includes the Apps Store, Mail, Maps, etc. for only ¥1200 (cheaper than the January update that didn't include as much).
After about an hour of having my data (music and settings) being backed up, the new version installed, and my data moved back in, I turned it back on and went to try the maps but for some reason it didn't seem to connect to my wireless LAN.
I checked the settings screen, and to my horror, the "Wi-Fi" menu was deactivated and said "Wi-Fiなし" as you can see on the picture (in English: "No Wi-Fi"). It's not just that it doesn't detect wireless LANs, it seems that the Wi-Fi capability is completely gone!
I first tried rebooting, hard-resetting, but it remained the same. Tonight I had some more time, so I went and restored the thing (wiping all of my music from it in the process), and still no change.
I searched on the net and all I could find were people saying that after getting this state they had to get their iPod changed for a new one. Luckily it seems that Apple aren't to greedy and will exchange quickly if they diagnose that an iPod is broken... so tomorrow I'll drop by the Genius Bar and see for myself...
Anyone had the same problem?
---
Update (2008/7/24)
So this morning I went to Apple Store Ginza and had a guy take a look at my iPod. I told the whole story and that I had restored the iPod once myself, but he wanted to first restore it once more and see if it would help. Sure.
Then another guy came and said he had heard of the problem before, and he concluded right away "it's a hardware defect and can happen at some random time, it can't be fixed, just replace it". He seemed surprised to hear that it happened exactly when I applied the 2.0 update though.
So yes I got a brand new shiny iPod touch!! It already has the 2.0 update applied and Wi-Fi works, yay! It's a bit of a pain having to load it back up with my music, but I'm really happy of the great service I got from Apple.
While I was there I was reminded of AppleCare, which can extend my warranty for 1 extra year (otherwise it would expire this October). You bet I'll get that. Off to Bic Camera (where I'll get 5% of points that I wouldn't get at Apple Store). :)
Posted on July 23, 2008 at 23:59 | Permalink | Trackback (0) | Comments (2) | Tweet |
---
July 21, 2008
arcorhyme afternoon live at Grand Cru (vol.5): report
Yesterday was the 5th monthly arcorhyme lunch time show at Shibuya's Après-midi Grand Cru. I went there with friends Miwa and Naoto who were also there last month. I had some French duck pennette, delicious!
Takanami K-tarō and Nishimura Ikuyo were this time accompanied by Sally Kubota (Sally Soul Stew, Les 5-4-3-2-1, Phantom Gift) and also the young Karibu-kun on percussions. That made for a great plugged set, with electric guitar and bass. Sally of course played his trademark Rickenbacker bass with the coiled white cord, and he wore checked pants. This time, the band had many requests to fulfill, so most of the songs played were not their own. There were a lot of great selections though, so we were treated to two really awesome sets!
Set #1 (from 13:00): arcorhyme's aoi neko / Giniro Natsuo's kanashii kotori / Yuming's mahō no kagami / Hirayama Miki's manatsu no dekigoto / Candies' shochū omimai mōshiagemasu
The first set included "manatsu no dekigoto" that I got to know and love thanks to the recent Tsutsumi Kyōhei remix album on which it's remixed by Halfby. I also knew the Candies song, and Ikuyo did a great job at singing it!
Set #2 (from 14:00): aoi neko / Ohta Hiromi's momen no Hankerchief / Yuming's ichigo hakusho o mō ichido / Les 5-4-3-2-1's Miracle Manège (aka Le manège magique) / arcorhyme's koi no jigoku
The 2nd set had Sally Kubota in the spotlight for the last 2 songs! First there was my request of Les 5's "Le manège magique" (I always only remembered Les 5's songs by their French titles)! I had heard it live last year at the Sally Soul Stew show, but here it was performed not in the slower version but in Les 5's original upbeat version! That was... awesome! Sally's bass skills also really showed on this song that he knows better than anyone.
The last song was also very special, as it was I think the first time I heard it played live. This song from "Soundmatic Brain" features Sally on the album. Ikuyo presented him as "the only one who can play this song" and he was like "uhh?", but soon he was playing his fast and groovy bass line, and reminding me that no one could replace Sally Kubota. :)
There were some interesting announcements too! Sally is making the music for a movie coming next November, titled "GS Wonderland" (his whole career is wrapped around GS after all), and if I heard right K-tarō has helped too. And also, these two are preparing a show for September (7th?), it will be a sort of copy band (of a band I didn't know)... stay tuned (agenda blog) for details when available!
Upon leaving, I had a look at the Takanami Records box to see if there was anything for me, and there was! I found Shōnentai's "ABC", that I also knew from "Kyōhei Disco Night" (remixed by Konishi Yasuharu), I had been looking for the original ever since. And I also picked up a C-C-B single titled "Lucky Chance o mō ichido". Great deal at ¥300 each. Coincidentally all 4 songs on these 2 singles were written by Tsutsumi Kyōhei.
There will be no August edition of this free afternoon show, but hopefully it will be back in September. Stay tuned (over at the agenda).
Larger sizes and more photos at Flickr
---
Hirayama Miki's "manatsu no dekigoto"
Candies' "shochū omimai mōshiagemasu"
Posted on July 21, 2008 at 19:19 | Permalink | Trackback (0) | Comments (0) | Tweet |
---
July 18, 2008
SOWL exhibition
It's summer and time flies! So much to write, so little time...
Last Sunday we headed to The Ghetto, Tokyo's ultimate skater's paradise in Shin-Ōkubo, to check out the first of their new flea market series. Some Ghetto regulars were selling stuff outside while eating Garigari-kun ice cream. There will be another one on July 27.
We then checked out the exhibition going on at Hyaku Gallery on the 2nd floor, it was shared by two writers I wasn't familiar with, SOWL and SEVEN. I especially enjoyed SOWL's works, some of which are featured below. It's going on until July 21.
Back downstairs, we noticed that the hall and restaurant space had been revamped, and also there was a great new QP-decorated wall!
After a little shopping in Shinjuku, we headed down to Shibuya via Fukutoshin line.
I was quite hungry so we went to Kua'Aina for some great sandwiches and fries. Then we headed to Canadian yoga wear chain Lululemon nearby, it's the last in Tokyo and will be closing its doors at the end of the month. It's the time to catch a last deal, I was lucky to find some nice yoga pants (my first!) at 50% off!
Then there was a bit more shopping around Shibuya, notably I went to get the "Second Royal TV vol.01 July 2008" DVD at Après-midi Selecao. That DVD was a lot of fun, very nicely edited for its cheap price. It comes with a bonus mix CD by Halfby making it even more worth it! Check the trailer on YouTube, and then get it at Jet Set while you can.
Larger sizes and more photos at Flickr
Posted on July 18, 2008 at 00:36 | Permalink | Trackback (0) | Comments (0) | Tweet |
---
July 11, 2008
columbia*readymade's jazz-rock reviewed #4, 5
Here I continue my reviews of columbia*readymade's jazz-rock re-issues. Will I make it to the end? :)
---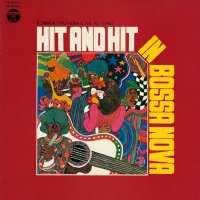 Sawada Shungo / Muraoka Takeru All Stars "Hit & Hit In Bossanova" (1968)
沢田駿吾・村岡健オールスターズ 「ヒット・アンド・ヒット・イン・ボサノバ」
The all-star band features Sawada Shungo (guitar), Muraoka Takeru (tenor sax), Tokuyama Yō (piano), Suzuki Hiroshi (trombone), Ikeda Yoshio (bass), Nishikawa Takaaki (drums), and Maeda Norio (vibraphone, see album "This Is Jazz-Rock").
The sax and vibraphone did it for me. I found the whole to be a little bit slow, although there are great upbeat tracks too. Some vibraphone bits strongly reminded my young ears of Tokyo's Coolest Combo. Too bad though that I didn't know (at this time) more of the Japanese hit songs that are being covered. I especially liked The Tigers' "C, C, C", a song that I already knew. I did find this album a bit more "normal" than the others of the series so far, which all had some strong personality. Very nice listen nevertheless.
Track list: The Legend Of Emerald / Angel Love / hoshi o minaide / Summer Grass / omoide no yubiwa / yume de iikara / koi no tokimeki / C, C, C / Flower Necklace / kanashikutte tarikirenai / ai no sono / hana no Madonna
---
Miho Keitarō & His Group "Sound Poesy 'Sachio'" (1969)
三俣敬太郎と彼のグループ 「サウンドポエジー・サチオ」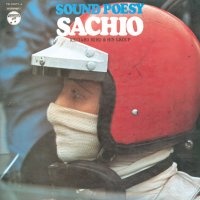 The only one of this series that's already been re-issued on CD before (in 2003 at a higher price, and probably not in a deluxe mini LP sleeve like this one). A very interesting album, featuring soft rock and bossa nova covers plus a few originals by jazz pianist Miho Keitarō and "his group" (no details whatsoever about the other musicians).
I was attracted to this one as soon as I saw the series' jacket line-up, and if you'd hope for a racing theme you won't be disappointed. The A side is instrumental and very conceptual, with racing sounds and announcements in Japanese over and between the songs! Side B has no racing sounds and several of the songs have female vocals (from scat to English and Portuguese vocals). The song "Remember Of Paris" has an overlaid dialog. The whole holds together very well. Excellent album!
Reading the short liner notes written by Miho made this album even more interesting. It tells about "Sachio", a racer and music lover who came to see his band play in Roppongi and made the comment "the sound is hard!", making Miho rethink his directions. The album is a collection of songs Sachio likes, but "if he would hear it, he'd probably say 'it sucks.'" A comment that made me grin.
At that point I still didn't know who's that "Sachio" so I did a bit of research. Turns out that the Paris-born racer and fashion model, Fujisawa Sachio, died in a test run accident in early 1969 at the age of 25, so this album (released later the same year) is clearly an homage. Kamayatsu Hiroshi was also friends with Sachio and dedicated a song to him, "So Long Sachio" which can be heard on "kissa Rock at Hibiya Yaon Readymade hen" (Readymade International RMCA-1007

). We also learn that the people who talk about their Paris memories are Sachio and Miho themselves, a very rare recorded dialogue.
Track list: Start Your Engine / Never My Love / Listen People / Time After Time / Slip Stream / Race Is Over / One Note Samba / Meditation / Remember Of Paris / Mas Que Nada / Goin Out Of My Head / I Wanna Be Around
---
That's all for now. Only two this time. 4 to go! Next up should be Sandra Alexandra "Sandra & Her 12 Samurai" which looks very interesting! Konishi-san said in a recent interview at HMV that it's one of his best finds in the series.
Find all details on the 9 columbia*readymade jazz-rock re-issues, out April 16, 2008.
Previous reviews: columbia*readymade's jazz-rock reviewed #1, 2, 3
Posted on July 11, 2008 at 00:26 | Permalink | Trackback (0) | Comments (2) | Tweet |
---
July 5, 2008
De De Mouse release party: report
Yesterday evening I went to De De Mouse's release party at Shibuya Womb. In fact I went there almost not knowing De De Mouse at all, but I wanted to see everything else: YMCK, Buffalo Daughter, Halfby and Handsomeboy Technique! That's quite a mixed line-up, and being that the event was organized by MySpace, I wondered if the event planning is done by the same people who do... well, the rest. :) Still they're all artists I love so it sounded like a great event to me.
After losing my way a little bit in some suspicious streets of Shibuya, I arrived at Womb a little bit after start time and missed maybe 5 minutes of YMCK (MySpace). They were then saying that the show started with a special collaboration with De De Mouse, I'd have loved to hear that. But anyway the rest of YMCK's show was awesome! It has been a long time since I had seen them (last time was over 2 years ago and that was just a mini-live at Tower Records!), and their show's level had went way up! (1UP?) They played mostly songs from their latest album "Family Genesis", but they also did a medley of songs from their 2 first albums.
There were live(?) solos and some game playing, disclosing how a song's bass line was "inspired" from a Famicom shooting game. The best part was when they revealed 6 Famicom Robots and had them dance in sync! That was just amazing! For just the ending of another song, they also had some big Famicon-color teddy bear-like mascot come on stage. I have to admit that I didn't quite get that one. :)
After a short DJ set by Handsomeboy Technique, Buffalo Daughter (MySpace) came on stage and despite some technical problems they performed a great set! They played (I think) "Rhythm & Bassment", "Psychic A-Go-Go" and ended with a long "303" jam. Ohno Yumiko's great MiniMoog playing reminded me (once again) how we need more occasions to see some live Moog! Sugar and Mooog were just great too, oh and their drummer too!
Unfortunately they had to waste a good 5 minutes of the show doing sound check to try to get an on-stage monitor to work, because Yumiko couldn't hear a thing. Womb's sound staff didn't seem too good. Later I really wanted to get something from Buffalo Daughter but their merch table was unattended both times I checked...
After that was Halfby's DJ set, which was quite good! De De Mouse was setting up the stage and came to say hi and told everyone to keep enjoying Halfby a little longer. The sound guy had lowered the music's volume so he could speak, but then he forgot to put it back up, for a while the volume remained so that people could just talk normally over Halfby's set..! Quite a fun set anyway!
Last up was of course De De Mouse (MySpace). He was accompanied by pianist Hazama Miho, drummer Jimanica and Tokyo-based Australian VJ Diagram (aka Shannon Winnell). I was really unfamiliar with De De Mouse's music, except for a cover of "Country Road" that appears on the great compilation "kirakira Ghibli", but a few people had recommended him to me, even just the day before. I thought it was good, though perhaps not quite my style. What I found strange is that he has a very wacky personality, often shouting with a high-pitched voice, but his music seems just too pretty to fit with his character. This is just my personal impression of course. :) The songs were quite good, though sometimes a bit repetitive, mostly instrumental but sometimes with lyrics in an unknown language. I thought it was quite enjoyable especially for summertime. The VJ works were also great, with different material for each song.
Unfortunately the sound was very loud and towards the end my ears were getting tired, and I left a little bit before the end. Well it's a huge club's sound-system after all, probably much more powerful than the average live house.
All in all I had quite a good time.
Oh, and there was a brave foreigner who was filming some video of YMCK's robots and Buffalo Daughter. I really hope they'll be posted on YouTube! :)
---
YMCK can be caught again live on August 27 and 28 at Shibuya Seco Lounge, sharing the stage with Kaji Hideki, Watanababy, Sexy-Synthesizer and Hally (VORC).
Posted on July 5, 2008 at 00:30 | Permalink | Trackback (1) | Comments (4) | Tweet |
---