Blog - October 2007 Archives
October 2007 Archives
Index

.28 iPod Touched




.21 LIFE - fluid, invisible, inaudible ...



.20 In the neighborhood



.20 SIN/KUL #4: KL Tower, Chinatown, Tune Hotel(s)


.17 Happy sad iPod Touch



.15 Premiage, THE ice cream sandwich!


.15 Bran Van 3000




.09 SIN/KUL #3: Hotel Maya, KLCC



.05 SIN/KUL #2: Night train to Kuala Lumpur



.01 Just escalate it

---
October 28, 2007
iPod Touched
Finally, I got going with my iPod Touch, after it sleeping a whole week in its box! I'm even writing this entry with it... quite exceptionally as it's not my input method of choice.
Actually, it's last Wednesday that I received my copy of the dreadful Windows XP, an OEM acquired for ¥6000 on Yahoo! Auctions. The next morning I had iTunes running and I could enjoy my first commute with my new toy!
Since then I've jailbroken it but I have yet to be able to copy files to it, namely the Mail and Maps applications. For some reason I'm unable to connect to the device with either WinSCP or PuTTY, always getting timeout errors. I've tried installing combinations of OpenSSH and Services but the result remains the same. On well, I'm happy listening to music and surfing the web from it! :) It's such a nice and revolutionary machine!
That's it for now.
Posted on October 28, 2007 at 23:22 | Permalink | Comments (2) | Tweet |
---
October 21, 2007
LIFE - fluid, invisible, inaudible ...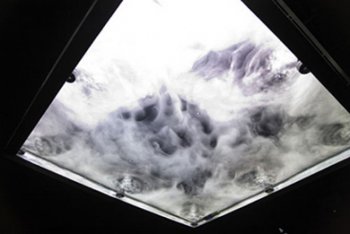 Today we dropped by ICC at Opera City to check out Sakamoto Ryūichi and Takatani Shirō (Dumb Type)'s installation "LIFE - fluid, invisible, inaudible ...". This is based on Sakamoto's 1999 opera also named "Life", and on weekends there are screenings of a live performance.
After buying our tickets, we realized that we were coincidentally just in time for a screening of the show, so we stood in line a few minutes to get numbered tickets for that. There was still about 20 minutes before the film started, so we headed to the installation room on the above floor and hung out a few minutes. We then viewed the film (well, about half of it) which helped to understand the installation.
It's actually a sort of remix of musical and visual elements from the opera. The installation consists of 9 suspended "screens" arranged in a square shape across the large room. Each screen is a square window with water and smoke, through which is projected video from above. People stand or lay under the screens to watch. There are speakers located near each screen, and the video and audio of each is not sync. It's actually a bit random, as are the water and smoke movements, all contributing to a constantly changing and unique result. It feels kind of soothing to watch and hear the differences from other screens across the room.
The exhibition goes on until November 4.
Sakamoto Ryūichi x Takatani Shirō "LIFE - fluid, invisible, inaudible..."
At NTT ICC Inter Communication Center
Until November 4, 2007
Open hours: 10:00-18:00. Open until 20:00 on Fridays.
Posted on October 21, 2007 at 00:35 | Permalink | Comments (0) | Tweet |
---
October 20, 2007
In the neighborhood
I pass by this house every evening on my way back home, and it always gets my attention. I think it's the yellow gloom from the windows and wall against the deep blue sky. It sort of reminds me of some Eric's Trip artwork. :)
Unfortunately, this view will be hidden in a few weeks as something is being built in front of it. That's why I had to immortalize it in a photo.
And just by there we saw these 3 cute kittens the other day, but only once. I hope they're ok!
Larger sizes at Flickr: house, kittens
Posted on October 20, 2007 at 12:12 | Permalink | Comments (2) | Tweet |
---
SIN/KUL #4: KL Tower, Chinatown, Tune Hotel(s)
Saturday, September 22
Kuala Lumpur, Malaysia
We got up late morning (check out is at noon) and said goodbye to our dear Hotel Maya, leaving our luggage for there for the day. It was a very nice stay. In the morning there was something going on at the school (?) below our window.
We walked down Jalan P Ramlee, a street full of clubs, bars and restaurants, where we saw that cool bear stencil graffiti. Nearby near the end of the street, we took a free shuttle minibus to KL Tower (aka Menara Kuala Lumpur). This is the 5th tallest tower in the world at 421m, the tallest in southeast Asia. There we went up, took a few quick shots, and got back down. The pineapple trash cans were especially interesting. :)
Otherwise the tower was better appreciated when viewed from the bottom.
From the foot of the tower, you take an escalator down to get out. Before going down I had the good idea to ask the information guy where to take a taxi, he first just told us to go down, but then I asked if they'd use the meter, and he said that it's a ticket system (like at KL Sentral station)... and that the counter at the right of the escalator is more expensive than the one across the street! Ah-ha! So we went down the escalator, ignored the first taxi stand ("TAXI? TAXI?! TAXI!!!"), and went to the more quiet one that said "bargain taxi" (or something like that) and got a ticket to Chinatown for RM 16 (¥550 or $4.75 USD). Once again we had a rather nice taxi driver, who explained us where the market was.
The Chinatown Market is actually a big building with 2 floors full of shops, many selling local stuff of all kinds. We spend a while looking at everything and it was fun. We also went to have a foot massage to soothe our, well, not-so-sore feet. It was only RM 25 (¥850 or $7.40) for 30 minutes.
We were also a bit hungry and had kaya butter toast and Ipoh white coffee at Old Town Kopitiam (= coffee shop). Kaya is a type of jam made with coconut milk, and kaya butter toast is a popular snack in Malaysian coffee shops. As the name says, it's well toasted crispy bread sandwiching a generous amount of kaya and butter. Kaya and butter together is really just great! An instant favorite, this was our first of several kaya butter toasts.
While at the market I also did some electronics shopping. I was curious whether I could find a cheap SD card, as mine was threatening to be near full by the end of the trip. Indeed I could get a 2 GB card for only RM 75 (¥2500 or $22)! It's some Korean brand that I've never heard of before (called "Keep", ungoogleable), but who cares? SanDisk cards sold elsewhere were twice the price.
It was then about 16:00 when we headed out of Chinatown, back to Hotel Maya to pick up our bags, and we took a taxi (RM 7) to our next hotel. It was quite a leap from a 5-star hotel to the "no frills" budget Tune Hotels (they put a "s" everywhere but so far they only have one hotel). While far away from most of the other hotels in the city, at least it's close to MTR and Monorail stations (Sultan Ismail and Medan Tuanku), making it rather easy to get around.
While everything is quite cheap in Malaysia in general, Tune Hotels is really really cheap, with single rooms starting at RM 9.99 (¥340 or $3 USD), ridiculous! You only get the strict minimum though: private room with bed and shower, and toilet, and a ceiling fan (air conditioning is sold in 5-hour packs). It's not of bad quality though, they even pride themselves of providing only 5-star class beds and powerful hot showers. That's all. No towels, no soap, no TV, no phone, no-no-nothing. Bring your own or buy some at the convenience store downstairs. There is however free Internet in the lobby (something that the previous 5-star hotel didn't provide us for free). The rooms are small but nice looking.
The hotel is nice-looking... with walls sponsored by Nippon Paint. Oh yeah, sponsoring, because that's the key to make a cheap hotel cheaper. The paint is sponsored, the elevator is sponsored (by Mister Potato), there's a TV playing advertisements in the lobby, there are ads on the bedroom walls (some mayonnaise?),.. but isn't that a good idea? We enjoyed our stay there, and if there's anything to say, it's that towels just never ever dry, so a coin laundry would be a great addition.
We went for a short walk around the nearby Chow Kit area where there are street markets selling all kinds of stuff. Most of it was boring though, all shops selling the same T-shirts and a lot of smelly dorian stands. We did find a place that sold some kind of crêpe-like food with some sweet stuffing, the guy was friendly too. We bought one and ate it while heading back to the hotel.
Then we got out to go find dinner. Our guide book indicated Pudu Market on the map towards the south, so we figured we'd find something there, but we didn't expect a market as small and local as this one. There was only food and it was obviously mostly local people who didn't speak English. We managed to buy some noodles from a nice lady who did. At another stand someone didn't want to sell to us because the table where we sat wasn't in the right area!? Oh well. We then walked a few blocks and had some claypot chicken rice at a place called Pusat Kuliah Pemanduan Berhemat. Some people came there by car so it must be worth it. I wish I could say it was great, but unfortunately it wasn't exactly my thing... too many bones and, the taste, I don't know...
We then took the train to the Bandaraya station where there are several department stores and some large night markets. I found some black forest cake, I think inside Sogo, and couldn't resist. I ate it in a parking lot nearby, haha. :) At the market I got an ok deal on a Transformers T-shirt that I had been seeing everywhere, only RM 20.
We walked back to the hotel, about one station away, and called it a day.
There's more to come, so stay tuned. :)
Larger sizes and a few more photos at Flickr
Posted on October 20, 2007 at 11:55 | Permalink | Trackback (0) | Comments (2) | Tweet |
---
October 17, 2007
Happy sad iPod Touch
After having been hesitating for a few days, and also seeing a lot of shops where it was sold out, today I was finally decided and found myself at a shop with some stock! I bought an iPod Touch! Yay!
I was happy for a while anyway... until I found out that the new iTunes version (7.4) required for iPod Touch doesn't support Windows 2000 anymore! I've been using Win2K with 2 different iPods and all versions of iTunes until now, and I really didn't expect such a thing. So much that I didn't even check requirements before buying the thing.
Now I'm torn between upgrading my PC to Windows Vista, which would cost me a painful ¥25000 for something that I don't even want to do in the first place, or get rid of the beautiful iPod Touch. Damn damn damn.
And I'm really not enthusiastic at the thought of moving to a more recent version of Windows. XP and Vista are crippled and bloated OS's and I don't like their resource-hogging interfaces. Win2K is solid and it's worked until now... today is the very first time that I can't run a piece of software that I need.
Apple... WHY???
Posted on October 17, 2007 at 23:57 | Permalink | Trackback (1) | Comments (19) | Tweet |
---
October 15, 2007
Premiage, THE ice cream sandwich!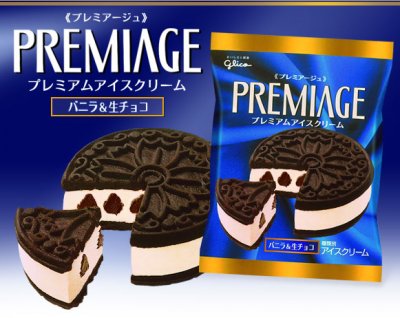 Please excuse me a moment while I sound like Konbini Life, but I just have to!
The ice cream sandwich has always been one of my favorite treats, I ate them by the dozen in my younger times. Since coming to Japan I've had to do without those most of the time though, as the ice cream sandwich doesn't seem to be very popular on the market and you'll be lucky to find one kind at the convenience store once in a while, often with a cookie that's too hard or just not right. For a while Muji had pretty good ones which helped my craving, but they were removed from their freezers some years ago.
But last August came Premiage! As shown on the picture, it's made of round chocolate cookies with vanilla ice cream inside. The cookies are just the right consistence, with a great taste, and the ice cream is also tasty and never too hard. This already makes it perfect, but wait, there's even bonus chocolate inside!!!
I've seen Premiage stocked at a few konbini chains including FamiliMart and Lawson, and so far it's not going away, which is good! I keep a little stock in my freezer just in case. Oh and I even wrote an email to Glico to congratulate them and to ask them to keep it as a regular. That's how good it is! If you need more argument, head over to Konbini Life's review.
Now off to the konbini!
Posted on October 15, 2007 at 21:40 | Permalink | Trackback (1) | Comments (7) | Tweet |
---
Bran Van 3000
Bran Van 3000 has a third album coming out at the end of the month, announced just a few days ago! Can you believe it's been 7 years since "Discosis"? The title is "Rosé", and the first single "Call Me" can be heard at Ferme La Radio. It borrows from The Spinners' "I'll Be Around" in a pizzicato way.
And today, it came to me as a big surprise that my good friends at exo7 produced BV3's brand new web site at officialbranvan3000.com! Definitely worth checking out!
Now I'm waiting impatiently until the end of the month, when the album is supposedly being released. Hopefully it will make it to this other side of the planet in a timely manner..!
Posted on October 15, 2007 at 21:01 | Permalink | Comments (3) | Tweet |
---
October 9, 2007
SIN/KUL #3: Hotel Maya, KLCC
Friday, September 21
Kuala Lumpur, Malaysia
Arriving by train at Kuala Lumpur Sentral station at 7am, we took a taxi to Hotel Maya which we had booked mainly because it allowed an early check-in in the morning. At Sentral, there's a counter for buying a taxi ticket, which makes it easy and safe to get to your destination without having to worry dealing with the driver. Our driver was very friendly, as were all taxi drivers we had while in Malaysia.
We got at Hotel Maya and were able to check in right away, at about 7:30am! We had reserved a standard room but were upgraded to a junior suite on the 18th floor. The room, while about the same price we had paid for the tiny one in Singapore, was fantastic. We were still tired so we decided to first take a nap and wake up again around 10am. Since we had such a great room at a nice hotel, and unfortunately we were going to downgrade to a budget hotel the next day, we ended up spending most of the day in and around the hotel.
First we went to KLCC (Kuala Lumpur City Centre), the area where are located the Twin Towers, two of the tallest buildings (not towers, technically) in the world (they were the tallest until Taipei 101), which are connected to a nice mall called Suria. Tickets to the Twin Towers' sky bridge are handed out early morning at 8:30, and we were too late to get ours. I'm sure that the towers are nicer from outside anyway, and there's a higher view of the city at KL Tower.
We ate lunch at the food court in Suria, nasi lemak and laksa, respectively coconut cream rice with toppings of your choice and spicy noodle soup.
While in the complex we also went to Rotiboy and had some delicious... rotiboy? The unnamed bun is the only one at the shop that sits behind the counter in individual bags ready to go, it's what most people buy and you just say "1 please!" and the cashier knows what you want. One costs RM 1.50 (¥50, $0.45 USD). We had it again every time we passed by Suria.
Then we headed back towards the hotel and went to the Malaysian Tourism Centre (MTC) located across the street. There are plenty of pamphlets and we got some useful maps. There are also a few computers to use the Internet for free.
It was still rather early but we were ready to call it a day, because we had Hotel Maya waiting. We got back there and enjoyed the pool with built-in jacuzzi for a little while. On our way back to our room we stopped by the mysterious sky lounge that we had noticed in the elevator at the 13th floor. After a short stop back to our room we got back there and enjoyed some drinks and a large plate of potatoes while watching the view. The view was beautiful, the best we had of the city, seeing both the Twin Towers and KL Tower. These are fun to watch at night because they keep changing colors and animating.
Larger sizes and more photos at Flickr
Posted on October 9, 2007 at 16:03 | Permalink | Trackback (1) | Comments (0) | Tweet |
---
October 5, 2007
SIN/KUL #2: Night train to Kuala Lumpur
Thursday, September 20 - Friday, September 21
Singapore -> Johor Barhu, Malaysia -> Kuala Lumpur
At the end of our first day in Singapore, we were already headed to Malaysia by night train. Malaysian train company KTM charges ticket prices in the departure country's currency. For trains leaving Singapore, the price is in Singapore dollars (S$1 = $0.68 USD = ¥80), and for trains leaving Malaysia, the price is in Malaysian ringgit (RM 1 = $0.30 USD = ¥34). So far it all sounds normal, but the "amount" (number) is the same!.. while a ringgit is worth less than half a Singapore dollar. Riding a train from Malaysia is always half the price.
So in order to get a good deal, we got to the closest point in Malaysia, Johor Bahru, and rode the night train from there. To get to Johor Bahru we took a bus from Queen St. Terminal in Singapore, just a bit northwest of Bugis. The 30-minute bus ride costs only S$2.40 ($1.60 USD or ¥185), and includes a stopover at the Singapore immigration. After passing through immigration, we got back on the bus and then ride again to the Malaysian customs and immigration, from which we walked out in Johor Bahru. We had a crazy bus driver who'd always speed up to close to the next car in front, and in a moment the car would inevitably switch lanes (who wouldn't?).
Someone indicated us the way to the KTM train station (go straight and cross the street by the pedestrian bridge). We got there and confirmed that the e-tickets that we had bought online were ok. We still had some time to waste so we went to the mall across the street and had coffee at The Coffee Bean & Tea Leaf. The staff there was very friendly, especially the guy who seemed to be the manager, he came to chat with us, telling us that his brother lived in Japan.
When it got close to boarding time, we got back to the train station and waited for a little while. We saw a small wall lizard outside the station. Inside, the big fish tank indicated that it was feeding time at 23:00 but no one came to feed the fish.
We got on the train where we had a "first class" small compartment with two bunk beds and private toilet and shower. This wasn't quite luxury though, some stuff was broken and the train kept shaking quite badly throughout the trip. Even though it was already past 23:30, the train staff comes to take orders for dinner and the next morning's breakfast, which is included in the price. Dinner came a bit later, with free water bottles too, it wasn't especially good but not bad either. Breakfast was some random bread with a RM 1 price on it (¥35).
Anyway we could get a bit of sleep until we arrived at Kuala Lumpur Sentral Station around 7am.
Posted on October 5, 2007 at 00:16 | Permalink | Trackback (1) | Comments (1) | Tweet |
---
October 1, 2007
Just escalate it
Today I needed to get my Mizuho bank account moved from one branch to another, because the place I work at requires employees to all have an account at the same branch. When I went to the new branch, I was first told at the reception that I needed to close my old account and then to open a new account. So far so good, but in order to open a new account I would need to have an inkan (印鑑, name stamp). Believe it or not I've survived in Japan for almost 7 years without an inkan, and I don't really want one.
I asked why I was able to create my original bank account 6 years ago just with my signature, and they called the boss to come have a chat with me! I was then told that's because Fuji Bank (the original bank where I signed up, but was later merged with other banks into Mizuho Bank) had a different policy. Fair enough, but "I've been a loyal customer and I'm not all that enthusiast about getting an inkan just for switching branch..." and I got what I wanted! The boss pulled out a very simple form titled 「取引店変更依頼書」 ("Branch change order form") (4 hits on Google, for other banks only!). This has the disadvantage of taking about 2 weeks, but the big advantage (IMHO) of getting your automatic payments (credit cards, mobile phone,...) to follow-up automatically.
To sum up, usually they get you to close your old account, open a new account, and let you call all of your credit card companies yourself, but they really can do all of this for you even though it will take 2 weeks. I'm curious whether it will really take that long though.
By the way the service at the reception, where they ask you what you want to do and give you a number to the right counter, was really mediocre and stubborn. I had three oldish ladies after me! "No you can't just move your account from another branch." "Go buy an inkan at the department store on the other side of the street." Once the boss came, everything went smoothly.
If you're not in a hurry, just ask for the boss.
Posted on October 1, 2007 at 19:31 | Permalink | Trackback (0) | Comments (4) | Tweet |
---