Blog - April 2006 Archives
April 2006 Archives
Index


.28 Yukon native art event



.22 Transportation Museum


.20 DSKExtract CoCo utility


.19 Sanshin bldg and Godzilla



.16 Portable Rock live report



.14 New TV!


.14 File2DSK CoCo utility


.09 Deers


.04 DJ event photos



.03 Sakura #4: Yanaka-reien, Itabashi-ku



.02 InK live report


.02 Set list

---
April 28, 2006
Yukon native art event
Last night I dropped by the Northern Canada First Nations in Pause event, where native traditional art from Yukon (Canada) is being displayed. There was story-telling by Keith Wolfe-Smarch, who told about the haven who stole the sun, and also live traditional music.
Exhibition until April 30.
Posted on April 28, 2006 at 11:44 | Permalink | Trackback (0) | Comments (0) | Tweet |
---
April 22, 2006
Transportation Museum
Last Sunday we headed to the Transportation Museum, located between Ochanomizu and Akihabara, to visit it before it gets closed down in mid-May for a planned move to Saitama. Unfortunately we couldn't visit the old Mansaibashi station the museum is built on, as tours were already booked off for the day. Nevertheless it was fun to look at the old trains shown in the museum. We also ran around past closing time to finish collecting all the stamps scattered throughout the museum so that we could get free clear files.
The most fun was maybe that I got to drive a simulator of the Keihin-Tōhoku line, made of a real conductor's wagon. I really sucked at sync'ing my breaks with the station though, and went way passed it, causing "ahhhhh!"'s from the few daring passengers. :)
The Transportation Museum will close on May 14, 2006 and reopen in Saitama city on October 14, 2007.
Posted on April 22, 2006 at 00:32 | Permalink | Trackback (0) | Comments (5) | Tweet |
---
April 20, 2006
DSKExtract CoCo utility
(To regular readers, please excuse this one, it probably won't be useful to many of you!)
I made this command line utility that extracts files from a Color Computer .DSK virtual disk (as used in emulators such as M.E.S.S.). A new folder is created on the PC's drive and files found in the .DSK file are copied to it.
Posted on April 20, 2006 at 13:22 | Permalink | Trackback (0) | Comments (2) | Tweet |
---
April 19, 2006
Sanshin bldg and Godzilla
Tonight I passed in Hibiya, so as goes the latest trend, I went to 三信ビル (Sanshin building). I also had a coffee at New World Service, where an old man seemed to be the main waiter. Sanshin bldg, built in 1929 and currently the oldest building in the Hibiya area, will be destroyed this year.
Because of the large number of "no pictures" signs posted in all entrances and in front of elevators, I only took this one picture from the 2nd floor. The other is a poor close-up of the entrance facing Hibiya-kōen.
Then on my way towards Ginza, I caught this rare scene of Godzilla preparing an attack on Tokyo. Watch the news tonight!
Update (2006/6/26): Here's a great panoramic picture of the building.
Posted on April 19, 2006 at 21:18 | Permalink | Trackback (0) | Comments (10) | Tweet |
---
April 16, 2006
Portable Rock live report
Last night, I went to see Portable Rock live at Shinjuku Loft, part of the Loft's 30th Anniversary "Rock of Ages" concerts series. The show's main act was Moonriders, but they brought along two defunct bands that they had ties with to play short sets. The place was packed, with a lot of older people but also many in their 20's-30's, probably a lot there to see Nomiya Maki.
Portable Rock was Nomiya Maki's pre-Pizzicato Five band, together with Nakahara Nobuo (bass) and Suzuki Tomofumi (guitar). It had been 17 years since their last concert in 1989(?), and even that concert was perhaps a little bit of a "revival" as it accompanied the release of "The Beginnings", a collection of early demos recorded at Moonriders' Suzuki Keiichi's studio. Most songs they played were taken from that album, though three of those were also included on their album "Q.T". Having been listening to "Q.T" lately, I knew most of the songs from the 6-song set and had a great time!
Maki was of course beautiful. She wore a simple black dress falling off her shoulders, and had some large shiny accessory in her hair. There was no costume change during the short set.
Portable Rock's set list: Idol / Picnic / Cinemic Love / Golem Polka / 新種海岸 (shinshu kaigan) / Green Books
Just before the last song, Maki said on a reflex 「ピチカートファイヴ、最後の曲です!」 ("Pizzicato Five, this is the last song!") and everyone gasped, and Tomofumi said 「ピチカートファイヴじゃない!!」 ("This is not Pizzicato Five!"). Maki looked so surprised of the words that came out of her mouth without her even noticing, and excused herself over the fact that she had said that line for 10 years and that both bands begin by "P".
I had seen Tomofumi recently when he appeared at Maki's Party People Party for her Pizzicato Five acoustic set, and it was great to see their stage dynamics again.
Next was Cinema, a short-lived new wave/British pop band, and they were quite cool! It was their first live show in 25 years!!
Members were Matsuo Kiyonori (lead vocals and guitar), Nakahara Yasuhiro (lead guitar), Isshiki Susumu (bass), Kotaki Mitsuru (keyboards), and Suzuki Saeko (drums). All members also sang chorus to great effect. All of the front row members (guitars and bass) had great charisma, singer Matsuo had big very curly hair and large glasses, bassist Isshiki was very (too?) talkative and it seemed that if Matsuo wouldn't have stopped him he'd had talked forever about the good old days, and guitarist Nakahara looked very cool in a shirt and necktie with short hair giving him a British look.
They explained that a female drummer was very unusual back in the day, and that it gave their band something special. Her drumming was perfect, and actually the whole band sounded very tight, not like old guys getting back together for a one-time gig. Drummer Suzuki Saeko pointed out that their sound seems somehow more like progressive rock than it used to be. The songs were fun and pop, and they got the whole crowd to sing along to "denwa denwa denwa".
Cinema's set list: ? / Goodbye Heartbreak / Hotel / 君のプリズナー (kimi no Prisoner) / 電話・電話・電話 (denwa denwa denwa) / Cream Soda Baby / 雨のチャイナタウン (ame no Chinatown)
Cinema will have a greatest hits album titled "Golden Best" released in June. Having released only one album plus three singles, all of the album plus a post-album single will be included, and a second disk including previously unreleased material. I'll probably post it to my agenda later.
Last on stage were Moonriders, who just like Shinjuku Loft are this year celebrating their 30th anniversary! Unlike the other bands, I think they've been active for the whole time. I was rather unfamiliar with them, but their sound was a bit less interesting to me, while sometimes a bit new wave they often sounded like folk rock, and sometimes a slight bit cacophonic to my ears (the large number of members (7) probably contributed to that). What I liked of them is their unusual set, with two guitars (rhythm and solo), one guy playing violin/mandolin/trumpet (not all at the same time, mind you), bass, keyboards, and two drums (acoustic and electronic). Especially the violin (sometimes distorted), mandolin and trumpet gave an interesting touch, though sometimes contributed to the folk-ish sound.
Most fun was when they got back for the first encore wearing Darth Vader-ish helmets and then sang "(I can't get no) Satisfaction" in a weird version! And then for the second encore they called back all members of the two other bands on stage and had everyone and the whole crowd singing, that was great fun! They ended the show wearing different black helmets. Also fun was the old videos of them shown before they started to play, back then they really looked new wave and wacky. There was no sound though so I'll have to check out later how their early works sounded.
Posted on April 16, 2006 at 14:15 | Permalink | Trackback (2) | Comments (3) | Tweet |
---
April 14, 2006
New TV!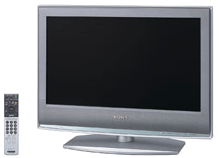 After a few months of suffering sound-only TV about half of the time, we finally went and bought a new one! Of course, we took the opportunity to upgrade to digital, as all analog transmissions will end in Japan in only a few years, and also to wide screen! After some shopping around and hesitation, we went for the Sony Bravia 26" KDL-26S2000 out just last month. 26" was the biggest that could fit in our small space for the TV (74cm between the wall and the fridge), so that's what decided of the size. I think it's big enough for a small LDK like ours.
The price was ¥165,000 at Bic Camera, minus ~¥10,000 I had in points, and I gained an extra 20-23% points (~¥34000), making it a spending of ~¥120,000. Not bad! I went and signed up for a Bic Camera/Suica/View credit/point/transport card in order to get 3% extra points, though this extra 3% only applied to the first ¥100,000 as that's the temporary card's spending limit. I didn't know I had to pay the balance in cash (I was thinking of paying the rest within another credit card), so we had to run around at the last minute to get cash at an ATM.
As for the Bic Camera/Suica/View card, I was eager to stop using my old regular Suica card and have everything combined into one, so I was a bit disappointed when I learnt that the Suica part of the credit card doesn't allow to combine your commuter's pass. The regular View/Suica card does it, so why not this one? So I'll have to keep using my old card, and I probably won't use the Suica feature at all on this new one.
Otherwise, all is good! The TV arrived today, and what a great experience! As Roy said, digital TV in Japan is quite something! So clear, and so much information available right there. There's even a LAN port on it, so I'll try hooking it up to the net and see if that brings up any extra features.
Posted on April 14, 2006 at 00:37 | Permalink | Trackback (0) | Comments (4) | Tweet |
---
File2DSK CoCo utility
(To regular readers, please excuse this one, it probably won't be useful to many of you!)
I made this command line utility that takes Color Computer .BIN, .BAS and other files located on your PC, and puts them together in a newly created .DSK virtual disk file that can be used in emulators such as M.E.S.S.
The reason I made this utility is that several .BIN and .BAS files can be found on the net, and I wanted a way to make .DSK files from them simpler than using imgtool provided with M.E.S.S.
Posted on April 14, 2006 at 00:36 | Permalink | Trackback (0) | Comments (7) | Tweet |
---
April 9, 2006
Deers
What do these two T-shirts have in common?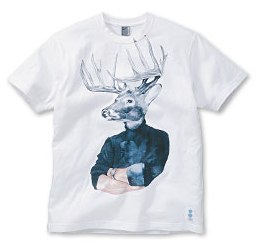 A) They show a deer (of some sort)
B) They're sold at Uniqlo for ¥1500
C) I bought them both
D) All of the above
Hover for answer: D Designed by Lodown (Berlin) and Colette (Paris).
Posted on April 9, 2006 at 13:53 | Permalink | Trackback (0) | Comments (2) | Tweet |
---
April 4, 2006
DJ event photos
Here are photos of a few DJs on an April Fool's night in Tokyo.
Posted on April 4, 2006 at 00:32 | Permalink | Trackback (0) | Comments (11) | Tweet |
---
April 3, 2006
Sakura #4: Yanaka-reien, Itabashi-ku
Hanami season is already getting closer to its end, especially after the heavy rain we had last night. Nevertheless, here are a few more shots from yesterday and today.
1. People doing hanami in Yanaka-reien, a famous cemetary in Taitō-ku
2. A back allay in Itabashi-ku (also: two years ago)
3. Sakura and graffiti by Shingashi-gawa, in Itabashi-ku (also: last year)
Posted on April 3, 2006 at 23:29 | Permalink | Trackback (0) | Comments (2) | Tweet |
---
April 2, 2006
InK live report
On Friday night I went to see InK, the new unit of Ishino Takkyū (Denki Groove) and Kawanabe Hiroshi (Tokyo No.1 Soul Set). As soon as the curtains opened the crowd was in delight to see the fantastic stage on which stood a giant cassette tape, on top of which the two twiddled with their mixers.
The music ranged from up-beat techno to calm dub, and while about half of the songs played were instrumental, the rest had repetitive English lyrics sung by Takkyū. Aside from songs that will appear on the album, they played a cover of Inoue Yōsui's "koori no sekai" (井上揚水 「氷の世界」) which, sung in Japanese and with Takkyū's trademark nasal voice, was one of the most entertaining ones. Don't worry though, the original songs were also great, with lots of precise sounds, the type that make you notice different things everytime you listen.
The VJing by Ukawa Naohiro showed all kinds of animations using the logo cassettes, all very sharp and entertaining. He is also responsible for the visual works on Nomiya Maki's latest album, "Party People".
Usually, said "one man" shows (a show with only one band/artist playing) easily last about 2 hours, but InK being a brand new project and not even having an album out yet ("C-46" will be out on April 26), they ran out of material after about 10 songs. Takkyū excused themselves saying "at least you can say you've seen something rare!" They did come back for an encore, playing the song "Bassline" once again, as it's lately used in a Vodafone commercial. Then the curtains closed again, and as everyone was beginning to walk out, the curtains opened once more showing the two in front of their gigantic tape, waving goodbye as they left for good. The show that had started at 19:00, and featured over an hour of DJing by Moodman, ended already at about 21:30. Some of the audience seemed to think that was quite short, but I thought it was of good proportions.
Now I'm very much looking forward to the album!
Posted on April 2, 2006 at 20:52 | Permalink | Trackback (0) | Comments (0) | Tweet |
---
Set list
Last night's party went very well! With about 20 people in at peaks which is a lot for such a small place. It was a lot of fun! I ended up being there from start to finish.
For those who couldn't attend (and those who did), here are my set lists.
Set #1 17:00 - 17:25
"keroyon no uta"
Museum of Plate "sho-on feat. Osumi"
A-Trak / intro and A1 from "Gangsta Breaks"
Amon Tobin "Ton Mantis"
HASE Hajimu "Texas Polka"
Sindbad "Dumb Found feat. Your Song Is Good"
Wack Wack Rhythm Band "Wack Wack Rhythm Island feat. Rhymester"
Crue-L Grand Orchestra "We Live A Life (Recloose Remix #1)"
Kofta "The Crux"
Set #2 20:30 - 21:00
"keroyon no uta" (by popular request)
Rodion "La prova con vocoder"
Beastie Boys "Shadrach"
Digital Underground "Underwater Rimes"
Plus-Tech Squeeze Box "Steam kakarichō (Roswell's Monkeys Mix)"
King Missile III "Get Into It"
Rick Dees and His Cast of Idiots "Disco Duck"
"Soul korekkiri desuka"
p&art sasanoooha "Dancing Queen"
Mr.comicstore "Grandfather's Parmanent Hair (Original Mix)"
E-Pak-Sa "Space Fantasy (sexy version)"
Whew, I did fit quite a bit in such short sets, though I did cut a few songs halfway through. :)
Photos have been added here!
Posted on April 2, 2006 at 13:34 | Permalink | Trackback (1) | Comments (2) | Tweet |
---