Blog - October 2016 Archives
October 2016 Archives
Index
.30 Weekly revue: 2016 weeks #42-43 (October 15 to 28)
.16 Weekly revue: 2016 week #41 (October 8 to 14)
.09 Weekly revue: 2016 week #40 (October 1 to 7)
.02 Weekly revue: 2016 week #39 (September 24 to 30)

---
October 30, 2016
Weekly revue: 2016 weeks #42-43 (October 15 to 28)

Travel: We visited Hong Kong from October 20 to 24! Aside from a typhoon on the 21st (because of which all shops were closed) we had a great time, ate lots of good food, and caught up with the city a bit and saw some recent street art (even 2-day fresh OBEY!). It had been 8 years! All my photos can be seen in this Flickr album.

Food: (except Hong Kong)
- Sashimi lunch with Peter N. & family at Nihonbashi Toyama
- Café latte at Aux Bacchanales, Kioichō
- Horse meat and mushroom curries at Tapir, Shin-Ōkubo
- Dinner at Los Barbados, Shibuya

Exhibition: KaToPe exhibition Soup, Ochiai. The exhibition consisted mainly of brand new amazing colorful paintings of great detail, with a nature theme. More photos here.

The following exhibition is 阿満都" (ALMOND) which just started on October 29. I've been already and it's delight for ALMOND fans! Photos aren't allowed though.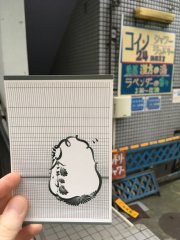 Music release news: ROVO

Playlist: Nakatsuka Takeshi, Jintana & Emeralds, (M)otocompo x Kit Cat, Tokyo Panorama Mambo Boys, Maika Loubté, Hoshino Michiru, BANK, ROVO, Especia
This week's videos: Izumi Ookawara "Strawberry Jam"
"Tokyo Culture Story 'konya wa Boogie Back (smooth rap)' in 40 years of Tokyo fashion & Music" presented by BEAMS w/ Nomiya Maki, Togawa Jun, clammbon, Koji Nakamura & Furukawa Miki (Supercar), Tofubeats, EYE (Boredoms), Hatsune Miku & many more
Posted on October 30, 2016 at 19:11 | Permalink | Trackback (0) | Comments (0) | Tweet |
---
October 16, 2016
Weekly revue: 2016 week #41 (October 8 to 14)

Food: - Sri Lankan curry set at coji coji, in Mito, Ibaraki
- Apple Cheeks sandwich at Buy Me Stand, Shibuya. Son of the Cheese on the 2nd floor, the fashion brand that runs Buy Me Stand, currently has a line of QP collaboration wear!
- South Indian curry at Venu's South Indian Dining, Kinshicho
- British style apple crumble pie at Bespoque for dessert
- Pizza and much delicious dishes at Guerrero, Shimokitazawa

Music release news: Halmens X, dorlis

This week's video: sugar me "anyone else but you (feat. Oh Shu)"

Posted on October 16, 2016 at 11:03 | Permalink | Trackback (0) | Comments (0) | Tweet |
---
October 9, 2016
Weekly revue: 2016 week #40 (October 1 to 7)

Food: - Victoria sponge cake with rhubarb jam at Kies, Nishi-Ogikubo
- Gelato and latte macchiato at the Italian fair at Shinjuku Isetan
- Dropped by flower shop & snack Mag by Louise for its 2nd anniversary! Congratulations!
- Lamb meat at Bistro Hitsujiya, Yotsuya-3chōme

Music events: - I went to an event at Time Out Cafe & Diner (above Liquidroom) that was mainly a release party for comedian Hollywood Zakoshisyoh, although the main reason I went was all of the music guests. There was a guitar DJ set by Kashif (PPP, Jintana & Emeralds), a live performance by girl rap group Yomeiri Land, a DJ set by Dorian, and a show by all-star unit Donuts Disco Deluxe (ANI (Scha Dara Parr) + Robochu + AFRA), etc. All of that was just great! I posted short clips of Yomeiri Land, Kashif and Donuts Disco Deluxe.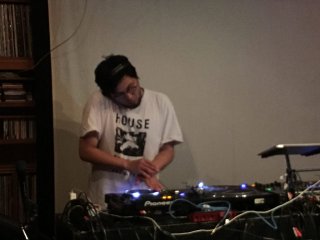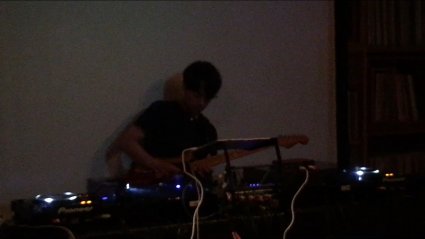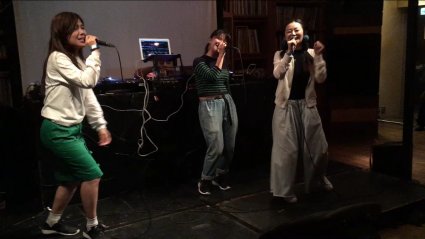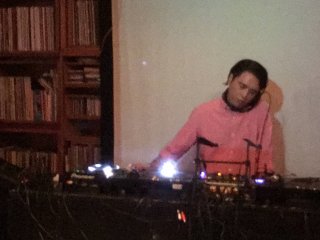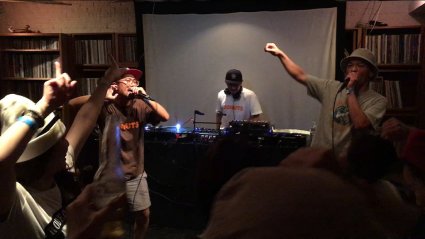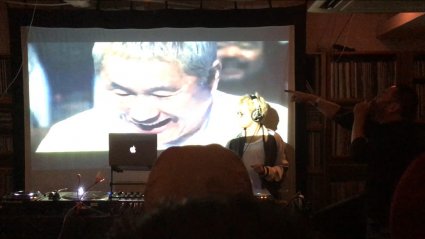 moriura, Kashif, Yomeiri Land, Dorian, Donuts Disco Deluxe, Fujii Kentarō + Razor Ramon RG
When walking out, we ran into models for Eros Hairstyling from Taiwan, who were shooting some photos before heading to their stage at Liquidroom. Quite impressive! That was followed by cheese ramen at the nearby Tsukumo.
- Friday was the first day of Montreux Jazz Festival Japan 2016, and I was lucky to be able to check out Metafive! I had seen them at World Happiness in August, and they gave a set that was a bit similar including new song "Chemical" from the upcoming "Metahalf" mini-album (out Nov. 9). It was also my first time seeing them indoors, without worrying about the weather. :)
Set list: Albore / Whiteout / Luv U Tokio / Split Spirit / Cue / Chemical / Gravetrippin' / Turn Turn / Don't Move / Maisie's Avenue
Exhibition: - Went to see MOZYSKEY's solo exhibition at Ochiai Soup! Many new pieces were on display, as well as a mesmerizing spinning metal structure.
Music release news: lyrical school, Nakata Yasutaka
This week's video: lyrical school "Magic Hour"
Posted on October 9, 2016 at 21:54 | Permalink | Trackback (0) | Comments (0) | Tweet |
---
October 2, 2016
Weekly revue: 2016 week #39 (September 24 to 30)

Food: - Thai food by Abe Kumiko at ECODA HẺM
- Sandwich, tiramisu and latte at Parlour Ekoda
- Thai dinner at Amrita shokudō, Kichijōji
- Corn soft serve ice cream on a real corn, at Dominique Ansel Bakery, Harajuku

Music events: - I went to "Delica Lab" at Batica (Ebisu), the regular party organized by Nakatsuka Takeshi! This time the artists featured were Izumi Ookawara (who had just released a new single the same day), dorlis (who also released a new album the week before), and saxophonist Soeda Naomu. All were great! :) The food this time was "white gyoza" from Fight Gyoza in Sugamo. I had two plates. :)

- Also I dropped by Isetan to have a look at Perfume's "Perfume Party People" corner, celebrating 11 years of Perfume since their major debut.

Music release news: Izumi Ookawara, Konishi Yasuharu, lyrical school

Playlist: Nakatsuka Takeshi, (M)otocompo x Kit Cat, Pizzicato Five, Modern Choki Chokies, Kit Cat, Maika Loubté

This week's videos:

lyrical school "Magic Hour"

Lucky Tapes "Lady Blues"

Posted on October 2, 2016 at 11:30 | Permalink | Trackback (0) | Comments (0) | Tweet |
---