Blog - May 2016 Archives
May 2016 Archives
Index
.29 Weekly revue: 2016 weeks #20-21 (May 14 to 27)
.14 Weekly revue: 2016 week #19 (May 7 to 13)
.07 Weekly revue: 2016 week #18 (April 30 to May 6)
.01 Weekly revue: 2016 week #17 (April 23 to 29)

---
May 29, 2016
Weekly revue: 2016 weeks #20-21 (May 14 to 27)

Food: - Chiffon cake sandwich at Foodmood, Kunitachi
- Mutton and bonito curries w/ coriander at Tapir, Shin-Ōkubo
- Apple Cheese (pork rib, apple, Camembert, ...) at Buy Me Stand, Shibuya

Music events: - I went to see Tokyo Panorama Mambo Boys who played live at their club event "Latin Panic!". This year they're celebrating their 30th anniversary! The event used to be held several years ago at club Oto when it was still in Shinjuku, and I went a few times. This time was the first time the new "Latin Panic!" was held at Shibuya Oto. It was an awesome energetic show! I got to hear a bunch of favorites such as "James Bond (Mambo Bond)", "Speak Up Mambo", "Green Onions", "Peter Gunn", "Pachinko", and vocal songs "Bongo Tengoku" and "Dynamite Mambo" feat. illustrator Sorimachi Akira.

- The next day was record conbini event "Double Cast vol.6", with Kishino You-ichi and guest DJ Konishi Yasuharu (Pizzicato One)! It seems over 100 people entered the small convenience store that night, and the happy and cheerful ambiance was just wonderful! Both DJs gave great crowd-pleasing performances! I'm looking forward to the next events. :)

- And yet the next day was Halfby's release party for latest album "Innn Hawaii", which I love! There were shows by VIDEOTAPEMUSIC, Alfred Beach Sandal, etc., with DJing by JxJx (Your Song Is Good), Halfby and more.

- Another show I went to see is "Hitomitoi plays City Dive" at Billboard Live Tokyo, in which the singer and her band formed of members of Nona Reeves (plus some others) performed the whole of album "City Dive" (2012) which I love. That was a wonderful set! 4 songs also featured Kashif, including duet "Summer Breeze '86" in which they do that cool dance. I'm glad I could see that again!

Set list: Dive / Galactic ni sasete / matenrō no koibito / ningyo ni naritai / Summertime ni kuchizukete / Rainbow / Glass ni ukabeta Nonchalant (Acoustic) / Summer Breeze '86 (w/ Kashif) / Harbor Light (w/ Kashif) / koi wa omoi no mama (w/ Kashif)
Encore: Spring Rain (Ryusenkei cover) / natsu kōsen, kira. (w/ Kashif)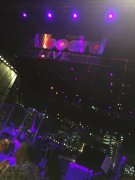 - Then on a Monday I went to have a peek at "Shibuya no Radio", where Nomiya Maki and Kaji Hideki hold their radio show "Shibuya no Radio no Shibuya-kei" every Monday from 5 to 7pm. The studio can be seen from outside!
- And, not quite a music event if it wasn't for meeting good friends from abroad who love Shibuya-kei and Pizzicato Five! We went to Kawaii Monster Cafe and had "colorful poison cake (chemical)"! It was good. :)
Music release news: Cupitron, "Sailor Moon Crystal" single w/ song produced by Konishi Yasuharu
Playlist: Perfume, Jintana & Emeralds, Halfby, Tokyo Panorama Mambo Boys, Wack Wack Rhythm Band, hitomitoi, Denki Groove, Hoshino Michiru, Kyary Pamyu Pamyu
This week's videos:
Kaji Hideki "Heroes"
Un Amin "Giant Panda ni notte mitai"
Cupitron "Galaxy Express 999"
Posted on May 29, 2016 at 14:05 | Permalink | Trackback (0) | Comments (0) | Tweet |
---
May 14, 2016
Weekly revue: 2016 week #19 (May 7 to 13)

Food: Potato salad, fried chicken, etc. at small food, Shibuya
- Cauliflower cheese, pork, etc. at Bespoque, Higashi-Nakano
- Marjoram sausage, etc. at No. 4, Ichigaya

New music: - One of my favorite artists ever, Rodion (Rome, Italy) released brand new album "Generator" last month! This is slow disco/electro/techno performed by humans, with real drums and bass, and it's just awesome! It took me a little while before getting this album, as I was hoping to find the 2-LP edition (and hopefully encourage a local record shop at the same time), but so far no luck so I settled for a digital edition for now. The LP is available at Bandcamp, and you can also listen to the whole album here while reading track-by-track notes by Rodion himself.

- Also, I received a wonderful limited tape of Micropupazzo's latest album! It's hectic and crazy and fun! You can check it out at Bandcamp! Micropupazzo and Rodion are both dear friends from the good mp3.com days in the 90's, and also both from the radioDD family.

Playlist: Halfby, Perez Prado, Tokyo Panorama Mambo Boys, Rodion, hitomitoi

This week's video: Alfred Beach Sandal "Cool Runnings"

Posted on May 14, 2016 at 21:28 | Permalink | Trackback (0) | Comments (0) | Tweet |
---
May 7, 2016
Weekly revue: 2016 week #18 (April 30 to May 6)

This week was Golden Week! There were only 2 work days, of which I took one off. :)

Food: - Daal and pork keema curries at Indo Fujiko, Koenji
- Gelato at Sincerita, Asagaya
- Soba!
- ... and a super fun picnic on a sunny day!

Outing: - Went to the Himatsuri pottery festival in Kasama, Ibaraki. Seems like I was even on the news on TV...! I did notice sneaky TV staff pointing a camera at me. I didn't see the segment myself but had reports from Tokyo and Osaka. :)

Music event: - On Sunday I dropped by Tower Records Shinjuku for a mini-live of lyrical school. That was a fun show and I'm always impressed at how good the tracks are, and of course their good rap skills. Check the smartphone-minded video for latest single "RUN and RUN" you haven't yet.

Set list: tengal6 / Put Your Hands Up / Maybe Love / RUN and RUN / brand new day / I.D.O.L.R.A.P

Music release news: Kyary Pamyu Pamyu, sōtaiseiriron, Ino Hidefumi, Negicco, Harada Tomoyo, Hoshino Michiru, Kaji Hideki, No Lie-Sense, Nanba Shiho

Playlist: hitomitoi, XTAL, Vanilla Beans, Misswonda, Museum of Plate

This week's video: Nanba Shiho "Good Morning Sunshine"

Posted on May 7, 2016 at 15:23 | Permalink | Trackback (0) | Comments (0) | Tweet |
---
May 1, 2016
Weekly revue: 2016 week #17 (April 23 to 29)

It's now Golden Week! Yay!

Food: - Vegetable 65, chicken and mutton curries at Cochin Nivas, Shinjuku
- Doria, croquettes and cake at Magali @ monami, Nishi-Ogikubo. Magali will close on May 8 to open in a new location in June. Café Monami and its great cream cheese muffins and curry remain though!
- Green curry, etc. at Bamii, Kōenji
- Sri Lankan curry at Pipinella, Kōenji

Music event: I went to see Negicco's tour finale at Nakano Sunplaza! They performed from start til end with a full band, often backed with a horn section, for a total of 8 musicians! They played 21 songs, but despite that leaving out some favorites (no "Sunshine Nihonkai"...). Nevertheless that was a great show! It was also my first time at Nakano Sunplaza, a venue that I had always wanted to go to, especially because its landmark building will be torn down next year. Lots of photos are up at Natalie!

Set list: hikari no Spur / Triple! Wonderland / atarashii koi no uta / 1000% no kataomoi / jiyū ni / Idol bakari kikanai de / Life Is Candy Travel / kimi to iru machi / Cream Soda Love / For a long time / oyasumi / doyō no yoru wa / mujun, hajimemashita. / Canal no madobe / Blue, Green, Red and Gone / futari no yūgi / Get It On! / sayonara Music / tokimeki no Headliner
Encore: attōteki na Style / nee, Vardia

Pop-up shop: My friend who runs zine shop Vermikko Books has a pop-up store open at Hikarie's 8th floor "aiiima 2" space until May 8! Details here. I dropped by to say hi, won't you too. :)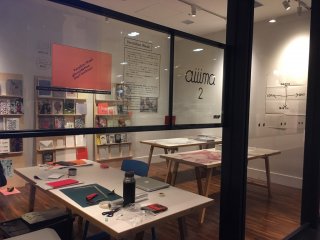 Music release news: lyrical school, Scha Dara Parr, Shūnosuke Ishikawa
Playlist: hitomitoi, Negicco, ...
This week's videos:
Scha Dara Parr "Let's Rock On"
Kids Day Band "daidaidaisuki dakishimetai"
Posted on May 1, 2016 at 21:00 | Permalink | Trackback (0) | Comments (0) | Tweet |
---