Blog - June 2007 Archives
June 2007 Archives
Index

.29 Behind the titles



.28 The geography of your dream #2: report


.21 Bright idea: Delete some goof



.19 Gangpol & Mit: live report


.16 Like having 1023 fingers


.14 Nishidai station


.08 Mini Fujikyū


.06 Bad RAM, new RAM



.01 Chocolate factory


.01 Sliding on a rocket



.01 Lullatone live at Tokyo Midtown: report

---
June 29, 2007
Behind the titles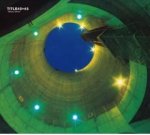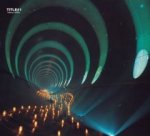 This week I had just been listening to Ishino Takkyū's "Title" albums ("Title#1" and "Title#2+#3"), and today I happened to find this great page with explanations for each song written by himself! It's very interesting to knows what he imagined behind some songs, and also the whole saga of losing data for a full album!
I won't translate the whole thing, but here's a summary of parts I found interesting. (This isn't a translation and parts may be inaccurate, just so you know.)
First, about a year and a half before the album was actually released, he had about finished recording and had a computer crash in which most of the data was lost. So what was released as the "Title"'s is the result of redoing everything from scratch. He ended up with a lot more songs that he first had though, and instead of picking some to make one album, he decided to split them into not one, not two but three (or 2.5 if you prefer)!
The "Title" title came from a university notebook on which it said "Title".
Posted on June 29, 2007 at 22:49 | Permalink | Comments (2) | Tweet |
---
June 28, 2007
The geography of your dream #2: report
Last Sunday we went to loop-line cafe in Sendagaya for an indies electronic event called "The geography of your dream #2". I wanted to go there especially to see Hosaka Akane perform, as I've been very much into her music lately. The small cafe was quite packed with about 30 spectators.
First was Aze, a unit of two girls. I think it was their first show. One played clarinet and a Casio sampler keyboard (much like what I saw Lullatone use the other day) and other played guitar and sometimes some percussions, maybe they played other toys and stuff too. I was sitting on a sofa at the back and couldn't see much the whole time, as you can see from my photos. :) They played some slowish songs that made for a nice mood.
Next was Akane, who sat at a small table holding her laptop, a MIDI controller keyboard and a Stylophone. She played backtracks on her laptop while playing her happy melodies live on her keyboards. I think it was the first time I saw and heard a Stylophone, and now I want one badly!
That was a very good set, almost non-stop as there was no time to applause between the songs, and I'm looking forward to see her live again!
Last was suzueri, who projected video on the wall, generated by her computer. The video was mostly some sort of games (one working a bit like Arkanoid, only with cute characters and graphics) that she controlled from a toy piano hooked to the computer! Pretty unique stuff!
On my way out I went to say hi to Akane and she was very kind. She gave me a CD-R of some new tracks she used for the show, including a new mix of the Takora song! Yay!!
Larger sizes and a few more photos at Flickr
Posted on June 28, 2007 at 00:37 | Permalink | Trackback (1) | Comments (5) | Tweet |
---
June 21, 2007
Bright idea: Delete some goof
MySpace just gave me a good chuckle this morning. Aren't tips of the day supposed to be somewhat constructive?

And how would some goof end up on my friends list anyway? Aren't MySpace users smart enough to not approve goofs? :)
Posted on June 21, 2007 at 07:59 | Permalink | Comments (1) | Tweet |
---
June 19, 2007
Gangpol & Mit: live report
On Sunday we walked down to SuperDeluxe in Roppongi to check out French unit Gangpol & Mit, part of their Japan tour organized by Kishino Yūichi.
Upon entering, mayutan (of applehead) was already performing a DJ set, mixing children's songs with Christian records while playing audible toys into to a mic. Her very pink set-up near the entrance was hard to miss!
Kiiiiiii was first on stage, and they played a fun set with a bunch of their usuals, but maybe I noticed a few songs I don't recall from before.
U.T totally destroyed the table that held her synth, by climbing on it, and she ended the show sitting on the floor. :)
After a bit more of mayutan's DJing, next up was Expo, a legendary techno-pop band which debuted on the Alfa label in 1987. The band features Manuel of Errors' Yamaguchi Suguru and Matsumae Kimitaka on synths. Kimitaka played the Moog (or another monophonic synth, I couldn't see from the back) and Suguru alternated between a Yamaha Motif 7 synth and a pianica.
The band also included Kondō Kenji (from Kuricorder Quartet) on the banjo, a trombonist, and versatile drummer Itoken. Their style was progressive and anti-4/4. I liked it!
Last was of course Gangpol & Mit! The unit is formed of two guys, Gangpol who does the music and Mit who does the visuals. They looked like very funny guys, which is reflected in their wacky music that sounds like both a circus and the end of the world. The show is very lively, with Gangpol playing a bunch of instruments, running and climbing around, and Mit VJ'd live while sometimes sticking velcro patches on their duck(?) and mouse(?) outfits.
The whole was an intense non-stop delight for the ears and eyes. You can check out some of their works on YouTube: Teaser, "Chinese Slavery".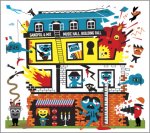 On my way out I bought Gangpol & Mit's album "Music Hall, Building Fall" (HMV, Tower) just out in Japan only, on Kishino-san's label Out One Disc. Granted they're better enjoyed live (there is some CD-Extra content, that I haven't yet checked), but the music is very charming in itself!
Oh, and I also picked up mayutan's free pocket tissue pack. :)
Big thanks to Boris for the heads up, otherwise I wouldn't have known about Gangpol & Mit in time.
Btw, those in Kanazawa (anyone?) can still catch them today (June 19) at the 21st Century Museum of Contemporary Art.
Posted on June 19, 2007 at 07:30 | Permalink | Comments (2) | Tweet |
---
June 16, 2007
Like having 1023 fingers
This morning I had to count something that was gonna take a little while, and I couldn't rely just on my memory 'cause I was going to think of other stuff at the same time. The usual reflex is to count on your fingers, only I knew I would want to count to more than 10 and maybe more than 20, so I thought of counting in binary!
Each finger is given a value equal to an exponent of 2 (thumb: 20 = 1, index: 21 = 2, middle: 22 = 4, ring: 23 = 8, baby: 24 = 16, ...) and when a finger is up its value is added to the total. Therefore having the index and middle fingers up equals 12 (4+8)!
Of course it helps to be a programmer, as I know my bit values on my fingertips (pun!), but it shouldn't be too hard for someone to at least remember 5 bit values and therefore be able to count up to 31, that's on one hand!
If that sounds like something that you could use, read Finger Flip Flop at Google Blogoscope, and use this hand counter applet to practice.
Posted on June 16, 2007 at 10:31 | Permalink | Comments (2) | Tweet |
---
June 14, 2007
Nishidai station
Yesterday I went to take these photos of Nishidai station, located in Itabashi-ku on Mita line. Although it's not a terminus station, there are like 18 tracks for trains to stop and be serviced there.
And this is some rusty device on a wall outside of a public toilet nearby, the kind of toilet that you avoid using unless it's really an emergency.
Larger sizes and geolocation on Flickr
Posted on June 14, 2007 at 12:59 | Permalink | Comments (6) | Tweet |
---
June 8, 2007
Mini Fujikyū
Last weekend during a bike ride, I noticed a colorful structure that looked like an attraction park, it's a publicity for the Fujikyū Highland. Sure enough, the building contained a travel agency called "Fujikyū Travel"..!
Larger sizes and geolocation at Flickr
Posted on June 8, 2007 at 20:07 | Permalink | Comments (2) | Tweet |
---
June 6, 2007
Bad RAM, new RAM

For the last few months, my computer had a lot of programs crashing, and also I sometimes got corrupted data when sending stuff to my iPod or to Flickr (check my flickrglitch tag). Perhaps this also caused my recent inbox loss.
I ended up suspecting that bad memory was the cause, and I confirmed that using the free diagnostic tool Memtest86+ which indeed spat red screens of memory errors. It was time for a swap..!
I often buy PC parts at Sofmap in Shinjuku, well at least that's where I had bought all of my current computer's parts. However this time I compared their prices with Kakaku.com (a great site that lets you compare prices for all sorts of stuff, mostly electronics, in shops all over the country), and there were shops in Akihabara selling 1GB memory (SDRAM DDR PC3200 (400MHz, the fastest my motherboard will take)) for about ¥7000 while Sofmap's was about ¥10000, so it was worth a rare trip to Akiba!
Btw, ¥7000 is the same price I had paid for 512MB of PC2700 (333MHz) three years ago. I remember back when 16MB cost about $100 CDN (¥10000).
Now I have twice the memory, and I'm back to some decent stability, hopefully. :)
Posted on June 6, 2007 at 23:42 | Permalink | Comments (3) | Tweet |
---
June 1, 2007
Chocolate factory
Today I found this very real chocolate factory, located in Itabashi-ku. Everywhere around it smells like nothing but chocolate!
In November every year, they apparently open their doors to sell some stock to individuals. One huge 350g bar costs ¥900, it's stuff like pro chocolate makers use. You bet I'll be there!
Details at Japan Chocolate Industrial Corporation.
Larger sizes and geolocation at Flickr
Posted on June 1, 2007 at 21:26 | Permalink | Trackback (0) | Comments (2) | Tweet |
---
Sliding on a rocket
I found this rocket slide at a small park in Itabashi-ku. It's just by a river, and I was cycling on the other side when I saw it. I couldn't tell yet that it was a slide, but I took the nearest bridge and went to check it out.
Pretty cool!! I didn't try it though. :)
Park: Kita-ku ritsu Ukima 3-chōme kōen (北区立浮間三丁目公園)
Larger sizes and geocoding at Flickr
Posted on June 1, 2007 at 20:22 | Permalink | Trackback (0) | Comments (0) | Tweet |
---
Lullatone live at Tokyo Midtown: report
This comes with a delay, but last Sunday around lunch time we trekked down to Tokyo Midtown for the first time. After looking around the basement floor of Galleria, where there are all sorts of food shops, we bought sandwich and quiche at Dean & Deluca and headed outside to eat it on a bench amidst the greenery.
After then we got back in and waited for Lullatone's set to begin. They had their laptop, mixer, xylophones and various toys set up on a table in the center of the large stage located in front of a big window through which the greenery peeked in.
In front of the stage, the food court-like tables were full and there were many people sitting and standing around. Lullatone played a good bunch of songs, mostly from their latest album "Plays Pajama Pop Pour Vous". I really enjoyed a part where they picked up two small Casio sampler synths that they bought in the U.S. for $3, and played a cheap-ish version of one of their songs using a sampled handclap from the audience.
It was a pleasant and happy experience!
Also check out Momus' photo here.
Posted on June 1, 2007 at 19:55 | Permalink | Comments (0) | Tweet |
---