Blog - September 2006 Archives
September 2006 Archives
Index


.28 Funado-ōhashi graffiti


.26 Countryside landscapes


.26 Movable Type NoHarvester plugin



.19 BNE: Worldwide Graffiti Art?




.17 Tsukiji and Guild matsuri


.13 HKG 2006 #5 - Day 3+


.12 HKG/MAC 2006 #4 - Day 2


.11 Cows on parade


.10 HKG 2006 #3: Day 1 part 2


.08 Movable Type AutoSave plugin


.07 HKG 2006 #2: Day 1 part 1


.06 HKG 2006 #1: Day 0

---
September 28, 2006
Funado-ōhashi graffiti
Today during lunch I went down to a bridge named Funado-ōhashi (舟渡大橋), and found a whole lot of graffiti below it on the north end. Some of it was good!
Larger sizes at
Flickr
Funado-ōhashi (舟渡大橋) is a bridge over Shingashi-gawa near Takashimadaira, in Itabashi-ku, Tokyo.
Posted on September 28, 2006 at 22:53 | Permalink | Comments (2) | Tweet |
---
September 26, 2006
Countryside landscapes
I was out in the countryside over the weekend, and took these landscape photos from a moving car. On the first three can be seen cultivated rice fields.
Larger sizes at
Flickr
Posted on September 26, 2006 at 12:03 | Permalink | Comments (5) | Tweet |
---
Movable Type NoHarvester plugin
A popular way for comment spammers to get their job done is to automatically harvest comment forms and forward the data to zombie computers who do the spamming. If you're getting a lot of spam comments to the same blog entries, you're probably a victim of the method.
This Movable Type plugin makes it nearly impossible for zombie nodes to post comments to entries harvested by another computer. Extra hidden values are added to all comment forms, one of those values is a server-computed key that's different for each entry and user, and cannot be used by a different computer or faked.

For the active spam fighter, the plugin also adds "whois" and "report" links to the junk comment editing form in Movable Type's back-end, allowing easy reporting of non-harvester spam. Many providers are more than willing to shut down abusive users. Also, a message like "All spam will be reported" near your comment forms may discourage some human spammers with half a brain.
According to Six Apart's ProNet Plugin Survey, 100% of NoHarvester users think that this plugin should be included in the core of Movable Type! That's how good it is!
Posted on September 26, 2006 at 12:00 | Permalink | Trackback (2) | Comments (66) | Tweet |
---
September 19, 2006
BNE: Worldwide Graffiti Art?
The San Francisco police is all uptight about BNE tags covering the place. I was contacted by someone from ABC News for permission to use a few of my Hong Kong BNE photos in their webcast piece about BNE's world invasion by tagging.
The webcast can be seen here: BNE: Worldwide Graffiti Art?
Also on YouTube
Above is a funny take by Flickr user !HabitForming.
Posted on September 19, 2006 at 20:47 | Permalink | Comments (11) | Tweet |
---
September 17, 2006
Tsukiji and Guild matsuri
Today the day started with a visit to Tsukiji, Tokyo's largest fish market, for some fresh sashimi! I had some delicious tuna at shop Nakaya (仲家)!
That last photo is of Tsukiji-honganji, a large buddhist temple.
After some shopping in Ginza, I went to Mishuku where I met friend Tsugumi. We went to Guild matsuri, a free festival celebrating Director's Guild's 2nd anniversary.
There were a bunch of bands playing, but the one I anticipated most was Shonen Knife! I had seen them in 1997 in Montreal, back when I was a huge fan and when it had its three original members. Since then, two members have changed (well Atsuko lives in L.A. and is being replaced), but they still rock'n'roll! They played mostly songs that I knew from back then, including "Twist Barbie", "Riding on the Rocket", "E.S.P.", "Explosion!", their cover of Carpenters' "Top of the World", and some more. Their support bassist really cracked me up with her constant big smile.
We also got to see comedians Harisenbon (ハリセンボン) and Nankai Candies (南海キャンディーズ), Afra & Incredible Beatbox Band, and Gagaga SP (ガガガSP).
And at the end we got a bit of fireworks too! It was the first time I got to try my camera's "fireworks" mode. :)
More and larger photos at Flickr
Posted on September 17, 2006 at 00:02 | Permalink | Comments (2) | Tweet |
---
September 13, 2006
HKG 2006 #5 - Day 3+
On our third day, we took it a bit easy after the long previous day travelling to another country (despite how close it was). This time we didn't buy train passes, we used some bus, some taxi and quite a bit of tram to work our way around.
Foot massage
The previous night, we had got the hotel's concierge to book us a reservation at foot massage salon Happy Foot in Happy Valley (1/F Elegance Court, 2-4 Tsoi Tak Street). So first thing in the morning, we headed there and got those feet what they deserved for having walked so much the previous day. I got a 50-minute massage that felt very good.
Then we went to nearby restaurant 《正斗》 (G/F, 21 King Kwong St, Happy Valley) for some delicious shrimp wantan noodles, fish ball congee and spring rolls.
For dessert we went to 《蓮園》 (G/F, 61 Sing Woo Rd, Happy Valley) next door and had some pudding.
South Horizons
Our next destination was South Horizons to go to the large Joyce Warehouse (21/F, Horizons Plaza, Lee Nam Road, Ap Lei Chau). The plan was to get to the area by bus, and then take a taxi to Horizons Plaza, a tall building with lots of warehouses and discount shops.
So we got to South Horizons by bus with no trouble, but then we were hit with bad luck when we got into the first taxi we found. Communication was about zero, but that was ok since we had a pamphlet from Horizons Plaza with the place's address on it. However, the address was only written in English, and the driver either couldn't or didn't read it. There was also a phone number on there so he called and I guess he asked "what's the address?". Turns out the phone number was the one of the management office in Wan Chai, and he headed right there... It's when we neared the highway toll, that we had passed by bus earlier, that I realized he wasn't driving us to our destination. I tried to stop him from going through the toll, but he went right through it, and then through a long tunnel that we had also passed by bus. Soon enough we were at our starting point, damn!
It's only then that he understood that he had made a mistake. So he did a U-turn and proceeded back to South Horizons, once again through the long tunnel and passing the toll. What was initially supposed to be a 5-minute HKD$15 ride took about half an hour and I was getting nervous about what would happen when the time to pay would come.
We got to our destination, we gave the driver "now what??" looks, and he pointed at his meter that was up in the $90s, plus he expected us to pay the two $5 tolls he had been through. After some reasoning he wanted us to pay $40 which we dealt down to $30. Whew.
So we finally did a bit of well-deserved shopping. I got some nice Marni shoes for a good price!
The way back was much easier since we caught a bus nearby that took us straight back to Causeway Bay.
More shopping
We did a bit of final shopping around the place. One of the places we went is a definite stop in Hong Kong, it's a shop called GOD ("Goods of Desire") that sells furniture and home accessories, but also a bit of clothing, bags, and really all kinds of things. Most of the stuff are original designs, and a lot of it is very cool. If I'd live in Hong Kong I'd probably get most of my furniture there, but meanwhile I get bags and T-shirts and small stuff.
We also enjoyed some coffee and huge cakes in the shop's café.
Across from Times Square, we found a skaters' shop where there were plenty of BNE tags (Japanese tagger). We figured he must have been there very recently. There was also a large "BNE was here" graffiti inside the building.
Once it started getting dark, we went to two small crowded malls on Great George Street. One called Causeway Place reminded a bit of Nakano Broadway, with several shops selling toys and collectibles and also a degree of otaku clientele. The other one, Island Beverly Commercial Centre, was more like 109, with about nothing but girls' clothing shops. Both had several floors and very narrow alleys.
Another destination was Krispy Kreme, the U.S. donuts chain that is set to invade Japan later this year. They give one free sample donut to anyone who walks in and to the counter, and that just keeps people going inside. However they weren't cheap at HKD$10 for an original and HKD$12 for other flavors. They do get cheaper when you buy larger quantities though. Especially the original donuts were light and good, though maybe a bit too sweet. I wonder how they will do against Mister Donut who often has most of its donuts on sale at ¥100.
Something that kinda sucked is that even though I only bought three donuts, they were handed to me in a large flat box that can hold six, with no easy way to carry it. It was quite a pain to drag around on the tram and everywhere.
Then, we were getting pretty hungry, so we went to eat at Crystal Jade Restaurant in Times Square (《翡翠拉麵小籠包》, B224). We had a lot of delicious food including very spicy noodles, fried rice, dumplings and boiled vegetables.
After a bit of last minute supermarket shopping, during which I was getting really tired (especially of carrying that insane donuts box), we took the tram back to our hotel. We packed all of our stuff and went to bed a bit late.
Leaving
We slept only a few hours until about 4:00, when we had to get ready and go to the airport for our 8:30 flight. Luckily Hong Kong's airport has rather easy access, and also luggage can be checked in at Hong Kong station before taking the Airport Express, and that makes things really easier.
In Hong Kong too the security was tight, we had light body searches before entering the gate area. Water was again being confiscated but there were free dispensers at the gate.
On the flight, we watched Nacho Libre and it was hilarious! We landed early afternoon and were home about 16:00.
Larger photo sizes in my Hong Kong/Macau 2006 set at Flickr
Posted on September 13, 2006 at 22:52 | Permalink | Comments (4) | Tweet |
---
September 12, 2006
HKG/MAC 2006 #4 - Day 2
On a second day in Hong Kong, our big plan was to go to to Macau, eat some good food and do a bit of sight-seeing, and then come back to Hong Kong.
Ferry to Macau
We woke up relatively early(?) and got to Sheung Wan station where the Macau Ferry Terminal is located. We bought sandwiches at a sort of Western-style family restaurant before buying tickets and heading to the gates.
Macau being a separate country, that means that just like an airport you have to go through immigration. It was the first time I got my passport stamped for leaving a country by boat! The one-hour ride was eventless, I just looked at the different islands and embarcations we passed and took a few dozens of photos.
Arriving in Macau, we first gathered basic information at the port, as we got there without a guide book and didn't even know what currency is used. Turns out Macau has its own Macau dollar, but it has the exact same value as the Hong Kong Dollar and all shops accept HKD, though the opposite isn't true.
San Ma Lo, St. Paul's and Monte Hill
After dodging a bunch of tour guides, we took a bus to San Ma Lo, a downtown part that has a lot of Portuguese architecture. Macau used to be a Portuguese colony, so it still has bits of the culture and Portuguese is still an official language. Streets all seem to have both a Portuguese and Chinese name. However the very large majority of the population seem to be of Chinese descent, and when leaving the center, Macau feels a bit like Hong Kong.
By the way, while Hong Kong was very hot and humid, Macau seemed even worse! I was sweating non-stop, and my poor hand towel was soon totally wet.
Anyway so we walked around the pretty streets for a little while, and went to check out the Ruins of St. Paul's Cathedral, of which only the facade is left. Towards the back there was a crypt inside of which was a mount of sand with a cross on top, and some windows on the sides displaying bones.
Back outside, we then walked towards the top of the nearby Monte Hill on which a 1626-built fortress used to stand. Now remain some cannons and walls, and also the Museu de Macau which opened in 1998. This is also a good place to catch good views of the city. In one spot there was a tunnel used for hiding, and it contained a small room with a bed.
After going around and finding our way down and back to San Ma Lo, we were getting very hungry and hadn't yet seen any decent looking Macanese/Portuguese restaurant even though the city looked like there could be a nice terrace at every other corner. We ended up asking a local lady who seemed to be on her lunch break, and she kindly recommended us a few restaurants, one a bit closer than the rest though a bit more expensive. We picked that one and it was delicious. I was so hungry that there are no Macau food photos, sorry! :)
Guia Hill
As our next adventure, we decided to head up the Guia Hill, on top of which is found a former lighthouse and fortress. With some help we got on the right bus, and while communication with the bus driver was limited, we were lucky that a family of tourists (perhaps from Hong Kong) were also heading to the same destination and seemed to know a bit better where they were going. So we got off at the same stop as them, which was still a little bit away from the hill, and we felt a bit shy as we followed their steps while they sometimes looked back at us as to make sure we hadn't got lost. :)
At the bottom of the hill, we decided to take the teleferic to the top, and got one-way tickets for only HKD$3! Despite the greenery around, it wasn't any cooler on the top of the hill. We walked around what mostly looked like a track for joggers, on the sides of which were located lots of equipment that was a cross of gym machines and kids' playground stuff. Here too there were tunnels that used to be for hiding and/or going through the mountain, though entrances are blocked.
We eventually made it to the lighthouse, which had some towers and some strange room that contained several large signals used to communicate when a cyclone was coming.
Otherwise there wasn't so much to see up there, so we went back down to the streets by foot.
Then we were about ready to head back to Hong Kong, but we ran into some troubles. We needed to get on a bus to the port, but our map indicated only bus stops, not the actual routes. Looking at the bus numbers I imagined that one not so far would make its way to the port, but I was wrong and we ended up somewhere pretty far. It took a while to find what bus to take next to get to our destination.
Probably having got a decent guide book would have made things easier, but anyway otherwise it was nice to spend a day in Macau! If I'd have to do it again, maybe I'd give a chance to one of those obstinate tour guides.
Back to Hong Kong
For the return to Hong Kong, we were far from the windows and there was nothing to see, so I ended up sleeping the whole time.
We ended the day by going to a dumplings restaurant (《餃子源》 259 Queen's Road East, Wan Chai). It's not obvious to find a place where they do fried dumplings like those popular in Japan (yaki-gyōza), but that restaurant offered fried versions of all their normally steamed ones. Also while the menu says all plates are of 10 dumplings, the chef accepted to serve us half-plates, that way we could try more varieties. He was strongly recommending his mutton dumplings, and indeed they were truly delicious! We also had ones with pork, and vegetables.
Larger photo sizes in my Hong Kong/Macau 2006 set at Flickr
Posted on September 12, 2006 at 00:12 | Permalink | Comments (0) | Tweet |
---
September 11, 2006
Cows on parade
This weekend we went for a walk in Marunouchi/Ginza for some cow watching. The area currently features over 60 life-size cows designed by different artists, for the Cow Parade Tokyo event.
Most cows are being auctioned starting at ¥50000, so if you have too much space and are thinking of getting a new pet, here is your chance to get an arty one.
Here are some favorites in the order I found them.

#64 HASEGAWA Jinta "rich milk" / #46 UENO Mariko "cow gal" / #44 ymk Nobility "Bull's eye" / #22 KAMI "Inside Out"
Posted on September 11, 2006 at 12:32 | Permalink | Comments (2) | Tweet |
---
September 10, 2006
HKG 2006 #3: Day 1 part 2
After checking out the electric district, we went to Langham Place for some uneventful shopping, and headed back to the hotel once to drop stuff and take a break.
Comme des Garçons Guerilla Store
We headed out to Chai Wan, at the very end of our subway line, to go to the Comme des Garçons guerilla store that opened this year. The area is a very industrial and out of nowhere, quite a bit away from the station. The outside of the shop is a flashy blue wall covered with white dots which truly stands out in the middle of such a neighborhood. On the other side of the block is also located an Undercover shop.
The Comme des Garçons shop is a collaboration with Silly Thing, and features an exhibition with works by many international artists. While being casual fans of Comme des Garçons (for those who don't know, it's a cool Japanese designer's brand), one of the reasons we went there was to see Kero, as we like her blog and her funny big cat 餅太郎. It was fun to meet her, and she must have thought we were real weirdos! She gave us free badges and candies, and we signed the shop's guestbook writing "On adore 餅太郎!".
Just upon leaving, I thought of taking her picture, so I went back in and she kindly accepted to pose outside the shop (photos inside were prohibited, though it can be seen on her blog).
Back at the mall next to the station, the Genki Sushi (《元気寿司》, a sushi chain) shop had an incredibly long line-up. None of the other restaurants were crowded, and other locations we had seen weren't crowded either so it couldn't just be its popularity. Were they giving away free sushi?!
On our train ride back, we stopped at station Sai Wan Ho near which we had a dessert break.
Star Ferry
Then we headed to Central station, and took the Star Ferry which goes over from Hong Kong to Kowloon (Hong Kong's two main islands). The ferry costs only HKD$2.2 and at night lets appreciate the beautiful view of the lit-up city.
To end the day, we took the subway to Jordan station and did a bit of bargaining at the men's night market. Then we headed back to our hotel and stopped at some sort of family restaurant for some rice congee and boiled vegetables.
The next day was going to be our trip's biggest. Stay tuned!
Larger photo sizes in my Hong Kong/Macau 2006 set at Flickr
Posted on September 10, 2006 at 00:29 | Permalink | Comments (0) | Tweet |
---
September 8, 2006
Movable Type AutoSave plugin
This AutoSave plugin has been obsoleted by Movable Type 4.0's auto-save feature.
Ever had a browser or computer crash, or closed a window by mistake while typing a blog entry? Or clicked a link by accident, and crossed your fingers while hitting the "back" button just to come back to a blanked-out form? No more!!!
This auto-save plugin for Movable Type acts on all new and unpublished entries, in both the back-end and bookmarklets. Whenever you've typed some new text within a span of time that you define, the entry gets saved automatically! Was the power fuse to blow, simply go back to your entries list to find a recent version of your precious text saved in an "unpublished" state.


According to Six Apart's ProNet Plugin Survey, 100% of AutoSave users think that this plugin should be included in the core of Movable Type! That's how good it is!
Posted on September 8, 2006 at 12:00 | Permalink | Trackback (0) | Comments (18) | Tweet |
---
September 7, 2006
HKG 2006 #2: Day 1 part 1
On our first full day, we woke up fairly early and did quite a lot of things! We got train passes for the day (HKD$50 for unlimited rides) and were determined to use them as much as possible.
Dim sum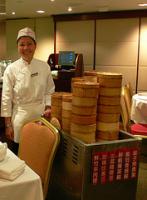 We started by going to Admiralty station where we had brunch at Metropol Restaurant (《名都酒楼》, 4/F United Centre, 95 Queensway, Central), a no-MSG dim sum restaurant where food is delivered on wagons. We had all kinds of dumplings, several of those containing shrimps, and it was all very good!
I asked one of the ladies if I could take a picture of her and her cart, and with her limited English she made us promise that we would send her a print. She even had small pieces of paper with her address on them, prepared for the purpose. This made me wonder if all the ladies at that restaurant do the same thing, and whether they do contest of who will collect the most photos! Good idea anyway!
On Lan street / Soho
We then went to Central station and walked to On Lan street, where is located the recently opened Maison Martin Margiela (18 On Lan). The interior was quite interesting! Across the street was another fashion shop with clothing from many brands. In a nearby alley was graffiti by Monsieur Andre.
We walked down to Soho where we entered a few shops including a location of the cool interior chain G.O.D, I'll get back to this one later at another location. Most interestingly in the area was a lot of graffiti to be found especially around the incline stairway-like street. I found several of Yok's traces, but unfortunately none of Yan for which I was on the look-out.
In the area we were also surprised to find a BNE tag (Japanese tagger) on the back of a street sign!
Sham Shui Po
Next we took the subway again to Sham Shui Po where's located Apliu street, an open market that sells electronic parts similar to the alleys in Akihabara, and the Golden Computer Center. This latter has two main floors full of small shops selling electronic goods. My main reason to go there was to get a new SD card since my poor 128MB was already getting full of photos. I found a 1GB card of a Taiwan make for about HKD$180 (about half the price of the cheapest found in large stores here)!
Larger photo sizes in my Hong Kong/Macau 2006 set at Flickr
Posted on September 7, 2006 at 23:41 | Permalink | Comments (2) | Tweet |
---
September 6, 2006
HKG 2006 #1: Day 0
On Sunday I got back from a short trip to Hong Kong which included a visit of Macau. We left Tokyo on August 30 (Wednesday) and came back on September 3 (Sunday).
I'll try to sum up most of what we did along with some photos. Many more photos can be found on my Hong Kong/Macau 2006 set at Flickr.
Day 0 - Arrival
We got to Narita at about 16:00 for our 18:30 flight, and checked in early since security is increased because we were using a U.S. airline. A water bottle was confiscated at an early body check, even though you can buy drinks in the shops and at the gate afterwards, and even though there's another check for liquids before boarding. So I concluded that the early confiscation is nothing but a tactic to sell more drinks.
It was a short and smooth flight, during which I listened to music (a mix CD by Yoshida Tetsuto I got the other day at the prata event) and played some Coloris. The plane landed at about 21:00 (local time), nearly an hour earlier than expected! We took Airport Express, a fast and inexpensive (HKD$160 for two) train shuttle, to Hong Kong station and walked to Central where we took the subway to Tin Hau where our hotel, L'Hotel Causeway Bay Harbour View, was located.
We got a room on the 35th floor (not actually the 35th floor though, since all "4"'s and "13" are skipped in numbering) near the top. The room itself was no luxury but it was comfortable and fine, with a huge bed. Unfortunately the hotel's TV didn't have the TVB Kids channel I had been looking forward to as it shows a recent cartoon series of Nazha (《哪吒傳奇》). It did however have TV5 Monde so I could watch some French TV!
Since it was already quite late, the day ended after a short walk around the neighborhood and eating some good mango-based desserts, including some from Ching Ching Desserts (G/F, 77 Electric Road, Tin Hau).
Larger photo sizes in my Hong Kong/Macau 2006 set at Flickr
Posted on September 6, 2006 at 20:41 | Permalink | Comments (2) | Tweet |
---