Blog - September 2004 Archives
September 2004 Archives
Index

.29 BKK #12: Dairy Queen


.29 My new toy: SH-101


.28 Naqoyqatsi


.26 Tamo-san



.25 BKK #11: The Metropolitan


.23 BKK #10: Thai massages




.22 BKK #09: Fruits



.22 BKK #08: H1 Urban Complex



.21 Kure 5-56 for synth sliders


.20 BKK #07: Anatomical museum at Siriraj Hospital


.20 BKK #06: Taxis


.19 New feature: RSS comments



.18 BKK #05: Wat Pho and the Grand Palace


.17 The return of the gyūdon



.16 BKK #04: Chao Phraya Express Boat


.16 Chromeo mistake




.15 BKK #03: BTS SkyTrain



.14 BKK #02: Weekend market and Siam



.13 BKK #01: The Atlanta


.13 Google News Japan


.12 Back home!



.04 Yahoo! Café at Narita airport


.03 Maywa Denki


.03 Off to Thailand!

---
September 29, 2004
BKK #12: Dairy Queen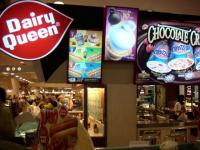 Since the few Dairy Queen in Japan closed around the beginning of the year, I've been missing my weekly Blizzard a lot.
In Bangkok, Dairy Queen seems to have many locations. Without searching too much we found at least 5 during our stay (Siam Discovery, Emporium, Hualampong station, MBK, Big C, ...). Also I was delighted that the small Blizzard was on sale at the time, 19฿ (about 45¢ USD, instead of the usual 25฿).
Once when we were shopping in a large mall, I got a craving for a Blizzard and felt like there should be a Dairy Queen nearby. I asked a guard randomly and he went out of his way and called others on his walkie-talkie to find out that there was one in another mall across the street, where we went. What a helpful guy! :)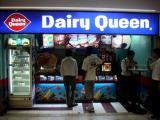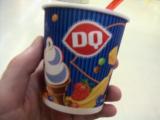 Click thumbnails to view larger images.
I wish Dairy Queen will open again in Japan!
Posted on September 29, 2004 at 23:21 | Permalink | Trackback (0) | Comments (6) | Tweet |
---
My new toy: SH-101
Today I received my new synth, a Roland SH-101! After a long while watching, I was able to find at a good deal on Yahoo! Auctions (¥19800 with grip, strap, adaptor and original box, very good condition too).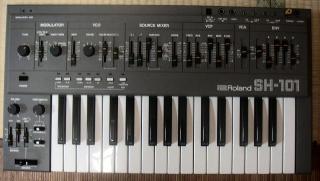 I had been wanting one of these ever since I saw Toog playing one on his tour with Momus and Kahimi Karie, on November 25, 1999 (Toog North American show list).
Now my next challenge will be to integrate this machine into Glad En Mono, which should be fun!
Posted on September 29, 2004 at 00:47 | Permalink | Trackback (0) | Comments (2) | Tweet |
---
September 28, 2004
Naqoyqatsi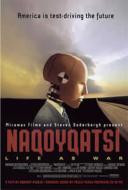 A few days ago I bought the third of Godfrey Reggio's Qatsi series, "Naqoyqatsi". I only found out about this 2002 film this year, and it had just came out in Japan at the end of August.
While "Koyaanisqatsi" and "Powaqqatsi" present beautiful images of the world, this one is mostly all computer generated, and most of the few filmed parts (shot in the U.S.) underwent big digital processing.
I don't mind this style, but still I can't say that this film has much of what practically kept me from blinking when I first watched "Koyaanisqatsi".
Philip Glass' music is similar to the previous films, and should please classical music lovers as much as those who like analog synth sounds, with a lot of crazy arpeggios and time changes.
Yo-Yo Ma plays cello on this one, which fits very well.
The DVD also contains a bunch of interviews and studio footage, which I also found very enjoyable.
(Japanese release details at my agenda)
Posted on September 28, 2004 at 00:34 | Permalink | Trackback (0) | Comments (4) | Tweet |
---
September 26, 2004
Tamo-san
Yesterday I found this Tamo-san doll at Nakano Broadway for ¥30. Just couldn't resist!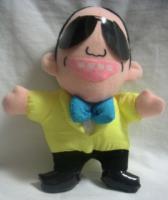 Posted on September 26, 2004 at 23:35 | Permalink | Trackback (0) | Comments (5) | Tweet |
---
September 25, 2004
BKK #11: The Metropolitan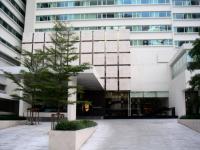 After enjoying 6 nights at the low-budget Atlanta, we went for two nights of luxury at The Metropolitan, a classy hotel opened last year and where staff all wears Yohji Yamamoto! I think the hotel could compare to a large Claska (recent hotel in Meguro).
Everything was quite perfect and service was excellent. Our Met Room was really huge (about 54m², probably bigger than our apartment), had a king size bed, and was fully equiped with anything possibly desirable (TV, DVD player, Bose CD player/alarm, yoga mat, separate shower/bath, good quality soap and stuff, plenty of free bottled water, ...). We were also served welcome fruits (star fruits, longan, apples, bananas, ...) and tea.
(All I wished for was some milk for the coffee. There was free to use milk in the fridge, but in some inconvenient packaging that doesn't pour too easily.)
The hotel's pool was quite magnificient, with a wooden dock. There were also jacuzzis and saunas by the changing rooms, and also a gym and other facilities, all free to use.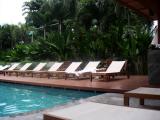 Click the thumbnails for larger images.
Because we had booked on some reseller site, we had the right to a free breakfast (which is usually a bit over-priced). We had the choice between a buffet or one meal from the menu. We both picked the buffet but I soon wished I had taken something from the menu instead. The buffet wasn't bad though.
Our second night was short. We had to wake up around 4am so we could catch our plane around 7am, whew. My only disappointment with the hotel came last, when the porter called us a taxi, and after putting our suitcases inside, the driver tried to rip us off. I'd have strongly appreciated assistance from the porter to get us out of there and find us a decent taxi, but I guess that was probably too much to ask for in Bangkok. If I'd have known I'd have taken our stuff and walked to the nearby South Sathorn road where we probably could have found a nicer driver quickly.
Posted on September 25, 2004 at 01:15 | Permalink | Trackback (0) | Comments (3) | Tweet |
---
September 23, 2004
BKK #10: Thai massages
One thing famous about Thailand is the massages. They're very cheap too, usually ranging between 200฿ and 300฿ ($5-$7.50 USD) for a one hour body massage, covering feet, legs, hands, arms and back.
Both places we went were picked out of a Japanese guide book and were aimed mostly at Japanese tourists. They had signs in Japanese and also most staff seemed to speak at least basic Japanese ("itai?", "daijōbu?", ...).
It was my first time getting a professional massage and it sure was a nice experience, though not something I would afford in Japan (where prices are like 10+ times higher).
Kanokweet (Japanese site)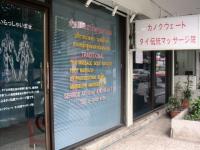 Sukhumvit soi 63, 1-1 (Ekkamai BTS station)
(also Sukhumvit 792, between soi 36 and 38 (Thong Lo BTS station))
This small, clean, clinic-looking place only has blind masseurs/ses. First of all our feet were washed by blind men near the entrance, a rather tickling experience (in my case anyway). Then we were taken to hospital-like beds, where we first had to change into comfortable pajamas, and our two masseuses came and got to work, quietly speaking together most of the time.
The masseuses had a speaking clock around their neck (think Public Enemy's Flavor Flav), which they used to sync their massage according to the remaining time.
Arima Onsen
37/10-11 Soi Surawong Plaza Surawong Rd. Suriyawong
Oppositely from Kanokweet, Arima Onsen is very large, with probably a hundred or more masseuses, and it is rather dark. Instead of looking like a clinic, it looks a bit less informal, though very comfortable. Instead of using beds with legs (which were actually a bit scary since the masseuses sometimes stand), mattresses are on the floor and separated by curtains. Each massage space is quite minimally small.
The massage was similar to the one at Kanokweet but was a bit rougher, and at the end it involved some slightly acrobatic back and neck popping which felt very good.
Located near a sort of Japanese Kabuki-chō (a lot of signs in the area are in Japanese), most clients seemed to be Japanese oyaji who give big tips, and the masseuses there seem to be used to it. My girlfriend's masseuse was particularly annoying, telling her how cheap her salary is and how much she loves Japanese clients because they always tip... so we made it a point not to tip! (Tip isn't mandatory.) Since this is supposed to be relaxing, who wants to hear about money the whole time...?
Posted on September 23, 2004 at 21:55 | Permalink | Trackback (0) | Comments (1) | Tweet |
---
September 22, 2004
BKK #09: Fruits
Thailand has many exotic-looking fruits, so here are a few pictures I took in supermarkets.
Also, this is some strange fruit that we bought, called "rose apple". It looks like a sort of reversed pear, has some sort of thin hair-like stuff instead of the apple's stem, tastes sort of like rhubarb and is very juicy.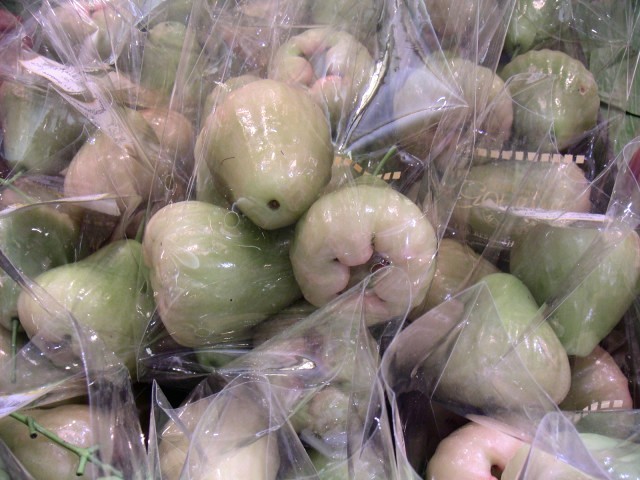 Last but not least, fresh coconuts that were being cut off trees at The Atlanta.

Click the thumbnails for larger images.
Posted on September 22, 2004 at 22:20 | Permalink | Trackback (0) | Comments (3) | Tweet |
---
BKK #08: H1 Urban Complex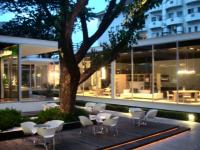 A very cool place in Bangkok is the H1 Urban Complex. Located on soi Thonglor (Sukhumvit soi 55), up the street from BTS station Thong Lo.
The great-looking modern complex contains a furniture shop, a clothing shop, a book store (mostly of imported design books, a lot of which are Japanese), restaurants (one with large cushions for relaxing outside), and a delicious ice cream bar called Hay.
There's a lot of greenery amidst the multiple buildings forming the complex, making it feel quite refreshing.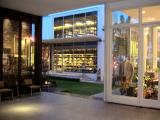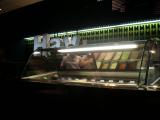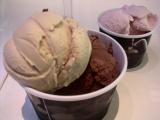 Click the thumbnails for larger images.
To go to H1, since it's a bit far from the Thong Lo station, you can take a small red bus which costs only 3฿. You get on the bus at any place just by waving and hopping on, and then you give the money to some kid walking around on board (not that there's much room to walk around). At first I thought that was some beggar kid (there are a lot of beggars in Bangkok, including many very young ones) and wouldn't really trust him until I saw other people all giving him their fare.
Posted on September 22, 2004 at 00:35 | Permalink | Trackback (0) | Comments (4) | Tweet |
---
September 21, 2004
Kure 5-56 for synth sliders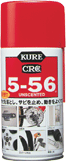 This weekend I was talking about analog synthesizers with a friend, and how sliders get dirty and noisy after a while, and she recommended me to use Kure 5-56, a general purpose spray lubricant available at any hardware store here.
So today I opened one of my synths, my precious Concertmate-600 (responsible for all Glad En Mono beats), and cleaned and sprayed all malfunctioning sliders, and now it all works much better!
Just passing the word. :)
Posted on September 21, 2004 at 00:03 | Permalink | Trackback (0) | Comments (4) | Tweet |
---
September 20, 2004
BKK #07: Anatomical museum at Siriraj Hospital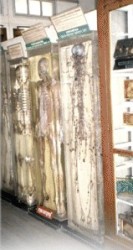 After our visit to the Grand Palace we hurried and took the Chao Phraya ferry boat across the river to Wang Lang pier. Since we only had a general guide book map which wasn't too precise regarding the our destination's location, we had to ask for directions to a group students who could barely speak any English but very enthusiastic to help us.
We made it to Siriraj Hospital's museums just a bit before closing time.
We only had time to check out the Congdon Anatomical Museum. Although I'm not myself much into seeing that type of stuff and I didn't care for staying there too long, it was still quite interesting and unique.
Displayed are real, conserved human bodies, from normal to abnormal ones, from embryos to fetuses to children to adults, most impressive certainly being the large collection of Siamese twin babies of all kinds (actually the etymology of Siamese twin comes from a case of twins born in Siam, the former name of Thailand, in the 19th century).
There are also vertical displays of full arterial and nervous systems, rather freaky to see standing right in front of you.
Pictures not being allowed I didn't take any, but this other visitor did in 1995. Nothing seems to have changed since then. (This may not be for everyone.)
Posted on September 20, 2004 at 21:12 | Permalink | Trackback (0) | Comments (0) | Tweet |
---
BKK #06: Taxis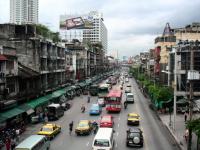 Taxis are certainly one of the most useful ways to get around Bangkok. Not only they can take you to many places not reached by the BTS SkyTrain (which only has two lines) and MRT (newly started metro/subway, with only one line), but if you're two people or more it's often even cheaper than the trains. The meter (when used... read on) starts at 35฿ (less than $1USD) and goes up slowly by tiny steps of 2฿.
The thing with taxis is that although most drivers are good, there are some not-so-good ones, and there are some assholes. One thing that we didn't care enough about but that may be good to check is whether the taxi has its number signs and the driver's ID card, and displayed fare charts, many taxis have some or all of these removed, and this seems to indicate whether they can be trusted or not. I think a good rule of thumb would be to avoid any taxi with its numbers removed.
Some drivers sometimes refuse to turn on their meter and instead suggest you a fixed fare, which is never at your advantage (you'd end up paying twice or more than the regular price). If the meter is off, ask for it to be turned on first before even explaining where you're going. If they don't want to use their meter, then just catch the next taxi instead of wasting your time.
The worse taxi experience we had was on our way to the airport at the very end of our trip. We asked the hotel's porter called a taxi for us (which was probably a mistake to begin with), and when the taxi arrived the porter first put our bags in the taxi and then explained our destination to the driver. So far so good but the driver then said "350฿". Knowing that with the meter it would cost only about 100฿, I asked to please turn on the meter and he refused babbling that he needs to pay for his gas and such crap (like the meter's price can't afford his gas).
I ended up offering 200฿ and he said 250฿ and we agreed. Sure 250฿ is still less than $7USD so it's not so much of a rip-off to a foreign tourist, but why pay over twice the price to this jerk?
Anyway, it being early morning at 5am, having to catch our plane was at 7:30, plus our luggage already being loaded, and the dumb porter giving us a "hey that's the way it is" shrug through the window (probably also being promised his share of the fare in a language we can't understand), so we just went with it. That wasn't the end of it though cause when we got to the airport I gave 250฿ to the driver and he looked back all upset and said "what? 350฿!" so I argued "but you said 250฿!" but he just kept saying "NOOO! 350฿! 350฿!" and getting all excited. Fu&$'#!n moron. So I ended up giving him 300฿. What a jerk.
That gave a slightly bitter ending to our trip, and that's when I realized that I should have strictly followed that rule of thumb above in the first place (that last taxi had all numbers and fare charts removed, and the driver's ID card had the photo missing)... It's not the money that upsets but the tourist abuse.
Another thing to be careful with taxis is traffic jams, which sometimes do make it easier and cheaper to simply take the train. Once we wasted maybe 20 minutes and 70฿ just to turn around on the street in front of our hotel, when we decided to go take the MRT instead.
A workmate who's more used to Bangkok says that there was a time when yellow/green taxis (most taxis have two colors) were generally to be avoided, but he can't tell whether that's still true.
The bottom line is that taxis are very useful but to still be careful.
Posted on September 20, 2004 at 15:36 | Permalink | Trackback (0) | Comments (2) | Tweet |
---
September 19, 2004
New feature: RSS comments
I've added a new feature to the blogs on this site, RSS comments. In each comments popup window there's now a RSS link which you can add to your feed reader in order to be notified when comments are added to this specific thread.
So if you're eager for an answer to a comment you posted, or if you're waiting to see the next comments on an interesting topic, that can now be done automatically.
Update (2004/9/21 10:54): There's now a feed of the most recent comments site-wide. RSS
Posted on September 19, 2004 at 18:42 | Permalink | Trackback (0) | Comments (3) | Tweet |
---
September 18, 2004
BKK #05: Wat Pho and the Grand Palace
On day 2 (Monday, September 6), we took the Chao Phraya Express Boat to Tha Tien pier and went to Wat Pho and then the Grand Palace. It was really impressive to see the giant golden Reclining Buddha (and all the impressive details in its huge feet), and also all the other golden statues and temples.
So here's a bunch of pictures.
Wat Pho
The Grand Palace








Click thumbnails for larger images.
Posted on September 18, 2004 at 01:09 | Permalink | Trackback (0) | Comments (0) | Tweet |
---
September 17, 2004
The return of the gyūdon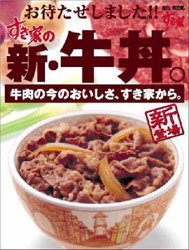 Early this year, the popular Japanese meal gyūdon (beef on rice) disappeared from menus across the country because Japan's main beef supplier was the U.S., and Japan decided to cut all U.S. beef import after some BSE cases were found, forcing gyūdon restaurants to switch to pork since they claimed that they couldn't afford keeping similar prices and taste with beef from other countries.
Starting today, the chain Sukiya (my personal favorite, for their kimchee gyūdon, mmm) is offering gyūdon again! They're now using Australian beef.
Next week I'll have to go check that out!
Sukiya resumes serving 'gyudon' with Australian beef (Japan Today)
Japanese 'gyudon' restaurant turn to Aussie beef (ABC News Online)
Posted on September 17, 2004 at 14:59 | Permalink | Trackback (0) | Comments (2) | Tweet |
---
September 16, 2004
BKK #04: Chao Phraya Express Boat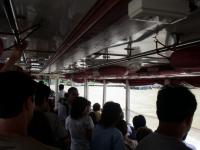 Another cheap and useful public transport in Bangkok is the Chao Phraya Express Boat (their Web site as been very slow every time I tried to view it). This boat connects with BTS station Sathorn Taksin and can take you to a bunch of touristic and other locations, such as Wat Pho (Tha Tien pier), the Grand Palace (Chang pier, also easily walkable from Wat Pho) and chinatown (Ratchawongse pier).
There are at least two types of boats, long ones in which you enter at the back and go down a small stairway which leads to a sort of bus-like interior with seats, and also rectangular ones, which are just ferries between two piers.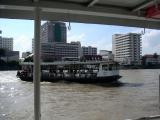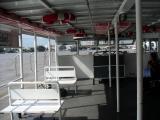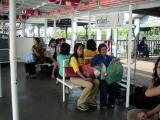 Click the thumbnails for larger images.
What's very cool about the boat is that it's so cheap. The express line, which stops at all major piers, only costs a fixed price of 10฿ (25¢), and the ferry costs only 2฿ (5¢)! Depending on where you board, payment is done either at a ticket counter before boarding, or on board by an attendant who walks around selling tickets.
Also, taking the boat lets you appreciate the scenery much more than any train or taxi, especially nice since there are several golden palaces or temples along the coasts.
Posted on September 16, 2004 at 22:13 | Permalink | Trackback (0) | Comments (0) | Tweet |
---
Chromeo mistake
Just provoked a bit of a change on a news item at my beloved CDJournal.com (Japanese music news site), which I always watch wishing for exciting news.

They were announcing Chromeo "She's In Control" to soon be released in the UK with bonus tracks and CD-Extra, but were mistakenly saying that the band's Dave 1 is Bran Van 3000's leader James DiSalvio.
Not having heard of Chromeo yet (how come?), this prompted me to do a bit of research and I found out it's actually David Macklovitch (who has been credited as beatmaker for Bran Van 3000). A bit disappointed, I emailed them about the mistake which seems to have prompted them to edit the article a few minutes later.
Before:
「中心人物であったビデオ・ディレクターのブラン・マンことジェームス・ディ・サルヴィオは"Dave 1"と名を変え、・・・」
(rough translation) "main member/video director Bran Man aka James DiSalvio changed his name to 'Dave 1', ..."
After:
「ビートメイカーであったDavid Macklovitchは"Dave 1"と名を変え、・・・」
(rough translation) "beatmaker David Macklovitch changed his name to 'Dave 1', ..."
... well I think Dave 1 has been using that nickname forever, but still this is more correct than it was.
Anyway I may have to pick up that Chromeo album (UK version when it comes out, to also get the bonus stuff) since it sounds like it may be a bit Bran Van-ish!
How I wish for a 3rd BV3 album!
Posted on September 16, 2004 at 16:28 | Permalink | Trackback (1) | Comments (7) | Tweet |
---
September 15, 2004
BKK #03: BTS SkyTrain
Bangkok's BTS SkyTrain (BTS stands for Bangkok Mass Transit System) is a fast way around some main areas of the city. The SkyTrain is fairly recent (about 10 years I think) and therefore looks quite modern.
The tracks are located above important streets, hence its name, and stations are accessed by stairways and escalators from the sidewalks.
To ride the SkyTrain, you have to buy a ticket that looks similar to prepaid train cards in Japan. One annoying thing is that the machines to buy tickets only accept coins, not bills. So most times we wanted to buy tickets we had to first go to the ticket counter, however this one doesn't let you buy tickets directly but only changes your money so that you can use the ticket machine...
Also it's not allowed to drink or eat on the platforms or in the train, which I thought was maybe a bit extreme (ok for eating, but I think one should be allowed to drink on a hot day).
The trains are quiet and a bit futuristic looking. Most are entirely covered by ads on their exterior, even doors and windows, this prevents from seeing inside the train from outside but still allows the opposite.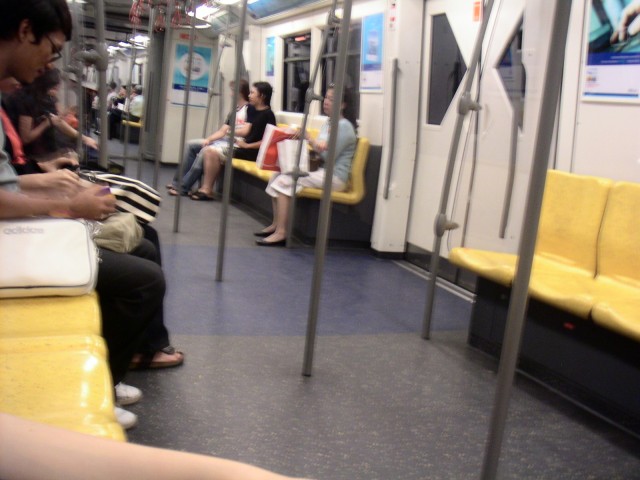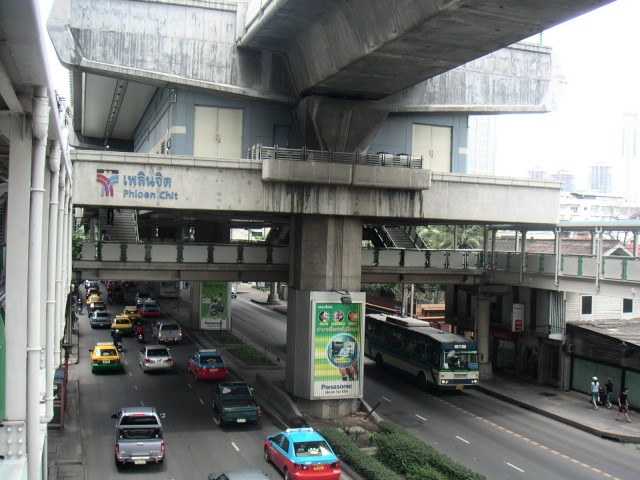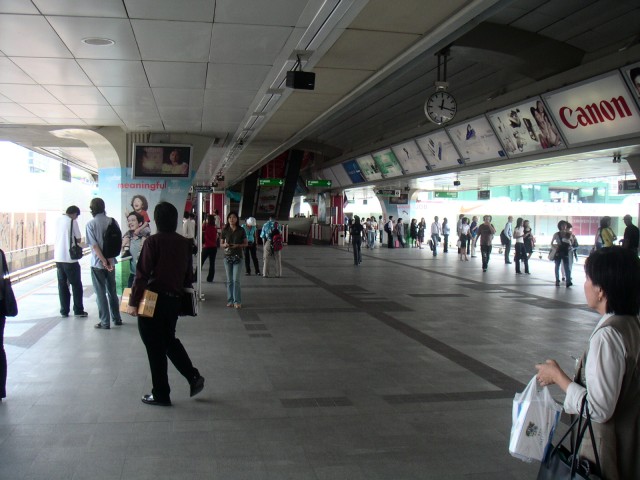 Click the thumbnails for larger images.
From left to right: inside the SkyTrain, station Phlong Chit on Sukhumvit line, inside the station.
More pictures at BTS site's gallery page.
Posted on September 15, 2004 at 15:01 | Permalink | Trackback (0) | Comments (0) | Tweet |
---
September 14, 2004
BKK #02: Weekend market and Siam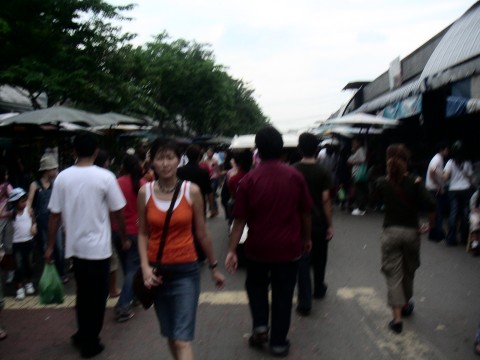 On day 1 (Sunday, September 5), we met up with fellow P5MLer Mai, techno artist part of the unit nolens.volens, who took us to the Chatuchak weekend market, located close to BTS station Mo Chit.
Chatuchak weekend market is I think the largest market in Bangkok, containing some 15000+ shops crammed in a maze of narrow alleys. No matter how we tried, we had pretty much no clue where we were the whole time and just kept following our guide.
There are shops for nearly everything: clothing, CD/VCD/DVD, souvenirs, art, food, even animals (some people leave with a dog in their arms)...
At most shops it's possible to bargain down prices. Mai said that first asking for half the price and then going up to an agreement is the way to go.
If you buy several items you can often get a considerable discount. Some shops may offer you a discount before you ask anything but you can often bargain to lower than what they say.
My best find at the market there was a T-shirt shop called Mixing (I think) which had pretty cool original designs, unlike the many T-shirt shops that sell mostly brand rip-offs.
I also bought the DVD of "Les triplettes de Belleville" for 229฿.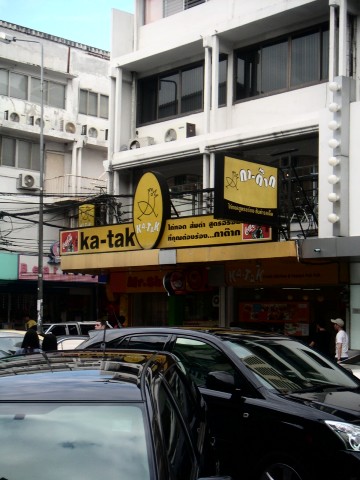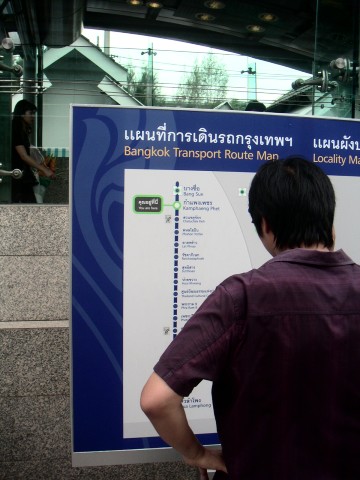 After spending a few hours at the market, we took the BTS to Siam Square where we met with Mai's friend Mimi, and we went to Ka-tak on soi 5 for some food. We had two types of som tam (papaya salad, a definite pick whenever we eat Thai food), rice, fried chicken, and I had rambutan juice (which I thought tasted similar to maple).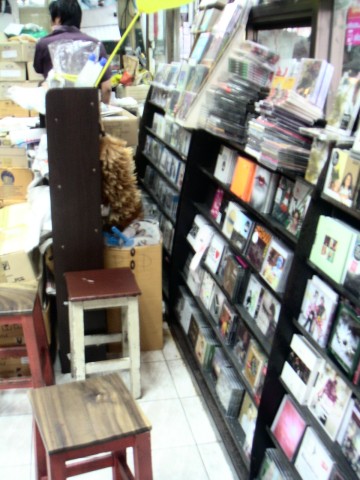 Then Mai took us to DJ Siam on soi 4 for some assisted CD shopping. I bought a good dozen of CDs by Thai artists: Mr.Z "Mr.Z's visitor so called remixer", moderndog "love me love my life", Oscillator II, BK-One, Kidnappers Set, Midnite Krisis All Starz "Cinderella", Rik "ปฐม", and compilations "belter 1.0 chapter one", "Coolvoice.com vol.2 Discotheque", "Back 2 the dojo city Rare Grooves", "smallroom 003: the new colour", "Remix: New remixers of the year vol.1"...
Even though we were still full from our earlier meal, we went to have dessert at Mango Tango located just across from DJ Siam. We had "Mango Tango", a selection of mango-based desserts including pudding, ice cream and fresh mango.
After a bit more CD shopping (The Photo Sticker Machine "compilation of the complete work 1999-2002", compilations "smallroom 002: songs from the audience" and "smallroom 004: viewed") Mai and Mimi then had to leave, so we went to do yet more shopping in Siam Square and at the malls around Siam station.
I bought some otaku T-shirts (one that says "つづく", which means "to be continued" and appears at the end of about every classic anime TV episode I used to watch when little, and another that has the Japanese post office postal code mascot/character), and also yet more CDs, a series of three Hualampong Riddim compilations ("Simple Mornings: The Favourites", "Sweet Afternoons: The Singles", and "Extraordinary Evenings: The Spectaculars").
I was also delighted to find my first Dairy Queen of the trip (more on DQ later)!
Posted on September 14, 2004 at 14:09 | Permalink | Trackback (0) | Comments (6) | Tweet |
---
September 13, 2004
BKK #01: The Atlanta
We flew to Bangkok on September 4 (Saturday) and took a taxi from outside the departure floor of the terminal, doing so waives the 50฿1 airport fee.
It took about half an hour to get to The Atlanta, the hotel where we'd stay our first six nights.
The Atlanta is a 52-year-old hotel and its lobby has impressive old-style interior, which is apparently often used in movies. Rooms are very cheap (ours was 700฿ + 7% tax, not even $20 USD!) and therefore most guests are foreign backpackers or low-budget travellers. The staff was very nice and helpful too, and the restaurant was good and useful, serving both western and Thai meals.
There are 3-4 cats who seem to live at the hotel, and they're often around the lobby.
Unfortunately the hotel only takes reservations by fax (not even by phone except if last minute), which was a bit of an inconvenient for us. I guess that you have to go there to understand. I'm sure glad we did go through this small hurdle rather than opting for another hotel easily bookable online.
There is a computer available to check your email (3฿/min.) but it uses a dial-up account.
The location is pretty good, deep down a lane annex to Sukhumvit, a large street over which passes the BTS (SkyTrain). The hotel is located near BTS station Phloen Chit.
I had memorized "soot soi" in Thai which means "to the end of the street" and it was useful to taxi drivers when going back to the hotel (more on taxis later).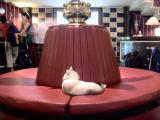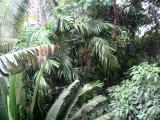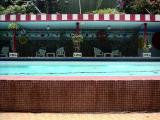 Click the thumbnails for larger images.
From left to right: cat on the couch in the lobby; garden seen from the 2nd floor; swimming pool.
More pictures at The Atlanta's Web site.
1 The currency in Thailand is called "baht", is written ฿ (B with a vertical bar over it), and its currency code is THB. During our trip, 1฿ was worth about $0.024 USD (40฿=±$1) or ¥2.6 JPY (100฿=±¥250). Current rates can be found here.
Posted on September 13, 2004 at 20:41 | Permalink | Trackback (0) | Comments (4) | Tweet |
---
Google News Japan

Google has finally launched Google News Japan, and also news sites for several other Asian countries (Taiwan, China, Korea, Hong Kong).
I'm not much of a news reader, but when I read news my starting point is most often Google News... and once in a while Japan Today, since I can't forget my old creations (in 2001 I built what's still used as their main news system).
I had often wished that there was a Google News Japan since Google News makes it an easy one stop when searching for recent events (like an accident seen nearby, etc.), so if there's something I can get more details quickly.
Posted on September 13, 2004 at 16:25 | Permalink | Trackback (0) | Comments (0) | Tweet |
---
September 12, 2004
Back home!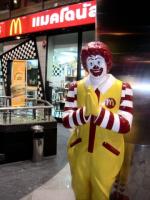 We just got back home today from our trip to Bangkok, Thailand. We had a great time!
I took a lot of pictures and will be sharing some of that over the next days.
No, we didn't eat at McDonald's...
except for one soft ice cream. :)
Posted on September 12, 2004 at 23:50 | Permalink | Trackback (0) | Comments (3) | Tweet |
---
September 4, 2004
Yahoo! Café at Narita airport
We're now at the Yahoo! Café in the departure lounge of Narita airport.
There are a few dozen of computers with broadband access to the net, free of charge to use! Nice!
Posted on September 4, 2004 at 15:47 | Permalink | Trackback (0) | Comments (0) | Tweet |
---
September 3, 2004
Maywa Denki
Tonight on my way back I stopped at Tower Records (to pick up Ai George's greatest hits album, which wasn't in stock) and was surprised to see Maywa Denki live on stage!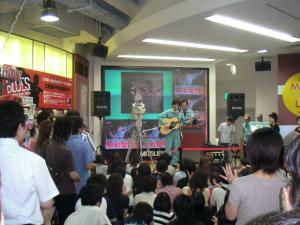 They spent a long time explaining their strange invention on the left using a PowerPoint presentation! :)
Posted on September 3, 2004 at 21:19 | Permalink | Trackback (0) | Comments (5) | Tweet |
---
Off to Thailand!
Tomorrow we're off to Bangkok, Thailand for a one week vacation! It will be my first time there, and despite the forecast rain and clouds it should be a fun trip!
Musically, it seems like we couldn't have picked a better moment to go, since the Soi Music Festival will be happening while we're there!
The Soi Music Festival is a collaboration between Thailand and Japan, and the part held in Thailand will feature Cornelius live two nights in a row!, and also Spank Happy, and like-minded Thai artists.
There's also a free exhibition of Cornelius' "Five Point One" (the DVD I believe), accurately titled "Audio Visual Exhibition From Bangkok to Everywhere".
Since I probably won't have decent Internet access for most of the trip, I'll be quiet for a while and will hopefully come back with many pictures and tales.
Posted on September 3, 2004 at 10:45 | Permalink | Trackback (0) | Comments (10) | Tweet |
---