Blog - August 2009 Archives
August 2009 Archives
Index


.21 Vanilla Beans in Shibuya


.20 Denki Groove is 20!



.09 Asagaya Tanabata matsuri 2009



.08 Sunahara Yoshinori live report


.08 Awful online shopping experience - Owl's Lab (New York)



.03 Gallantique Kazue recital: live report




.02 31 - The ice age

---
August 21, 2009
Vanilla Beans in Shibuya
Tonight I dropped by Tower Records in Shibuya to check out Vanilla Beans (MySpace) who were doing some promotion.
For a while they have a showcase on the 2nd floor in which are placed manikins of the two, wearing their outfits, but for the weekend the real girls come and take their place, for 30 minutes every hour!
Part of the promotion is for 3 Shibuya-kei covers newly released, but only for mobile phone download. The songs are Pizzicato Five's "Tokyo wa yoru no 7ji" ("the night is still young"), Kaji Hideki's "La Boom ~My Boom Is Me~" and Original Love's "seppun"! The girls hold large QR codes that lead to Recochoku (mobile download site). I'm really dying to hear the songs but unfortunately I don't download music on my phone, so I'll wait until they're released in another form, hopefully someday.
The installation also promotes their upcoming CD single "Love & Hate", for which Kaji Hideki wrote the lyrics. That one will be released on September 9 in two "love" and "hate" versions.
The schedule for August 22 and 23 is from 13:00 to 19:00, 30 minutes per hour.
---
This was picked up by QR-code informational site 2d code (UK). Thanks!
Posted on August 21, 2009 at 23:34 | Permalink | Trackback (0) | Comments (2) | Tweet |
---
August 20, 2009
Denki Groove is 20!
Yesterday was released Denki Groove's new album "20", named after their 20th anniversary... wow! Until the end of the week (August 23) LiquidRoom's café TimeOut is holding a free exhibition with photos, costumes and promo goodies from their whole career. Tonight I dropped by to check it out and also buy a T-shirt (I got the black one).
I've been listening to the album today and it's really good! I rarely do album reviews at all, but somehow this one just prompts me to do a track-by-track review. Here we go.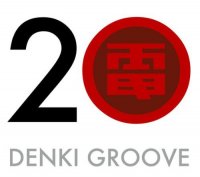 Opening track "Denki Groove 20 Shūnen No Uta" is a darkish track that reminds of "Mononoke Dance". The intro keeps reminding me of a recent Rodion remix for Fare Soldi's "Il vecchio e il mullet". Fun comic book video (below).
"Tarantula" is the album's first real single, with a killer video by Ukawa Naohiro (gone from YouTube for now though). Really nice techno track with a serious tone.
Track 3 "Ponkotsu Fantasia" breaks all the rules by kicking in with a cheap Casio (I used to have one with the same cheap beat). Awesome!
Then comes "Nanmaida?" and "Cat and Israel", both good techno beats and not too much vocals, they make for good pacing in the middle of the album.
With "Exotika" DG goes pop with some "tu-tu-tu-tu-tu" chorus. Then "Dark Red Sofa" has some 80's techno-cayo cheese, reminding me of the bonus-ish track on the Denki Groove X Scha Dara Parr album, "Machine shōjo Tam Tam".
"Pierre Taki No Taisō 42sai" ("Pierre Taki's 42 year old gymnastics") is a great successor to the "taisō" series. After seeing the video you'll just remember all the scenes when listening to the song. See it below.
Closing track "Fox" brings back a more serious tone, with some really cute melodies reminding me of Plone.
I'm not done enjoying this great album. You can start doing so too right now with the YouTube clips below. :) Also check out Denki Groove's brand new official MySpace.
"Denki Groove 20 Shūnen No Uta"
"Pierre Taki No Taiso 42sai" (see also 36sai and 30sai)
Larger sizes and more photos at Flickr
Posted on August 20, 2009 at 22:23 | Permalink | Trackback (0) | Comments (1) | Tweet |
---
August 9, 2009
Asagaya Tanabata matsuri 2009
Today was the last day of Asagaya's Tanabata matsuri. Rain hit hard while we were in there, but we were very lucky that it started only after we got inside the roofed arcade and then stopped before we left.
Here are my photos for this year. Check how many characters you can recognize.
Some strange unrelated things like these are also found. :)
We then walked home and on the way back in Koenji our El mas Santo luchadores got to have fun with a big and very real tuna head. :)
Larger sizes and more photos at Flickr
Tanabata photos from previous years:
Asagaya Tanabata matsuri 2007
Asagaya Tanabata matsuri 2006
Asagaya Tanabata matsuri 2003
Posted on August 9, 2009 at 22:25 | Permalink | Trackback (0) | Comments (3) | Tweet |
---
August 8, 2009

Sunahara

Yoshinori live report

Last Wednesday I went to Liquid Room for an event part of the venue's 5th anniversary series, mainly to see Sunahara Yoshinori!

I have been a fan of Marin (Sunahara's nickname) since the late 90's and ever since I came to Japan I had wanted to see him but this was my first occasion. He hasn't released an album since "Lovebeat" (2001) and hasn't been active as a live performer, until this year when he came back with a soundtrack and a series of shows. He's also been teasing about a follow-up original album but still no word on when it might be released.

First were three other artists, agraph (MySpace), Asa-chang & Junray (MySpace), and rei harakami (MySpace). It was my first time seeing agraph and Harakami and they were both great, their sound fit really well in this event. Asa-chang's set stood out most, and it was a bit different from last time I saw them, Asa-chang talked a lot more this time, making the audience laugh between about every song. Once again I was impressed by U-zhaan's amazing tabla playing. During Harakami's set the two joined for one joke-ish song(?) in which Asa-chang sang rather out of tune.

Sunahara Yoshinori's set came last, and it was the most impressive of course! The stage had two tables placed symmetrically, with a laptop and other stuff on each, but we couldn't see the secret sauce on them because of a little wall around each.

There was some great video projected throughout the show. It all started with music and video showing a very wide strip showing first black & white photos, then color photos and then video, including some Pan-Am and other typical Sunahara imagery. There we credits announcing Sunahara and his helper manipulator as they arrived on stage. Great impact! People really seemed to have difficulty to believe that Sunahara would really show up, as it's so rare to get to see him live, so all were relieved when he arrived. The thin video strip then opened up to full size, again with great impact, it would stay that way for the rest of the show.

The show contained about 4 songs from "Lovebeat", a few older ones, and some unknown new songs.

Partial set list (what I knew): ... / Earth Beat / Balance / ... / Lovebeat / 747 / Hypnotize / ... / The center of gravity

Sunahara spent the whole time playing with some mixer, and after each song ended he would reach the right of his table and "play" for the next to start. I think only for "747" he played some lines live on a keyboard, I sure wish he'd have played some more. The known songs weren't really rearranged, they just seemed with a slightly different mix and some added echo, etc. Still it was a great experience to hear these with huge sound and seeing the guy himself on stage.

The end was a slight disappointment, as people called for an encore for a few minutes, and Sunahara came back on stage to say that he hadn't prepare any encore... What?? Just do!!! :) But hey... I can't say that I wasn't fully satisfied already.
---
Sunahara Yoshinori can be caught live again tomorrow (August 9) at the World Happiness festival (Tokyo Gig Guide), and then at Rising Sun Rock Festival (Hokkaidō) on August 14.
Posted on August 8, 2009 at 14:10 | Permalink | Trackback (0) | Comments (2) | Tweet |
---
Awful online shopping experience - Owl's Lab (New York)
I'm going to rant about a very bad online shopping experience that lasted a month.
Continue if you care to hear the details.
Posted on August 8, 2009 at 13:46 | Permalink | Trackback (0) | Comments (0) | Tweet |
---
August 3, 2009
Gallantique Kazue recital: live report
Tonight I went to Minami-Aoyama Mandala see a "mini-recital" by Gallantique Kazue, a talented cross-dressing singer. I had been interested in her since last year when Arcorhyme organized an event together with her, however I was out of town and couldn't make it. This time, her back-band featured Sally Kubota (Les 5-4-3-2-1), Nakayama Tsutomu and Yoshié, and a friend invited me to go along, so the timing seemed just perfect.
The recital was themed was themed around songwriter Murai Kunihiko, who I wasn't familiar with. The show was just great, from soft rock to groovy kayōkyoku, including covers of Wada Akiko ("Bye Bye Adam"), Henmi Mari ("keiken"), akai tori ("tsubasa o kudasai"), Toi et Moi, Hi-Fi Set,... also "warui kuse" (covered by Nomoto Karia on "uta to Guitar. Piano. kotoba."), and a song called "tabidatsu ashita" that I had heard before.
And then came a really big surprise,.. the secret guest was Nomiya Maki!! She sang Henmi Mari's "Daniel Mon Amour", a song that I loved since I first heard it in p&art sasanoooha:s Watanabe Productions mix CD. It was probably an illusion but I was sitting right in the center at the back, and I felt that she was singing staring at me. Of course I imagined that singing about a Daniel and having a white guy to look at should help her to get into the song. Haha. Ok back to earth. :)

(Excuse the blurry photos... I obviously was too excited to stand still.)
The show consisted of 2 sets and lasted a whole 2 hours. Great music, vocals, fashion and back band. I had really a great time and I'll be looking into seeing Gallantique live again sometime.
Gallantique has a busy schedule with shows every month, but the next time with the same back band will be on November 1st again at Mandala.
Larger sizes and more photos at Flickr
Posted on August 3, 2009 at 20:29 | Permalink | Trackback (0) | Comments (2) | Tweet |
---
August 2, 2009
31 - The ice age
Yesterday I turned 31! The title refers to Baskin Robbins ice cream, which is called "31" in Japan because of the logo. Since I love ice cream I will make sure it's a year with lots of it! I just learned that McDonald's next McFlurry is going to be mint chocolate (starts on Thursday), I'll make use of that!
I had a very nice birthday, so let me recount some of it.
First of all at midnight I received a very nice black forest cake, my favorite! I then opened a big box received from my parents and found a lot of chocolate and other nice treats and gifts.
In the morning we woke up just a little early to go to Tsukiji, Tokyo's fish market, where we waited about an hour and a half at popular counter sushi restaurant Sushi Dai (寿司大). We finally got in just at a good time for lunch and I was treated to a 11-piece course, all very fresh straight from the port!
Then we walked a little bit to Bar Sisi located nearby. Street artist ESOW had an exhibition there a little while ago but when we had tried to go it was closed. This time there was no exhibition but we got to talk with the master who let us browse past exhibition flyers. He also gave us two painted wooden blocks by SKEM, a member of ESOW's RDK crew.
Then we walked a bit more towards Ginza. Kabuki-za was currently closed (the next play begins on August 8) and there was some sort of repair work being done.
We considered going to see a movie, and by chance we passed by a theater that happened to have a screening of Yamagata Scream starting 10 minutes later. The movie had just started that day, and like every 1st day of the month entrance was only ¥1000. The movie is directed by wacky actor Takenaka Naoto and also features Shinohara Tomoe in a sub-role. It's a horror-ish comedy, more comedy than horror (-20% horror 120% comedy, says the poster), about a small village being hit by a curse from 800 years ago and its people all turning into zombies. :)
After the film I got some Blue Seal pineapple soft ice cream at the Okinawa antenna shop (a shop that specializes in goods from a specific area, usually unavailable otherwise, Tokyo and especially the Ginza area has many of these).
We also went to Bic Camera where I picked up my present from my in-laws, "Punch Out!!" for Wii! I feel very nostalgic for this game of which I played the Nintendo version a lot back in the day.
Then we headed down to Shibuya, where we checked out an exhibition by street artist DISKAH at Vulture Journal Standard. The artist was there and seemed like a friendly guy. On display was a large canvas with faces and names of his graffiti friends, among many of his other artwork.
It was now dinner time and we went to have some pizza at Pizzeria al forno.
Back home I had some remains of cake, and played Punch Out quite a bit too. It's a great remake, with incredibly better graphics but also plenty of characters from the old game. Playing with the Wiimote and nunchaku sure takes a bit more energy than just hitting buttons. :) Lots of fun to come!
A great birthday! I'm really glad it fell right on a weekend!
Larger sizes and more photos at Flickr
Posted on August 2, 2009 at 23:45 | Permalink | Trackback (0) | Comments (4) | Tweet |
---