Blog - December 2016 Archives
December 2016 Archives
Index
.25 Weekly revue: 2016 week #51 (December 17 to 23)
.18 Weekly revue: 2016 week #50 (December 10 to 16)
.10 Weekly revue: 2016 week #49 (December 3 to 9)
.04 Weekly revue: 2016 week #48 (November 26 to December 2)

---
December 25, 2016
Weekly revue: 2016 week #51 (December 17 to 23)

Food: - Sri Lankan curry at Acala.naatha, Nakano
- "Buy Me" bánh mi sandwich at Buy Me Stand, Shibuya

Music event: I went to the best year end party ever, hosted by my favorite art director: Shindō Mitsuo! It started precisely at 7pm with Nomiya Maki singing "Tokyo wa yoru no 7ji", then some DJing by DJ Noel, and there was also a mini-live by Hoff Dylan. This was followed by a very special performance! I'm very thankful for having been able to go to this awesome party!

Exhibition: Went to check out the 「大ラジカセ展」 ("Radio cassette big exhibition") at Parco in Ikebukuro. There were lots of items on display, from very old tape player/recorders to more modern early 90's huge boomboxes, with a lot of odd ones in between, and lots of tapes too!

Music release news: Uchoten, Ishino Takkyu, Budo Grape, Hamada Maron, D.A.N.

This week's video: Ice Choir "Designs In Rhythm"

Twisty "Deer Socks"

D.A.N. "SSWB"

Posted on December 25, 2016 at 23:56 | Permalink | Trackback (0) | Comments (0) | Tweet |
---
December 18, 2016
Weekly revue: 2016 week #50 (December 10 to 16)

Food: - Chicken vindaloo & asari (clam) curries at Negura, Kōenji
- Xmas special Victoria sponge cake at Kies, Nishi-Ogikubo
- "Bring Home The Bacon" BLT sandwich at Buy Me Stand, Shibuya

Music event: Had the great opportunity to watch instrumental improvisational jazz trio The Necks from Australia, at Shibuya WWW X. The band was formed in 1987, and it was their first time to play in Japan! They played two sets (= two songs, as their pieces run up to about an hour) which were mesmerizing and soothing.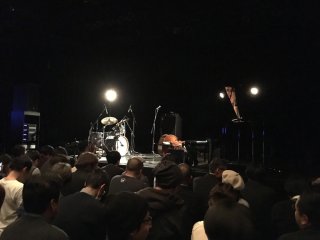 Music release news: lyrical school movie, Especia, Nakano Aya feat. Tokyo Panorama Mambo Boys, Negicco, Emerson Kitamura, "Kyary Pamyu Pamyu Artworks 2011-2016"
This week's video: Emerson Kitamura "kaerimichi no hon"
Posted on December 18, 2016 at 23:13 | Permalink | Trackback (0) | Comments (0) | Tweet |
---
December 10, 2016
Weekly revue: 2016 week #49 (December 3 to 9)

Food: - Salmon dinner at Shake Kojima, Daitabashi
- Oden and salmon curry at Shake Stand, Daitabashi
- South Indian curry dinner at Cochin Nivas, Shinjuku

Music event: - Went to see Ice Choir from NY at Fever, Shindaita! Having been enjoying very much both of their albums, it was great to hear all those songs performed live. I bought the vinyl edition of "Designs in Rhythm", and had it autographed by all members. :)

The other bands Luby Sparks and Poor Vacation were very good too!

Playlist: hitomitoi, Ice Choir, Agata Morio & more

This week's videos:

Negicco "ai, kamashitai no"

Especia "Danger"

Posted on December 10, 2016 at 22:09 | Permalink | Trackback (0) | Comments (0) | Tweet |
---
December 4, 2016
Weekly revue: 2016 week #48 (November 26 to December 2)

Food: - Italian & curry dinner at Pavone Indiano, Hatagaya
- Oden at Tapir, Shin-Ōkubo
- Kevin Bacon at W.P (Whoopi) Gold Burger, Shibuya
- Mince pie and coffee at Sunday Bake Shop, Hatsudai

Music event: - On November 27 I went to "Moshi Moshi Nippon 2016", a festival held every year with magical free entrance for foreigners. This year again there were live performances by CAPSULE and Kyary Pamyu Pamyu, so of course I'm in. :) I also got to see Dempagumi.inc, Tempura Kidz, Daishi Dance feat. Pax Japonica Groove, and fun promotional shows of DJ Marukome and "Domobics" (Domo-kun with Tokyo Performance Doll aka "Tokyo Performance Domo").

CAPSULE set list: Starry Sky / Another World / More More More / Never Let Me Go / Stay with you / Sugarless GiRL

Kyary Pamyu Pamyu set list: Kira Kira Killer / Candy Candy / PON PON PON / Ninjya-Re Bang Bang / Tsukema Tsukeru / Sai & Co

Music release news: Negicco, Hoshino Michiru, Learners, Okada Tohru

Playlist: CAPSULE, Genius, Metafive, Pizzicato Five, & more

Posted on December 4, 2016 at 12:52 | Permalink | Trackback (0) | Comments (0) | Tweet |
---