Blog - March 2014 Archives
March 2014 Archives
Index
.30 Weekly revue: 2014 week #13 (March 22 to 28)
.22 Weekly revue: 2014 week #12 (March 15 to 21)
.15 Weekly revue: 2014 week #11 (March 8 to 14)
.08 Weekly revue: 2014 week #10 (March 1 to 7)
.08 India 2014 #1: Kerala
.01 Weekly revue: 2014 weeks #8-9 (February 15 to 28)

---
March 30, 2014
Weekly revue: 2014 week #13 (March 22 to 28)

Food: - Broccolini curry, sambar, strawberry bread at Tapir, Ōkubo
- Maharaja nan pizza, etc. at Yaruki, Nakano
- Meals at Kerala no kaze, Ōmori
- Last Sunday was the last day at Sunday Bake Shop's old address! From March 30 it's nearby at 1-58-7 Honmachi, Shibuya-ku (map).

Exhibition: - Went to see a solo exhibition by ESSU at Black Dallas, a clothing shop in Kamata. Many paintings by the artist are on display, this time more focusing on the calligraphy side, but still several feature the characteristic faces ESSU is most recognized for. T-shirts and keychains are also available. This exhibition goes on until April 6!

New music: - Cibo Matto "Hotel Valentine"! Finally got my hands on the Japanese edition (sorry for having been lazy). This album is really great, all built around a concept of a ghost in a hotel. The Japanese edition comes with 2 bonus tracks, a funny spoken track, and the other is a dance track set in an izakaya with Sakamoto Ryuichi, Oyamada Keigo and others

Also I'm delighted that Cibo Matto are in town, and they have events coming next week (April 1st at Brooklyn Parlor in Shinjuku, and April 3rd at Tower Records Shinjuku)! I'm really looking forward to see them again! Last time I saw Cibo Matto was in Montreal for the "Stereotype A" tour, though I've seen Yuka and Miho separately in Tokyo a few times since.

- I also got Hanae "jikkai Quiz" which I had been curious about since seeing her live at "Harajuku Kawaii Matsuri" last year. Produced by the same ex-sōtaiseiriron members as Tarte Tatin's "Tetrad", this album has a quite similar sound which I'm happy to get some more of!

Music release news: Yakenohara, "Sushi Disco", Mizuka, Gota Nishidera

Playlist: Riow Arai, CAPSULE, Chromeo, Cibo Matto, Hanae

This week's videos:

Hoshino Michiru "hanashite,,,"

YMCK "neko ni kakomarete kurashitai"

Horie Hirohisa "Back to Back"

Shonen Knife "Bad Luck Song"

Posted on March 30, 2014 at 01:03 | Permalink | Trackback (0) | Comments (0) | Tweet |
---
March 22, 2014
Weekly revue: 2014 week #12 (March 15 to 21)

Food: - Chicken curry at Bombay Bazar, Daikanyama
- Chettinad fish curry, spinach & egg rice and gobi 65 at Cochin Nivas, Shinjuku
- Curry gratiné at Stone, Asakusabashi
- Broccolini (nanohana) curry at Tapir, Shin-Ōkubo

Music events: - On Saturday March 15 was a free in-store morning live show at the Daikanyama Tsutaya book store, featuring frenesi and blue marble! I couldn't see so well from the back of the small seated space, but that was a really nice show, and a nice way to start the day. frenesi first played 3 songs accompanied by pianist Shock Tarō (of blue marble), and then blue marble played a full set of 7 songs. There was also an autograph session where I got to say hi to frenesi and blue marble's singer Takei Mariko.

frenesi set list: 8jihan no Take / Go Ropeway / Lowitz Arc
blue marble set list: mimei sensō / an no un / Ribbon / Party no hōteishiki / boy MEETS girl / super star shooter (new song for upcoming game) / Gerda no hatsukoi

(Takei Mariko can be seen live on April 11 at Shibuya Lotus. frenesi has a double event on May 3 at Daikanyama Loop. Tickets are on sale.)

- And I also went to see a solo show of Minekawa Takako, a synth artist I've been a huge fan of for a long time. I have seen her a few times last year with Dustin Wong (with who she released album "Toropical Circle", live report here), but it was my first time seeing her solo. This was part of an event themed around cassette tapes and boomboxes, and she used these throughout her set. I plan to write a report of this show so stay tuned! Oh, and I got to meet her again! :)

The exhibition at Sansūjuku is on until March 31, info here.

Music release news: Sunaga Tatsuo jazz-samba mix, Gotch, "Free Throw Compilation vol.3", Hoshino Michiru, Kikuchi Naruyoshi to Pepe Tormento Azucarar, Ozawa Kenji

Playlist: frenesi, Nosa Reina, nakayoshi group, Tarte Tatin, Minekawa Takako

This week's videos:

EA "Akita"

Hoshino Michiru "hanashite,,,"

Minekawa Takako "Destron"

Posted on March 22, 2014 at 13:44 | Permalink | Trackback (0) | Comments (0) | Tweet |
---
March 15, 2014
Weekly revue: 2014 week #11 (March 8 to 14)

It's about time!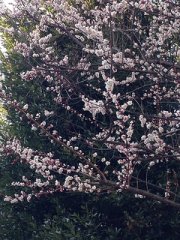 Food: - Lunch with agneau and quiche at Bistrot de Bave, Kagurazaka
- Falafel pita sandwich at Kuumba du Falafel, Shibuya
- Sushi at Sushi Dai (honkan), Tsukiji
- Cakes from Sunday Bake Shop
- Fun home party with lots of delicious food!
Exhibition: Dropped by an exhibition by Aida Makoto. Mainly featured was his latest film 「土人@男木島」 ("dojin @ Ogijima", 48 min., 2013), about a group of indigenous people who time-slip to our time in a southern island in Japan, and are followed by a TV crew and reporter. The movie was quite silly, I liked it. :)
Music release news: "NHK dai! tensai terebi-kun MTK the 18th", "Snow Monkey Beer Live!", Nakatsuka Takeshi with Iga-Bang BB (7"), Tempura Kidz, Omodaka, Dempa Gumi.inc
Playlist: Nomoto Karia, The Nanbatatin, blue marble, frenesi, Sunahara Yoshinori
This week's video: Dempa Gumi.inc "Fancy hoppe u-fu-fu"
Posted on March 15, 2014 at 18:24 | Permalink | Trackback (0) | Comments (0) | Tweet |
---
March 8, 2014
Weekly revue: 2014 week #10 (March 1 to 7)

The weather is still very cold, we even had a bit of snow yesterday(!), but some blossoms (either cherry or plum) have started showing up hopefully to announce that spring is on the way.

Food: - Lunch at Acala.naatha, Nakano
- Wendy's in Roppongi (the one in Harajuku closed down a little while ago)

Performance: On Saturday I went to see a performance by Yokomachi Keiko (actress and choreographer, ex-Romantica) and Yamakawa Fuyuki (musician and performance artist). I hadn't realized when I met Keiko in January, but she is affected by a stroke. The performance titled "Asymmetria" was all about her brain that has lost track of her left arm. It was very personal and rather dramatic.

The set was paced with sounds and lights triggered by Fuyuki. Also on stage was respiratory aid machine Puritan Bennett 7200 (aka "Pyu-chan"), something you'd usually expect to see in a hospital. It was a customized version Fuyuki has robotized to make it roll around radio-controlled, and he made it converse with the actress.

The performance did leave me a bit sad, and also concerned that this could probably happen to anyone. Our link with our own arms and legs might be more fragile than we think? Also it made me feel Keiko's courage and determination, recently returning on stage after some years of physical therapy. This was a very unique show, full of little surprises, and I'm glad I had the chance to see it.

Music event: I went to see hitomitoi's "Snowbank Social Club" show at Billboard! This has been her formula for the last 3 albums (starting with "City Dive" and "Surfbank Social Club"), offering a live version of each entire album. Again this time she was backed by members of Nona Reeves, and there were guest appearances by cool rapper Punpee and talkbox player BTB (of Luvraw & BTB). The show finished with "konayuki no Spur", a great song written by the late Bice.

Set list: Catch Me in the Snow / Winter Rouge Mellow / Silver Wind / Snow Storm Loneliness / Frozen Horizon / Chocolate Neverland / Diamond Dust / (Snowbank Social Club) / Night Flight Telephone Call feat. Punpee / Park Suite feat. BTB / Awakening Town
Encore: Feel Like Bayside Love feat. BTB / konayuki no Spur

Music release news: Cibo Matto, Konishi Yasuharu, "More! Electronic Disney Music", Hanazawa Kana, kotringo, Concert, "dai! tensai terebi-kun"

Playlist: Negicco, Pizzicato Five, Latin Quarter, Takako Minekawa & Dustin Wong, Kavinsky, Kinbara Chieko

This week's video: Un Amin "hakone ni shiyō ka"

Posted on March 8, 2014 at 22:46 | Permalink | Trackback (0) | Comments (0) | Tweet |
---
India 2014 #1: Kerala

From February 15 to 24, we went on a trip to India, our 3rd to date! Before we visited southeast (Chennai, Pondycherry, Auroville), then the north (Delhi, Agra, Jaipur), and this time we went to the southwest, in the state of Kerala. We stayed mainly in Fort Cochin (part of the city of Kochi, previously named Cochin), with a 2-day trip to Alappuzha (aka Alleppey).

Most of the people we met in Kerala were quite nice, friendly and helpful (except that some rickshaw drivers can be a little bit pushy). Many people and kids greet you "hello!" on the street, sometimes wanting to take a photo together. Fort Cochin was a very nice place to walk around. Many cats (and goats)! We also saw some nice beaches in Alleppey and Mararikulam (Marari Beach). Kerala seems to be mainly a relaxed place.

Twice we had no hotel plans, and ended up at guest houses that weren't bad at all. Prince Homely Stay in Alleppey (some guy from there came to talk to us when we arrived at the bus station) was cheap and fine with friendly hosts. While a bit more pricey in Fort Cochin we stayed a night at Silverweed Homestay (this one we had booked in advance) where the family welcomed us warmly, and we could enjoy grandma's idli and sambar breakfast.

A day on a houseboat

In Alleppey, the houseboats are a common attraction. These are truly like a small house on a boat, complete with a bedroom, bathroom and electricity. The system is that they all depart around 11am, to come back around 9am the next day. The boat stops during meals, and docks somewhere for the night. Alleppey's "Boat Jetty" seems to be the main place where to find a ride, near the town's bus station, but during our stay in Fort Cochin we were given a contact for someone in a slightly remote place (River Lap Cruise in Pallathuruthy) and we decided to give it a try. The boat wasn't one of the best (looking at others), but it wasn't bad at all, even with air conditioning in the bedroom (which we didn't really need though). The 3-man crew was friendly although they didn't speak so much English. It just felt good and relaxing to spend a whole day sitting around and looking at the scenery.

Mattancherry art scene

We took a walk from Fort Cochin to Mattancherry, kind of randomly. Part of Mattancherry is full of tourists, but we ended up finding several galleries and art-related places on Bazaar Road where young creative people hang out. Backyard Civilization is a very nice gallery. Also we enjoyed drinks at Springr Café, where local musicians have their own recording studio. There seems to be several places with artists-in-residence.

The food

We had great meals at The Brunton Boatyard hotel, part of the CGH Earth Group (we heard that all of their restaurants are quite good), and also at Old Harbour Hotel which has a beautiful inner garden with a pool and cats roaming around. At the latter, we had the chance to see a tabla & flute show while we ate.

On the cheaper side, we had some good biriyani at Kayees (Ernakulum location) with our friend Momo-chan on our first night. And yet cheaper, we enjoyed some vada and snacks at a shop on the corner of some main streets in Fort Kochi (Pullupalam Rd & TM Muhammad Rd), and we also ate at some very local restaurants that seemed to be popular with local middle-aged men.

The food on our boat, cooked by our dedicated chef, was also very good!

More photos at Flickr.
---
Tabla & flute concert at Old Harbour Hotel, Fort Cochin
Houseboat in Alleppey
Duck delivery? in Alleppey
Bus ride on the way from Mararikulam towards Cochin
Posted on March 8, 2014 at 21:54 | Permalink | Trackback (0) | Comments (0) | Tweet |
---
March 1, 2014
Weekly revue: 2014 weeks #8-9 (February 15 to 28)

Skipped a week, there's a reason...! :)

India: We went on a trip to India for about 10 days! This was our 3rd time to visit this country, and this time we were mainly in the state of Kerala, staying in Kochi (aka Cochin) and also spending a night on a houseboat near Alappuzha (aka Alleppey). Our journey ended with a few nights in Jaipur (where we went last time) and then dropping by Delhi for a day. This was a great trip, with lots of good food and interesting encounters. We also got to see Pizzicatomania friend Momo-chan in Kochi, and ran into Salam Unagami at the airport.

Photos are up at Flickr, videos on YouTube, and even some GPS maps here (if anyone's interested). :) I'll hopefully post some details about the trip here soon, so stay tuned!

New music: I got DJ Fukutake (aka friend Fukuta Takeshi (8-bits))'s non-stop mix CD "yaba-kayō"! It's full of the lesser known Japanese songs from the 70's and 80's, and only ones that are good for a fun "yabai!" party mood. Highly recommended!

Music release news: Kyary Pamyu Pamyu
(lots of other releases to catch up with... ohh...)

- Also don't miss this Hatsune Miku pocket keyboard gadget coming in April!
This week's videos:
hitomitoi "Snowbank Social Club" short film music video
Kathputli (Rajasthan puppets)
Outside Narain Niwas Palace Hotel, Jaipur, India on February 21
Posted on March 1, 2014 at 16:32 | Permalink | Trackback (0) | Comments (0) | Tweet |
---