Blog - March 2006 Archives
March 2006 Archives
Index

.31 DJ event in Kichijōji this Saturday


.31 Glad en Mono on radiodd



.30 Sakura #3: Azusawa



.30 Sakura #2: Shimura, Maenochō



.28 Sakura #1: Jōhoku-kōen




.27 Mito ume matsuri


.21 Ōmiya-hachiman-gū


.16 Taipei


.06 gochisōsama!



.03 shu-shu!

---
March 31, 2006
DJ event in Kichijōji this Saturday
Me, DJing hip-hop on April 1st? No kidding!
The DJ event featuring 7 DJs including me will be held at cara*mill, a small zakka shop/café/bar in Kichijōji, and will be vaguely themed around hip-hop, spoken word and electronic music.
Entrance is free, and drinks are all ¥400! So please drop by on your way to or from hanami!
Place: Zakka café/bar 堂 (Dō) (ex cara*mill)
Address: Kichijōji Minami-chō 2-13-4 B1F (map, Google map) (Kichijōji south exit, past Mandala 2 and Ballroom Records, on the right)
Date: Saturday, April 1st
Time: from 17:00 to 23:00
Price: Free!
I will play two short sets, maybe from 17:00 and 20:30. See you there!!
Posted on March 31, 2006 at 10:46 | Permalink | Trackback (1) | Comments (0) | Tweet |
---
Glad en Mono on radiodd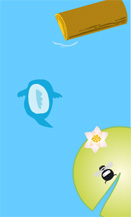 The song " " by legendary happy electronic instrumental band Glad en Mono is featured on Italian label and net radio radiodd's latest collection, "Selecta #6"!
Just go to radiodd.com to enjoy this track next to those of Rodion, Pigneto Quartet, and more of the latest, high quality, underground dance and electronic music from Roma's local scene!
You can also download the complete Nikky voice-over non-stop mix (90MB zipped MP3).
Using GetRight or a similar download accelerator with concurrent connections may avoid a several-hour affair.
Enjoy!
Posted on March 31, 2006 at 10:32 | Permalink | Trackback (0) | Comments (0) | Tweet |
---
March 30, 2006
Sakura #3: Azusawa
Yet more sakura, taken on Wednesday in Azusawa, Itabashi-ku, nearby Shingashi-gawa. They said on the news that sakura has reached 満開 (full bloom). It was a bit cloudy.
Posted on March 30, 2006 at 00:59 | Permalink | Trackback (0) | Comments (0) | Tweet |
---
Sakura #2: Shimura, Maenochō
Sakura pictures taken on Tuesday in Itabashi-ku. The first two by 志村第四中 (Shimura High School #4), in Shimura, and the two others at 見次公園 (Mitsugi-kōen), Maenochō.
Posted on March 30, 2006 at 00:51 | Permalink | Trackback (0) | Comments (0) | Tweet |
---
March 28, 2006
Sakura #1: Jōhoku-kōen
My first sakura pictures this year. It's still a bit early and it will probably take at least a few days until full bloom. This is at Jōhoku-kōen in Itabashi-ku (previously seen 2 years ago).
Posted on March 28, 2006 at 00:06 | Permalink | Trackback (0) | Comments (2) | Tweet |
---
March 27, 2006
Mito ume matsuri
Last weekend we were off to Mito, Ibaraki for two nights, and on Saturday we went to ume matsuri (plum festival) the city is famous for. We were there just at the right time, when plum trees' flowers are in full bloom, and we had great weather. Of course I took plenty of pictures, so here are a few of the best ones with the rest in this Flickr set.
We spent our first night at the nice Hotel Steno near the north exit of Mito station. They had a relaxation room with massage chairs next to the lobby, and also a small room with computers. After checking mail for a while, when coming out of the computer room, at the front desk checking in was Neko Hiroshi! We found out later that he had been appearing at bar Bubble, for the closing party of Bar-CODE.
Another highlight of our stay was a meal at Restaurant Iijima ran by the meat supplier of the same name that specializes in the famous Hitachi beef from Ibaraki. My Hitachi beef sirloin steak was probably the best beef I ever had! It was about the same price as buying it from the supermarket, except that it was cooked by a pro, and served with a variety of sauces, salt and wasabi, vegetables and rice. Absolutely delicious! We also had Hitachi beef sashimi and sushi!
Of course I sported my Niku T-shirt for the occation.
... and after ume comes sakura. As we returned to Tokyo, we saw many sakura trees in bloom! So expect photos in the days to come!
Posted on March 27, 2006 at 13:34 | Permalink | Trackback (0) | Comments (2) | Tweet |
---
March 21, 2006
Ōmiya-hachiman-gū
Yesterday we went by bus to Ōmiya-hachiman-gū in Suginami-ku, mainly to check out the flea market which turned out to be smaller than exepected. I did find a だんご3兄弟 (dango 3-kyōdai) keitai strap for ¥100 at a stand selling dead stock of old toys.
I also took the opportunity to take a few pictures. I'm not sure if that tree is ume (plum) or sakura (cherry), as both species' seasons are currently overlapping (though sakura has yet to show up in most places), but the bonsai display was all ume.
Posted on March 21, 2006 at 10:39 | Permalink | Trackback (0) | Comments (4) | Tweet |
---
March 16, 2006
Taipei
We had a quick 3-night escapade to Taipei, Taiwan last weekend, and it was a lot of fun! It was the second time I went there, the previous time was about exactly 5 years ago, in March 2001, and I didn't remember much specific details from it.
Here's a list of some of the things we did (in no particular order):
- We ate and ate and ate, mostly at night markets, food such as: oyster "tenpura", dumplings, Taiwan-style hot-dog, shrimp fried rice, 豆花 (to-fa-), beef+noodles, papaya milk, watermelon juice, steak*, more dumplings, strawberry shaved ice, pepper rice cake, pork on rice, vegetables, and a Whopper Jr. w/ cheese (couldn't resist). * I suspect it's the not-well-cooked egg that accompanied my steak that made me go to the toilet too many times on Sunday...
- We visited the refreshing 台北之家 (English name Taipei Film House), a complex surrounded with greenery in the middle of the city containing a café with terrasse, restaurant, theatre and bookshop. It reminded me a bit of H1 in Bangkok. We had coffee/tea and a tiramisu.
- We shopped at Joyce Warehouse, though it was much smaller than Hong Kong's huge space. Still there was a lot of Comme des garçons and Martin Margiela, but stuff not being so cheap, nothing for me this time.
- We had a feet massage that checks your body's health by pushing corresponding points on your feet. I found out with shock that the point most painful corresponded to my balls! The therapist reassured me though, saying that most men feel pain at that point and it's nothing to worry about. :) We communicated in Japanese, and all clients we saw during the short time we were there were also Japanese, mostly men.
- We bought about a hundred delicious pineapple cakes! Partly for ourselves, but of course a bit for friends and as white day gifts.
- We went up Taipei 101, currently the world's tallest building at 509m, built in 2004. Even though it was quite cloudy on that day, we could see the view alright.
- We went to Taiwan Storyland, a sort of museum that shows how things were in Taiwan in about mid-20th century. We went there with long time p5ml friend William!
Much other stuff too, but I'll leave it at that and let the pictures speak for themselves.
See all the rest of my best photos from this trip in my Taipei 2006 Flickr set.
Posted on March 16, 2006 at 14:15 | Permalink | Trackback (0) | Comments (6) | Tweet |
---
March 6, 2006
gochisōsama!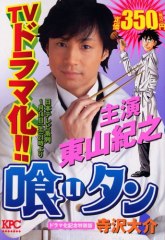 I'm not much of a TV watcher, but I've got my shows! Since January I had been enjoying very much the series 「喰いタン」 ("kui-tan", short for "kuishinbō tantei" or "gourmand detective"), a detective comedy based on a manga which—as title says—relates to food, food and more food! The reason I had started to watch it was because Konishi Yasuharu produced the soundtrack, which consisted of remixed classical music similarly to the great "Readymade Digs Classics".
However my love for the show went much beyond the music, as I also like detective plots and food! The story's central character, Takano Shinya aka kui-tan (Johnnys' Higashiyama Noriyuki), is a mysterious good-hearted man who arrives from nowhere into an unsuccessful small detective agency in Yokohama. His knowledge about food and uncheatable papillae will inevitably elucidate cases the agency gets involved in. Every show focuses on different food and brings up some little known nutritious fact.
Other lovable characters at kui-tan's sides are the agency's Kyōsuke (Johnnys' Morita Gō), Kyōko-chan (Ichikawa Mikako), and the young Hajime-kun (11-year old Suga Kenta).
Unfortunately, the successful show is coming to an end already this weekend after 10 weeks. As goes for most Japanese TV drama, even good shows go in hiatus after a short season. There will probably be a DVD release which I'd love to get my hands on, but then again it will probably priced close to ¥20000 as did Fugō keiji last year, a price I won't afford for stuff I could have taped off TV. Can't someone prove them that pricing TV series DVDs 75% cheaper could get them 500+% sales, or something?
This does come with a good news though because, speaking of Fugō keiji, "Fugō keiji 2" will start this April!
Posted on March 6, 2006 at 23:56 | Permalink | Trackback (0) | Comments (3) | Tweet |
---
March 3, 2006
shu-shu!
On Wednesday, I went out to Shibuya Soft for the last occurrence of monthly all-night event "Shu-shu!". After one year they had to put an end to it because since it was mid-week (1st Wednesday of the month), even though free, it didn't attract many people.
The event featured both members of the great indies band New Castle, and also 8-bits' Fukuta Takeshi. For the short time I was there, from about 22:15 until 23:30 when I had to go catch the last train, Nakamura-san (pictured) and Fukuta-san DJ'd battle-style, playing one song each in turn, and that was a lot of fun!
I heard that later in the night, even Konishi Yasuharu paid a visit! Too bad I had to leave so soon, but that's my salaryman life...!
New Castle were also selling their new ¥500 CD-R EP, out in January, and I had been waiting impatiently for a chance to pick it up. It contains the 3 songs "ai no Theme", "rauchen und trinken" and "shu-shu". My favorite has to be "rauchen und trinken", a truly brilliant original disco vocoder track that I can't help putting on repeat. "shu-shu" is a very techno-pop cover sung in English, reminding me of YMO.
Posted on March 3, 2006 at 21:32 | Permalink | Trackback (0) | Comments (2) | Tweet |
---