Blog - April 2014 Archives
April 2014 Archives
Index
.26 Weekly revue: 2014 week #17 (April 19 to 25)
.20 Weekly revue: 2014 week #16 (April 12 to 18)
.12 Weekly revue: 2014 week #15 (April 5 to 11)
.05 Weekly revue: 2014 week #14 (March 29 to April 4)

---
April 26, 2014
Weekly revue: 2014 week #17 (April 19 to 25)

Food: - Saag (spinach) chicken curry lunch set at Minami-Indo Dining (South Indian Dining), Nakano
- Black forest cake from Hyatt Regency's pastry shop, Shinjuku

Music events: - I went to a free event by Vanilla Beans on the day before the release of new single "watashi... fukō guse". It was held at 2.5d, a small live space in Shibuya Parco, where most of the events are streamed online. For two songs they were accompanied by the "Supbeams", three black dancers who seemed to be having a great time. I met the guy, Steve, just after in the escalator and he was so friendly. He said Vanilla Beans are really nice people! :)

Set list (as far as I can remember): Please Me Darling / watashi... fuko guse / Choco Mint Flavor Time / koi no Sniper 007 / Jewel Memories

- On April 19 was Record Store Day! I got 7"'s by Nosa Reina & The Blue Valentines and Kyary Pamyu Pamyu. :)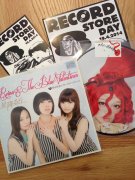 Music release news: Tachibana Hajime, Nakatsuka Takeshi, Vanilla Beans
Playlist: Negicco, Cibo Matto, Vanilla Beans, Kinbara Chieko, Pizzicato Five
This week's videos:
Izumi Ookawara "Don't Let Me Be Lonely Tonight" (James Taylor cover)
I shot this last week! There are a few more from the same show here. :)
Jintana & Emeralds "Honey"
Also a new animated video by Vanilla Beans who sing the periodic table
"suihei Liebe (ensō kigō no uta)"
Posted on April 26, 2014 at 14:32 | Permalink | Trackback (0) | Comments (0) | Tweet |
---
April 20, 2014
Weekly revue: 2014 week #16 (April 12 to 18)

Food: - Kerala Bhavan, Nerima
- Bread from Machi no Parlour, Ekoda
- Taco rice at Quina, Kichijōji
- Omrice at Omakasety, Shibuya

Music event: I went to see Izumi Ookawara (Qypthone)'s show at Star Pine's Café. She had a band of 10 (including herself), with piano, guitar, bass, with 3 brass players (sax/flute, trumpet and trombone) and 3 percussionists! That was great! I was in charge of taking video, so hopefully some might show up later for you to see. :) A few stills for now.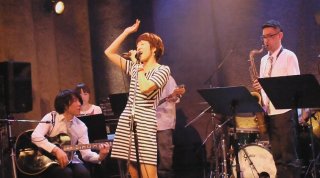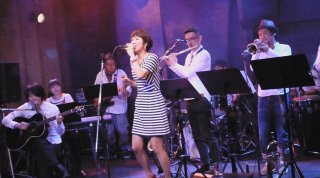 Music release news: Record store day feature (Nosa Reina, Chabe, Kyary Pamyu Pamyu & more), Cornelius, Tarte Tatin, Nakatsuka Takeshi, Hoshino Michiru
Playlist: Stereolab, Kyary Pamyu Pmayu, The Nanbatatin, Duck Sauce
- This week I've been listening to the Duck Sauce album a lot! This is good funky disco house! I like that there are short comedy bits between each track, which makes it yet more yet more fun to listen from start to end.
This week's video: Team Syachihoko "ii kurashi"
(Track by Yoshida Tetsuto! Acid!)
Posted on April 20, 2014 at 11:51 | Permalink | Trackback (0) | Comments (0) | Tweet |
---
April 12, 2014
Weekly revue: 2014 week #15 (April 5 to 11)

Photo: Last weekend was pretty much the last time to enjoy cherry blossoms. On Saturday we went for a walk around Ochanomizu and Kudanshita, dropping by the Indian Embassy's Sakura Matsuri. And the next day we went to Yoyogi park for a picnic with friends, though we were at first caught by rain, but later it cleared up and we could enjoy some fun picnic time.

Food: - Curry at Dylan, Ochanomizu
- Pork pie, chipotle grilled pork, and trifle at Bespoque, Higashi-Nakano

Gig report: I wrote a report of Minekawa Takako's solo show I saw last month at Asakusabashi Tensai Sansūjuku. Some photos too! Check it out here.

Music release news: - Perfume, Nakatsuka Takeshi, Negicco, Kyary Pamyu Pamyu, Jintana & Emeralds, Shonen Knife

Playlist: DJ Fukutake, Justice, Cibo Matto, Hanae, hitomitoi, Yukari Fresh, NAKATSUKA Takeshi, ...

This week's videos:

Kyary Pamyu Pamyu "Family Party"

Shonen Knife "Like A Cat" (English version)

Posted on April 12, 2014 at 11:47 | Permalink | Trackback (0) | Comments (0) | Tweet |
---
April 5, 2014
Weekly revue: 2014 week #14 (March 29 to April 4)

Food: - Curry lunch at jicca, Hatagaya
- Avocado and cheese burger, at Brooklyn Parlor, Shinjuku
- Hot cross buns, muffin, and good coffee at the renewed & moved Sunday Bake Shop! (Photos of the new shop)

Music events: I saw Cibo Matto! Twice!! The first time was a free DJ event at Brooklyn Parlor, where Yuka and Miho DJ'd while guests enjoyed a meal or drinks. There was a merch table where they sold the new album and T-shirts. I got an autograph and a photo with them, and a cool new T-shirt! :)

The 2nd time I saw them was for a free in-store event at Tower Records Shinjuku on a rainy evening. The place was quite packed nevertheless! They played "Sugar Water", "Check In" and "10th Floor Ghost Girl"! The new album is really amazing, I love it! Now I can't wait to see a full show of theirs, and May 20 should be the day, hopefully! They'll play at Liquidroom in Ebisu. I also heard that they'll play at Blue Note in August.

Art event: I dropped by Volcom in Harajuku for "DYZ featured ARTIST TEE release EXHIBITION". There was an event with live painting by ESOW, HITOTZUKI, DISKAH, MADSAKI and Naomi Kazama. The shop had a skateboard ramp setup inside, and the artists progressively layered their work on the wall behind. T-shirts by each of the artists are also being sold at the shop.

Music release news: Un Amin, Idiot Pop, Orland, Sunaga Tatsuo (Bethlehem compilations), Perfume (live Blu-ray/DVD)

Playlist: Denki Groove, Cibo Matto, Dorian, (((sssurrounddd))), Kinoco Hotel

This week's videos:

Negicco "Triple! Wonderland"

Orland "Fragment Of Romance"

Posted on April 5, 2014 at 12:03 | Permalink | Trackback (0) | Comments (4) | Tweet |
---