Blog - August 2008 Archives
August 2008 Archives
Index

.31 Tokyo Boys Bravo, DJ chipple in Koenji 9/12


.31 arcorhyme "aoi neko" video



.28 Family kanshasai - YMCK & Kaji Hideki: live report



.25 Kōenji Awa-odori 2008



.24 Soundmatic Circle of Friends vol.4: Kaji Hideki & Arcorhyme live report




.18 HKG 2008 #3: Day 2 - Hello Kitty Black Wonder



.15 World Happiness: report


.08 Barfout! Club Authentica / bice live: report



.06 Tamagawa-jōsui





.04 HKG 2008 #2: Day 1 - Stanley Market



.01 30.

---
August 31, 2008
Tokyo Boys Bravo, DJ chipple in Koenji 9/12
Announcement! / 告知
I will be DJing at Koenji café-bar Connection tonight, in an event focusing on techno-pop of the 80's. I plan to play techno-kayo, vocal pop of the 80's either produced by or reminding of YMO, and also perhaps some of techno-pop/pico-pico of the recent years. Those who like Perfume, capsule, Usagi-chang records should also enjoy it!
The price is only ¥500, and there will even be a live set by polymoog of Elektel that I'm looking forward to!
The event starts at 19:00 and goes on all night. After 1am anyone can bring their own CDs or records and borrow the turntables.
9月12日に、高円寺コネクションでDJします!イベントは80'sのテクノポップを中心に、僕はテクノ歌謡をかける予定です。最近のお気に入りのテクノポップも持っていきます。
YMOももちろん、Perfume・capsule・ウサギチャンレコーズなどが好きな方も楽しめるイベントになる思います!
時間がある方、遊びにきてください!
1時以降は飛び入りOKなので、好きなCDやレコードを持ってきてね。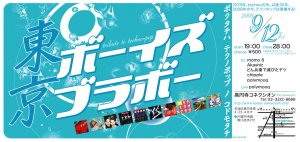 Tokyo Boys Bravo
東京ボーイズブラボー
Tribute to Techno-pop
on 9/12 (Friday)
at Koenji Connection (map)
DJs:
momo 8
akashic
donbei
chipple
polymoog (Elektel)
Live: polymoog
Price: ¥500!
Opens at 19:00, all night
---
I will be playing from 20:40 and 0:20.
Posted on August 31, 2008 at 13:44 | Permalink | Trackback (0) | Comments (8) | Tweet |
---
arcorhyme "aoi neko" video
Here's a brand new video from Arcorhyme (MySpace) which I just found out about! Taken from album "la douce vie", this song is titled "aoi neko" (translates to "blue cat").
Those who haven't, also check out "amai hibi".
Posted on August 31, 2008 at 01:22 | Permalink | Trackback (0) | Comments (0) | Tweet |
---
August 28, 2008
Family kanshasai - YMCK &
Kaji

Hideki: live report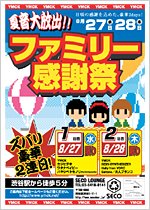 Yesterday was the first of YMCK's 2 day event "Family kanshasai" (ファミリー感謝祭) named to sound like a sort of "thank you sale" at your local supermarket. I went there of course to see YMCK but also Kaji Hideki who I had just seen for the first time last weekend.
At the beginning and between the sets was some DJing, and every once in a while would come up a supermarket-like jingle by YMCK. And before every artist was a funny message...
"Attention please, Kaji Hideki is asked to please come to the stage in the basement. Thank you." Haha. :)
Opening was Kaji Hideki, who was this time accompanied by a full band with two long-haired guys on keyboards and bass, and Yoshié on drums!! Yoshié is Shibuya-kei's leading female drummer since back in the day, and she kicks ass. That was a really energetic set. It seemed that they maybe had a sort of light backtrack, but it gave full room to the band's sound.
Partial set list: Muscat / Typical / Siesta / amai koibito / My Boom Is Me ...
Kaji-kun has a new album coming on October 22!
---
Next up was Watanababy, who isn't just quite my thing so I took a little break at the back, meanwhile finding my friend Akiko, but he sure was very popular! Even though he just sang and talked, accompanied with his acoustic guitar, the place was full of fans clapping and waving their hands to his every direction. Entertaining anyway!
---
Last on stage was of course YMCK! They played a full set similar to what I had seen at Womb 2 months ago, but in addition they played 3 brand new tracks! Two of these are covers from their upcoming cover albums coming next month, and the other is the ending theme for Japan/Korea anime series "Arado senki" (aka "Dungeon & Fighter", it seems) to start airing next January! They said that the anime's ending will not only feature YMCK's music but also their 8-bit graphics.
Partial set list: Starlight / Go! YMCK, Go! / Panic Racer 005 / Inoue Yōsui's yume no naka e / Sugar Babe's Down Town / Amado senki Ending Theme / Future Invation / Arigato Mr. Roboto ...
On my way out I bought a very cute YMCK mobile phone strap that doubles as a screen cleaner. Usually the back of these are black, but this one shows the 3 8-bit characters faces on the front, and the back of their heads behind. :)
Posted on August 28, 2008 at 23:59 | Permalink | Trackback (1) | Comments (0) | Tweet |
---
August 25, 2008
Kōenji Awa-odori 2008
This weekend was the annual Awa-odori dance festival in Kōenji. It was raining lightly throughout the weekend, but just enough so that the crowds weren't as dense as usual, and the dancers didn't seem to mind at all. :)
We had a great time although we couldn't catch Microsoft-ren or Roy's recommended Edokko-ren.
This time we went with an Indian friend from work. I learned many things about India in a short time from him and two other friendly co-workers, but they are all leaving back to their home country by the end of the month. I will sure miss them!
Larger sizes and more photos at Flickr
More photos from previous times I went: 2005, 2004, 2003
Posted on August 25, 2008 at 22:26 | Permalink | Trackback (0) | Comments (0) | Tweet |
---
August 24, 2008
Soundmatic Circle of Friends vol.4:
Kaji

Hideki & Arcorhyme live report

Yesterday was the 4th of Arcorhyme's event series "Soundmatic Circle of Friends", held at Mona Records in Shimokitazawa. Even though I often see them, I couldn't manage to make it to the first 3 of the series for a reason or another. They always invite very interesting artists with a certain similarity in sound or influences, and this time the main guest was Kaji Hideki!

It was my first time to see Kaji-kun live, and I even got to briefly meet him, he was a very friendly and nice guy! He told me that he had been living in England for 5 years but just recently moved back to Tokyo this year.

First things first, the opening act was Everyday People from Osaka, a band that I hadn't heard about before, but it turns out they've been active for 15 years! They had a good soft rock sound with male vocals, and at times reminded me of Original Love. Good show!

Next Kaji Hideki got on stage on his own with just his guitar, and proceeded to perform a greatest hits set, and also two songs that he wrote for the movie "Detroit Metal City" (a manga-inspired film that's full of Shibuya-kei references, just out in theatres). The opening song was actually one he wrote for Chocolat, and he played that one on ukulele. His whole set was very lively and full of laughs, he's really a great entertainer!

Set list: Blue de Happy ga ii (Chocolat) / natsu monogatari / The Heart of the Saturday Night Live / amai koibito (from "Detroit Metal City") / Sally My Love (from "DMC") / August of P. / My Boom Is Me / atarashii Sabot

Next up was Arcorhyme, this time accompanied by Nakayama Tsutomu (a Sony-era Pizzicato Five support musician, who later also played with Original Love) on keyboards. Nakayama-san's piano and organ sounds gave a brand new flavor to Arcorhyme that was really nice. The set focused on songs from album "Soundmatic Brain". Takanami-san played guitar, and singer Ikuyo also played percussions and flute.

Set list: Do you believe in magic / tsukiyo no hōseki / Shadow tail / You really got me / Strawberry decandence / aoi neko / Don't you believe in magic? / amai hibi

Throughout the event they had been screening old foreign movies that have yet to be released in Japan, and at the end of Arcorhyme's set Kaji-kun came back on stage for some talk about movies and also to play two songs from his latest album and mostly instrumental side-project "Hideki Spaghetti" (album out on Spanish label Siesta) that took inspiration from spaghetti western soundtracks. It was the first time he performed songs from this album live, and I really hope he'll consider doing a full Hideki Spaghetti show sometime, because that was really great!

Set list: the pretty young girls from polto / spaghetti men's club

Upon leaving, I bought the Hideki Spaghetti album, and since Kaji-kun was nearby I asked him if he'd give me an autograph, but I'd never have thought this would create a big line-up of about 15 girls all wanting autographs too! I just hope I didn't cause trouble. :)

Kaji Hideki can be caught on stage with YMCK next Wednesday at Shibuya Seco Lounge (details at Tokyo Gig Guide). Arcorhyme will be back at Café Après-midi for monthly free evening sets on September 16 (Tuesday) and October 20 (Monday), it starts at 20:00.

Larger sizes and more photos at Flickr

Posted on August 24, 2008 at 14:51 | Permalink | Trackback (1) | Comments (4) | Tweet |
---
August 18, 2008
HKG 2008 #3: Day 2 - Hello Kitty Black Wonder
Monday July 28, day 2 of our Hong Kong trip. Before leaving for Hong Kong, we had learned of a special Hello Kitty attraction that was taking place just while we were there. It was related to brands like Silly Thing and Colette, which made me curious about it, but not being quite a Kitty fan I didn't feel serious about checking it out.
However when we got there, I had found the latest Milk magazine that had more info about it, and came with a free Hello Kitty mouse pad in collaboration with local artists Softhard and Mcdonald's. This got me a bit more excited and I felt like this trip would get its share of Hello Kitty action.
So on Monday we set off for Hello Kitty Black Wonder, a sort of life-sized RPG where you must go through a dark castle in order to save Kitty and Dear Daniel, who have been made prisoners by Kuromi. While all things Kitty are usually pink and cute, this dark setting made it seem more interesting.
Upon entering, we were handed a lantern that if lost or broken we'd have to pay about ¥30000, ouch! You bet we were careful. We were then explained the game, which consisted of searching for our designated symbol in each of the rooms and collecting the letters found next to those. At the end you have to make a word from the 5 letters, which is enough to rescue Kitty. Each of the rooms were quite interesting, with the symbols hidden in creative places.
The whole thing was also quite hi-tech, with videos on large screens in most rooms, and also the lantern contained some electronic tag (RFID maybe) that when placed in a specific spot in a room's entrance it would record that we had been there. This was probably meant so that you couldn't complete the game without really going everywhere. :) At the end we input our winning words in computer (ours were QUEEN and BLACK), which printed out our results from the whole journey.
While we initially had low expectations, we really had quite a fun time in there!
Oh but the greatest surprise came at the end when we visited the shop at the exit. I was going to buy the soundtrack CD anyway because it was a really cute design, a clear CD with a pink skull, but then I looked at it and it said: "All tracks by Lullatone"!!! Incredible to find my dear Nagoya friends in such a place, and in Hong Kong. :) Pure coincidence! Most of the other cool goods were sold out, no more T-shirts of any decent size or any of the cheaper stuffed toys, but we grabbed a quite nice candle holder (see video below) and a set of pins.
After a quick break at Honeymoon Dessert in the same mall, where we had mango pudding and rice dumplings in warm sweet peanuts soup, we headed to station Kowloon Tong for a bit of shopping at another mall called Festival Walk. There was a skating rink in it that attracted lots of people.
We had got day passes for the subway, so we took the train down to Causeway Bay for some more shopping and also to check out the Eric Haze exhibition at Delay No Mall, a young mall produced by G.O.D
We ended the day by going to a Shanghai-style restaurant, where I loved the spring rolls!, and then we stopped by Ching Ching Desserts.
Larger sizes and more photos at Flickr
Posted on August 18, 2008 at 01:12 | Permalink | Trackback (0) | Comments (2) | Tweet |
---
August 15, 2008
World Happiness: report
Last Sunday I went to World Happiness, a summer music festival organized by Shindō Mitsuo (C.T.P.P) and Takahashi Yukihiro (YMO). Held in a large green space at Yumenoshima (Shin-Kiba station), the event was quite unlike other music festivals, it had a picnic feel where everyone was given their own small leisure sheet, and even families with little kids were welcome. People could freely sit, stand, dance, rest, eat... I had brought a lot of food from home which we ate slowly throughout the day, contributing to the picnic atmosphere. The weather was perfect, with just enough clouds so that the sun wouldn't melt us down.
The show went on non-stop on two stages, the large main stage and a smaller "left stage". That way there was no waiting time for set changes. Also there was no moving from a stage to another. My friend Miwa and I sat in block B-1, a bit towards the left, and not so far from the front. There was a large screen on the main stage that helped to see the artists closely. I had also brought binoculars that I received from my parents recently, they were quite useful! The sound was generally just great too despite it being outdoors!
---
We arrived as opening act anonymass were playing their set on the left stage. I don't remember much from it except that they used some horns and a pianica. I'd realize only later that so many bands at that event were using pianica.
After the two organizers showed up on the main stage to give a welcome word, Tokyo Ska Paradise Orchestra came up all wearing gray suits. They did a great job at getting the party started. Although I heard a bit of their albums before, it was the first time I got to see them live. Very good energetic show!
On the left stage came Lastorderz, some sort of one-time(?) joke band led by Anzai Hajime, wacky illustrator best known for his weekly TV appearance on Tamori Club (pretty much the only show I try hard not to miss). They had a punkish sound and very silly lyrics. Anzai had some hard rock style make-up.
Main stage, Suzuki Keiichi Captain HATE and The Seasick Sailors feat. Sokabe Keiichi did a pretty good set. Earlier this year was released an album by the two. I wasn't familiar with the songs but I remember the opening song that went something like "alright senchō" ("alright captain"). Suzuki Keiichi wore an appropriate outfit with a striped navy and white top with an anchor mark and a sailor's hat.
On the left stage was then Kuchiroro, one of the acts from label commmons that had a big place in organizing the event. I had heard of them many times but was only vaguely familiar with one song. Their sound has lots of keyboards and mixes elements of J-pop with some rap. The lead singer/keyboardist was especially great.
Next up on the main stage was pupa! One of the acts I had been very much looking forward to. pupa is the recent all-star unit of Takahashi Yukihiro (YMO, Sketch Show) together with Harada Tomoyo, Horie Hirohisa (Neil and Iraiza) and others. The sound is electronic but feels organic, very nice songs, not quite the type of stuff I usually listen to, but I enjoyed the show very much! Each of the 6 members had their own song on which they sang lead vocals. Harada Tomoyo looked very cute and stood at the front with Takahashi (except for the parts where he went to play drums). I was very curious about an instrument she played sometimes, which looked sort of like an electronic recorder. pupa can be heard on recent album "floating pupa".
On the left stage came another act I had been eager to see, the bossa nova guitar duo naomi & goro. I first knew about them from a song they contributed to Escalator compilation "Henry", and later heard more of their music by coincidence in a shop that played their Christmas album as BGM, and I had instantly recognized Naomi's beautiful unique voice, and I couldn't resist buying it. This time were accompanied by a full band, and played mostly songs from their recent cover album "Bossa Nova Songbook 1" out on commmons, but also a few originals.
On the main stage was then Bonnie Pink. I'm not much into what she's been doing for the past few years, changing her image to maybe try to appear to a wider J-pop audience, I prefer her sound from when she was closer to the Shibuya-kei scene. The show was alright though. I surprised myself at especially enjoying recent hit "A Perfect Sky", but that's probably because I've heard it so much in the mainstream.
Left stage, illustrator Lily Franky came to sit with his guitar, accompanied by a band, I think. I chose this time to go for a toilet break and also go look around the shops. I was sad to find out that all the T-shirts and goods of interest were sold out, well yes I was a bit late. However I was very happy to find the nice designer I know from C.T.P.P selling ice cream. I bought that (the only ¥200 I spent all day!) and got back to my spot. Lily Franky was finishing his set with a large Oden-kun mascot, character that he designed. He said that it was the first time he sang Oden-kun's theme song.
Ganga Zumba was next on the main stage. It's a large band led by a guy from The Boom. There seemed they had really a lot of fans, but I didn't care much for them. Instead I sat and ate while taking some photos. Photos of the stages and artists were prohibited, which is why there's not more.
I had been keeping an eye on the left stage on which event curator Shindō Mitsuo was busy setting up the stage of his unit NRT320 (reads Narita Mitsuo). Most of the smallish stage was occupied by a gigantic 6-feet tall pro photo flash umbrella, looking sort of like a plane reactor. Narita Masaki (who has done programming work for many Shibuya-kei related artists), the unit's main instrumentalist, performed from his laptop, while Shindō-san accompanied with his Kaossilator like at his DJ set a few weeks ago. The first song sounded sort of lounge-y and experimental, maybe almost beatless, but then kick in a club beat that would lead the rest of the set. On the main screen were C.T.P.P fun clips. I liked one of a woman folding a black piece of paper saying "NRT-320" and putting it into her mouth, over and over.
After one or two more tracks, it was time for Nomiya Maki's appearance! She wore a long blue-ish dress and stood in front of the flash umbrella, while Shindō-san moved around her and took photos. The wonderful thing was that just a few seconds every time after the flash went, the photo that was just taken showed up on the huge screen! Maki had things written on different parts of her arms and hands and on her back, and these were revealed one by one in the photos.
Maki's part was to sing 2 covers, Koizumi Kyōko's "Fade Out" and Amanda Lear's "The Queen of Chinatown", both arranged in a club style. That was just great! I really hope we won't wait too long until a NRT320 release.
The next set on the main stage would be the most rock of all day, with Sheena & The Rokkets! It was also probably the worst sound of the day with a lot of feedback whenever the band stopped playing between the songs. Well, they rocked! I only know them from remix album "Electrokkets" (with remixes by FPM, Ken Ishii and more) which I really liked. I was happy to hear "Lemon Tea" towards the end of the set.
On the left stage was then Tokyo Bravo, an early 80's new wave band with Takagi Kan and Bravo Komatsu (the latter who played guitar for Pizzicato Five). I enjoyed it but don't remember so much. Maybe I was a bit distracted because I was eagerly waiting for the last act of the day...
HASYMO! That's the three of Yellow Magic Orchestra, they should really need no introduction as they're probably Japan's most important electronic units since the late 70's. Only recently they've been getting back together under new names like Human Audio Sponge or HASYMO, and this was the first opportunity I had to see them on stage. I'm not a huge fan, meaning not that I don't love them but just that I don't know all of their repertory like certain others. :) However I do love many of their songs and it felt like a dream to be able to see them performing live.
The three of course played their respective instrument (Sakamoto on keyboards, Takahashi on drums and Hosono on bass). The three also sang, and were accompanied on stage by 3 guys from pupa. There was video projected on the large screen, different for each song. Throughout the show I recognized songs that I had heard before, such as the recent News23 theme song "tokyo town pages", although what really did it for me was the encore: "Rydeen 79/07" and "Cue"!
The three walked to the front of the stage to salute the audience. Sakamoto put on a hat (the two others already had one on for the whole show) and they walked towards the exit as the large screen zoomed on them walking out without looking back, the effect was just perfect. The audience laughed and applauded, fully satisfied. Awesome show!
---
Well that really was a fantastic day, just my type of music festival. I really hope that there will be another World Happiness next year!
Larger sizes and more photos at Flickr
Posted on August 15, 2008 at 23:04 | Permalink | Trackback (1) | Comments (0) | Tweet |
---
August 8, 2008
Barfout! Club Authentica / bice live: report
Tonight I dropped by Supper Lounge Obi in Shibuya, located just above club Womb, to see bice live. She was performing a short set part of event Club Authentica presented by magazine Barfout. I was a bit surprised to find my friend Nick, I had told him of the event but I didn't expect finding him there, he had even arrived earlier than me. :) The small lounge space was still fairly empty, but more people arrived until the show began around 20:30.
First was a short set by a band called TEX & the Sun Flower Seed. Their sound was sort of laid back ska (=reggae?) with a touch of J-rock/pop. All musicians were very good and while it's not a genre I usually listen to, I don't mind something like this once in a while. The trombonist, who sometimes played pianica, gave a nice touch to their sound.
Next up was of course bice. Staff brought large panels of photos of herself playing guitar and bass, a funny way to compensate for the lack of musicians on stage. :) She performed alone, accompanied by a backtrack streaming from her Mac, and playing keyboards or guitar while singing. She played a total of 5 songs, all from her new album "kanaerarenai koi no tame ni".
Set list: teisen shimashō / lily on the hill / in lovers time / red balloon / 100nen go ni wa futari wa inai
For the 1st and 4th songs she played guitar, the 2nd and 3rd on piano, and for the last she just danced while singing. The show had a good balance of up-beat and slower songs. "lily on the hill" was the best, she performed it solo on piano with no backtrack.
Also she talked quite a bit between the songs, and explained how what made her decide to release a new album (after 6 years since the previous) was that Konishi Yasuharu called her up to meet her, and tried to convince her to do so. At first she refused, but when she got back home she realized that she had a bunch of good songs, so she decided to do it!
She also presented her brand new clothing line called eme. T-shirts with the logo were on sale at the show.
At the end of the show she announced that those who bought the album there would get some free goodies (a sticker maybe?) and could get an autograph. I hadn't brought my CD from home, but I went to show her that I had her album on my iPod and she kindly signed a flyer for me. Oh, and she was very cute by the way. :)
---
A quick bice story: Many years ago (around 2002 maybe) my good Swedish friend Jesper had found out about her and really loved her. While he was in Japan he even went and interviewed her, if I remember right! So Jesper found out about her genius many years before Konishi-san did. Maybe he should consider becoming producer. :)
Larger sizes and more photos at Flickr
Posted on August 8, 2008 at 00:29 | Permalink | Trackback (0) | Comments (0) | Tweet |
---
August 6, 2008
Tamagawa-jōsui
Last Sunday we went to Tachikawa-shi to take a walk in along a river named Tamagawa-jōsui. There's a rough path along the river for several kilometers, with trees and some nature, and we thought it would make for a nice escape on such a hot day.
We got to our starting point at Tamagawa-jōsui station on Seibu-Shinjuku line, but it was already past 1 o'clock. We had hoped to eat lunch at a soba shop located along the river, but they had already sold out.
We were hungry though, and it didn't look like there was much elsewhere to eat around there. We ended up finding a small udon shop which was good. Their udon noodles were hand-cut and very thick.
Back near the river, our next stop was a foot bath, it consists of shallow pools of hot water for soaking feet only. There were a several local people of all ages enjoying the free attraction.
The other main stop on our plan was a bread shop called Zelkowa where we had reserved some bread because it always sells out early in the day. We actually went there by train because it looked like it was quite a long way.
Nearby was a shop selling vegetables at an unattended stand. You take what you want and put the money in a small box. These seem to be rather common in Japan countryside.
In front of that shop were some lotus plants. With the flowers they look pretty from far away, but the things that hold the seeds aren't as inviting.
---
Bonus: This is the Tama Monorail, decorated with Tama Zoo advertisements, arriving at Tamagawa-jōsui station.
Larger sizes and more photos at Flickr
Posted on August 6, 2008 at 22:00 | Permalink | Trackback (0) | Comments (0) | Tweet |
---
August 4, 2008
HKG 2008 #2: Day 1 - Stanley Market
On our first full day in Hong Kong (Sunday July 27), first thing in the morning we headed towards station Tsim Sha Tsui to exchange some money. Chungking Mansion is well known as a cluster of money exchangers with good rates, and indeed the rates there were very good, but we found yet a better rate at the back of a nearby building (《Wing Hoi Money Exchange Co.》, Shop 9B, G/F, Mirador Arcade, 58 Nathan Road).
We took the train down to Central, passed some crowds of ladies from the Philippines, and then hopped on a double-decker bus headed for Stanley, a southern part of Hong Kong island famous for some beaches, temples and a market that attracts many tourists. It was still early in the day (around noon) so it wasn't too crowded.
At the market I was lucky to find a LED marquee belt clip like I had seen my friend Hase-san using at a solange et delphine show last year. I had really wanted one at that time but didn't dare going to search at 109. :)
After a short break at Gino's Gelato, we took a bus to Aberdeen and transferred to South Horizons, where we went looking for bargains at Space (Prada outlet), Joyce Warehouse and a Lane Crawford outlet. There wasn't much for us though.
We waited for another bus nearby to take us back to Wan Chai, where we went to the same gyōza restaurant as our previous HK trip (《餃子源》 259 Queen's Road East, Wan Chai).
Walking back to Causeway Bay, we did some shopping at G.O.D, where I got a few new T-shirts. We did a little bit of graffiti watching around Times Square, and we bought some sweets at Honeymoon Dessert before heading back to our hotel. We were then able to do a bit of late night shopping on Granville Road, where some shops are open past 23:00.
Larger sizes and more photos at Flickr
Posted on August 4, 2008 at 23:59 | Permalink | Trackback (1) | Comments (2) | Tweet |
---
August 1, 2008
30.
The feast was good. :)
Posted on August 1, 2008 at 23:40 | Permalink | Comments (6) | Tweet |
---