Blog - May 2015 Archives
May 2015 Archives
Index
.31 Weekly revue: 2015 week #22 (May 23 to 29)
.24 Weekly revue: 2015 week #21 (May 16 to 22)
.16 Weekly revue: 2015 week #20 (May 9 to 15)

---
May 31, 2015
Weekly revue: 2015 week #22 (May 23 to 29)

Food: - Wine lamb chop, Burmese-style bonito carpaccio, asari curry, etc. at Tapir, Ōkubo
- Jumbo gyōza at Tenryū, Ginza
- And more great food with good friends :)

Music events: - Went to see Tommy Guerrero and Ray Barbee at Duo Music Exchange in Shibuya. I wasn't very familiar with either, but the show was great! I personally most enjoyed Ray Barbee's funky playing style. The show ended with a special set of the two which was awesome!

- I also went to see Izumi Ookawara (Qypthone) at Cafein, Asagaya. The event titled "Strawberry Night" was to celebrate the release of recent single "Strawberry Jam" out on iTunes worldwide. That was a fun show, and I had the nice surprise of hearing a cover of "Midnight at the Oasis" that I've always liked a lot!

Set list: Boogaloo Chair / Midnight at the Oasis / I saw the light / Strawberry Jam / Don't Let Me Be Lonely Tonight / Polka Dot on the Paper / On the Palette

Exhibitions: - Dropped by a one-day exhibition by painter friend Manabe Tarō (aka Picaro Taro) at hair salon SOZO in Harajuku. The walls were filled with his beautiful paintings of cats and dogs. They're actually on display until tomorrow June 1st.

- Also went to Muji in Yurakucho to see an exhibition of block print textiles from Rajasthan (India), which includes some from the Bagru village that we visited. The textiles are provided by Iwatate Hiroko (who runs the Iwatate Folk Textile Museum in Jiyūgaoka). In Bagru we met blockprint artisan Mr. Suraj who told of his ties with Iwatate-san, and was a very welcoming and charming person. The exhibition at Muji goes on until June 28. Details here.

Music release news: Tokyo Killer

Playlist: Tommy Guerrero, Hoshino Michiru meets The Scooters, Lullatone, Nomiya Maki, "Idol bakari Pizzicato", Negicco
This week's video:
Ray Barbee live collage from his 2014 Japan tour
Tommy Guerrero "Throwing Stones At The Moon" live in Japan in 2014
Izumi Ookawara "Don't Let Me Be Lonely Tonight"
Tokyo Killer "Surf Sniper"
Posted on May 31, 2015 at 14:51 | Permalink | Trackback (0) | Comments (0) | Tweet |
---
May 24, 2015
Weekly revue: 2015 week #21 (May 16 to 22)

Food: - Apricot pork pie, fish & chips, and curry (finally!) at Bespoque
- Pork curry at Montenvers, Ebisu
- And a fun party with friends who all just got back from trips abroad. :)

Music event: I went to a great event titled "Magicant Fes.", hosted by Maika Leboutet and Andersons, held at "yagi ni, kiku?" in Daikanyama. The event not only featured bands but also a market corner selling books and accessories, and there was a free buffet with chicken and curry that was really good!

First to play was Sami Elu, a guy who plays a self-made instrument he calls the Chopstick Piano, it has a really beautiful sound! Next on was jan and naomi, a duo of two guitarists (jan is of the band GREAT3), who played a very pleasant set. At the end they sat at the piano for "A Portrait of the Artist as a Young Man" which was great.

Then was Andersons, a band that I didn't know but liked instantly. They played a fun set of upbeat tracks with live guitar and keyboards. They're on 80KIDZ' PARK label. I'll definitely be looking out for them. Last was Maika Leboutet, this time playing a set with just her keyboards and drummer Bun-chan. Most of the music was played entirely live, showing off Maika's wonderful keyboard skills. There was a song using a strange speaking puppet that made me very curious. :)

Exhibition: I dropped by Music Jacket Gallery 2015 held outside Takashimaya in Shinjuku, and got to see nice displays of works by Shindo Mitsuo (P5! Cornelius! & much more), Groovisions, Enlightenment, ... This ends today (May 24).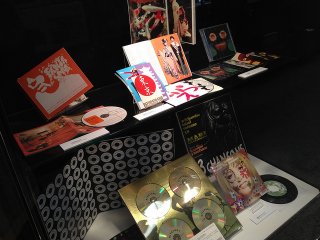 Music release news: Pizzicato One, Ichikawa Saya, Hoshino Michiru, petit milady
Playlist: Nosa Reina, Kyary Pamyu Pamyu, hitomitoi, Maika Leboutet
This week's video: Maika Leboutet "Open me"
Andersons "Young Love"
Ino Hidefumi + jan and naomi Premium Studio Live (Digest clip)
Sami Elu plays Chopstick Piano
Posted on May 24, 2015 at 12:32 | Permalink | Trackback (0) | Comments (0) | Tweet |
---
May 16, 2015
Weekly revue: 2015 week #20 (May 9 to 15)

It's been a while! That's because we spent Golden Week in India! We went through Delhi, Jaipur, Bangalore, Mysore and Mangalore, where we attended a friend's wedding! Photos are now up on Flickr!

Food: Curry and curry and curry!... and sometimes not curry.

Music release news: Compilations selected by Sally Kubota ("odoru Showa Beat! GS Wild Party ~ tekuteku tengoku", "odoru Punch kayo! Showa Girls Garage Party ~ Bazazz tengoku"), Sunaga t experience 5th album

Playlist: Jintana & Emeralds, nakayoshi group, Noppal, Dorian, Crue-L Grand Orchestra, Count Buffalo & The Jazz Rock Band, "Idol bakari Pizzicato", HNC, Kyary Pamyu Pamyu, DJ Fukutake, dip in the pool, Especia, Bakubaku Dokin, Scha Dara Parr

This week's video: Sunaga t experience "DIRTY30"

Posted on May 16, 2015 at 20:31 | Permalink | Trackback (0) | Comments (0) | Tweet |
---