Blog - October 2015 Archives
October 2015 Archives
Index
.30 Weekly revue: 2015 week #44 (October 24 to 30)
.24 Weekly revue: 2015 week #43 (October 17 to 23)
.21 Weekly revue: 2015 week #42 (October 10 to 16)
.10 Weekly revue: 2015 week #41 (October 3 to 9)
.04 Weekly revue: 2015 week #40 (September 27 to October 2)

---
October 30, 2015
Weekly revue: 2015 week #44 (October 24 to 30)

Small trip: On Sunday October 25, we went to Nasu-Shiobara in Tochigi prefecture, to the Fujishiro Seiji Museum. Fujishiro Seiji is an artist who is mainly famous for his works using light and shadows with translucent sheets, many of which can be seen at the museum.

There was going to be a "Keroyon greeting" that day, which was the main reason I wanted to go. :) Keroyon is a character the artist created in the 60's, who appeared on TV and in two full-length movies which I love (trailer)! He also appears here and there in Fujishiro Seiji's shadow works. Every few months Keroyon, just as seen in the movies, visits the museum and greets all visitors. I even had the chance to take photos with him. :) That was awesome!

After the museum, we also went to have coffee at 1988 Café Shozo and checked out nearby shops. On our way back we stopped at Utsunomiya to eat gyōza, which the location is famous for.

Music event: I went to see hitomitoi live at Billboard! Her new album "The Memory Hotel" had just been released the week before, and most of the songs from it were played live. That was a great show as always (I've seen her shows for each album since "Dive")! LUVRAW was also featured on talkbox for 3 songs.

Set list: Dive / Overture / The Memory Hotel / sono me wa, Hypnotic / Mystery Train / bō - kyaku - hi - kō / toki o tomete koi ga odoru / Surrenderer w/ LUVRAW / Stardust Tonight w/ LUVRAW / Lonely Woman / Labyrinth ~kaze no machi de~
Encore: Anytime Manytimes (IMAI Miki cover) / koi wa omoi no mama w/ LUVRAW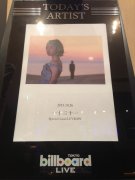 Food: - Hot dog at the Fujishiro Seiji Museum
- Gyōza at Minmin, Utsunomiya
- Curry lunch at Have More Curry, Omotesandō
Music release news: Negicco, Izumi Ookawara, Aira Mitsuki, Perfume
Playlist: hitomitoi, Takako Minekawa & Dustin Wong, etc.
Posted on October 30, 2015 at 22:19 | Permalink | Trackback (0) | Comments (0) | Tweet |
---
October 24, 2015
Weekly revue: 2015 week #43 (October 17 to 23)

Workshop: I went to a workshop by Chalk Boy, a master at chalk art as seen in cafés and shops everywhere. Held at unico in Shin-Marunouchi bldg, he taught us for about 2 hours some techniques to write lettering on a blackboard, and tips for it to look good. It sure is a bit difficult and needs some practice, but that was fun! I'll have to try to put this to work sometime. :)

By the way, the chalk he uses is Japan-made Dustless chalk by Nihon Rikugaku Industry (Kanagawa pref.), and it's made so that hands don't get all dusty. The company that makes it is also remarkable in that it employs mainly people with intellectual disabilities.

Food: - Italian dinner at Trattoria Babbo, Shibuya
- Vegetables 65 & Malabar fish curry at Cochin Nivas, Shinjuku
- Thursday morning sausage roll at Sunday Bake Shop, Hatsudai

Music event: I went to a free event at Shinjuku Motion that featured (M)otocompo. First to play was Kagakutokusōtai, a band that mainly plays hit songs from SF movies (Godzilla, Ultraman, etc.). Their sound was quite amazing, and also they even had a super robot show up in the crowd towards the end of their set. Next was idol group Hauptharmonie who had many quite good songs.

Turned out that (M)otocompo announced that they have 3 new members (acoustic drums, bass and guitar), and also in addition to their saxophonist they introduced a horn section (this time with an additional trombone) called OTO2 Horns (pronounced "oto-oto Horns"). Watch this digest clip of their introduction.

Music release news: hitomitoi

Playlist: YMCK, hitomitoi, Ice Choir, Kero Kero Bonito, HNC, frenesi, "Crue-L Cafe II"
This week's video: Vanilla Beans "onna wa sore o gaman shinai" (Short ver.) Single coming November 18!
Posted on October 24, 2015 at 22:48 | Permalink | Trackback (0) | Comments (0) | Tweet |
---
October 21, 2015
Weekly revue: 2015 week #42 (October 10 to 16)

So here's last week's revue! A bit late. :)

Small trip: Monday October 12 was a holiday, and we went for a day trip to Gunma prefecture (Wikipedia) via shinkansen, and also on a steam locomotive! That was an impressive ride! The "D51 498" train took us from Takasaki to Minakami, taking short breaks at a few stations in between. At the terminal, we got to watch the locomotive being spun around on the turntable in the middle of the beautiful scenery.

Of course, most of my other photos were of mascot Gunma-chan!

Food: - monami's curry, at Magali @ monami, Nishi-Ogikubo
- Katsu don, at Ikufūdō, Minakami

Book: Nomoto Karia's self-produced photo book, titled "KARIA NOMOTO F", finally has been published this month after a long time in the making! I think I remember it being first announced as it might be released in spring 2015, and I had been looking forward to it ever since. Obviously she put a lot of work into making it exactly as she wanted it to be. The 80-page book has lots of photos of her taken by five different photographers, who each took very different approaches giving a very nice diversity to the collection. Also it comes as a hardcover, with a stylish art book quality with perfect printing. I'm proud to have helped a little bit with translation of a poem used in the book. Find out all details here.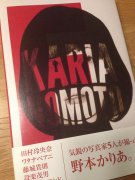 Music event: Held at Parco in Shibuya until Sunday Oct. 25 is "Shibukaru Matsuri", an event involving many creative girls of all kinds. On the first day, last Friday, I dropped by the 2.5D venue in Parco to check out a show featuring Takei Mariko (ex-blue marble), Her Ghost Friend, and Oresama. All were great! I especially wanted to see Takei Mariko, whose stage presence I loved in blue marble, and I felt the same watching her solo performance. Her Ghost Friend did a conceptual set with poetry reading between each song, and VJing that uses illustrations made by singer Ono Shinobu. Oresama was a great surprise too, with their funky tunes and live bass and guitar.
"Shibukaru Matsuri" goes on until Sunday October 25. I recommend checking out Maika Leboutet at Parco Museum (Parco Part 1, 3rd floor) on Sunday from 19:00! (Info)
Music release news: Shoko, "Crue-L Cafe II", Nomoto Karia (photo book)
Playlist: Hoshino Michiru, Jintana & Emeralds, Especia, etc.
This week's video: Nomiya Maki new album digest clip! Can't wait to hear this in whole! Out November 11!
Posted on October 21, 2015 at 23:25 | Permalink | Trackback (0) | Comments (0) | Tweet |
---
October 10, 2015
Weekly revue: 2015 week #41 (October 3 to 9)

Food: - Banpaiya → Ромашка (Romashka) → Sugar Town, in Ōimachi
- Gelato at Ayura Café, Shinjuku
- Mac & cheese sandwich and latté at Deus Ex Machina, Harajuku
- Thai dinner at Celadon, Hatagaya

Exhibition/event: - "Organic Contrast - Artworks of USUGROW" exhibition at Diesel Art Gallery in Shibuya (cocoti B1F). Until November 13, free entrance.

- Also dropped by this Kuroneko Yamato promotion where a gigantic cat sat in a subway passage in Shinjuku!

Playlist: YeYe, esu-efu, Nomoto Karia, Maika Leboutet, hitomitoi, Cornelius

This week's video: STAMP (Thai artist) "Keyboard Hustle feat. Takeshi Yokemura (YMCK)"

hitomitoi "Labyrinth ~kaze no machi de~"

Posted on October 10, 2015 at 15:11 | Permalink | Trackback (0) | Comments (0) | Tweet |
---
October 4, 2015
Weekly revue: 2015 week #40 (September 27 to October 2)

Food: - Tantanmen at Kisurin, Akasaka
- Kirsch Torte (Black forest cake) from Zuckerbäckerei Kayanuma, Tameike-sannō
- Tokyo Coffee Festival at Farmer's Market @ UNU, Aoyama
- Black forest custard tart at Sunday Bake Shop, Hatsudai
- "Taru Bar" event at Life, Yoyogi-Hachiman

Music event: I went to a mysterious event titled "hoshikuzu Salon" ("Stardust Salon") presented by movie director Macoto Tezuka at "haretara sora ni mame maite" in Daikanyama. The event featured shows by Nomiya Maki and POiSON GiRL FRiEND!

First was a set by POiSON GiRL FRiEND, with singer Noriko accompanied by two guitarists, sometimes with a backtrack. That was a really pleasant set with a unique ambiance. It seems she doesn't play many live shows (I think she says this was her first since the release of new album "rondoElectro"), as she is more active as a DJ, but I hope to see her again sometime!

Set list (approx.): Hardly Ever Smile (Without You) (clip) / Comme rêve sans trève / Ces petits riens (Serge Gainsbourg cover) / Dreamer's Ball / Garage Land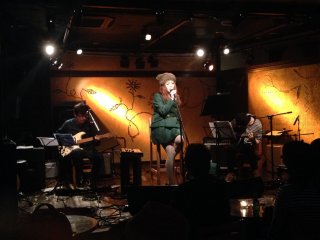 Then was a talk show segment with film directors Macoto Tezuka and Torico, and columnist Inuyama Kamiko. A scene from Tezuka's movie "hoshikuzu kyōdai no densetsu (The Legend of the Stardust Brothers)" (1985) was shown, starring Takagi Kan, Kubota Shingo and Togawa Kyōko. That made me want to see the whole movie! Macoto Tezuka is now beginning to work (or at least think?) of making a sequel, which makes the theme of thie event series. A rare music video he shot in the 80's for Platinum Kit, unit of Kanatsu Hiroshi (also of Portable Rock), was also shown!
Last was a live show by "Nomiya Maki Unit", which featured Suzuki "Chibun" Tomofumi (Portable Rock) on guitar and Kanatsu Hiroshi (Platinum Kit) on percussions (cajón, cymbal, etc.). I always love sets where Maki is accompanied by Chibun, and that was the main reason for me to not miss this show. Also I had previously seen Kanatsu Hiroshi playing with Portable Rock at Club Crawl in 2012 (report). The set list was just delightful, with a selection of Pizzicato Five and Portable Rock favorites, plus Platinum Kit's song of which the video has been screened earlier. The last song was a cover of the movie "hoshikuzu kyōdai no densetsu"'s theme song.
Set list: Tokyo wa yoru no 7ji (The night is still young) (Pizzicato Five) / minna waratta (They All Laughed) (Pizzicato Five) (duet w/ Kanatsu Hiroshi) / hajimari wa Everyday (Platinum Kit) / Green Books (Portable Rock) / Sweet Renaissance (Portable Rock) / Magic Carpet Ride (Pizzicato Five) / Sweet Soul Revue (Pizzicato Five)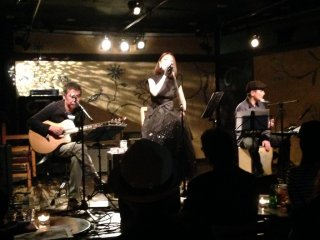 Music release news: Kyary Pamyu Pamyu, FPM
Playlist: Dorian, Negicco, dahlia, Vanilla Beans, YeYe
This week's video: Moonriders "darui hito" live, feat. Kanatsu Hiroshi (Platinum Kit), Nakahara Nobuo (Portable Rock), Nomiya Maki (Pizzicato Five, Portable Rock), etc.
Posted on October 4, 2015 at 09:31 | Permalink | Trackback (0) | Comments (0) | Tweet |
---