Blog - March 2008 Archives
March 2008 Archives
Index

.28 Sakura #3: Itabashi-ku


.25 Sakura #2: Jōhoku-kōen, Inari-hikawa jinja




.23 From Yoyogi-uehara to Ebisu / Sakura #1: Meguro-gawa




.16 arcorhyme afternoon live at Grand Cru: report



.14 Aprils ghost detector



.09 Pulp Non-Fiction #1: live report




.09 New QP aplenty



.07 Aprils and Nomiya Maki



.02 arcorhyme live and workshop: report




.01 QP, Fujio, and a pre-school KX



.01 Latin Panic! Tokyo Panorama Mambo Boys live: report

---
March 28, 2008
Sakura #3: Itabashi-ku
More sakura from Itabashi-ku today. This is nearing full bloom!
1, 2, 3. Hasune 3-15
4. Sakashita 3-21
Larger sizes and more photos at Flickr
---
A lot of great pictures also can be found at Jean's and Tim's.
Posted on March 28, 2008 at 00:23 | Permalink | Comments (2) | Tweet |
---
March 25, 2008
Sakura #2: Jōhoku-kōen, Inari-hikawa jinja
Today's sakura photos, taken in Itabashi-ku.
1, 2, 3. Jōhoku-kōen
4. Sakashita 3-chōme pedestrian street (between 22 and 4)
5. Inari-hikawa jinja
Larger sizes and geolocation at Flickr
Posted on March 25, 2008 at 22:48 | Permalink | Trackback (0) | Comments (0) | Tweet |
---
March 23, 2008
From Yoyogi-uehara to Ebisu / Sakura #1: Meguro-gawa
This weekend the weather was just great! Today we took the bus down to Yoyogi-uehara for lunch, after which we walked down to Ebisu.
The restaurant we first planned to eat at was closed, so we ended up at West Park Café. They have a good burger, although my favorite remains Sasebo!
Walking through Yoyogi-uehara, we stopped at hand-made donuts shop Harrits. It had been a long time since we had a chance to buy their donuts, as they're always sold out! Next stop was Maruichi Bagel down the street, another small shop also very popular. They make real New York style bagels, and they're the best around! Very friendly too!
Next we walked to No.12 Gallery not knowing what to expect. I remembered Chabe (Cubismo Grafico) mentioning on his blog that he made a mix CD for an exhibition, but turned out that was the week before. Anyway the current exhibition was great! It's a German artist named Peter Kienzle (aka Superette) who does drawings and designs. He has done work for Tokion, Lodown, OK Fred, Colette, Uniqlo, etc. We happened to like a simple illustration of wrestlers, and then we noticed that there were T-shirts of it, homemade prints on H&M T's. I got the yellow one to the right. :) The artist was present and we chatted just a little bit in Japanese, which he speaks very well. Very nice guy!
The exhibition finishes tomorrow, on Monday the 24th. Catch it if you can! (Details at TokyoArtBeat.)
Just around the corner, we happened to find these ducks out in the front yard of an apartment building. Some sort of Easter surprise? :) I took these photos peeking through the fence and plants.
Nearby is located the very first Freshness Burger shop, before it became a large chain (now even international). People were lined up waiting for their lunch.
We continued our walk down passing through Nakameguro, where some of the cherry blossoms over Meguro-gawa were already in bloom! Everyone was taking photos. The sakura season is here! And this is the beginning of my annual sakura photo series.
Making it down to Ebisu, we went to have some Japanese-style ice cream at Japanese Ice Ouca. I had kinako kuromitsu, sakura azuki and coffee flavors. Comes with tea, a senbei, and salty konbu to reset your taste buds between flavors. Delicious!
We finished by walking to Shibuya and taking a bus back home. According to Gmaps Pedometer, we walked about 10.7km!
Larger sizes and more photos at Flickr
Posted on March 23, 2008 at 23:18 | Permalink | Comments (0) | Tweet |
---
March 16, 2008
arcorhyme afternoon live at Grand Cru: report
Today was a very nice day, and arcorhyme were offering a free live show at restaurant Après-midi Grand Cru in Shibuya, owned by Surburbia/Free soul guru Hashimoto Tōru.
For some reason I always had the impression that it was a slightly expensive and chic restaurant, but turns out that they have a cheap weekend lunch course starting at ¥1050 (green salad+pasta+drink), and it has a cozy ambiance similar to Café Après-midi on the above floor. I chose the ¥1575 course which comes with an appetizer instead of the salad. I chose perch (suzuki) carpaccio, the salsiccia and asparagus spaghettini, and a café latté, plus I ended up adding a chocolate tart with ice cream for dessert. The staff was also very friendly (even after I almost forgot to pay on my way out, oops!).
As for the show, Takanami K-tarō and Nishimura Ikuyo sat in a corner of the restaurant, where they performed two quiet acoustic sets, just guitar and voice (and Ikuyo's flute on one song). They played two sets focusing on covers, including a few that they selected just for this day. They also played two of their original songs.
Once again the two were super nice to me and invited me to sit nearby them, as I got there a bit early. I had the best view!
Set #1 (from 13:00): John Sebastian's Do you believe in magic? / Arai Yumi (Yuming)'s kitto ieru / arcorhyme's amai hibi / Southern All Stars' Never fall in love again / The Kinks' You really got me / Nancy Sinatra's Sugar Town
The 2nd set was similar to the 1st but with 2 different songs.
Set #2 (from 14:00): arcorhyme's aoi neko / Never fall in love again / kitto ieru / You really got me / amai hibi / The Spiders' No No Boy
All new covers were great surprises! I really liked "kitto ieru", as also sung by Nomoto Karia (on "The Girl from R.E.A.D.Y.M.A.D.E e.p."), which I sure didn't mind hearing twice, and also The Spiders' "No No Boy" that I knew from Monsieur Kamayatsu's "Je m'appelle Monsieur" album. The performances of their original songs "amai hibi" and "aoi neko" were also great and stayed stuck in my head after I had left.
They announced that they will repeat this event at the same place next month, on April 20 (Sunday), also from 13:00 and 14:00. Check it out!
After a bit of shopping in Shibuya, I went back home early to catch a class of yoga offered at a community center. It's only ¥500, and the first time is even free!
---
Bonus, some flower trees spotted in the neighborhood yesterday. I don't know whether this is a type of sakura, but it's official that the season is near!
Larger sizes and more photos at Flickr
Posted on March 16, 2008 at 20:49 | Permalink | Trackback (1) | Comments (1) | Tweet |
---
March 14, 2008
Aprils ghost detector
The Aprils have put an online version of their Kaede Newtown ghost detector game, like I played at their mini-live the other day!
You need a QR-code enabled mobile phone *. Each time you access the hidden URL, you will find a ghost, and it will temporarily appear on the Flash screen.
* ...or for those who don't, just remove obake.html to find the secret URL (but just don't link directly to it, that would break the magic)
Posted on March 14, 2008 at 20:26 | Permalink | Trackback (0) | Comments (0) | Tweet |
---
March 9, 2008
Pulp Non-Fiction #1: live report
Last night was Pulp Non-Fiction, an event organized by label Vroom Sound. Featured were the label's bands Petset and TsuchiYaniBond, and also ex-Love Tambourines' eli. I went there alone, thinking I wouldn't know anyone, but I was surprised to find Usagi-chang boss Suzuki Akira in line in front of me. :) Franck also showed up later for just a little bit, as he was catching other shows before and after (busy French producer life!).
First on stage was Petset, who were the #1 reason I went to this show. They were accompanied by Plus-tech Squeeze Box' Hayashibe Tomonori on keyboards. Listening to PSB you'd think it's all done on a computer, but the guy has really amazing keyboards skills! Actually Petset's musicians are all fantastic, and give one fantastic show. They played most songs from their latest release, "Flow Motion, Feather Light" which I love, plus a brand new song. They said that they're trying to be more active this year, and they're already recording some new stuff. I'm really hoping for another release soon!
Here I must give props to my good friend Kristofer (aka Panache), who first told me about Petset. I remember him saying that he went to see them when he visited Japan in 2002. I wish I'd have known of them then already, because they then entered a long hiatus, but anyway he was the reason why I first checked them out, and now I'm a big fan. :) This was the 2nd time I saw them, last time was at O-Nest in 2006.
Next up was eli, ex-singer of mid-90's band Love Tambourines. I had been wanting to check her out and was seeing her for the first time. I haven't heard her latest album "rita" yet (although I have most of her previous stuff), so I wasn't familiar with the songs, but she gave a good acoustic yet lively show... lively because she would spin her mic stand, threaten to hang herself on stage with her belt, and down a 1L water bottle and then throw it in the audience. Not your average acoustic show. :) She was accompanied by guitarist Yukimura Naoki who played on her album, and Petset's drummer who played some percussion "box" (what are these?). She closed with a nice cover of Cyndi Lauper's "Time After Time".
Last was TsuchiYaniBond. I hadn't heard their music before so I didn't know what to expect. Turns out they were a rockish band that blends in a bunch of styles, making them hard to describe. Bits were psychedelic, other straight-forward, some had mid-eastern-Asian high-pitched chanting... It wasn't the type of stuff I usually listen to, but they were good musicians and I enjoyed some groovy bits. One song's first measures made me believe it was going to be a Led Zeppelin cover but turned out it was a pretty good original song ("Robot" on their MySpace).
Larger sizes and more photos at Flickr
Posted on March 9, 2008 at 14:34 | Permalink | Comments (0) | Tweet |
---
New QP aplenty
Today's activities involved a nice walk from Tameike-sannō to Shibuya. Between Gaienmae and Shibuya on Aoyama-dōri we found lots of new QP stickers! So far I think that all I've seen are different, making this search so much fun!
So here's today's batch...
And a few more unknown cute ones...
Last, here's a building with some really odd windows! And look at all those building layers! This is Tokyo.
Larger sizes and a few more at Flickr
Posted on March 9, 2008 at 00:22 | Permalink | Trackback (0) | Comments (3) | Tweet |
---
March 7, 2008
Aprils and
Nomiya

Maki

What do the Aprils and Nomiya Maki have in common? Nothing I guess, but I saw both in the same evening, and for free!
---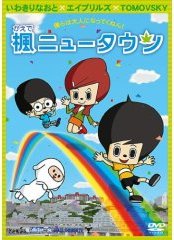 Yesterday I finished work a bit early and rushed to the KDDI Designing Studio in Harajuku to check out a mini-live by the Aprils, who I hadn't seen in quite a while (almost a year). This was to promote the DVD release of animation film Kaede Newtown for which they made the theme song and BGM.
18:30 @ KDDI Designing Studio, Harajuku —
First, director Iwakiri Naoto introduced himself and presented the 30-minute film, which we got to watch in the small theater space. From what I had read and the beginning of the film, I had the impression that it was for small kids and that it wouldn't interest me much. But sure enough, towards the end of the film, the overall cuteness plus the bad luck of the protagonist got me over and I shivered (well almost) until the happy ending. :) It was quite nice! I was surprised that the film is in Kansai-ben, but upon checking the director is from Osaka, so there's why.
My friend Franck showed up around then. There was a special interactive thing where all audience members were handed a QR code of a URL to be accessed with a mobile phone. Each person was shown their "own ghost" (this has to do with the anime's story), and at that same time that ghost showed up on the big screen! Mine was a little guy with a beret (check the note on the photo at Flickr).
19:10 —
Then Aprils got on stage and performed this set: kaede Newtown / Pan·da / Cosmo '80s / (new song?) / kaede Newtown (reprise, since it's what the event was about)
I really didn't expect to see their big Gloomy panda. Last time was at the final Usagi-chang Night Fever in 2006. Also, for "Cosmo '80s" they gave their cool light sticks to everyone. The live space being very small and light, the distance between the band is minimal, and I must have made eye contact a dozen time with each of them, which felt a bit weird. :)
Btw, I have a theory that the animation's girl character Haruko was made to look like Aprils' Iguchi Miho. :)
---
19:40 —
Then it was time to run to Shibuya to catch another mini-live, by Nomiya Maki at Apple Store Shibuya! I didn't exactly run, I called my friend Miwa who was already there and it seemed like it was too late to get near the front anyway. We had about 15 minutes so we just walked at a good pace and arrived on time. There were quite a lot of people, so we had to stand quite at the back of the store though, and could only see Maki's face.
20:00 @ Apple Store, Shibuya —
Maki wore a black and white dress with a green scarf (if I remember correctly, I was far away and struggled to see anything at all), she was accompanied by Portable Rock guitarist Suzuki Tomofumi and a percussionist. The three first performed an acoustic set.
Set list: Pizzicato Five's Tokyo wa yoru no 7ji (the night is still young) / Pizzicato Five's Sweet Soul Revue / Portable Rock's Green Books / Ann Lewis' Goodbye My Love / Towa Tei's amai seikatsu (la douce vie) / toshishita no otoko
I had heard that Portable Rock song live 2 years ago when they played at Loft. After the 5 first songs, there was a short break during which a video digest of last year's recital "Joy" was shown. How I wish that the whole would be released on DVD!
Kikuchi Naruyoshi got on stage with Maki, and performed a brand new one from the upcoming "Eleganceholic" recital. Kikuchi-san wore a trench-coat and sunglasses, he played saxophone. Although it's been out in a special package since last month, it was the first time that the song was performed live. It had a jazzy beat and groovy bass, with saxophone and some distorted guitar parts. Part of the song was spoken, and there were sung parts. The lyrics were about a younger guy met at a club in Aoyama, "he liked poses like this, dances like this" she sang. It was pretty good, and I'm looking forward to see it in its environment that's the recital!
As a side-note, "Tokyo wa yoru no 7ji" had been performed at this Apple Store before. The previous time was Nomoto Karia's cover, accompanied by Konishi-san, and it was even for the same TV show that was recorded this time with Maki! I'm glad to have seen both. :)
Photos weren't permitted, but hopefully I can catch it on TV.
20:30 — I'm hungry, it's time to go back home
Update (2008/3/10): Photos of Maki's show have been posted on her blog.
Posted on March 7, 2008 at 21:58 | Permalink | Trackback (1) | Comments (0) | Tweet |
---
March 2, 2008
arcorhyme live and workshop: report
Tonight was arcorhyme's live show at Go Slow café in Ikejiri Institute of Design. IID is an old junior high school that has been transformed in design-related offices and spaces of all kinds. For that reason, arcorhyme took the opportinity to give a slight workshop theme to the event, explaining one of their songs and some of Takanami K-tarō's songwriting techniques.
The event being held in a café, there were drinks and some food. I had some great chicken curry for ¥500, and then I ordered a cocktail produced by arcorhyme, named "tsukiyo no hōseki" after the song that was going to be explained, containing some calpis ("calpico"), vodka and Blue Curacao (I think).
The first set was quite straightforward, and contained 4 songs from arcorhyme's albums and also a song from K-taro's solo years. The songs were performed with a backtrack played on CD (using a really cool helicopter-shaped CD player!), over which K-taro played guitar, and Iku played saxophone on a few songs too.
1st set: tsukiyo no hōseki ~Les Bijoutiers du Clair de Lune~ / aoi neko / charade / Takanami K-tarō's kaiten tobira / amai hibi
Then there was a little break, where people from the audience were invited to come speak with K-taro about their own songwriting. Two people had brought a CD-R of their own music, which they listened to on the helicopter player.
This is when I noticed the sound guy... it was Sally Kubota (Les 5-4-3-2-1, Sally Soul Stew)!! I was sitting just nearby so I couldn't resist but to go say hi and that I'm a big fan. I've seen him live last year at his release party. He asked me where I was from, and then told me that he stayed in Vancouver for one month a long time ago!
Then was the 2nd set. This one had more talk, first explaining the parts of the song "tsukiyo no hōseki", and that they cut part of the song for the album because it was too long. They played the longer version with just guitar and vocals. He also said that this song was written some 20 years ago, and that after writing it he had a feeling that he had been influenced by an existing song. He then played The Association's "Goodbye, Columbus" on the CD player. It's a must-check. :)
Next was a big surprise, Pizzicato Five's "Magical Connection" (opening track of album "Couples")!! I'd never have thought I'd ever hear this song live, it was great! K-taro showed his "John B. Sebastian" record which contains the original song, and his "Couples" 12" (a real rarity in record form). He explained that he likes songs that bring a brand new part/melody right at the end.
2nd set: tsukiyo no hōseki (reprise) / tsukiyo no hōseki (ABCDABCDCD version) / Pizzicato Five's Magical Connection / Never Fall In Love Again
Well that was a great show, fun and relaxed! I'm already looking forward to see them live again, maybe in a few weeks when they'll play an afternoon set at Café Après-midi. Oh, and there should be another workshop at the same place in 3 months on June 7. You know I'll be there. :)
Larger sizes and more photos at Flickr
Posted on March 2, 2008 at 00:32 | Permalink | Comments (7) | Tweet |
---
March 1, 2008
QP, Fujio, and a pre-school KX
QP shutters and other street art I don't know, spotted today somewhere between Komazawa and Kakinokizaka.
The 3rd is a stenciled sticker featuring Fujiko F. Fujio, the creator of Doraemon.
And here's a cool child's bicycle modeled after a Kawasaki KX motocross bike! Note the 2 small wheels on the back. :) It was parked at a FamilyMart (good color match) somewhere around Ogikubo.
Larger sizes and more photos at Flickr
Posted on March 1, 2008 at 23:12 | Permalink | Trackback (0) | Comments (0) | Tweet |
---
Latin Panic! Tokyo Panorama Mambo Boys live: report
Tonight after dinner I headed back to Shinjuku, down to Club Oto in Kabukichō. I was waiting in line for the doors to open, at 21:30, when my friend Franck showed up! I thought I was going on my own, but it's not really surprising to meet this guy by chance at Tokyo's best music events. :) We were both there to check out Tokyo Panorama Mambo Boys live, the legendary DJ & percussions band revived after 13 years.
Tokyo Panorama Mambo Boys is the all-star band of Paradise

Yamamoto

(Asia's only real Santa, manbonsai curator, gyōza master, and authentic mambo voice), DJ Comoesta (aka Comoestas, ex-5th Garden) and Gonzalez

Suzuki

(Mr. Soul Bossa Trio).
The show started on time around 22:00. It was intense, mambo and latin tracks mixed tightly (or sometimes not so, during an unexpected wait after the first song Paradise commented "lately Comoesta doesn't mix!", haha), with added percussions by the two guys in golden frilly sleeves. The club was packed but still at a comfortable level, full of people young and old shouting "mambo!" and dancing.
After about an hour, the three went to have a break, leaving place to DJ Shimizu Nobuyuki. We had a great time but we went to catch the last train home, after quickly greeting Paradise and Comoesta (I couldn't find Gonzalez). Now that's a club event that even those who like to sleep at night can enjoy!
Larger sizes and more photos at Flickr
Posted on March 1, 2008 at 01:45 | Permalink | Comments (2) | Tweet |
---