Blog - September 2013 Archives
September 2013 Archives
Index
.29 Weekly revue: 2013 week #39 (September 21 to 27)
.21 Weekly revue: 2013 week #38 (September 14 to 20)
.15 Weekly revue: 2013 week #37 (September 7 to 13)
.07 Weekly revue: 2013 week #36 (August 31 to September 6)

---
September 29, 2013
Weekly revue: 2013 week #39 (September 21 to 27)

Food: - Lunch at Sanshūya, Ginza
- Dinner at Bespoque, Higashi-Nakano. I had my pork pie! :)
- Dinner at Namikibashi Nakamura, Shibuya
- Maruichi Bagel, Shirokane
- Sunday Bake Shop, Hatsudai
- Shozo Coffee Store, 246common, Omotesandō

Exhibitions/art: - HITOTZUKI (KAMI & SASU) have done the shop window for Hermès Ginza, and also 16 small windows around the building. Until November 12, 2013!

- adidas Originals presents "Better Never Than Late", in Shirokane (1-26-20 Shirokane 1F, Minato-ku). Until September 28, 2013.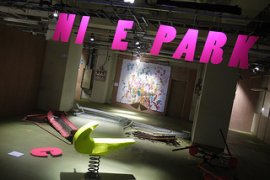 - WANTO x Ando Momoko x Jason Dill, "The Last Show" @ The Last Gallery. This was really the last show, and it's over already. This was a good spot!
- Randomly dropped by Yamamoto Gendai nearby, where was held video exhibition "Hatsugasai" by Takagi Masakatsu, made of footage he filmed in Ethiopia. (Over already too.)
- "New End Market vol.2" at Gallery Common, Harajuku. This exhibition has works by ESOW, Cho-chan, Usugrow, Hiro Sugiyama, etc. Old objects which are turned into unique art pieces or fake Americana by some added drawings and lettering. Until September 29!
- "Trace of hands", a pottery exhibition by 19 creators from Kasama and Mashiko, held at Shizen, utsuwa kaede and Playmountain. Until September 29.
Music release news: YMCK, Polysics, "Konishi Yasuharu Presents daitokai kōkyōgaku -Readymade Digs Brunswick-", blue marble
Listening: (((sssurrounddd))), Aira Mitsuki, Hoshino Michiru, "shimin Poolside", Dorian, Towa Tei, Ishino Takkyu, Konishi Yasuharu/Pizzicato Five
This week's video: Perfume x Vogue Japan x Tiffany commercial
Posted on September 29, 2013 at 01:06 | Permalink | Trackback (0) | Comments (0) | Tweet |
---
September 21, 2013
Weekly revue: 2013 week #38 (September 14 to 20)

Food: - Pacific Saury curry & pickles, and eggplant curry at Tapir, Ōkubo
- Bespoque, Higashi-Nakano
- Gelateria Marghera, Azabu-Jūban. From Milano, opened this summer!
- Pear-chocolate-hazelnuts tart (delicious!) & more from Sunday Bake Shop
- Paris Gourmand, et vous? Found out about this cake shop recently, a bit late as it closed last weekend. It had a chef who was an intern at Stohrer in Paris. There's another cake shop called Acacier that I like a lot and it's also by someone who was at Stohrer. I regret not going in Paris even though friends had recommended it..! Next time. :)

Exhibition: Went to see Nomoto Karia's exhibition "Karte de koko" at liaison café in Shibuya. Karia recently started a hobby of drawing one-page manga, just a few months ago, and this was her first exhibition. This was fun! I bought an esu-efu T-shirt, and took a photo with her. :)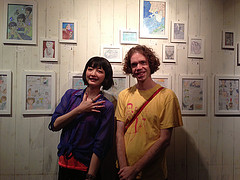 Movies: "The Best Exotic Marigold Hotel", "Little Miss Sunshine", "Moonrise Kingdom", "Chloe" (Japanese take on "L'écume des jours", in preparation for "Mood Indigo"!), and "Restless"
Music event: I went to see a free in-store live by rap idol unit lyrical school whose new album "date course" has just been released. Good show and songs! It was the birthday of member Yumi.
Music release news: Konishi Yasuharu/Pizzicato Five, Tarte Tatin, CAPSULE, Scandal, "Monchhichi Birthday Party"
Playlist: Justice, The Wip, Vanilla Beans, the hair, Denki Groove, Modern Choki Chokies, Zin-säy!, Naka Shigeo
This week's videos:
esu-efu "Propeller Song" (live)
esu-efu "Sputnik shōnen shōjo" (live)
Posted on September 21, 2013 at 23:59 | Permalink | Trackback (0) | Comments (0) | Tweet |
---
September 15, 2013
Weekly revue: 2013 week #37 (September 7 to 13)

Food: - South Indian curry at Cochin Nivas, Shinjuku
- Vietnamese breakfast (Bun bo xao) at World Breakfast All Day. Always good, but a bit pricey this time.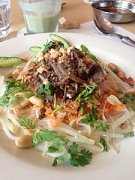 Photo: - Tokyo Metropolitan Government Buildings the evening before the announcement. The elevator guy said it might be the last day with the Olympic color light-up... Guess not!
- Kusama Yayoi's latest inflated sculptures Yayoi-chan and Tokoton at Shinjuku NS Building
Music event: I went to see esu-efu, the unit of Nomoto Karia and Captain Mirai! They were part of an event held at Moon Romantic (aka tsukimirukimiomou), a nice venue in Gaienmae with a large moon above the stage.
esu-efu played all 4 songs from their first mini-album "Sing Future", and also 3 previously unreleased songs! They're working on an album that will hopefully be released by next spring. That's still a long way but it makes it really special to already have the chance to hear some new songs live! It was also the first time esu-efu were accompanied by drummer 005harry, a guy with a unique drum set that uses custom metal parts that he makes. Live drums gave a cool new side to the songs.
Set list: So Far / Propeller Song / kareido Swimming / 3 new songs / Sputnik shōnen shōjo
A word on the other bands. Rock band Chonmage Brothers was quite funny. They say they're a boy-idol group from the Sengoku period, but while the content being silly they're good-skilled musicians and the songs were quite good too (check out this live clip). Next was idol group Yurumerumo (aka You'll Melt More) who gave a fun show. For part of it they played drums and two recorders, and had guitar and bass players join them. Last up was Wakusei Abnormal who played an acoustic set with 5 girl members, all were very skillful with their instruments, and the lead singer was impressive (video clip here).
Music release news: Hair Stylistics, Nyantora, lyrical school
Playlist: Miyauchi Yuri, Sketch Show, jōdan hakushaku, Latin Quarter, Hideki Spaghetti, Aira Mitsuki, Negicco, Aprils, esu-efu, hitomitoi, Hoshino Michiru
This week's video: Hair Stylistics "Music For The Murder Festa"
Posted on September 15, 2013 at 01:18 | Permalink | Trackback (0) | Comments (0) | Tweet |
---
September 7, 2013
Weekly revue: 2013 week #36 (August 31 to September 6)

Food: - Iran-style lunch at Tapir, Ōkubo
- Vietnamese at My Le, Kamata. We had tried several times to reserve before, but this time we just went directly and could get in. It was quite good!
- Chinese at Kōya, Asagaya
- Banana chocolate crêpe at Jack Café, Yokohama
- Chocolate mint & cherry ice cream at Ben & Jerry's, Harajuku

Exhibition: - Kazumichi Maruoka "Charekobe2" exhibition at Shuhally, Yokohama. The artist makes pottery in the shape of skulls and other bones. They can be used as tea or sake cups, flower vases, etc. The exhibition had some collaborations with street artist ESSU.

- Street art group exhibition "The Message" at Black Dallas, Kamata. Works by ESSU, DENSE, WOF, YESCA, etc. Until Sept. 8.

Music event: Last Sunday I went to see a friend's band, nakayoshi group, at Ikebukuro Knot. The band has a new wave synth-oriented sound with characteristic vocals. Live they perform with two guitars and iPads. Fun show! Check out their videos for "Psycho Drastic Kiss" and "haru no arashi" (directed by VIDEOTAPEMUSIC). Their mini-album is great too! :)

There I also got to see yomeiriland who I had been really curious about since hearing their free "Bandchamp e.p." that I love. They also have a new download-only EP out now titled "King of System". They gave an energetic and entertaining show, even getting the audience to dance "Japanese bon dance music".

Trek: Sea Bass sea bus ride in Yokohama on a sunny day

Music release news: Cornelius
Playlist: Chiroline ver.2, frenesi, nakayoshi group, HNC, "Yellow Magic Kayokyōku", Hoshino Michiru, Fantastic Explosion, The Aprils
This week's videos:
Perfume "1mm" (short ver.)
Ryoma Maeda & Romantic Suiciders "Pipe Line (The Ventures cover)"
Posted on September 7, 2013 at 13:56 | Permalink | Trackback (0) | Comments (0) | Tweet |
---