Blog - February 2008 Archives
February 2008 Archives
Index


.25 High Flash Lovers 01: live report



.24 Port of Notes in-store live report



.18 Tokyo Panorama Mambo Boys in-store live report


.17 Back to Kakkuro



.15 Valentine's Day is here to stay



.13 Premiage chocolate




.11 Kōenji, Asagaya and back again


.09 Mononoke Dance



.03 Another snowy day


.02 Never enough

---
February 25, 2008
High Flash Lovers 01: live report
Sunday was event "High Flash Lovers 01" at new Kōenji venue Koenji High that just opened in January. The event is organized by Bespa Kumamero, and also featured Shinohara Tomoe (with Ono Kaori & Steve Etō), Flip Flap, and Overrocket. There was also Motocompo's Dr. Usui DJing a good variety (techno-pop, pico-pico and some 80's) in-between the acts. The place was quite packed right from the start!
First was Flip Flap (MySpace), a duo of two identical twin girls who were mostly active musically at the end of the 90's. It looks like they're back now, and they even had a new song or two! They were accompanied by a DJ Norio who had a lot of electronic gear and a theremin. They first sang several songs, old and new, and then they sang a medley of older songs re-arranged in techno-pop flavor, and ended the show with a cover of Denki Groove's "Niji".
Next up was Bespa Kumamero (MySpace), a techno-pop unit that mixes in some hard techno and rave sounds and also some occasional metal guitar. Some songs sounded very good to me, but some of the louder ones weren't really my thing. Nevertheless their show was very entertaining and colorful, with a lot of stage props like an electronic rice bowl, feather fans and a large sword. Their pink and black Cyberdog-ish outfits are also quite impressive in themselves, and so is Monkichi's beard! They have a new album called "Romantic Waves" just out.
Shinohara Tomoe (MySpace) then got on stage with percussionist Steve Etō on his electronic synth drum, and Ono Kaori who played a large djembe. They really hadn't practiced so it was all ad-lib. Tomoe sang just a few songs, starting with "Micro Blue" (from album "Megaphone Speaks") and later a new tango track. The rest of the time she mostly improvised some raps over her MC-303, entertaining the audience saying funny things, and sometimes she would play pianica or harmonica while the two others added percussions.
Some more photos (and larger sizes) at Flickr
Also check Tomoe's blog for more photos (February 25, 2008 entry). Thanks for the nice show Tomoe!!
Posted on February 25, 2008 at 19:16 | Permalink | Comments (0) | Tweet |
---
February 24, 2008
Port of Notes in-store live report
On Friday I dropped by Port of Notes' in-store mini-live at Tower Records Shinjuku. The guitar and vocal duo unit of Hatakeyama Miyuki and DSK (aka Kojima Daisuke), an important band of label Crue-L Records formed in 1996, performed a selection of songs from their recent "Blue Arpeggio ~Own Best Selection~" greatest hits album.
The set list went like this: boku no mita kinō / nani o omoun darō / (You Are) More Than Paradise / hon no sukoshi / ? (lyrics "... looking for something ...", sung by Daisuke) / ? (new song, lyrics "shizuka na yūbe ...")
So far I've only been a casual fan, having heard just a few of their older CDs. I recognized More Than Paradise, a favorite of which I also love the cover on "Crue-L Grand Orchestra III", and also hon no sukoshi.
It was a nice little show, ending the week smoothly. I'll look into checking out more of their music, perhaps starting with this new greatest hits album.
---
Port of Notes can be caught live at Liquid Room on March 23, ¥4500 (Pia 282-987).
Greatest hits album "Blue Arpeggio" out now
Port of Notes at Tokyo Recohan
Posted on February 24, 2008 at 01:59 | Permalink | Comments (0) | Tweet |
---
February 18, 2008
Tokyo Panorama Mambo Boys in-store live report
On Sunday I dropped by Tower Records Shinjuku in the afternoon to check out an in-store event of the Tokyo Panorama Mambo Boys. For those who don't know, they're a club-oriented unit that uses popular mambo and latin sounds, and it features Paradise Yamamoto (Japan's only real Santa, and also a master of bonsai and gyoza), Gonzalez Suzuki (Soul Bossa Trio) and DJ Comoesta (aka Comoesta Yaegashi aka Comoestas, ex-5th Garden).
For the last 13 years each of the three famous members had been doing their own thing, but this year they're back together with a new release "Mambo Imperial" and two more coming until the summer! It was fantastic to see them finally on a same stage Comoesta played the music on his computer and DJ set, while Gonzalez and Paradise added percussions, plus Paradise's powerful mambo shouts: "Ahhhh.... UGH!!" They said that it was actually their first time ever doing an in-store live..!
Paradise did some funny MCing, warning little kids at the front that they're all over 45 and rotting. Paradise pointed out that Comoesta dropped the "Yaegashi" from his name and is now called just "DJ Comoesta", "but then again... who cares?" he joked, making Comoesta laugh out loud.
They started by playing just one mixed up track of about 10 minutes, then Paradise announced already "the next is our last song" surprising the audience, but Gonzalez assured "it's true!" Next up was a mix of a bunch of songs again, during which they had people from the audience who bought the CD at Tower to take a photo with them while they're performing on stage. Of course I got to participate and it was a lot of fun! They were all smiles and very nice.
There were several mambo families, parents dragging their little kids on stage for a photo, but some of the kids were making a scene and crying while Paradise tried to kindly sit them on a conga, he said "these kids won't ever listen to mambo again!"
Tokyo Panorama Mambo Boys' return remix mini-album "Mambo Imperial" is in stores now, and "Mambo Deco" is coming next month. They promise that the 3rd, due for summer, will be full of brand new tracks! The boys can be caught live at their club event "Latin Panic!" at Shinjuku Oto on February 29 (Friday). It opens at 22:00 and the live show starts at 23:00, ¥2500 including 2 drinks.
Ahhhhh..... UGH!!!
Posted on February 18, 2008 at 20:19 | Permalink | Trackback (0) | Comments (2) | Tweet |
---
February 17, 2008
Back to Kakkuro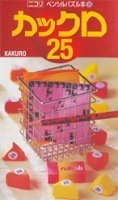 My Slitherlink book kept me busy for 2 months, that's an average of 1.5 puzzle everyday. It was fun but I find that Slitherlink puzzles aren't as straightforward for me as Kakkuro. With Slitherlink I often find myself stuck and I end up passing to another puzzle, and later coming back to ones that I hadn't finished.
Nevertheless I was able to finish the whole book. I sometimes had to check the solution to figure out where I had messed up and erase wrong paths, but I never used the solution to get through when I was blocked.
Since I got a bit tired of Slitherlink for now, my next book is Kakkuro again. I got "Kakkuro 25". I hope I didn't get slower since it's been 2 months. :)
Posted on February 17, 2008 at 23:50 | Permalink | Comments (0) | Tweet |
---
February 15, 2008
Valentine's Day is here to stay
That was one happy Valentine's Day! I got a lot of good chocolate, and also cakes, including the Mary's and Readymade collaboration CD set that I'm collecting for the 3rd year! I also couldn't resist to buy a bit to add to the lot, like I do every year.
Tokyo is wonderful for chocolate lovers, especially just before Valentine's day, as some of the best chocolate from all over the world makes it right here.
Clockwise from top-left:
- Laderach (Switzerland)
- Van Dender (Belgium)
- Demel (Austria)
- Bel Amer (Meguro, Tokyo, Japan)
- Mary's (Tokyo, Japan)
- Grand Place (Belgium) in a box together with Fukumitsuya (Kanazawa, Japan) dried mango cholcolates
And not pictured, as they're already "gone":
- K. Vincent (Kagurazaka, Tokyo, Japan) chocolate cakes and truffe
- Imperial Hotel (Tokyo, Japan) small bitter chocolate bar
- a nice homemade macaron
We're sure to have chocolate stock for a little while, but be assured that this won't last very long. :)
Posted on February 15, 2008 at 20:36 | Permalink | Comments (5) | Tweet |
---
February 13, 2008
Premiage chocolate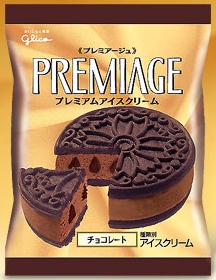 Remember the Glico Premiage ice cream sandwich I told about last October? Well I've been addicted to it the whole time, eating 2 or 3 per week, sometimes almost everyday.
Since then though, the "vanilla & chocolate" type that I like has disappeared from conbinis, but luckily I found it at a supermarket where it's often priced down to ¥79 (instead of the usual ¥103), so I've been stocking up regularly. In replacement for a while there was another "custard vanilla" flavor that showed up in conbinis, but that one wasn't a big hit with me.
But today I dropped by my local FamilyMart to inspect the ice cream freezer, not really expecting anything interesting, but there I found a new Premiage "chocolate" flavor! That's triple chocolate: chocolate cookies, with chocolate ice cream inside of which is found a little bit of chocolate sauce. As expected it's great! I'll keep stocking on "vanilla & chocolate" too though, as some variation will be a good thing.
A nice surprise just in time for Valentine's day! :)
Posted on February 13, 2008 at 23:09 | Permalink | Trackback (0) | Comments (1) | Tweet |
---
February 11, 2008
Kōenji, Asagaya and back again
Today was some neighborhood (in the extended meaning) walking, as we went to Asagaya and back to Nakano. Just a tranquil afternoon, but here are some highlights.
Passing through Koenji, I noticed for the first time this cute sign at the entrance of a backstreet, saying that it's only for pedestrians, no bear riding.
Nearby there we entered a "cake boutique" (self-described) called Mynt for the first time. The shop is run by an older lady who seems to bake everything herself. She also had a Valentine's campaign going with home-made chocolates. We got figue and chocolate cakes and ate them later on a bench in Asagaya. The cakes were very cheap (¥250 each), not bad at all but not quite my thing, I prefer a more expensive and tasty cake.
Next we dropped by Asagaya Bagel, a tiny but very good bread shop. Unfortunately it closes at 15:00 and it was already 15:30, so better luck next time.
As we headed north through Asagaya's shopping street Pearl Center, a shop's old lady caught my attention by saying "come come! please come!" despite all the customers in front of the shop and the fact that I wasn't even nearby. It was a temporary mochi (rice cake) shop that came from Kyoto and she wanted to offer me a sample. I'm not a big mochi fan but it was good. :) The old lady was very nice too but I didn't buy anything.
Next we went closer to the station, passing a taiyaki (fish-shaped pancake usually filled with red beans) shop that we had been to recently. That time we had got their "okonomiyaki", which attempts to stuff one inside of a taiyaki, but it ends up being something that you can't quite hold in your hands, it's served in a plastic case and eaten with chopsticks. It was good anyway! But we didn't stop this time.
Our next stop was Usagi-ya, a shop that sells Japanese-style desserts such as its famous dorayaki (¥170 each). There are also very cute "usagi manjū", that is white manjū with pink eyes and ears drawn on them. This time we got some dorayaki to take home, and they were very fluffy and delicious!
Then we walked along Chūō line to Kōenji where I got my hair cut, it had been a while and it was about time! I didn't get it cut too short though cause it's still winter and I need my hair.
Walking again along the tracks towards Nakano, we stopped at Manmaru Mantō, a shop that serves Chinese steamed buns that we like a lot! I can hardly pass without buying one, cheap and hot and delicious. We sat while waiting and decided to eat in, and we were served hot tea too. The small shop's charming owner also serves hot pho (Vietnamese noodles) that we have yet to try.
This sums up today's adventures!
---
Cake Boutique Mynt (Tabelog)
2-11-12 Umesato, Suginami-ku, near Shin-Kōenji station
Asagaya Bagel (Tabelog)
5-35-7 Narita-higashi, Suginami-ku, near Minami-Asagaya station
Usagi-ya / うさぎや (Tabelog)
1-3-7 Asagaya-kita, Suginami-ku, near Asagaya station
Manmaru Mantō / まん○るまんとう
1-4-1 Kōenji-kita, Suginami-ku, not too far from Kōenji station on the north side of the tracks
Posted on February 11, 2008 at 01:59 | Permalink | Comments (2) | Tweet |
---
February 9, 2008
Mononoke Dance
Denki Groove has a new single coming up next week, and the video is out! Quite a macabre set-up, well it's a song for a TV series of the same theme, Hakaba Kitarō.
Don't miss the hilarious ending!
Denki Groove have started a "workshop" on the site, putting up demo versions of songs that will appear on their upcoming album "J-POP" out in April.
Posted on February 9, 2008 at 13:06 | Permalink | Trackback (0) | Comments (2) | Tweet |
---
February 3, 2008
Another snowy day
Today again we woke up to snow! It kept snowing most of the afternoon, turning to some light rain. There probably won't be anymore tomorrow.
In Shibuya we found more new QP tags! I love the one with a beard on the last photo. :)
And while at it, here's more Shibuya graffiti from last week.
This last one above is by Australian artist Yok.
And last but not least, this is a Hachikō Sauce enamel ad plate, seen nearby Udagawa.
I think I've never mentioned it here, but I've been searching forever for a Risu Curry (リスカレー) enamel ad! If you've got one, please let me know. :)
Larger sizes at Flickr here and here
Posted on February 3, 2008 at 20:50 | Permalink | Comments (0) | Tweet |
---
February 2, 2008
Never enough
You know you go to the post office too much when...
... you ask for spare customs forms, and they give you a book of them!
(8 x 20 pages = 160!)
Posted on February 2, 2008 at 11:20 | Permalink | Trackback (0) | Comments (0) | Tweet |
---