Blog - May 2006 Archives
May 2006 Archives
Index

.24 Gameboy Micro!



.21 Nakanohashi and Anzen-tarō



.09 Disabling auto-stop on AT-PL30 turntable


.07 Connetch



.06 Lullatone / Watts Towers live report





.05 IKEA!




.03 Truck


.01 Sunaga t̀ Experience live report

---
May 24, 2006
Gameboy Micro!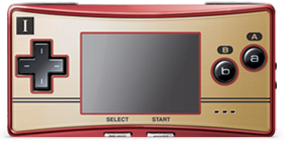 Today I did an unexpected find, a used but like-new Gameboy Micro Famicom version for only ¥5000 (retail price is ¥12000)! I thought "if I'm to get a Gameboy Micro, it's now or never", and it was now.
So I'm now a proud owner of this beautiful small machine with backlight and rechargeable battery! A nice upgrade from my 2001 milky blue Gameboy Advance which served me for over five years.
As a bonus, while I really didn't expect it to work with my dear AdFami, as it's not advertised to, seems like it does!
Posted on May 24, 2006 at 21:52 | Permalink | Trackback (0) | Comments (3) | Tweet |
---
May 21, 2006
Nakanohashi and Anzen-tarō
Sorry for having been quiet a little while! Not much new, except for all the good music that's been coming out this month (and there's yet more this coming week!), and I haven't had much motivation for taking pictures since the weather was quite bad. This weekend we finally got summer-like weather, though the next week may be rainy and cloudy again.
Today I went for a bicycle ride down to Meguro-ku. Here are two pictures, one of Nakanohashi ("center bridge") over Meguro-gawa, and the other of an Anzen-tarō safety robot on Yamate-dōri nearby Yoyogi-Hachiman.
Larger sizes at
Flickr
Posted on May 21, 2006 at 20:43 | Permalink | Trackback (0) | Comments (0) | Tweet |
---
May 9, 2006
Disabling auto-stop on AT-PL30 turntable
I've been using a cheap audio-technica AT-PL30 "Stereo Full Automatic Turntable System"

for a few years, and it has always annoyed me that it auto-stops when the arm has reached the center. That's a feature that may be useful in normal circumstances, but being made for 12" and 7" regular records, it makes it impossible to listen to small 5" records and some sonosheets. So far I had run into the problem with Cornelius' "I Love Love / I Hate Hate" 5", some Keroyon sonosheets, and tonight with the bonus 5" that comes with capsule's latest album "FRUITS CLiPPER".
So I decided that was enough, and checked what I could do about it. I removed the table to expose the mechanics, and it took me a minute to find the culprit: a large dented wheel that handles the "Start" and "Cut" buttons and the auto-stop "feature". Since I never used those two buttons (I just lift the arm and put it on the record), I decided to remove it and to write this quick how-to.
Advantage: Gets rid of auto-stop feature
Side-effects: "Start" and "Cut" buttons won't work anymore (Beware, in fact, the "Start" button will still cause the turntable to spin... indefinitely! Might be a good idea to get rid of that one too.)
1. Removing the table
To remove the table, remove the mat and align the hole with the thing that makes the strap spin, and pull up the strap. Then lift the table by putting fingers in both holes.

2. Finding the culprit
Once the table is removed, we can see the mechanics. That large white dented wheel is the culprit that causes auto-stop (and also makes the "Start" and "Cut" buttons work).

3. Removing the dented wheel
Simply remove its central screw and pull up. The dented wheel being removed, the "Start" and "Cut" buttons as well as the auto-stop functions do not work anymore. (Beware, pushing the "Start" button will cause the turntable to spin indefinitely.)

Success! I can now listen to 5" records!

If you ever decide to put the wheel back, align the wheel's metal part with the table's central pin and push the wheel down until it falls into place, and put back screw.

Update: And here's a 8-ban player from which just the arm stand was removed to make room for the 5" record!
Posted on May 9, 2006 at 00:25 | Permalink | Trackback (0) | Comments (6) | Tweet |
---
May 7, 2006
Connetch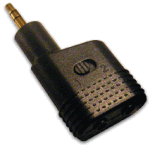 Today I found this very useful accessory called Connetch (silly contraction of "connect" and "switch") by maker Scythe. It allows to switch between two audio sources, very simple but something I had been wanting for a while.
I found mine at Sofmap Shinjuku #4 (about to close on the 14th) on the audio floor for only ¥200. Unfortunately the product is discontinued so it may not be likely to be found easily elsewhere. Buy five if you can!
Posted on May 7, 2006 at 21:19 | Permalink | Trackback (0) | Comments (2) | Tweet |
---
May 6, 2006
Lullatone / Watts Towers live report
Last night was the occasional Watts Towers show at Club Goodman in Akihabara, and it was my first time seeing the band fronted by sometimes moustached widow, sometimes "studist" Kishino You-ichi (岸野雄一).
First was a set by Lullatone from Nagoya, who I also wanted to see badly. The unit is mainly that of Shawn James Seymour, who I first came in contact with years ago on the old mp3.com back when his unit was called Music For Nintendo. I'd have to dig out my MD player and Music For Nintendo MD to say this with more assurance, but I think Lullatone is more quiet and cute than MFN was. The show, accompanied with video, features Shawn playing his iBook and various electronic and toy instruments while girlfriend Yoshimi sings in a whispery voice and also plays some percussions. Shawn also MC'd a few times in Japanese.
Check out their album "little songs about raindrops"

out on U.S. label Audio Dregs, or better yet, catch the label's tour tonight in Tokyo.
Next on stage came Watts Towers, self-described dreamy fantasic space rock opera. The large band features two guitars, bass, piano, two drums, and sounds to me like "Kichijōji rock" (a genre in itself in my book). At the front is Kishino-san who sings, tells stories and MC's almost non-stop. Jon the dog and Herumoso the rabbit ("impersonated" by applehead's Mayutan) joined a few times for dances! Jon also had brought its organ and played about two songs backed by the band.
One of my favorite Watts Towers songs was one about the rabbit who goes to line-up in the morning at a record store on sale day and buys expensive records to resell them on Yahoo! Auctions, but, not knowing prices too well, emails other stores first to ask how much they're worth. Not sure if it was the same song or a different one or some sort of interlude, but there was also one about the rabbit looking for a rare 7" forever and finally finding it for ¥100 but the record skipped, and trying to pass through the skipping part by putting a ¥1 coin, and then a ¥10000 bill, on the turntable's arm. Just hilarious!
Another one had Kishino-san talking about a kaiten-zushi where instead of a mini-conveyor belt was a turntable. He asked people in the audience what sushi they wanted to eat, and using his iBook he added looping samples of the sushi names, to a crazy result! You'd probably have to see it to get it, but anyway!
Watts Towers with Herumoso (rabbit) and Jon (dog)
Larger sizes at
Flickr
The show ended around 23:00. Took the train to Ōkubo (Korean town), ate bibimbap, and then walked back home. That was a fun evening, despite legs and back slightly aching from standing for about 4 hours.
Posted on May 6, 2006 at 15:11 | Permalink | Trackback (0) | Comments (2) | Tweet |
---
May 5, 2006
IKEA!
Today we got Tokyo Metro day-passes (¥710) with the intent of going down to the recently opened IKEA in Funabashi, Chiba.
We left around lunch time, and we first stopped by Jinbōchō where we went to eat at Mother's Kitchen, a restaurant that offers an all-you-can-eat buffet consisting of nothing but organic food, for only ¥1260. There was lots of vegetables, brown and red rice, curry,... everything very fresh and tasty.
Then, we went down to Kiba for a visit to the Museum of Contemporary Art currently showing "Collection of the Fondation Cartier pour l'art contemporain" featuring works by about 30 artists from various countries. Some of the most impressing to me were Ron Mueck's "In Bed" (2005) (a giant but realistic installation of a lady in bed), Liza Lou's "The Back Yard" (1996) (a life-size reproduction of a garden made of nothing but shiny colorful beads!), Dennis Oppenheim's "Table Piece" (1975) (a long table at both ends of which sit black and white puppets speaking through microphones).
We got out around 17:00, and then headed to IKEA Funabashi! This is the first IKEA in Japan (not counting a short presence about 20 years ago), and there's a lot of noise about good-looking Swedish furniture for cheap! Since it's Golden Week (three national holidays in a row), needless to say, the place was very crowded. There was a long queue at the entrance but it went rather quickly, it took us maybe about 20 minutes to get in.
When we got in it was already past 18:00, and being hungry we headed to the restaurant where I had delicious Swedish meatballs and a chocolate tart. Before we knew it, it was already about 19:30, 30 minutes from closing time. We ran around trying to see as much as possible, but the store being truly huge, it was all a bit overwhelming. We just got some small stuff (including batteries) and I also got to eat a hot dog on the way back, so I'm rather satisfied of this first visit.
We'll need to go back there sometime and spend the most part of a day, after deciding what we really need to buy. :)
---
Bonus random photo:
Larger sizes of photos at Flickr
Posted on May 5, 2006 at 00:49 | Permalink | Trackback (0) | Comments (3) | Tweet |
---
May 3, 2006
Truck
Truck carrying broken TVs, air conditionners and other junk, seen yesterday on Kanpachi-dōri in Itabashi-ku. Bic Camera's used center being in Itabashi, I wonder if our old TV was in there (see post about new TV)!
Larger sizes at
Flickr
Posted on May 3, 2006 at 12:38 | Permalink | Trackback (0) | Comments (0) | Tweet |
---
May 1, 2006
Sunaga t̀ Experience live report
On Friday night I went to Sunaga t̀ Experience's first live at Daikanyama Air. Being scared that the small club could maybe fill up as soon as doors opened at 22:00, my friend Miwa and I got there on time but turned out the place was mostly empty for a few hours. We chatted while listening to the cool club jazz played by DJ Nishiyama Takashi. Then Sunaga Tatsuo took the tables and some serious dancing started. He was followed by Little Big Bee (aka Takamiya Eitetsu), until at about maybe 2am when the seven musicians walked up the small stage.
At the front row stood saxophonist Fujita Akito, trumpetist Makihara Masayuki and trombonist Sano Satoshi. Behind were pianist Dazai Yuri (who was previously produced by Sunaga-san, and who did all arrangements for this show), wood bassist Hayakawa Testsuya, and drummer Fujii Setsu (Sunaga-san said he's his favorite drummer in Japan). Sunaga-san sat at the back, at most times only his white hat was visible. I'm not too sure what he was doing, but he at least played some samples and did some MCing.
The show was much jazzier than I'd have thought. While Sunaga t̀ Experience's albums so far are usually very clubbish, often with a very bossa feel, the show was 90% pure jazz. I'd believe that his sound is being influenced by his recent successful series of "Jazz Allnighters" compilations, which even shows in his upcoming album's title ("A Letter from Allnighters"). Still it was very good, and reflected Sunaga-san's great sense.
They played about 8 songs, most of which had room for solos by several of the musicians. I think that my favorite performance was that of "Versiliana Samba" (released as a 12" in November 2004 and included on the new album), but more than that I loved the two songs for which beautiful singer Akiko joined, one of those was the great song "No Reason No Rhyme".
There was no encore, Sunaga-san excusing themselves saying they hadn't practiced any other songs, and as soon as the show finished Little Big Bee was back on the tables this time playing loud mainstream house that we didn't care too much for. After a while hanging around, we left and went to have a late night meal at Saizeria until the first trains.
Shinjuku seen from a pedestrian bridge before 5am
Larger sizes at
Flickr
Posted on May 1, 2006 at 16:16 | Permalink | Trackback (0) | Comments (1) | Tweet |
---