Blog - July 2007 Archives
July 2007 Archives
Index

.31 Skateboard exhibition at The Ghetto


.29 Kakuro


.27 Canada 2007 #1: I'm back!



.10 Unlimited FPM Jet Dance


.08 Shitamachi Tanabata matsuri



.05 Au Revoir Simone live report


.04 Alien technology in use?


.02 UFO dream and cockroach obasan

---
July 31, 2007
Skateboard exhibition at The Ghetto
On Sunday we went to The Ghetto, Tokyo's graffiti and skating central, to check out a skateboard exhibition featuring works mainly by Okinawan artists but also by some local artists such as QP.
After checking out the gallery space which was holding a different exhibition (morbid war photos of dead bodies), I asked the shop next door about the skateboard exhibition and they had heard nothing about it. Back downstairs we peeked in the closed restaurant ($1000000 raion) and saw that's where the action was taking place. The friendly people there opened up the place just so we could have a look!
Aside from the QP boards, there were many other interesting works. Personally I really liked the violin shaped one. It had two "DO NOT TOUCH!" notices on it. Most of the works were for sale.
And here are some photos in and out The Ghetto, which has been continuously changing since it opened.
Of course this business down the street couldn't escape a QP touch with such a logo....
Posted on July 31, 2007 at 00:25 | Permalink | Trackback (0) | Comments (1) | Tweet |
---
July 29, 2007
Kakuro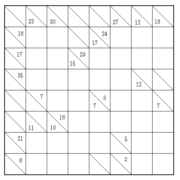 While heading back to Tokyo, I found in Air Canada's in-flight enRoute magazine a number puzzle game called Kakuro, and I had fun solving the two included grids.
The game reminds of the more popular Sūdoku (though Kakuro is considered harder), but cases are in groups of at least 2 and you must find a combination of digits from 1 to 9 that when summed up equal to the total at the top (or left) of the group. The same digit may never be repeated within a same group.
The trick to solving these is that there are many totals for which there's only one possible combination for a specific number of digits. For example, the total 3 represented in two cases will always be 1 + 2. Same goes for 4 = 1+3, 6 = 1+2+3, 7 = 1+2+4, 10 = 1+2+3+4, 35 = 1+2+3+4+5, etc. Using these key combinations you can figure out the easy parts of the board and then fill-in the more difficult ones.
So yesterday I went to the bookstore and looked up some books to I could feed my new addiction. It seems that the game itself was invented in the U.S. and first known as "Cross Sum", but then Japanese company Nikoli picked it up and got it reintroduced in Japan as "Kakkuro" (カックロ) and throughout the world as "Kakuro". Nikoli has released 24 books of the series to date. I got #19. None of the books seem to be of a particular difficulty, they include games from easy to very hard. Each game also has completion times for beginner, intermediate and expert levels, which can be used to measure your progress.
Nikoli's English site has rules and sample problems. They also take international orders with PayPal. Of course there are also a lot of English books available elsewhere in the world.
Posted on July 29, 2007 at 10:36 | Permalink | Trackback (0) | Comments (0) | Tweet |
---
July 27, 2007
Canada 2007 #1: I'm back!
It's been a while! That's because I was away for over two weeks to Canada (my home country) to visit family and friends, and also do some shopping, catch a show or two, and even do a bit of sight-seeing. It was also officially my first time in Toronto where we spent two nights, and I liked it! I'm planning to post some bits about the trip, along with a few photos, but for now here's a bit of general thoughts.
It was my first flight with Air Canada, their prices are usually more expensive than U.S. airlines and I could never justify to use it until this time. We booked a bit late and most cheap U.S. flights were gone, and with the U.S. airport fees it would have ended up about the same.
I wasn't expecting much but I thought most of the attendants were very nice and also that on the long flights (Tokyo-Toronto) there were personal monitors for economy class and the system was one of the best I had seen. Instead of using a clunky remote control, their "enRoute" system has a touchscreen with all on-demand content, letting you choose from a lot of movies and TV shows. Actually I'm not a big movie watcher on the plane, but I managed to watch "Prête-moi ta main" (with Charlotte Gainsbourg) and "Blades of Glory" (with Jon Heder from "Napoleon Dynamite"), both were very good! The latter was quite hilarious and even got bonus points for scenes in Montreal and a funny North Korea segment.
Back to the in-flight system, the down side was that it sometimes got hung and your terminal needed to be rebooted by calling an attendant. Also, some parts were still "under construction" such as the games, and more importantly the thing that tells you where you are and the time it is... However that helped me to find out that such a long flight can seem shorter when not watching the time.
That's it for now, more later!
Posted on July 27, 2007 at 22:23 | Permalink | Comments (2) | Tweet |
---
July 10, 2007
Unlimited FPM Jet Dance
There are those times where a bunch of great things arrive all about at the same time! Let's first check the mail...
First was this great box of chocolates from a friend in Holland, who sent us what he recommends as the best chocolate in Amsterdam! These are from Unlimited Delicious. The box felt the distance a little, but the chocolates were just fine, with exotic flavors like "kiwi mustard" and "tomato basilica pepper", and all are truly delicious!
Also in the mail was my good Italian friend Rodion's new album coming out soon on Gomma Records (Germany)! "Romantic Jet Dance" will keep the disco robots dancing for the rest of the year, at least!
And last, here's the just out HMV × FPM BE@RBRICK that I picked up yesterday! It looks great!!!
Larger sizes (and chocolate flavor notes) at Flickr
Posted on July 10, 2007 at 02:32 | Permalink | Trackback (0) | Comments (6) | Tweet |
---
July 8, 2007
Shitamachi Tanabata matsuri
Saturday was Tanabata, and we went to check out the Shitamachi Tanabata matsuri held between Asakusa and Ueno, on a shopping street called Kappa-bashi.
1. Kaminari-mon, the typical Asakusa photo. I think it had been about 2 years since last time I had been to Asakusa, and it was fun to look around all the tourist shops.
2. Start of Shitamachi Tanabata matsuri in Kappa-bashi.
3. A lot of shops in Kappa-bashi have a "kappa" figure in front of them.
4. Shitamachi Tanabata matsuri
5. Chindonya, musicians on the go. I think they were the only ones parading around the matsuri.
Then we moved on towards Yanaka, but on our way there we passed Hasu-ike, a lake full of lotus in Ueno! Most of the flowers were gone, so I took photos of what was left.
And in Yanaka, I saw this curious flower that looks like gakuajisai but much smaller, each was only about 5cm maybe! Looking it up, I found out that it's called Lantana camala.
Larger sizes and a few more at Flickr
Posted on July 8, 2007 at 02:53 | Permalink | Comments (3) | Tweet |
---
July 5, 2007
Au Revoir Simone live report
On Monday we went to see Au Revoir Simone playing at O-Nest in Shibuya. They're a band of three girls from New York, they all play synths and sing, and make catchy pop songs.
First was a guy called Yacht who sings and dances over his backtracks playing from his computer (these which he "made before the show", as he explained to an audience member). His dancing is a non-stop burst of energy, jumping and jerking his whole body in all directions, even surprising the audience by performing a few songs in the middle of it! Better forget taking a good picture of this guy (without a flash or decent equipment). His singing was very clear too, and the songs fun! All songs end with a sudden "crash" sound. :)
Next on stage was Montag, a guy from Montreal but now living in Vancouver. He does live electronic music with some synths and gear, and a cymbal that he beats happily with a timpani stick throughout his set. Most, if not all, of his songs were love-themed, signing mostly in English but also sometimes in French, and he seemed to be having a great time! I liked the show and will be checking out his latest album "Going Places".
Then there was The Vivians, a rock band of foreign members, based in Tokyo and released on Escalator Records. It was the first time I saw or heard them. They did rock, but unfortunately it wasn't quite the right environment to appreciate what they do (sandwiched between softer, electronic artists). Call it bad booking...
Last up was of course Au Revoir Simone! I'm still a new fan, having listened to their two albums just a few times, but I liked the show very much! Their latest album gave me the impression of being a bit on the slow and quiet side, but their set had a fine balance of danceable and quieter songs. For a keyboard lover it's also a pleasure to hear those nice songs performed all live on 5 synths plus some beatboxes. Annie (stage right) mainly played a Juno-60, a series I'm quite fond of.
I also liked that each of the girls had an obvious different personality. Annie (right) was dancing almost non-stop and it gets more intense as the show goes (and her wine glass gets emptied), Erika (center) struck me with beautiful eyes and smile, and Heather (left, who does the beats and plays aircon-shaking bass on a Korg) seemed to be in charge of not letting the two others go completely adlib. I couldn't quite tell which is my favorite.
On our way out, we had a very quick chat with Annie, and I also went to say bonjour to Montag. It's always a pleasure to run into another Québécois in such a distant land. :)
Posted on July 5, 2007 at 20:20 | Permalink | Comments (2) | Tweet |
---
July 4, 2007
Alien technology in use?
After writing about my dream I returned to Earthfiles.com to catch up with the "drone" news that I had been following, to find out that there has been some really unexpected development!
Lake Tahoe
,
Capitola
. There are also reports about them as far back at the mid-90's or late 80's too.
These look pretty freaky, but people came to believe that they're some things made by the army or government for some kind of test or surveillance, not some kind of alien presence. They're said to move slowly and be pretty much completely silent, and the purpose is unknown.
Things got a bit weirder with this report from Big Basin, where the photographer claimed that the strange object appeared and disappeared in an instant. A strange thing flying around is one thing, but disappearing!?
And then, at the end of June, came brand new information about the origin of these things. A person calling himself Isaac put up this page where he tells about his experience working at research on extraterrestrial modules (actual things picked up from actual UFO's) for the U.S. Department of Defense in the mid-80's, in an attempt to try to patent and commercialize the technology. The project was called CARET: "Commercial Applications Research for Extraterrestrial Technology".
What this has to do with the above drones is that those appear to be using the exact same technology! There's some anti-gravity stuff in there, but also cloaking technology (allowing things to be invisible), and even more interesting is some sort of alphabet-like code that's more than just some writing in a strange language, just like what can be seen on the drones.
This "language", as he calls it (with the quotes), refers to something pretty hard to imagine, but it can be compared to a computer programming language, only that it doesn't need a computer or to be compiled or interpreted. If it's written the right way on the right material, it just "does" what it's meant to. It's like if you'd write a program on a piece of paper and put it on a table, and it just executes by itself..!
At this point you could say that he's making all of that up, but first make sure to have a look at the photos and scanned documents! (The scans can be seen all at once here at Earthfiles, but they're worth reading at a larger size on Isaac's site.)
If all of the above is true, it's big!
Posted on July 4, 2007 at 22:00 | Permalink | Comments (9) | Tweet |
---
July 2, 2007
UFO dream and cockroach obasan
This morning I woke up from a weird dream. I don't usually write about dreams, either I forget about them right away or they're not worth telling, or sometimes I'd rather forget them. But this time it was kind of funny maybe, and it featured a long-time online friend from the BBS era. :)
It was night in Shinjuku (a large center in Tokyo), I was on the west side of the station and stared towards the north between buildings, when a parade of UFOs showed up! Not the kind that you'd miss if you'd blink, there were tons of them, parading slowly from the the right to the left (towards the west), disappearing behind a tall building..! Some were huge gray/brown-ish ones of a square-y shape, some others were small lights that moved in formations.
I had my camera out and was taking photos of those, and I went up a pedestrian bridge (like there often are over large streets here) to get a better view. And there stood Robin! He was also standing there and looking at the non-stop parade. We kept looking, sometimes I fell in awe and just stared until I remembered I had to take more pictures.
Then I was trying to get a better shot of something that could be read on a big square one, it was too far away to be able to see properly, and Robin took out his mobile phone and somehow managed to zoom in really close to reveal what was written. It said 「高円寺 天人」.......... HAAHAHAHA. (That's "Kōenji tennin", Kōenji being a part of Tokyo a bit west of Shinjuku, and one definition of "tennin" is "celestial person" according to a dictionary... some kind of alien from Kōenji?! or going there since they were headed in that direction?)
The next scene was a lot more frightening. We were in a car and escaping the scene. UFOs were flying around, one passed very near our car and went to crash in a nearby tree. Then there was another UFO stationed around there and it was shooting missiles. Our car crashed in a building and I escaped. Robin was still inside when it was hit by a missile but he also managed to escape safely. As we ran away from the car, my alarm rang and I woke up... whew.
As for some analysis, I passed around that area of Shinjuku just yesterday, and elsewhere at night I thought of taking photos of the sky. And trying to read what's on the UFOs reminds me that I checked out this weird drone on Earthfiles a month or so ago. Interesting though is that I don't remember seeing the word 「天人」 before, or maybe I have and it had remained in my subconscious.
---
And now for another freaky story but this time 100% real...
This morning on Saikyō line, a middle-aged lady who stood nearby was playing with her long black hair and I noticed something falling on the floor. I looked down and... it was a cockroach!!! I didn't want to believe it and kept looking at the thing hoping to realize that it was something else, but it moved!!! EEEEEW. The lady didn't look like she was homeless, she didn't look too dirty though not very clean either, obviously. Oh, and she didn't seem to notice (or care!??).
Makes me feel itchy just to think about it...
Posted on July 2, 2007 at 12:07 | Permalink | Comments (6) | Tweet |
---