Blog - February 2014 Archives
February 2014 Archives
Index
.14 Weekly revue: 2014 week #7 (February 8 to 14)
.08 Weekly revue: 2014 week #6 (February 1 to 7)
.01 Weekly revue: 2014 week #5 (January 25 to 31)

---
February 14, 2014
Weekly revue: 2014 week #7 (February 8 to 14)

Last weekend we got a lot of snow, and then it went away, and then today again it's snowing a lot!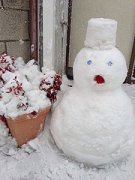 Btw, I didn't make this snowman! Just found it on the street. :)
Food: - Curry & more at South Indian restaurant Pondy Bhavan, Musashi-Niita
- Curry lunch plate at Sri Lankan restaurant Acala.naatha, Nakano
- Cottage pie, pork & apricot pie, spicy chicken, fish & chips, etc. at Bespoque, Higashi-Nakano
New music: Some free tracks for Valentine's day! Grab them right now before it's too late. :) & Happy Valentine's Day!
- HNC "YUKI NO FURU HI"
- Fantastic Explosion "Chocolate 2014" remake by Yoshida Tetsuto
- Find more at Make Believe Melodies!
Music release news: Kinbara Chieko, DJ Fukutake, Wonder Headz
Playlist: hitomitoi, blue marble, The Nanbatatin, Aira Mitsuki, esu-efu
This week's videos:
Sugar's Campaign "otokano"
Wonder Headz "wonder wanderer"
Posted on February 14, 2014 at 23:23 | Permalink | Trackback (0) | Comments (0) | Tweet |
---
February 8, 2014
Weekly revue: 2014 week #6 (February 1 to 7)

Food: - Curry at South Indian restaurant Nandori, Oku (Arakawa-ku)
- Parfait forêt noire at Acacier Salon de thé, in Urawa, Saitama
- The next day at Sunday Bake Shop I found two favorites, a red velvet cupcake and black forest cake (again)! Of course I couldn't resist. :)
- Also had a fun home party with lots of good food and good music!

New music: - I got The Nanbatatin's "girlz.reteru.talk", a collaboration of Nanba Shiho with Tarte Tatin. The album fits very well in line with Tarte Tatin's other albums in terms of sound, despite being produced by someone else, and despite both members of Tarte Tatin having been replaced (for the 2nd time). Anyway this is a very fun album!

- The new Cibo Matto, "Hotel Valentine", has landed earlier than expected! It can be listened to in full here! Love it! I really hope they'll play in Tokyo sometime soon. The Japanese edition will have 2 bonus tracks, so I think that's the one I'll get!

Music release news: Nakatsuka Takeshi, The Nanbatatin, Yun*chi, Perfume

Playlist: Towa Tei, Cibo Matto, capsule, Vanilla Beans, The Nanbatatin, Hoshino Michiru

This week's videos:

Dudu Tsuda feat. Nomiya Maki "Triste (Pizzicato Five)" (live last month in Tokyo)
(More here.)

The Nanbatatin "girlz.reteru.talk"

Posted on February 8, 2014 at 00:59 | Permalink | Trackback (0) | Comments (0) | Tweet |
---
February 1, 2014
Weekly revue: 2014 week #5 (January 25 to 31)

Food: - Curries (chicken, spinach & satoimo croquettes, and deep fried tofu & micro-sardines) at Tapir, Shin-Ōkubo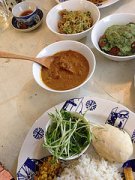 Parties: - This year again I had the chance to go to "Snack Mitsuo", a special birthday party for art director Shindō Mitsuo who turned 66! The party was also the inauguration for new sake "shōshū raifuku" (笑酒来福) for which Shindō-san chose the name and did the calligraphy. The party had free sake and drinks and also sushi prepared by Bijin-zushi.
The party also had shows by The Scooters (Shindō-san's band) and new wave unit RIS (aka r_i_s_u aka risu). The Scooters did an acoustic-ish set with Sally Kubota on woodbass. There was also a DJ set by Nomiya Maki and Noboru! Maki sang "kimi mitai ni kirei na onna no ko" (karaoke-style), a special song for me from the "Playboy Playgirl" album. There was also some sexy dancing that managed to make the 38th floor view even better.
- Then on Sunday was another party for Sunday Bake Shop's 5th anniversary! Congrats! Thanks always for the great food and fun times. :)
Stuff: I got a "Hakovision", a new product released this week and that's already hard to find because of its popularity. Hakovision ("hako" means "box") is a small box that contains a small reproduction of a building, and placing your phone above with a specific movie playing gives you a miniature 3D projection mapping show in a box! It's wonderful, but very tiny! So far I could only find the Tokyo Station edition. There's another one of the Tokyo National Museum, and a Gundam series will be coming in April. What I'd like is one of Denki Groove's projection mapping from their Tour Panda of last year!
New music: - I got hitomitoi's new album, "Snowbank Social Club"! This is again a nice city pop album along the lines of the previous ("Surfbank Social Club"), maybe this time a bit more electro/synth-oriented.
- I also got two 7"'s, one is Hoshino Michiru's latest single, "Magic Hour". Both songs are really great! And Vanilla Beans' first 7" "Jewel Memories / Scone no hana ga saiteiru".
- And also, I downloaded "hop step junk" a free album by mig, side-project of a member of Yucca. mig has for motto to use only cheap used instruments, mostly junk-ish ones bought at "Hard Off" (a chain of second-hand stores of the Book Off family). A quite nice lo-fi electro-punk album! Grab it here.
- Last but not least, MoliquL (friends Tsugumi & Avery) has released a new digital EP, "Into the Night"! I love those two new tracks, and the remixes are great too!
Music release news: Kyary Pamyu Pamyu, MoliquL, shippai shinai ikikata, Kafka's Ibiki
Playlist: (((sssurrounddd))), Hoshino Michiru, Pizzicato Five, MoliquL, hitomitoi, mig
This week's videos: RIS "Not Too Bad"
playtime rock "This Is Love"
Posted on February 1, 2014 at 22:12 | Permalink | Trackback (0) | Comments (0) | Tweet |
---