Blog - March 2009 Archives
March 2009 Archives
Index


.21 les 5-4-3-2-1's Three Star Show: report



.20 mixi presents Aira Mitsuki: live report



.15 The Lady Spade release party: report



.11 Twitter debut!



.03 YouTube: Solange et Delphine



.01 Switched On! -Side B-: live report

---
March 21, 2009
les 5-4-3-2-1's Three Star Show: report
Two years ago I saw Sally Soul Stew live, essentially a cover/revival band of Les 5-4-3-2-1, but I never thought I could ever see a full show by Les 5!
I've first known of Les 5 around the mid-90's, I think the first time I heard them was when I rented a Cutey Honey anime video and as a bonus there was a promotional show of them performing the theme song. Later I found them again on the Shibuya-kei compilation "Sushi 3003" (German label Bungalow), I was hooked.
Yesterday, Les 5-4-3-2-1 played a full show at a small café in a retreated Koganechō, Yokohama. It was their first show in 15 years, that's as bassist Sally Kubota and singer Hitomi, the band's original line-up. The two were accompanied by keyboardist Nakayama Tsutomu (of Original Love fame, having also played with P5 back in the Sony era, and recently with Arcorhyme). Most songs were just bass, keys and vocal, but some also used an old-school drum machine.
The show was separated in two sets, with a short entr'acte in between. The songs were a selection of the best of Les 5, and also a few rarities.
1st set: uchū de Rendez-vous (rendez-vous à l'univers) / Jazz-ru kokoro (le cœur qui jazz) / otoko no ko onna no ko (un garçon et une fille) / ah oui bonbon / warui natsu (? single B-side apparently, didn't know it)
2nd set: Bond Street (from a Burt Bacharach tribute album) / niji no kanata (au-delà de l'arc-en-ciel) / bus stop (not the Les 5 original, but a cover of The Hollies but with Japanese lyrics) / brand new song! (tentative title: Golden Picnic) / fantastic voyage / and, uhh... I forgot!? :( but it was a song I knew very well!
Encore: un-deux-trois
That show was a dream come true! A bunch of favorite songs ("ah oui bonbon", "rendez-vous à l'univers", "un garçon et une fille", "fantastic voyage"...!) that I thought I'd never hear live, or at least not performed by Les 5 themselves! Plus a brand new song, this has to mean that they're quite serious about coming back, right??!
There was also some very interesting talk. Like that one of the big reasons for them to start as a unit was "Girl Girl Girl", that radio show with Konishi Yasuharu! Hitomi said that they first recorded "le coeur qui jazz" for the show, and later a cover of Stevie Wonder's "Superstition", and these repeated invitations are what motivated them to actually record and release their music. However I just checked my Girl Girl Girl CDs and there seems to be nothing by Les 5 on there. I'd really have liked to hear those versions.
After the show I walked up to Hitomi and Sally, and got my "Bus Stop" 12" autographed! Yay! :)
By the way, at the show there was a good news announced! This was supposed to be a one-day reunion thing, but they have already another show booked, on May 23 and this time in Tokyo. Also playing will be Budō÷Grape (MySpace) of which singer Kuminko was part of the audience last night.
I really wish that this means that Les 5 will continue being active on stage, and maybe even releasing new songs!
Larger sizes and more photos at Flickr
Posted on March 21, 2009 at 20:54 | Permalink | Trackback (1) | Comments (6) | Tweet |
---
March 20, 2009
mixi presents Aira Mitsuki: live report
Tonight was a live event with Aira Mitsuki at Liquid Room in Ebisu. It was hosted by mixi, Japan's leading social network, and it was even free of entrance... as long as you had bought the latest single and were one of a thousand lucky contest winners.
Aira's show is mostly awesome for all the great dancing, with really fun choreographies, and plenty of robot dancing! She was accompanied by 4 cute dancers (only 2 for the first half of the show) all with the same haircut.
There were about 5 different costumes during the show, first with Aira wearing the plaid jacket from "Robot Honey", then the clear vinyl jacket from "sayonara Technopolis" (while her dancers wore some hilarious "JUST F*CK'IN DRINK" T-shirts — only in Japan!), then all wearing red and black wizard-like capes, and then all wearing cute fluffy dresses. And last for the encore all the girls wore the original T-shirts sold at the event.
As for the music it all sounds pretty much the exact same as on the album, although I really love those few moments when Aira jumps behind her Korg and plays some live keys. Of course you don't get to hear these on this kind of sound system everyday. Some of my favorite moments included "Robot Honey", "sayonara Technopolis", "Yellow Supercar", "Fantasy Candy", "Colorful Tokyo Sounds No.9"...
Here's the full 19-song set list courtesy of someone on mixi with way too good memory:
1st part: Robot Honey / Sazae Funkadelic / Knee-high Girl / China Discotica / L0ne1yBoy L0ne1yGirl / sayonara Technopolis / Cosmic Chopper / High SD Sneaker / Heart Line Alive / distant Stars
2nd part: Rock And Roll Is Dead / Swallowtail D.A.N.C.E / Beep Count Fantastic / Valentine STEP / High Bash / Fantasy Candy / Yellow Supercar
Encore: Colorful Tokyo Sounds No.9 / Robot Honey (Sound Around remix)
I was just a little bit disappointed that while the set included most of her entire repertory, it managed to miss a few of my favorite songs, such as "Candy Light Mode" and "Romantic Rope". But otherwise it was really a great show!
And, right in the middle of the show was announced the surprise news that this will be released in its entirety on DVD on March 20, just 2 months later! I probably won't being able to resist. :) Also, she announced her next single, titled "BARBiE BARBiE" and out on the same day.
Photos were prohibited throughout, except for a 30-second photo time during the encore... The best I could manage was this one taken a bit late when Aira was already saying that her manager said it was enough. :)
On the way out there were some large flower bouquets and also a board for fans to write messages to Aira.
My biggest thanks go to some really nice people for who kindly made it possible for me to go there!... and of course to mixi, which rules for making such a cool event happen, all free of charge!
Larger sizes and more photos at Flickr
Posted on March 20, 2009 at 01:12 | Permalink | Trackback (1) | Comments (6) | Tweet |
---
March 15, 2009
The Lady Spade release party: report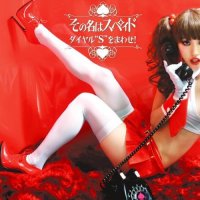 On Friday I went to see The Lady Spade (aka その名はスペィド = sono na wa Spade) who were having a release party for their first album "Dial 'S' for The Lady Spade" out a week ago. I have been a fan of theirs since seeing them at the last Usagi-chang Night Fever in 2006. This time was my 4th time, and I had a blast!
For those who aren't yet familiar, The Lady Spade is a girl unit of cute and sexy dance with live vocals. Their groovy tracks remind of the 60's, French pop, and old spy movie soundtracks. Singer Ruby is accompanied by her cute dancers, dubbed the Secretaries A Go-Go. There's also Mr. SLF behind the CD player, he's the one who produces all the wonderful music and does funny MC the rest of the time.
The event was a whole 2 hours of Spade! When I arrived SLF was DJing, playing Ishida Ayumi's "taiyō wa naiteiru". The show featured all of the album, which clocks just below 30 minutes, and then some more, plus covers, and DJ interludes during set and costume changes. There were also three special collaborations.
The first one was with a live rock'n'roll-ish backing band, formed of members of bands Goggle A, Salome Lips and The Tramp. This was the very first ever Spade performance with a live band! They played covers such as "Tout, tout pour ma chérie" and "Peter Gunn".
The 2nd collaboration featured Hase Yasuhiro (solange et delphine) on piano, and K-Ta (Fake Jazz Quintet) on vibraphone, who accompanied Ruby who wore a long beautiful purple dress. They played "The Look of Love" and "Nobody Does It Better". It struck me that her English pronunciation is really great, and with the Spade's high quality they should definitely go and conquer the world!
The 3rd and last collaboration was with Murasaki Babydoll. A group of 5 girl dancers who give a fun performance that's more erotic than Spade's, with some striptease involved! The stage soon transformed into a battle between Murasaki Babydoll and the 5 of The Lady Spade, until they finally got along and danced together to songs like a cover of "Breakaway".
The Spade girls came back, this time Ruby wearing her outfit from the album's jacket! They sang a few more songs and the show was over. They came back for an encore, with their theme song "Callsign" and then "mawase! unmei no Roulette" (aka "Spin! Roulette Spinning!!").
I know you're wondering, well, photos weren't allowed... except for two times when the girls took a pose especially for photos. You can bet that I went shutter happy!
And here's a live YouTube clip that I just found, it's raw footage from the upcoming "Live From Tokyo" documentary. I ran into the people filming this last year, and helped them with some interpretation when they interviewed Arcorhyme. I can't wait to see the final result!
Larger sizes and more photos at Flickr
Posted on March 15, 2009 at 02:27 | Permalink | Trackback (0) | Comments (1) | Tweet |
---
March 11, 2009
Twitter debut!
I've just started a Twitter account. I'll mostly be posting music-related short news or memos, and links to things I'm listening or watching.
http://twitter.com/coolestsound/
Also available as an RSS feed.
Posted on March 11, 2009 at 23:01 | Permalink | Trackback (0) | Comments (2) | Tweet |
---
March 3, 2009
YouTube: Solange et Delphine
My friends and a great indies band, Solange et Delphine (MySpace), live in Tokyo in December.
Solange et Delphine "New York walk on fame"
More to be seen at YouTube, and heard at MySpace.
Posted on March 3, 2009 at 21:30 | Permalink | Trackback (0) | Comments (0) | Tweet |
---
March 1, 2009
Switched On! -Side B-: live report
Last night was a party called "Switched On!" (event MySpace), of a series organized by Motocompo and friends. This is usually held in Kichijōji, but this time they were invited to do it at Shibuya Home. I went there looking forward to Motocompo, of course, and also Hazel Nuts Chocolate and Momokomotion.
First on stage was a young unit called Candles (MySpace). The girl-boy unit played French-pop influenced whisper vocal songs with club beats, with touches of 8-bit sounds and vocoder. They were accompanied by 2 cute dancers. Their sound reminded me of Les 5-4-3-2-1 and Misswonda. Quite good! They played about 5 songs.
Candles formed in 2007 and debuted last year with an EP out on Universal. Hear more samples on their discography page.
Next up was Hazel Nuts Chocolate, aka Yuppa-chan, accompanied by Motocompo's Dr.USUI like last time I had seen her. She wore some sort of bear hat that must have been way too hot in a place like that! Like always she was very energetic, singing while walking and jumping around, sometimes settling down a bit to play fat keys on her KORG.
She did a selection of her more upbeat songs such as "Love Piece Icecream" and "koi wa kyurukyuru", and also 2 brand new songs! She's been working on a 3rd album forever, and she still couldn't tell when it will be finished.
She was followed by Momokomotion, the new unit of Momoko (formerly of Futon), a Japanese who's based in Bangkok and seems very active with the local art scene, even co-running a small gallery and live space. Her set was supported by the two of Motocompo, and girl drummer Reiko-rin. The sound was rock but with new wave and electro influences, of course reminding of Futon.
Then there was a DJ set by Yuppa-chan, while waiting for Motocompo to get ready.
And last up, Motocompo! It was the first time I saw them although I had heard their music a little bit before, and seeing their great set I wondered why I hadn't seen them earlier. They were definitely the most picopico set of the evening. I really enjoyed their robot moves and their crowd interaction.
They appeared to closed their set as they always seem to do, but then they ran back to the front and said that this time they had a surprise! They started saying that it's Shibuya Home's 1st anniversary and how they are good friends of the owners, and then a cake showed up... but surprise, it was for Momoko and Chiho who both celebrate their birthday on March 3rd! They were even born the same year!
They then sang Hazel Nuts Chocolate's "Hello" all together. It was a double surprise, as Yuppa said that she didn't even know they'd do this song at the end. :)
A happy evening with a happy ending!
Larger sizes and more photos at Flickr
Now be sure to do your homework with these clips at YouTube.
Momokomotion "Toy"
Motocompo "Higher I Fly"
Hazel Nuts Chocolate "Hello"
Posted on March 1, 2009 at 20:42 | Permalink | Trackback (0) | Comments (5) | Tweet |
---