Blog - February 2013 Archives
February 2013 Archives
Index
.22 Weekly revue: 2013 week #8 (February 16 to 22)
.17 Weekly revue: 2013 week #7 (February 9 to 15)
.10 Weekly revue: 2013 week #6 (February 2 to 8)
.03 Weekly revue: 2013 week #5 (January 26 to February 1)

---
February 22, 2013
Weekly revue: 2013 week #8 (February 16 to 22)

Chilly Gonzales got canceled because of ear trouble... I hope he can come back sometime soon!

Food: - Lunch at Sanshūya, Ginza, with Caty before she left to go back to Paris!
- Poutine (!!!) at Robson Fries, Shimokitazawa. Inside the shop a black board says "We believe that Canadians know how to eat fries best!" Yes! :)
- A Tirol chocolate from Jet Set Records, I got it when I bought a used Cubismo Grafico 7". :)
- Mont-blanc and forêt noire cakes from Jun Honma

Playlist: Tomoki Kanda, HNC, Vanilla Beans, MoliquL, Nomoto Karia, Miyauchi Yuri, Mansfield, frenesi, "Yellow Magic kayōkyoku"

Music release news: Kayano Yoshiaki, Emi Necozawa & Sphinx (12"), VIDEOTAPEMUSIC (7"), capsule, Hanazawa Kana

Posted on February 22, 2013 at 23:25 | Permalink | Trackback (0) | Comments (0) | Tweet |
---
February 17, 2013
Weekly revue: 2013 week #7 (February 9 to 15)

Food: - Pizza at Massimottavio, Eifukuchō
- Gyōza at Anda Gyōza, Yoyogi-Uehara
- Dinner at Los Barbados, Shibuya
- Cookies from Susucre, Sangenjaya (but bought at S.P.B.)
- Chocolate cheesecake with cherries, from Sunday Bake Shop
- and... I got (and bought) some chocolates and cake for Valentine's Day!! :)

Events: - We dropped by Shibuya Girls Pop (Parco Part 1, 6th floor) to see The Lady Spade who weren't singing and dancing but instead giving away cake samples, during a live painting show by manga artist Shinjuko (sometimes showing up disguised as her Mizoka-chan character).

- Went to a market event in Omotesandō where I got a T-shirt by ESOW!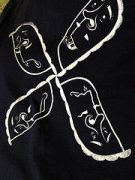 - We went to see Gangpol & Mit, with La veuve moustachue and 2080, at Shibuya WWW!
La veuve moustachue (ヒゲの未亡人) featured Kishino You-cihi (one-man musical), Gary Ashiya (piano) and SphinkS (visuals). A fun and touching show as always!

2080 is a French guy who uses retro game sounds to make some quite serious techno. His set was good! He surprised the audience with a cover of YMO's "Rydeen".

It was our 2nd time seeing Gangpol & Mit (the previous time was in 2007 at SuperDeluxe), and their stage has evolved a lot since. The 1000 people band was great fun to see live! I also had the occasion to pick up their 2009 DVD "Faits divers" that comes as a nice hardcover book.
- On Thursday was the opening reception for "Digital Choc", part of which is Gangpol & Mit's tour. We had also become friends with visual artist Caty Olive at Sylvain/Gangpol's welcome DJ event the week before, so we went to the Institut to see the free exhibition that includes various interactive installations, games, etc. We also got to see a video performance by unit HP Process, and yet more DJing by Sylvain. Caty's mesmerizing light installation is located outdoors in the garden. I'd like to go again to spend more time looking and playing with each piece of the exhibition.
New music: - I got FPM's new album "Scale". It's quite good with a lot of FPM's fresh and playful new sounds. Many instrumentals, some of which are a bit lengthy and repetitive (half of the tracks clock over 6 min.!), still making for some great BGM. My favorite tracks so far are the vocal ones, "Daremoshiranai" feat. rapper Tamaki Roy and "I Was In Love", and a techno instrumental called "Tokyo".
- At the same time I picked up Negicco's first 7", which was made after Konishi Yasuharu told producer connie that he should release some Negicco on vinyl. On the packaging is also a sticker with a praise comment from Konishi-san. This record actually contains both of my favorite Negicco tracks so far, "attōteki na Style" (YouTube) and "gatta-! gatta-! gatta-!" (which samples P5's "Tokyo wa yoru no 7ji" ("the night is still young")). :) Unfortunately this is only sold in some Tower Records stores (not even online).
Playlist: bluenö, Nakatsuka Takeshi, FPM, Aprils
Music release news: Kaji Hideki, Denki Groove, Tarte Tatin
... I'm sad to learn that both singers of Tarte Tatin are quitting. I never got to see them live (except for an appearance with Nosa Reina). There are auditions to find replacements.
This week's videos:
Negicco "ai no Tower of Love"
Denki Groove "Missing Beatz"
16cha tea commercial with local mascots from all over Japan
Posted on February 17, 2013 at 01:09 | Permalink | Trackback (0) | Comments (0) | Tweet |
---
February 10, 2013
Weekly revue: 2013 week #6 (February 2 to 8)

Food: - Sasebo Burger, ça c'est beau... et bon!
- Had a great crab meal at Kani Dōraku with nice workmates :)

Stuff: I received a nice little package from Moo.com! I love Moo!
Music event: - Gangpol & Mit are in Japan for a tour, and on February 2 was a welcome party for Gangpol aka Sylvain who got here a bit earlier. Held at a small club in an office building in Ryōgoku (not far from Tokyo Sky Tree), the Taiwan-themed DJ event featured Kishino You-ichi, BUBBLE-B, Sakata Ritsuko, Yachi Hideki, and Sylvain. I think all music played was from Taiwan! That was great!
Afterwards we ended up at a nearby karaoke until 5am! :)
Gangpol & Mit will play a show at Shibuya WWW, my favorite venue, on Wednesday February 13!
New music: - I got Nakatsuka Takeshi's new album "Lyrics" and have been listening to it a lot! This album is not as dance-oriented as some of his previous ones, it's more piano-led pop-jazz, still mostly upbeat and club-ready. All vocals are by himself, and songs were recorded in studio with a full band. I'm looking forward to hear more of these live! There will be a free in-store event at Tower Records Shibuya on March 7 (3rd floor, starts at 20:30, info here).
- Also I got a free track from (M)otocompo available here! (Entering your email in the linked form sends you a link to the MP3, and also signs you up to the band's newsletter.)

Playlist: FPM, The Aprils, Kyary Pamyu Pamyu, Old Monk, Merpeoples, "The Beat Goes On ~Salsoul Classics Mixed by Towa Tei~", Sunahara Yoshinori
Music release news: FPM, Towa Tei (Book)
Tech: - I got my Eye-Fi card to sync with my iPhone! Now I can take photos with my Lumix GF-1 and upload them on the go! The setup is not quite straightforward, with some traps to get in your way, and this article at Wired helped me a lot.
This week's videos:
Nakatsuka Takeshi "tsumetai jōnetsu" ("Cold Passion")
Gangpol & Mit Japan Tour 2013 teaser
Posted on February 10, 2013 at 00:32 | Permalink | Trackback (0) | Comments (0) | Tweet |
---
February 3, 2013
Weekly revue: 2013 week #5 (January 26 to February 1)

Food: - Went back to Salon du chocolat at Isetan, bought more chocolate and got to meet Christine Ferber (famous for her jams). :)
- Went to mexican restaurant Rojo in Koenji for friend Char's farewell party. The food was very good, and also the playful owners have lots of Mexican wresling stuff to show, including masks that visitors can try on. We also got Char's original Valentine's chocolate! :) Thanks!!
- Eaton mess from Sunday Bake Shop
- Late night curry dinner at curry bar Ajito

Music events: - On Saturday I was invited by my favorite designer Shindō Mitsuo, to his "Snack 320 (Mitsuo)" party at restaurant Ngorongoro in Harajuku.
Turns out it was his birthday party, and there were shows by his band The Scooters, Nomiya Maki, folk singer Kimura Kinta, Japanese dance by Hiramatsu Akiko, and DJs Muro, Noboru+Maki, 320, and more! That was all really awesome! The Scooters sang "L.O.V.E", "Hey Girl", "Ghost", "kanashii uwasa" (all from latest album "Une Manche et La Belle"), and a wonderful special birthday song. Maki was accompanied by The Scooters' Turban Chana Jr for special unit Pizzicato Turban. :) She sang "Baby Love Child" and "Magic Carpet Ride"! Thanks for a really great night!

- On Friday (yesterday) was the opening event of a photo exhibition organized by Yasuda Toshiyuki with two other musician friends. For the experimental exhibition, each musician created unique songs and packaged them with a framed photo (also taken by themselves). The music is on an iPod Shuffle that fits perfectly in a corner of the specially designed frames. Prices seem expensive for a single song, but thinking that you're paying an artist to write and record an original song that will be the property of only the person who bought it, it can also seem cheap. It's also an opportunity for the musician to forget about mass-consumption, and make music with deeper feelings.
The exhibition is on until March 3rd at Foo in Higashi-Azabu (Friday, Saturday and Sunday only). Information here.

- I also went to an in-store live of pianist Kotringo at Tower Records in Shibuya. That was great, though it was crowded though and I couldn't see her very well. She really has a great voice and a fun attitude. Her new album "tsubame Novelette" is out now, and there will be live shows at Harajuku Vacant on February 9.

New music: - Kyary Pamyu Pamyu "kimi ni 100 Percent / furisodeshon", great tracks that remind of an earlier style of capsule.
- Tomoki Kanda "Interstellar Interlude". I've had this one on repeat a lot this week. Quiet and beautiful electronic music!
- Denki Groove "Missing Beatz". Good lead track from upcoming new album "Human Beings and Animals", and a new remix of Fuji-san! I'm looking forward to the show in March! :)

Playlist: Macdonal Duck Eclair, Vanilla Beans, Denki Groove, Zin-säy!, Kyary Pamyu Pamyu, Tomoki Kanda, Nosa Reina

Music release news: Natsuki Mari, Hotel Mexico, Nakatsuka Takeshi, "Girls Sazanami Beat! vol.5", Negicco

Posted on February 3, 2013 at 16:46 | Permalink | Trackback (0) | Comments (0) | Tweet |
---