Blog - August 2013 Archives
August 2013 Archives
Index
.31 Weekly revue: 2013 week #35 (August 24 to 30)
.24 Weekly revue: 2013 week #34 (August 17 to 23)
.17 Weekly revue: 2013 week #33 (August 10 to 16)
.11 Weekly revue: 2013 week #32 (August 3 to 9)
.03 Weekly revue: 2013 week #31 (July 27 to August 2)

---
August 31, 2013
Weekly revue: 2013 week #35 (August 24 to 30)

Food: - Wade, pittu, etc. at Sri Lankan restaurant Acala.naatha, Nakano
- Cakes and macarons from Yu Sasage, Chitose-Karasuyama
- "Menthe à l'eau" mint cake from Jean-Paul Thiebaut, at Takashimaya's Patissieria

Music event: I went to see Hoshino Michiru at Shibuya Home. Her latest album "hoshi ga Michiru" was produced by Hase Hajimu, and I'm liking it a lot! It was a small show, for a seated audience of 50. She wore the same cute astronaut-like dress as seen in her video. Most songs were sang idol-style, karaoke over the backtrack, but for a few songs she sat at her piano and simply played and sang. VJ was Sally Kubota (The Scooters, Love & Revolution, The Phantom Gift, Les 5-4-3-2-1), who also did the art direction for the album.

Oh, and before the show began she recorded her Nicovideo show live in front of the audience, cooking yakisoba which was shared with everyone. :)

Set list: ? / i-ji-wa-ru Darling / watashi wa Schedy / Orange iro / kuchibiru / Summer Day / mō, Rendez-vous / Twilight Blue / shinkū Kiss / Wonderland
Encore: issho ni tabi suru kimi e

Movies: Rented & watched "Ted", "Submarine", "Goon", "Starbuck" & "Ruby Sparks".

Playlist: Negicco, Towa Tei, Nomoto Karia, hitomitoi, Aira Mitsuki, Taketatsu Ayana

Music release news: Makoto Miura, Yoko Ono Plastic Ono Band

This week's video: Yakenohara "RELAXIN'" from album "Sunny New Life"

Posted on August 31, 2013 at 01:13 | Permalink | Trackback (0) | Comments (0) | Tweet |
---
August 24, 2013
Weekly revue: 2013 week #34 (August 17 to 23)

Food: - Curry lunch at Indo Fuji, Higashi-Koganei
- Falafel sandwich at Kuumba du Falafel, Shibuya
- Egg tarts, chicken pies and custard ice cream on bread at Nata de Cristiano's, Shibuya

Movie: Went to see "My Way", a biography film about French singer Claude François, the original author of the song that became Frank Sinatra's "My Way". This is an interesting film of his eccentric and troubled life, and shows how big of a star he was, and the struggle to get there.

Music release news: BiS, Yashiro Aki, Nakata Yasutaka, Yucca, Ōta Emiri

Playlist: Negicco, Hoshino Michiru, Latin Quarter, (((sssurrounddd))), erectricmole, Dorian, "Organ b. Suite No.4 Gemini IV Space Nova!", playtime rock, hitomitoi, Plaid

Yucca "summer emotion"

J.J. Abrams, Charles Scott, Nakata Yasutaka "Into Darkness (Digital Edit)"

Posted on August 24, 2013 at 16:59 | Permalink | Trackback (0) | Comments (0) | Tweet |
---
August 17, 2013
Weekly revue: 2013 week #33 (August 10 to 16)

Food: - Thai green curry at Plikk Kee Noo, Asagaya (my favorite green curry!)
- Gelato at Sincerita, Asagaya
- Kaldi's coffee from Ethiopia (not Ethiopian coffee from Kaldi! :)). Thanks Peter & Ritsu!!
- Pork vindaloo at Erick South, Tokyo station

Outing: Last weekend was Tanabata matsuri in Asagaya. We went there like almost every year to see the latest sculptures hanging outside each shop.

Music event: On Saturday August 10 I went to see hitomitoi at Billboard Live Tokyo! This was a show themed around latest album "Surfbank Social Club". Like last year's show did for album "City Dive", this year's show featured all of the songs from the new album. Usually you'd expect to hear a few of the best songs from the album, and then some older favorites, but I like the way that she sings all of the new songs without exception, as they're all good! The back band included two members from Nona Reeves! There were also two songs featuring special guests Luvraw & BTB. The show's opening and closing songs were ones written by Dorian (who wasn't part of the show this year). I had a great time!

Set list: Dolphin / Last Friday Night Summer Rain / Prismatic / Before Velvet Hour / (surfbank social club) / Feel Like Bayside Love / Stardust Tonight / Lonesome Airport / Metamorphose / Passion Girl / (surfbank social club) / Endless Summer Holiday
Encore: Dive / koi wa omoi no mama

Music release news: Sister Jet with Dots+Borders, Portmanteau, Open Reel Ensemble, "WIRE13 Compilation", Aira Mitsuki

Playlist: Tomoki Kanda Denki Groove, InK, frenesi, Aira Mitsuki, "seigi no mikata Original Soundtrack", Kinoco Hotel, Scooters, Plastic Sex, (((sssurrounddd))), Hoshino Michiru

This week's videos:

hitomitoi "Surfbank Social Club" short movie

ISSEY MIYAKE 2013-14 Autumn / Winter Paris Collection w/ Open Reel Ensemble

Samba parade at Asagaya Tanabata matsuri

Posted on August 17, 2013 at 20:31 | Permalink | Trackback (0) | Comments (0) | Tweet |
---
August 11, 2013
Weekly revue: 2013 week #32 (August 3 to 9)

Music events: - My P5ML friend Peter was in visit (from Ethiopia!), and we went to a charity event held at Marunouchi House to see a DJ set by FPM and an acoustic show by Nomiya Maki! Peter summed it up perfectly in this blog post. And this is Maki's post on her blog, where you might be able to find the back of my head. :)

Set list: Tokyo wa yoru no 7ji (the night is still young) / Baby Love Child / To our children's children / Sweet Soul Revue / They all laughed

- I also went to a free event by (M)otocompo at Koenji High which was a lot of fun! I got to see Kit Cat, a new 3-girl unit produced by Dr.USUI, they sang Chicks on Speed's "Wordy Rappinghood" and "Lily Lies" (free download), that was awesome! (M)otocompo are now only 3 after member Kurt left just recently, still their show was very good and entertaining as usual, and contained at least a few songs I hadn't heard before. I bought their first single+DVD "Detective".

Food: - Pizza at Massimottavio, Eifukuchō
- Okonomiyaki at Kiji, Marunouchi
- Totoro choux à la crème from Shiro-hige no Chou Creme kōbō
- Thai dinner at pepacafe Forest in Kichijōji

Music release news: Buffalo Daughter, Nakano Aya, kataomoi, Denki Groove, Kaseki Cider, Perfume

Playlist: FPM, Perfume, hitomitoi, Dahlia, Harvard, Towa Tei

This week's videos:

The Aprils "High-Flying Girl"

(((sssurrounddd))) "kimi wa New Age"

Denki Groove "Shame" (live)

Posted on August 11, 2013 at 01:21 | Permalink | Trackback (0) | Comments (0) | Tweet |
---
August 3, 2013
Weekly revue: 2013 week #31 (July 27 to August 2)

I turned 2316. :)

Food: - BBQ with friends at Gekko, Futako-Tamagawa. It's a self-service style restaurant. We spent most of the day on the open air top floor, it was fun!
- Nice dinner at eatrip, Harajuku
- Various delicious cakes from Acacier, Saitama

Stuff: - I got myself "Ghost In The Machine", a collaboration of Cornelius, Ghost In The Shell and Buddha Machine! It comes preset with 3 tracks by Cornelius, taken from the soundtrack he did recently for a recent Ghost In The Shell movie. Check out this special site!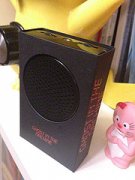 Music release news: "T-Palette Records 2nd Anniversary Mix ~Diggin' on you~", "Clo Clo Made In Japan 2013", Hoshino Michiru, "ASOBITUNES", Masanori Ikeda, ryo fukawa (Rocketman)
Playlist: Pizzicato Five, Sunahara Yoshinori, Rodion, hitomitoi, Dorian, Chilly Gonzales, Kavinsky, FPM, Towa Tei
This week's video: salyu x salyu "jibun ga inai"
Posted on August 3, 2013 at 00:00 | Permalink | Trackback (0) | Comments (0) | Tweet |
---