Blog - March 2016 Archives
March 2016 Archives
Index
.30 Weekly revue 2016 week #12 (March 19 to 25)
.23 Weekly revue 2016 week #11 (March 12 to 18)
.17 Weekly revue 2016 week #10 (March 5 to 11)
.06 Weekly revue 2016 week #9 (February 27 to March 4)

---
March 30, 2016
Weekly revue 2016 week #12 (March 19 to 25)

Most of last week was spent on a fun trip in Kanazawa (Ishikawa pref.) and then to Himi (Toyama pref.) where we spent a night at the cottage of winery Says Farm together with several dear friends. We ate delicious sushi everyday, and also Kanazawa oden, and gelato.

Many more photos at Flickr!

Playlist: Concert, frenesi, etc.

Posted on March 30, 2016 at 21:12 | Permalink | Trackback (0) | Comments (0) | Tweet |
---
March 23, 2016
Weekly revue 2016 week #11 (March 12 to 18)

Food: - French restaurant Sublime, Shinbashi
- Cakes from Ressources, Akabane-bashi
- Coffee and chocolate cake at Aux Baccanales, Kioichō
- Sausage roll & more at Bespoque, Higashi-Nakano

Music event: - Vanilla Beans performed their 9th one-man live on March 18, at Tokyo Kinema Club. I had bought our tickets via their free fan club back a few months ago, and just about a week before the show I received an email with the magic numbers: 1, 2, 3! Yes, we had the very first numbers which allowed us to go in before everyone else and get the best seats ever (center first row)! :D Of course it was my first time seeing Vanilla Beans live from so close! They gave a wonderful show full of favorites, with even three P5 covers (!), and a lot of songs from their latest album "Vanilla Beans V". The show was backed with their live band from start to end. I couldn't resist getting this great S*nic You*h homage T-shirt. :) Go to Natalie for show photos, and try to find me on this one.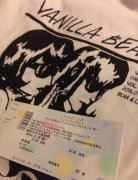 Set list: Say Goodbye / watashi,,, fukō guse / It's a Beautiful Day (Pizzicato Five cover) / Sweet Soul Revue (Pizzicato Five cover) / onna wa sore o gaman shinai / Night and Fly / Nicola / Choco Mint Flavor Time / Muscat Slope Love / Non-Section / Please Me Darling / Lady Survivor / Boyz & Girlz / Style and Council / Beanius / uchōten Girl
Encore: Tokyo wa yoru no 7ji (Pizzicato Five cover) / Now & Forever
Exhibitions: - QP x Son of the Cheese collaboration at Isetan in Shinjuku!
- Ran by chance into UJINO's "Rotate'n'Roll Over" solo exhibition at Yamamoto Gendai! It's up until Saturday March 26.
Playlist: Vanilla Beans, Especia
This week's videos:
Nakatsuka Takeshi "Japanese Boy"
suiyōbi no Campanella "Chupacabra"
Posted on March 23, 2016 at 20:07 | Permalink | Trackback (0) | Comments (0) | Tweet |
---
March 17, 2016
Weekly revue 2016 week #10 (March 5 to 11)

Food: - Sandwich, tiramisu and coffee at Parlour Ekoda
- Vegetables, soft shell crab & more at Gessekai, Shibuya

Music event: I went to see Denki Groove on the first day at Zepp Tokyo! The entire show was non-stop from start til end, with no talk at all (except during the encore). Many older and rare songs were played. What an awesome techno show!

Set list: Hello! Mr. Monkey Magic Orchestra / Fallin' Down / Missing Beatz / Shameful / Shinkansen / Eine Kleine Melody / Baby's on Fire / Scorpion 2001 / Baron Dance / Asunaro Sunshine / Kamelife / TKO Techno Queen / Fake It! / Love Domination / Flashback Disco / Jumbo Tanishi / N.O. / Wicked Jumper
Encore: Loop Zombies

Exhibition: - QP x Son of the Cheese at Ginza Mitsukoshi!

Music release news: unBORDE all stars, Suzuki Saori, Nakatsuka Takeshi, FPM

Playlist: Jintana & Emeralds, Denki Groove, Vanilla Beans, Especia, CAPSULE, XTAL, Reina & The Blue Valentines

This week's video: Kero Kero Bonito "Lipslap"

Posted on March 17, 2016 at 21:55 | Permalink | Trackback (0) | Comments (0) | Tweet |
---
March 6, 2016
Weekly revue 2016 week #9 (February 27 to March 4)

Food: - Curry at Indo Fujiko, newly opened in Kōenji (below Enban)
- Curry from Asia Curry House, Kinshichō
- Dark chocolate & pistachio gelato at Ayura Café Gelato & Espresso, Shinjuku. The gelato here is by Malga Gelato in Ishikawa pref . A must check for gelato fans!

Music event: - On Sunday February 28, I went to Dr. Usui's "OTOCO no Revenge Fes" festival held for free at Shibuya Lush, or at least I made it for the 2nd half of it. I got to see thai kick murph (a talented group with girl vocals with a post-rock-ish style), Genius P.J's (electro + rap unit), Electric Ribbon (idol group) and (M)otocompo! As I always think of Dr. Usui's band picks, all were great!

Music release news: Chocolat & Akito meets The Mattson 2, Maika Loubté, Tarte Tatin, Aoi, Polysics

Playlist: Denki Groove, XTAL, Especia, dip in the pool

This week's video:

Negicco "mujun, hajimemashita."

YMCK x STAMP "GAME OVER with P.O.P"

Re:Served "MIGOTO"

Posted on March 6, 2016 at 13:39 | Permalink | Trackback (0) | Comments (0) | Tweet |
---