Blog - January 2014 Archives
January 2014 Archives
Index
.25 Weekly revue: 2014 week #4 (January 18 to 24)
.18 Weekly revue: 2014 week #3 (January 11 to 17)
.11 Weekly revue: 2014 week #2 (January 4 to 10)
.05 Weekly revue: 2014 week #1 (December 28 to January 3)

---
January 25, 2014
Weekly revue: 2014 week #4 (January 18 to 24)

Food: - Dinner at French restaurant La Coupe d'Or, Shirokane-Takanawa. Delicious food and perfect service! Recommended! :)
- Poulet yassa at Los Barbados, Shibuya

Event: Went to an autograph session by manga artist friend Maki Hirochi. Her 4th volume of 「いつかティファニーで朝食を」 ("It will be breakfast at Tiffany's someday") was published this month. Each chapter of this series always takes the characters to eat breakfast at various restaurants that really exist in Tokyo (and sometimes other cities of Japan), all of which are drawn in great detail.
Music release news: Tokyo Girls' Style, "Disney Rocks!!! Girls Power!", Yakushimaru Etsuko, "'Sailor Moon' The 20th Anniversary Memorial Tribute" (Konishi Yasuharu track!)
Playlist: Tomoki Kanda, Elektel, blue marble, Portable Rock, YMCK, Dorian, Buffalo Daughter
This week's video: mig "Disco"
Cibo Matto "MFN" (oops, I posted this before, but I'm getting really excited about "Hotel Valentine"!)
Posted on January 25, 2014 at 08:59 | Permalink | Trackback (0) | Comments (5) | Tweet |
---
January 18, 2014
Weekly revue: 2014 week #3 (January 11 to 17)

Photos: - We went to event "machi ichi! mura ichi! 2014" at Tokyo International Forum, a fair with lots of food from all parts of Japan. There were many mascots too! More here.

- Happened to see a truck with some horses in Hatagaya, and the next day there was a cowboy trotting up a street in Yoyogi-Uehara! Seemed to be the same horse.

Food: - Sticky toffee pudding, Victoria sponge, ginger & white and more at Sunday Bake Shop, Hatsudai
- Takoyaki and strawberry & yogurt kakigōri (shaved ice) at Minato-ya, Sasazuka
- Galette des rois from Réfectoire by Le Petit Mec, Harajuku. We had coffee there too, and there happened to be instrumental live music by background of the music which was nice.
- Meals at Andhra Dining, Ginza
- Hiroshima-yaki (okonomiyaki) at Sanshou, Ginza
- Lunch at Chinese restaurant Taikoo Shing, Shibuya. This restaurant was featured on TV series "taberu dake" that I watched entirely. :)

Music event: Went to see Au Revoir Simone on January 13 at Shibuya O-Nest! That was awesome! I thought the same last time I saw them 4 years ago (at the same place), their show would please any synth fan.

All the other bands were great too. First on was little moa, group of Moonriders' Okada Toru's daughter. The band has a quiet electronic sound, with glockenspiel and euphonium (see video below). Next was Junjun + Babi, two girls who sang in soft voices, sometimes in French. There were some nice short instrumentals too. Then was singer-songwriter sugar me who played a solo acoustic show with just her guitar. Aside from original songs from the album, she played a great cover of Leonard Cohen's "Hallelujah", a special song for me that I had the chance to see Jeff Buckley play live. I bought her album "Why White Y?" and got her autograph!

To those who missed this show, Au Revoir Simone be playing the same venue again tomorrow January 19, with Chocolat & Akito and milk.

Movie: Got to see Chinese/Korean movie "A Wedding Invitation" a bit early, thanks to a nice friend who was involved with promotion. Quite a charming and touching film. It will start in theaters here on March 1st.

Music release news: Terunuma Fareeza to Shūkyō, "Tonchi Compi", yashka, Elekibass, hitomitoi

Playlist: sugar me, the fascinations, MoliquL, Negicco, playtime rock, Aira Mitsuki

This week's videos:

little moa "Promenade"

sugar me "As You Grow"

Au Revoir Simone "Somebody Who"

Terunuma Fareeza to Shūkyō "kakkoii"

Posted on January 18, 2014 at 20:25 | Permalink | Trackback (0) | Comments (0) | Tweet |
---
January 11, 2014
Weekly revue: 2014 week #2 (January 4 to 10)

Food: - Sri Lankan curry (and not-so-Sri-Lankan curry) at Coji-coji, Mito
- Special thali at Gopinatha, Nakano
- Galette des rois (chocolate) and more from Maison Weniko, Mito
- Galette des rois (sanshō & hazelnuts) from Gontran Cherrier, Shibuya
- Galette des rois (chocolate, passion fruit & coconut) from Ladurée

New music: - Not actually new since I already had it on CD, but the first music I bought this year is Nomiya Maki's "Pink no kokoro" on vinyl, which almost jumped at me at record shop Vinyl Machine (Mito). Looking at the liner notes I realized again how the Moonriders were deeply involved in this album, including Okada Tōru (CTO LAB.) who did many arrangements, and drummer Kashibuchi Tetsurō who passed away at the end of last year. I love this album!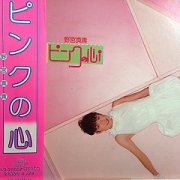 - New track from Chromeo! "Come Alive feat. Toro y Moi"
Music release news: Especia, YMCK, Polysics, Yucca, the fascinations
Playlist: Au Revoir Simone, YMCK, frenesi, Dorian, Denki Groove, Tarte Tatin
This week's video: Yucca "You are right"
Posted on January 11, 2014 at 12:34 | Permalink | Trackback (0) | Comments (0) | Tweet |
---
January 5, 2014
Weekly revue: 2014 week #1 (December 28 to January 3)

Happy New Year! All my best wishes for 2014!

This year started slowly and eventlessly, like it should. I was able to catch up with some things I wanted to get done, like moving a site to a different host and making a tool I had been thinking of for a while.

Food: - Galette et crêpe dessert à comme des journaux, Ogikubo
- Curry at Sharidesu, Nakano

Music release news: Tokyo No.1 Soul Set, Kinoco Hotel, Harada Ikuko & Wisut Ponnimit, MEG, "Nintendo Famicom Music", lyrical school, Hikashu, Pecombo, "Nameko no CD 2", Every Little Thing/Konishi Yasuharu, Hanazawa Kana, Sakamoto Ryuichi, Riow Arai, 80KIDZ, "PARK compilation 01", Nakatsuka Takeshi with Iga-Bang BB, FPM, "Sauna Cool 1"

Playlist: Au Revoir Simone
Posted on January 5, 2014 at 22:59 | Permalink | Trackback (0) | Comments (0) | Tweet |
---