Blog - May 2004 Archives
May 2004 Archives
Index


.31 Portable Airport


.30 From Russia In Bulk




.29 Music / Zelda / Cutie Honey




.17 Hasebe Novko live!


.14 Mod East


.10 Moblogging


.10 The Legend of Zelda



.09 Thai Food Festival and new keitai!



.07 Curry

---
May 31, 2004
Portable Airport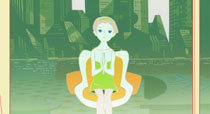 Last weekend we went to Kichijōji to see Cutie Honey, and it was pretty good! I hope there will be a sequel. :)
Before the movie was shown a very nice 3-minute animated film produced by Studio Kajino (a small studio related to Studio Ghibli) titled 「ポータブル空港」 ("Portable Airport").
The short film is actually a music video for the song of the same name from capsule's upcoming album "S.F. sound furniture" out on June 9.
Posted on May 31, 2004 at 15:14 | Permalink | Trackback (0) | Comments (5) | Tweet |
---
May 30, 2004
From Russia In Bulk
Whew, last night my blog was spammed by the Russians (according to the advertised p0rn site's Whois record): 600 comments to 30 archived entries, apparently from 30 different IP addresses, slowly posted non-stop over 1h30.
So I deleted the batch directly in the MT database and did a rebuild.
Quite a pain nevertheless, I hope this won't happen again.

Posted on May 30, 2004 at 12:47 | Permalink | Trackback (0) | Comments (7) | Tweet |
---
May 29, 2004
Music / Zelda / Cutie Honey
I haven't written anything for a while... I've been posting a bit to my moblog though, and always updating my listening blog as usual!
I've bought a lot of very good new music lately, including: the new Kahimi Karie album "Montage", Yukari Rotten's "Not Dead" (a new happy electro-pop project of Yukari Fresh), and today I picked up the new single by KINBARA Chieko "Try A Little Love (feat. Blaze)" (one song is produced by Fantastic Plastic Machine!) and also "Amaranth", a soundtrack for Amaranth Lounge produced by IWAMURA Manabu and also featuring Comoesta YAEGASHI.
Also, I've been playing Zelda a lot! I'm really addicted.
Now I'm getting pretty close to the end, however I'm ashamed to have had to peek at some cheat site because I couldn't find the damn flute. :( Otherwise I'm proud of getting through it without cheating. Back in the day I was checking Nintendo Power all the time.
Tomorrow, Cutie Honey is starting to play in theatres here! I'll probably get to see it sometime this weekend and am quite looking forward to it. :)
Last weekend I found the promo DVD being sold for about ¥500, which shows some trailers, previews, interviews and behind the scenes stuff. It seems to be like a fun action movie, and the "hanimation" sequences (sort of anime with characters superposed, but that's no Roger Rabbit) seem really great!
Tonight I went to HMV Shinjuku South where are being exhibited some costumes from the movie, so here are some pictures. :) These were taken with my SO505iS mobile phone.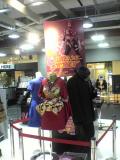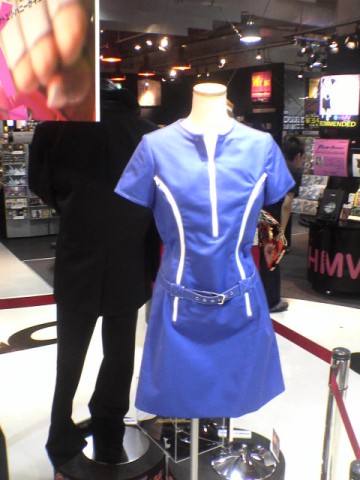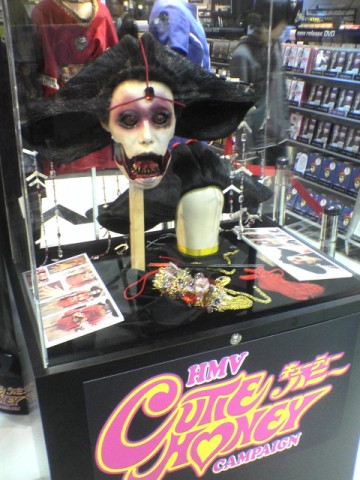 Click the thumbnails for larger images
Posted on May 29, 2004 at 00:58 | Permalink | Trackback (0) | Comments (3) | Tweet |
---
May 17, 2004

Hasebe

Novko live!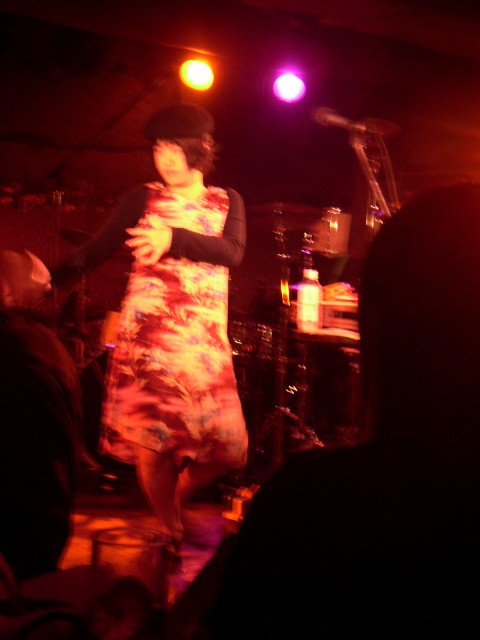 Last night I went to see a fantastic show with my friend Miwa. It was Hara Midori's monthly event 歌う女ともだち (utau onna tomodachi, "Singing girl friends"), this month featuring Hasebe Novko (former front member of Modern Choki Chokies)! The event is held at Manda-La 2 in Kichijōji, a small seated bar with a nice stage.
First was host Hara Midori's (ex-Spank Happy) band, digital LOVE tabla, also featuring Nakamura Kometarō (bass, ex-Tōkyō Shōnen), and supported by Teshirogi Katsuhito (guitar, also ex-Tōkyō Shōnen) and Whacho (drums/percussions, ex-Killing Time). Hara Midori sings and plays her tabla (an Indian percussion instrument) which she bought in Bengladesh, giving her pop songs a Mid-Orient feel. A few songs played were from the Hara Midori/*come (unit of herself with Nakamura Kometarō) 2000 album "ブルーズ彗星" (BLUES suisei, "Blues comet"), and the rest consisted of recent original songs I think. Their sound reminded me a bit of recent Necozawa Emi.
Next was Hasebe Novko, supported by Isoda Osamu (her husband, also ex-Moda-choki), and also the cool Koala-tarō and Bun-tarō (plush animals with an attitude!). I have been a big fan of Modern Choki Chokies since a year or two, but they split out around the mid-90's. This year I found out about some of its members who are still active, notably her who released a mini-album called "Pandaman" in 2000, which is so far the music most similar to Ōsaka-based Moda-choki that I've found. So, finally I got a chance to see her live!
The small place was packed, and once they got on stage, the place was warped to Ōsaka, not only the players but also some audience (including Moda-choki's Nurupyon sitting at the back) spoke pronounced Ōsaka-ben and told non-stop jokes and funny anecdotes between the songs. Most of the songs from "Pandaman" were played, also a song by Pom Pon Dahlia (Novko's mid-80's band) which should appear on a new wave tribute album out this fall, and also two songs by Modern Choki Chokies, including one of their biggest hits, "自転車に乗って、" (jitensha ni notte,)! I'm looking forward to seeing her live again!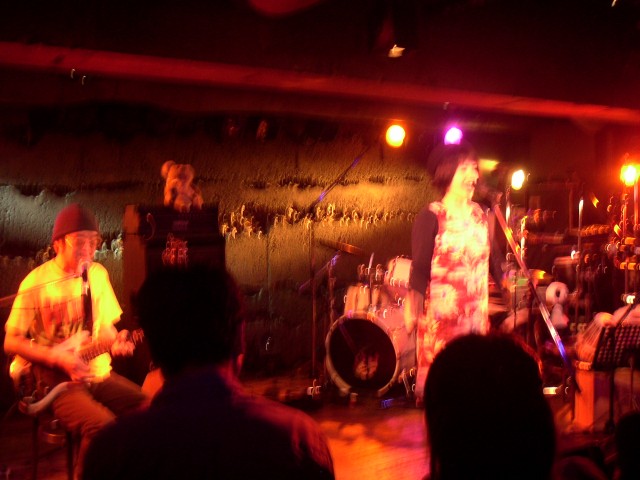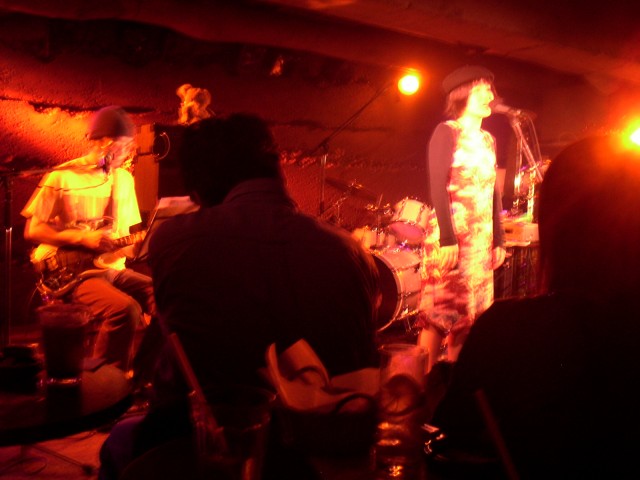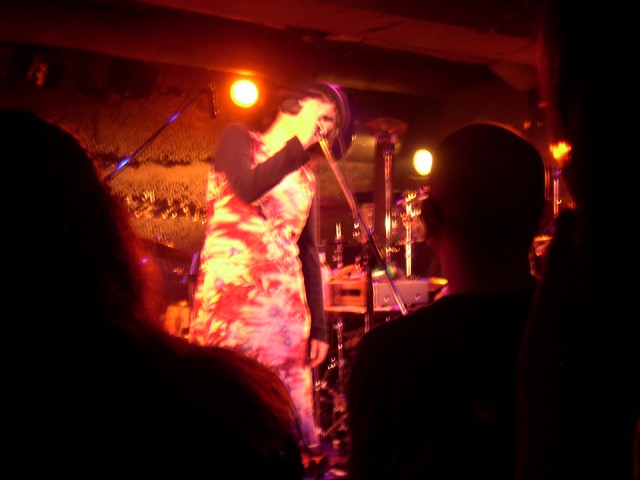 On stage from left to right: Isoda Osamu, Koala-tarō (sitting on the amp), Hasebe Novko and Bun-tarō.
Click the thumbnails for larger [blurry] pictures
On my way out I bought Pom Pon Dahlia's 8"(!) single which I had been wanting very bad, Isoda-san's CD-R album "Avant Nurd", and Hara Midori/*come's "BLUES suisei".
Posted on May 17, 2004 at 11:59 | Permalink | Trackback (1) | Comments (0) | Tweet |
---
May 14, 2004
Mod East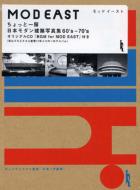 Today I bought Comoesta Yaegashi's new book, "Mod East"! The book comes with a CD, "BGM for MOD EAST" which is actually his second solo album. His first album was "Love Is Blue" released 11 years ago (in 1993), a very nice easy listening album which sounds a bit like Paul Mauriat, and is probably an homage to him considering the title. Of course over the years he did a lot of other releases with 5th Garden, Jet Lopez, as Comoestas, etc.
The book actually came out on April 20, but I don't think it had even been announced on his Web site which I watch every few days Only today it showed up on there, along with his impressive full discography.
The 236-page book (208 color pages) shows pictures of beautiful modern Japanese architecture and interior mostly from the 60's-70's, and has commentary by Comoesta Yaegashi. The new album reminds a lot of the recent compilation album "BGM vol.1 for Modernica" produced by himself. Perhaps a bit short though at about 34 minutes. The price is very nice though at ¥3200, about the price of a CD.
And while on the topic of vintage modern interior, I'd like to plug a friend's like-minded online furniture shop, Edit Furnishings (based in California).
"Mod East" by Comoesta Yaegashi (text) and ITŌ Shinichi (pictures)
Tōtō Editions (yes, the toilet company!)
ISBN4-88706-235-4, 236 pages (208 color), ¥3200+tx
Order at Amazon
Posted on May 14, 2004 at 21:08 | Permalink | Trackback (0) | Comments (2) | Tweet |
---
May 10, 2004
Moblogging
Two days ago I bought my first mobile phone with a camera and, thanks to Mfop2 and its creator Kevin, today I'm moblogging!
For those not yet in the know, "moblog" is a contraction of "mobile blog" (or "mobile Web log"), which most of the time means pictures taken with a mobile phone and posted directly to a blog. This means that pictures can be taken anywhere and posted right away for all to see.
The latest entries of my moblog can be seen on the left side of the top page below the menu, and older entries are archived weekly.
I'll try to use this new tool to share a bit more of what I see everyday!
My moblog is powered by MovableType and Mfop2.


Posted on May 10, 2004 at 15:57 | Permalink | Trackback (0) | Comments (2) | Tweet |
---
The Legend of Zelda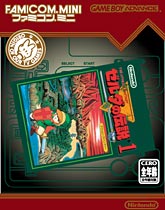 Close to my job there's a Toys'Я'Us, and I sometimes go there to waste time at lunch, especially on rainy days like today...
Today I wasn't planning to buy anything, but they had a demo of ゼルダの伝説1 (The Legend of Zelda 1) for Gameboy Advance playing on a TV, and I was close to shedding a tear of nostalgy... so I bought it! ¥2000 is cheap for a game, especially if you already know it's one you like!
Now I can't wait to play Zelda again on my GBA.
And also out now for Famicom freaks... a Famicom-color Gameboy Advance SP! I'm not buying it, but that's surely the winning coolest color for a GBA!
Famicom Mini first series (out now)
Famicom Mini second series (out 5/21)
Posted on May 10, 2004 at 13:06 | Permalink | Trackback (0) | Comments (0) | Tweet |
---
May 9, 2004
Thai Food Festival and new keitai!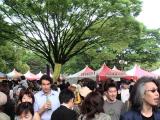 Yesterday we had a pretty busy day! At the beginning of the afternoon, we went to the large flea-market in Meiji-kōen, and stayed there until about 3pm. I found a 7" single of the song Konishi Yasuharu is producing for Judy Ongg, "miserarete". (Update (5/9 15:13): The single is pretty good and I'm curious to hear what Konishi-san's version will sound like!) (Update (5/13 11:28): Hear a short MP3 sample at Musical Taste.)
Then, we walked to Yoyogi-kōen where was (and still is) being held the 5th Thai Food Festival! We ate a lot of stuff, including Som Tam (papaya salad), Pad Thai (stir-fried Thai noodles, or "Thai-style yakisoba", as it was described), Thai-style spring rolls, and Thai-style stir-fried rice. It was all quite delicious!




Click the thumbnails for larger images.
When we were full, we walked down to Shibuya, and since I had felt the urge to get a new keitai (mobile phone) since a few days... we both got a SO505iS! And I was very lucky to get mine at a crazy low price!
Here, there are always two prices for keitai, a higher price if you already have a contract with the mobile phone company and want to keep your current phone number, and a lower price if you're making a contract with them for the first time. Plus, at least at some places, there are rebates depending on your age. Since I'm less than 29, I get ¥5000 off. In my case, since I was continuing on my current contract and keeping my same phone number, I was ready to pay the higher price, about ¥15,000 (full price ¥20,000 minus ¥5000 age rebate) for the SO505iS.
However, the cashier made a mistake and charged me the price for a new contract, about ¥12,000 instead of &yen20,000!! Minus the ¥5000 age rebate, minus &yen3000 (because I had accumulated 3000 points on my contract)... So I got this quite recent keitai for ¥5,040 with taxes, a 1/3 of the price for my age range!
So I now have a keitai with camera (1.3 megapixel), and I'm already all set up to start moblogging, and should be starting very soon! Stay tuned!
Posted on May 9, 2004 at 14:09 | Permalink | Trackback (0) | Comments (6) | Tweet |
---
May 7, 2004
Curry
Since I came to Japan I became a big curry fan! Before then I had eaten Indian curry a few times in Montréal but could never develop a taste for it. Whether it's truly that my taste has changed or that the restaurants I ate at were no good, I don't know for sure.
Anyway over the past years I've developed a strong taste for Japanese curry, and also Indian curry, and now I get a curry craving at least once a week, and can eat curry for several days in a row without getting bored of it.
My favorite Indian curry chains in Tokyo is Samrat, which comes in two varieties: the fast food (called Curry House) and the classier restaurant. Many all-night outings at Organ b. in Shibuya ended with a good curry with nan at the nearby Curry House.
Last year when we got back from our trip to Europe, I was so happy to see that a new Curry House shop had opened in Shin-Nakano, just a few corners from where we live! We went to eat there many times, and it was also great for take out.
However, just about a month ago, our local Curry House was changed into a full-fledged Samrat Restaurant. Basically they changed the layout a bit, made the place darker to make it proper to romantic dinners, and they put the prices way up!!
I went there once since, and what I used to get for about ¥800 cost me about &yen1800!! Exact same stuff, except for maybe a bit of cream and herbs on top of my curry (don't tell me this difference is worth the extra ¥1000!). Damn...
Sure they have a lunch special which is a much better deal, but it's for dinner that the place was really useful for me.
The strange thing is that the place is still open 'til 5am, and it's the dinner menu all night long. I wonder if there are many salarymen who still go there to have a late night curry even at that price. Perhaps just enough to make it more profitable than it used to be? Anyway I hope not, and I hope they will realize that the change was a mistake sooner or later.
And while on topic... I love the new free song Momus posted on his blog, Klaxon! Being the result of his recent studies of Arabic scales, it has a sort of Indian groove, and also spicy French lyrics. I like to imagine this song being on heavy rotation at Curry House!
At least I hope to see Momus perform it live next time he's in town.
Posted on May 7, 2004 at 12:22 | Permalink | Trackback (0) | Comments (3) | Tweet |
---