Blog - September 2005 Archives
September 2005 Archives
Index


.29 Matsuken Samba III




.29 Tokyo Harbor


.29 Movable Type 3.2


.26 If you don't go to Osaka...


.24 Nezha


.24 Hana Koala and Koarapper


.18 Yotsuya Kaidan


.17 Kamen Rider Super 1



.17 TV tuner card


.16 This DVD will be auto-destroyed in 48 hours


.15 Henachoco and Matsuken


.08 Famicom games


.01 Billiken in Shibuya!

---
September 29, 2005
Matsuken Samba III
Morning Matsuken Samba III lesson. The man in green is Matsudaira Ken's choreographer.
Posted on September 29, 2005 at 08:35 | Permalink | Trackback (0) | Comments (1) | Tweet |
---
Tokyo Harbor
I spent the last 3 days at a BREW training held near Telecom Center station (on Yurikamome line, past the once-trendy Odaiba). Here are a few photos taken today by Tokyo Harbor (right around here) while eating my sandwich.

Larger images (up to 1280x960): 1 2 3
Qualcomm's mobile phone application solution BREW is supported in Japan by KDDI's au.
Posted on September 29, 2005 at 00:40 | Permalink | Trackback (0) | Comments (4) | Tweet |
---
Movable Type 3.2
After having been using Movable Type 2.64 forever, and especially with the license agreement changes that came with MT 3, I wasn't in a hurry to upgrade. Actually I first thought that my use of several a second "author" (account) for the moblog, which I created in order to not expose my admin account to a third party application (thing I prefer not to do no matter how I trust it) would go against their "one author" rule for the free package. I cleared this issue recently by contacting the sales, who replied:
Thanks for getting in touch. If you're the same person, I should think you'll only count as one author. Otherwise, you'd have multiple personality disorder on our behest, and that's no good. ;)
Glad that I fall in the first category, or at least I think so. :)
With the recent release of Movable Type 3.2 and especially with Six Apart's tempting 32 favorite features (still only 25 actually...), I just couldn't resist much longer. It's just a few days ago that I found the time to go through the upgrade process. It took a little while to backup, merge my config files and small changes I had done to the scripts, but once that was done I only had to upload and click one button, and the upgrade was done in a few minutes.
There are many new good things about Movable Type 3.2, and you can read in detail about many in "Movable Type 3.2: Our 32 Favorite Features", but my own favorite are probably the powerful junk comment/trackback detection and "junk folder" (goodbye MT-Blacklist!), and also the site-wide administration which will definitely save me a lot of time.
I was quickly reminded of another of the main reasons why I had avoided MT3 though... The great Mfop (Kevin Cameron's moblogging tool) doesn't support it. I will have to find another solution in order to moblog again (suggestions are welcome), unless Kevin would accept my proposition and let me update Mfop to make it MT3-compatible.
Update (02:07): I ended up with a solution for my moblog. I'm now moblogging through Flickr and using a local script to generate and cache a thumbnail, which is displayed using JavaScript (for users with it enabled) in place of the oversized Flickr thumbnail (just because I hate browser-resized images). I'd still prefer to use Mfop again though because it's templating is much more flexible. Now, off to bed!
Posted on September 29, 2005 at 00:04 | Permalink | Trackback (0) | Comments (5) | Tweet |
---
September 26, 2005
If you don't go to Osaka...
On Saturday we headed to Shibuya for the Osaka Hakurankai, a fair about Osaka and welcoming its god of good luck Billiken!
We first went to the Osaka exhibition at Tōkyū-honten (to which we got in for free with the PDF tickets downloadable at the bottom of this page) where we learnt bits about Osaka's history and culture, and of course rubbed the back of Billiken's feet, thing he can't do by himself because of his short arms and in exchange of which he promises good luck.
Then we went to the 8th floor of Tōkyū Tōyoko-ten (located over Shibuya station) where all sorts of famous food from Osaka was available. The crowds were huge and most popular eatery had a long and slow line. We picked Takobayashi where the line seemed reasonable. However their takoyaki were huge, about 5cm, and took a while to prepare, so we ended up waiting for an hour to get a box of 10. They were good though!
Larger photos (960x1280): 1 2 3
Last but not least, a Canada Expo '70 poster...
Larger photo
Posted on September 26, 2005 at 21:59 | Permalink | Trackback (0) | Comments (0) | Tweet |
---
September 24, 2005
Nezha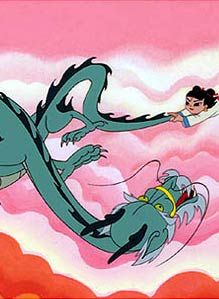 A series of Chinese animation stills posted by Lili made me recall an animation film I had seen on Ciné-Cadeau (series of films for children aired before Christmas time on Télé-Québec) a long time ago.
What I remember of the 1979 film, 《哪咤闹海》 in Chinese (「ナーザの大暴れ」 / "Nezha Conqueers the Dragon King" / « Le Prince Nezha triomphe du Roi-Dragon »), is that it's about a powerful little girl (even though the French title makes it sound like it's really a boy) who lives by the sea and fights dragons of different colors, armed with a long red scarf/ribbon and a golden ring.
I had first been reminded of the film a few years ago when I had seen this DVD called "Chinese Animation Film Works Vol.1" on the shelves at Tower Records. This is a collection of 5 films including this one plus 5 short others. I was tempted to pick it up but had found it a bit pricey around ¥6000. But this time I found this remastered 25th anniversary edition out just a few months ago, only $9.99 at movieSville! Of course I couldn't resist. :)
Check out this [slow-loading] Chinese page which contains a lot of nice stills from the film!
Posted on September 24, 2005 at 20:31 | Permalink | Trackback (0) | Comments (12) | Tweet |
---
Hana Koala and Koarapper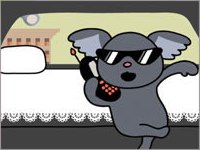 I kind of like the Hana Koala characters with a phone for a nose in the car insurance company Sompo24's commercials.
Check out the latest here, which features the baddish Koarapper riding at the back of a black car, who is quickly conviced of renewing his insurance.
Posted on September 24, 2005 at 00:56 | Permalink | Trackback (0) | Comments (2) | Tweet |
---
September 18, 2005
Yotsuya Kaidan
Yesterday we went to the Japan Foundation Forum in Akasaka to see the film Misumi Kenji's "Yotsuya Kaidan" part of their series "The Best of Japanese Horror" being shown with English subtitles this weekend. English subs were definitely useful to understand this one fully, as I think the old Japanese isn't even all easy for natives.
Yotsuya Kaidan tells about a unhappy married couple of which the husband Tamiya is tricked into adultery by his bad friends. Things turn bad when the rich father of the beautiful girl who desperately wants to marry Tamiya order for his wife Oiwa to be poisoned. She'll come back and take revenge.
The 1958 color film was captivating and much scarier than I expected for the era. In fact you can see that recent horror classics like "Ring" have definitely been influenced by such films and tales from back then. Frequent Japanese horror elements such as hair and a well are also present.
After seeing the movie, we decided to walk to Shinjuku. As we passed through Yotsuya, we went to two shrines that memorize the Yotsuya Kaidan tale. While Tamiya and Oiwa really existed in Yotsuya, the tale is all fake and was originally written for kabuki. The Tamiya Shrine is said to be the real one owned by the Tamiya family, and flyers are available there which tell the true story of the fictive horror tale (flyer here at the bottom). Just across the street is another impressive shrine which contains a well said to be related to Oiwa-sama's, but that shrine is fake and was built post-war, and isn't related to the Tamiya family. My pictures are of this later one.
Thanks to Jean for pointing out the event, otherwise I'd surely have missed it.
Posted on September 18, 2005 at 12:33 | Permalink | Trackback (0) | Comments (0) | Tweet |
---
September 17, 2005
Kamen Rider Super 1
A few random stills from Kamen Rider Super 1.
Posted on September 17, 2005 at 12:30 | Permalink | Trackback (0) | Comments (1) | Tweet |
---
TV tuner card
Lately our TV has been in rather bad shape, first turning itself off and back on intermittently, then the screen going blank for a while every now and then. Since a few days the screen remains blank no matter what...
We'll be waiting a little bit before getting a new TV, but the incident prompted me to get a cheap TV tuner card for my PC, as I had been wanting to get one. I picked up one of the cheapest I found, the V-Stream TV7133PVR, just below ¥5000, and so far so good! The provided software is full of features, and the package also contains a remote control. The last TV tuner I had was before coming to Japan, about 5 years ago, and it's fun to see how these evolved since.
I may be posting some occasional stills from TV. Here are Tamo-san and Fukawa Ryō, two of my favorite TV personalities, from tonight's Tamori Club.
Posted on September 17, 2005 at 01:11 | Permalink | Trackback (0) | Comments (0) | Tweet |
---
September 16, 2005
This DVD will be auto-destroyed in 48 hours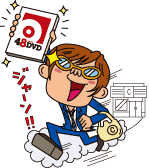 Starting tomorrow there's something new on conbini shelves, and it's called 48DVD. These DVDs of recent films cost only ¥600, but the catch is that they are only usable for 48 hours after opening the seal!
The technology behind the à la James Bond auto-destruction is a special coating on the disc which reacts to air contact and darkens the surface progressively until it's unreadable by the player's laser.
Once unusable, the DVD can be put in a provided envelope and dumped in a mailbox to send it to appropriate recycling where it will become a helmet or a pen.
Posted on September 16, 2005 at 14:03 | Permalink | Trackback (0) | Comments (10) | Tweet |
---
September 15, 2005
Henachoco and Matsuken
In my record bag yesterday...
Great new album produced by Plus-tech Squeeze Box' Hayashibe Tomonori, and also featuring Moriyama Shinsaku from Petset on one song. My favorite tracks so far are "Love+Piece+Icecream!" (spelt "piece" in the artwork, though she does spell out "p-e-a-c-e" in the song), "Hello" and "koi wa kyurukyuru".
Henachoco always reminds me a bit of Mizumori Ado, and this album contributes to this with child-friendly tracks like "yasai Soup no uta", which seems to be for encouraging kids to eat their vegetables.
Also very cute artwork, all drawn by Yuppa herself. By buying it at Tower Records Shinjuku I got a bonus DVD of a nice video for "Hello"!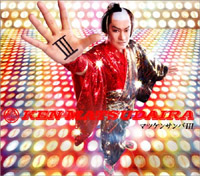 Matsudaira Ken "Matsuken Samba III"
This new song isn't bad. It has all similar elements from the previous one, "Matsuken Samba II", and will surely become as much of a hit. I have to say that "Matsuken Samba II" is still so stuck in my mind, with all the crazy promotion it got here, that it's kind of hard to get used to a new song from him. Includes a Konishi-san remix!
Posted on September 15, 2005 at 00:58 | Permalink | Trackback (0) | Comments (2) | Tweet |
---
September 8, 2005
Famicom games
Last Saturday I picked up some cheap Famicom games at a flea market to play on my AdFami.
キョンシーズ2 (Kyonshis 2)
Lately I've remembered the Chinese zombies that had made it a tiny bit into my childhood, those zombies that jump around with their arms extended until some spell-like piece of paper is stuck to their forehead.
I remember seeing a movie of these, but mostly playing a NES game called "Phantom Fighter", which was literally non-stop fighting with these guys, and as your level went up you gained powerful punch, kick, jump (etc.) skills enabling you to fight stronger ones... That game was so much fun!
In Japan these Chinese zombies are referred to as "kyonshi", and they were so popular for a while that there was a so-called "kyonshi boom" around the mid-80's.
So I picked up this "Kyonshis 2" thinking it may be the same game or a follow-up, but it's rather some kind of RPG with quite boring fight scenes. Later I searched on the net and found out that the game I want is called 霊幻道士. There's also a series of Chinese films of the same name, in English titled "Mr. Vampire". I need to see some kyonshi movies soon!
It seems like the kyonshi boom may be doing a bit of a come back this November, as the 2004 film "Shaolin vs Evil Dead" (in Japanese, no surprise... 「少林キョンシー」 (Shaolin kyonshi)) will be showing at Cine Saison in Shibuya. I think I'll make a memo of checking that out!
高橋名人の冒険島Ⅱ (Takahashi Meijin no bōken-jima 2, aka Hudson's Adventure Island 2)
On the U.S. side, we knew about this series as "Adventure Island", but in Japan there was a whole legend behind it. Takahashi Meijin (a nickname meaning "master Takahashi") was probably the most famous game player in Japan, and he was a hero for the Famicom kids. His most popular asset was that he could hit a button up to 16 times per second! Actually he claims he could really do over 17 hits/sec, but being a geek he settled for the binary-friendly number 16.
I had played the first of this series as a kid but I don't think I played this one or others (there's up to #4), so I picked it up. #2 seems to be very similar to #1 except maybe for the islands organized into a map.
Battletoads
Last, an all-time favorite: Battletoads. This is a cool action game where you smack all kinds of creatures as you go through levels both vertical (going down a rope) and horizontal (on foot or in a fast jumping rocket/car). Pretty cool graphics and music, and also some of the fastest scrolling and action I remember from that time.
I played this one so much a long time ago that I still remember about everything of the levels I've went through so far, making it quite easy. :)
Posted on September 8, 2005 at 23:55 | Permalink | Trackback (0) | Comments (7) | Tweet |
---
September 1, 2005
Billiken in Shibuya!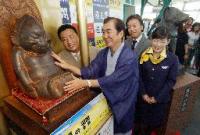 Part of a cultural exchange between Osaka and Tokyo, Billiken, the precious statue kept at Osaka's landmark tower Tsūtenkaku will make its way to Tokyo by shinkansen in a VIP Green Train.
The cultural exchange aims to teach Tokyoites that Osaka isn't just takoyaki and Tigers.
In exchange for Osaka sending us their god of good luck, Tokyo has sent them... Hachikō. Seemingly, Hachikō is more important to Shibuya than Billiken is to Tsūtenkaku, because we've only sent them a replica! Haッ!!
Both can be seen on the picture, on which of course no one seems to care for Hachikō.
Billiken can be seen at the main Tōkyū department store in Shibuya from September 22 until October 4 part of the Osaka fair.
Being a fan of the hilarious 1996 movie "Billiken" (3rd on this page), and never having been to Osaka yet, I will not miss that!
ビリケンさん東京へ 「ハチ公」と交換で調印式 (Yahoo News 9/1)
ビリケン 初の東京遠征 グリーン車で今秋、イベント参加 (Yahoo News 7/28)
Posted on September 1, 2005 at 23:45 | Permalink | Trackback (1) | Comments (2) | Tweet |
---