Blog - December 2004 Archives
December 2004 Archives
Index


.31 More snow



.29 Y neige!


.28 New DVDs and vinyl


.27 Santa went to town


.26 Koolhaus of Jazz


.25 Christmas feast


.24 Microwave 101


.24 Animals don't care


.24 Medley de Noël



.22 Small town


.22 American Web usability


.19 Chocolate in Shirokanedai



.14 Kengisyu Kamui's Samurai Night



.14 hige no mibōjin on stage


.10 DJ event at Caramill (updated)


.08 3½ years later...


.07 In The Bag


.05 Japanese Language Proficiency Test


.01 New diff feature in portal


.01 Kumazasa Jamboree

---
December 31, 2004
More snow
Yesterday most snow disappeared, but today it snowed again... a lot! I took this panoramic picture from our porch around 2pm.

Click the thumbnail for a large 1926x480 version (211K). Thumbnail hosted at Flickr.
However, later it changed to rain so the streets are now covered with slush, making it a pain to walk around. Nevertheless tonight we're off to our annual visit to the shrine after having eaten soba at a local restaurant.
良いお年を! (Japanese way of wishing a happy new year early.)
Posted on December 31, 2004 at 19:18 | Permalink | Trackback (0) | Comments (3) | Tweet |
---
December 29, 2004
Y neige!
Today it's snowing in Tokyo for the first time this year, enough for it to stay a bit, though it will probably be gone soon.
I went and took these pictures during lunch time.

Click the thumbnails for larger images. These pictures hosted at Flickr.
Posted on December 29, 2004 at 13:31 | Permalink | Trackback (0) | Comments (0) | Tweet |
---
December 28, 2004
New DVDs and vinyl
Yesterday I got quite a lot of good new music! Enough that it deserves an entry! (Well maybe it always does but I'm often just too lazy...)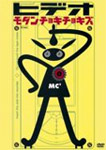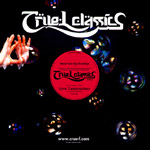 First, in the mail arrived two music DVDs from Amazon, Denki Groove "2004 Summer" ("nisenyonsama-", the title is a parody of Yon-sama who wasn't just a bit too present this year) and Modern Choki Chokies "Hideo", and also a 12" for Love Tambourines' "Never Can Say Goodbye" (an old cover of Jackson 5, including a brand new remix by Spikewave) I bought on Yahoo! Auctions.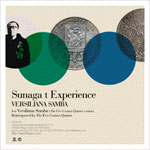 On my way back from work I did a detour to Shibuya hoping to find Sunaga t̀ Experience "Versiliana Samba" and Tei Towa "Different Nu Nu Pt.2". No luck with Tei Towa which was sold out everywhere I went, but I could grab Sunaga-san's new single easily at HMV.
I also picked up two old Stereolab 7"'s at Zest, "Ping Pong" (pink vinyl edition, this is the first Stereolab song I knew, I had got it in the first CMJ Music Magazine I bought) and "Iron Man".
I haven't yet watched/listened to all of that, but Sunaga-san's new song and the remix by The Four Corners Quintet are great, and so is the Love Tambourines remix (which I had been trying to get for a little while).
I've also watched the first concert on the Denki Groove DVD and it was quite a blast especially to watch Pierre Taki riding around the stage on a Segway and later jumping around with Dr. Nakamats' Pyon-pyon and Flying Shoes. However I kind of miss Takkyū singing a lot like on their early videos "Minotaur" and "Kentaur".
Posted on December 28, 2004 at 17:11 | Permalink | Trackback (0) | Comments (0) | Tweet |
---
December 27, 2004
Santa went to town
Now that the festivities have settled down for a few days, it's time for a sum-up of the unexpected gifts and surprises Santa brought me this year!
Bitman Video Bulb
This is a small tube-shaped device made by Maywa Denki that you plug in the video input of your TV, and it instantly displays random Bitman animations on the screen. Unlike the portable Bitman which only dances and runs, Bitman also enters/exits doors, walks up/down stairs, uses elevators, etc.!
Much more fun than I could have imagined!
Product review in Japanese with pictures

Groovisions Brockmann Light Volume 02 Wild Animals
I got the lion (my zodiac sign)! :)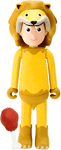 Geisha chocolates
Last week I received two large boxes from my dear friend Larry in Sweden.
They didn't last the weekend. :)
Conbini stuff
Yūko gave me some toys from the conbini (always a winner):
Tōfu Oyako Choco (chocolate + chain, I got "Fake Tōfu"),
Gya-toruzu genshiteki Collection (I got Gon),
and Gachapin Challenge (I got Hang Glider).
Koolhaus of Jazz
I won a pair of tickets to Kikuchi Naruyoshi's Christmas event, Koolhaus of Jazz, featuring Kahimi Karie, DJ Krush and more!
Thanks to RealTokyo (and Jean)!!
... and also more chocolate and cake from all sides, and money from my parents (always nice!).
I think that's about it!
Posted on December 27, 2004 at 13:36 | Permalink | Trackback (0) | Comments (4) | Tweet |
---
December 26, 2004
Koolhaus of Jazz
I was very lucky this week, I won a pair of tickets from RealTokyo to see Koolhaus of Jazz, an event headlined by Kikuchi Naruyoshi Quintet Live Dub feat. Kahimi Karie.
This time there were three other live shows though, each lasting about an hour. We were there for about 5 hours (from 18:00 until 23:00) so we ended up quite tired of standing.
Sigh Boat
This was the first show of the band fronted by Uchida Yayako (my girlfriend explained me who she is by saying she's the wife of Hanamaru Market's Yakkun's 80's boy idol band Shibugakitai ("sushi kui ne~!")'s Motoki Masahiro... whew!). They did a nice performance of original jazzy vocal songs.
Their first album, self-titled, will be out next spring on EastWorks.
Not the name of someone but of a Japanese jazz ensemble featuring two drummers, two violonists, two trombonists, bassist and percussionist. The result is a very energetic big band with a big place to improvisation. The coolest to me was the two drummers often playing in "duet" making beats that just sounded too unreal to be played live. Also the violonists were fantastic and sometimes played solos with distortion and wah-wah, making their instrument sound just like a guitar.
Their music is hard to describe, but it made me think of many other artists, for instance some trombone/marimba-led grooves reminding me of Stereolab.
Apparently, Kikuchi Naruyoshi used to play saxophone in the band.
DJ Krush + Naito Tadayuki & PMX (VJs)
Although he's very famous I had never really heard DJ Krush before. Seeing him live was pretty cool though. His music sounded to me
like hip hop-ish beats with sort of Middle-East chants and music samples, with some scratching. His sound reminded me of Banco de Gaia and Ninja Tune.
Kikuchi Naruyoshi Quintet Live Dub feat. Kahimi Karie
The show was right about the same as I saw at Dégustation à Jazz about two months ago, except that this time "The Christmas Song" was added to the encore and sung in duet by Kahimi and Kikuchi-san.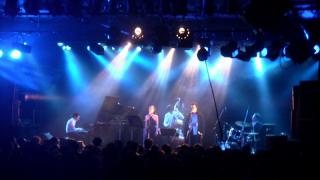 Big thanks go to my friend Jean for pointing out RealTokyo's contest, otherwise I may have missed it, and of course to the great RealTokyo for the tickets!
Posted on December 26, 2004 at 13:21 | Permalink | Trackback (0) | Comments (0) | Tweet |
---
December 25, 2004
Christmas feast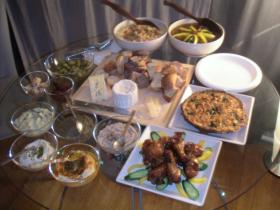 Last night we had a great Christmas dinner. We received Yūko and our quasi-neighbor friend Tsugumi.
On the menu was couscous, quiche, chicken, bread with cheese and various spreads (pork, chicken lever, avocado, yogurt and eggplant, chickpea), and, for dessert, chocolate and black forest cake! Mmm.
Merry Christmas!
Update (2005/1/2 13:47)
Our BGM was: "Happy Birthday, Jesus! 2003.Dec." (a CD-R of songs selected by friends solange et delphine), "the eight-bit christmas" (made in 2001 by Super Madrigal Brothers' Oliver Cobol, a favorite every year since), Criola "Happy Days of Happy Sun", out of tune generation "Winter Lounge".
Posted on December 25, 2004 at 12:48 | Permalink | Trackback (0) | Comments (2) | Tweet |
---
December 24, 2004
Microwave 101
Today some guy at work was heating his lunch in the microwave, and it took on fire!... not the oven itself (which still seems ok after years of abuse), but his chicken.
Lesson 1: Do not put aluminum foil in the microwave. :)
Posted on December 24, 2004 at 14:48 | Permalink | Trackback (0) | Comments (3) | Tweet |
---
Animals don't care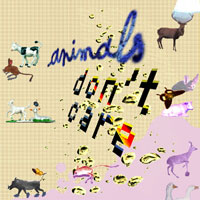 It's Christmas already, and Digiki brings us a whole CD worth of remixes of his own songs from his album "Kitchen". The title is "Animals don't care".
Included is (I expect) a few seconds of a Glad En Mono remix, part of track 6, "Terrorists".
The album also contains remixes by pals Marxy, Pandatone, The Mittens Brigade, and many more!
The free MP3 download is available only for one week from now until January 7, so if you want it (and you know you do), get it now!
Posted on December 24, 2004 at 13:39 | Permalink | Trackback (0) | Comments (0) | Tweet |
---
Medley de Noël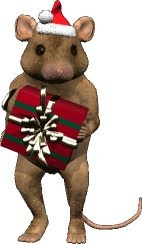 Christmas is upon us, and instead of a card or written wishes, this year I have recorded a short medley of Glad happy beats and Christmas melodies.
Disclaimer: This recording was done 99% live in a few takes and shows how [badly] I can perform Christmas tunes off the top of my head.
Noël est déjà tout près! Au lieu de faire une carte ou un poème, cette année j'ai choisi d'enregistrer un petit pot-pourri de rhythmes joyeux Glad et mélodies de Noël.
Avis: Cet enregistrement 99% live a été fait en quelques prises et démontre mon [in]aptitude à jouer des chansons de Noël sans aucune pratique.
まもなくクリスマスですね!今年はカードなどを作らずに、Gladのハッピーなビートとクリスマスのメロディを合わせてメドレーを作ってみました。
注意: 練習をせずにライヴ録音したので、間違いが入っています。
Glad En Mono (TYO½) "Medley de Noël 2004"
MP3 Stereo 3m00s 44KHz 128Kbps
Stream (listen right now)
Download (keep a copy to play all day and every year)
では、メリークリスマス!
Je vous souhaîte un Joyeux Noël à vous et tous vos proches!!
I wish you and your close ones a Merry Christmas!!
Image taken at Free Tubes.
Posted on December 24, 2004 at 00:00 | Permalink | Trackback (0) | Comments (4) | Tweet |
---
December 22, 2004
Small town
Tonight I dropped by some shops in Shibuya, hoping to place reservations for the upcoming Tei Towa and Sunaga t̀ Experience singles, but it seems like I'm too late... It's now left to luck but it may all be sold out already.
While at Zest Records, after looking through stuff a bit, I passed in the middle alley and looked towards the turntables, and Konishi Yasuharu was there sampling stuff! :) I think it was the first time I came across him outside of his events.
Then, 5 minutes later, on my way back towards the station, OK Fred's Audrey noticed me at an intersection! :)
Although it's such a large city, there are these moments when it almost feels like a small town.
Posted on December 22, 2004 at 21:54 | Permalink | Trackback (0) | Comments (3) | Tweet |
---
American Web usability
Being quite concerned about Web usability, I find it a bit amusing to get a bad review part of the introduction of an article about International Web usability.
"Many websites fail to realize that a site is not usable if it is merely translated into another language, without any thought given to the user experience. An example of these types of errors are seen in the translated Tokyo Recohan Website. In this site, the item price is displayed in Japanese yen rather the dollar and the dates are displayed differently than a US audience is accustomed to." (emphasis added)
Now at first these may sure sound like valid points, except for the assumption that the Web site is [merely?] translated.
However, I scratch my head wondering how "international" is a Web site with US dates, a confusing format used pretty much only in the US (I use the format recommended for the Web, ISO 8601, which happens to be same as Japan's). This comment sure sounds very US-centric to me.
As for prices in Japanese yen, sure it may be a much less popular currency than the US dollar, but the user is buying Japanese goods from Japan, and maybe comparing with other Japanese sites with prices in Japanese yen. An order's USD total is also one click away in the shopping cart (other conversions a second click away). Giving the user the choice would surely be better, but USD only... certainly not.
I'm of course not saying that the site has perfect usability — it has many flaws (even breaking some of Web usability guru Jakob Nielsen's "Top Ten Mistakes in Web Design") — but I feel like things have been taken out of context in this review and put into an "International = American" situation.
This isn't the case of the whole article though, which does state many good points about true international issues on the Web. It must however be taken with a grain of salt.
I do find it funny that they chose this site rather than a larger one (I could name many) that's truly only merely translated and presents the same usability flaws if not more.
Posted on December 22, 2004 at 10:45 | Permalink | Trackback (0) | Comments (13) | Tweet |
---
December 19, 2004
Chocolate in Shirokanedai
Today we went to Shirokanedai for the first time, with the intent of checking out some recently opened chocolate shop. Our walk took us to three shops selling sweet stuff.
We don't often spend much on chocolates and such, most of the time going for conbini goods or down-priced stuff at okashi no machi oka, but today we did an exception...
1st stop: Doughnut Plant
Our first stop was Doughnut Plant, a donut shop from New York. They make rather huge donuts (4.7" in diameter), sold ¥280 each, a rather high price when compared to Mister Donut's ¥90-150 (the biggest donuts chain around here). However their donuts were really fresh and tasty, quite worth their price (also considering their size).
2nd stop: Oriol Balaguer
Recently opened shop with a very cool design, this chocolate maker from Spain has won many prizes for his creations. The chocolates are of course delicious, but damn expensive at about ¥1500 for a box of 4. Ouch.
They have some interesting products such as wasabi chocolates and golf ball-shaped ones (at first sight I thought they were real golf balls).
3rd stop: Chocolatier Erica
Our last stop was Erica, a Japanese shop, where we picked up some more chocolates mostly for Christmas gifts, this time reasonably priced.
Posted on December 19, 2004 at 23:59 | Permalink | Trackback (0) | Comments (2) | Tweet |
---
December 14, 2004
Kengisyu Kamui's Samurai Night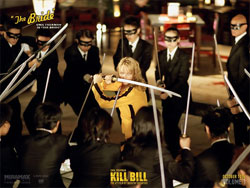 Last night we went to Shinjuku Loft to see Kengisyu Kamui's Samurai Night, an event starring Kengisyu Kamui, sword fighters who appeared in Kill Bill (as the Crazy 88's). (Pictures from Kill Bill sets.)
The event's MC was Yamada Hirono, a funny guy who wears an old-style brown suit and beret, famous for doing live narration over short films he directs. After seeing a few of his films that he presented there, I think I may be tempted to grab one of his DVDs next time I drop by Tacoche (a weird bookshop) in Nakano Broadway.
After a few films and an introduction by Hirono-kun, wadaiko player Miki Hiroki came on stage and played his unique, impressively large taiko drum set, on which he would accompany Kengisyu Kamui's performance throughout the evening.
The samurai fighters appeared on stage to Kill Bill's music, dressed up in black suits as in the movie and fighting with long swords.
They were soon be interrupted by the freaky 溺れたエビの検死報告書 ("The Autopsy Report of Drowned Shrimp"), a group of percussionists led by an electric-cellist controlling loops and effects with a bunch of pedals. Most impressive was their weird costume with a large shrimp mask and their wacky dancing.
It felt like we were assisting some mutant shrimps' secret sect's musical mass. Their sound ranged from funky Primus-like slappy bass grooves to slow horror-ish themes. A very odd show I wouldn't mind seeing again. (Do check out the photos on their Web site.)
Kamui then reappared several times through the evening in more traditional clothes, simulating fights most of the time using wooden sticks as swords. Their performance always seemed perfectly choreographed.
After some more of Hirono-kun's films, this time featuring Kamui and accompanied by Miki Hiroki's drumming, came up 漁港 (gyokō, who I had recently seen at Komaba Rock Festival) who played a set of their funny fish-themed songs. I could see better this time than the previous time, and the long-haired guy's silly dancing during one of the songs was quite worth it. As before, their show ended by cutting some fresh sashimi and giving it to the audience.
When we thought it was all over, Kamui came back on stage for another 20 minutes of performance. This time one of the guys was dressed up as a girl, with wig and lipstick.
All in all this was a fun evening full of very Japanese-style stuff.
Posted on December 14, 2004 at 16:21 | Permalink | Trackback (0) | Comments (2) | Tweet |
---
hige no mibōjin on stage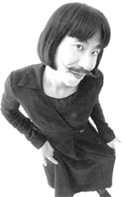 On Sunday night, I went to see ヒゲの未亡人 (hige no mibōjin, aka La veuve moustachue (the moustached widow)) at Aoi Heya.
I had been a fan of the Kishino You-ichi and Gary Ashiya unit since hearing their fantastic cover of Pizzicato Five's "The World is Spinning at 45rpm" on the tribute album (as Kishino You-ichi) and then their first mini-album 「ヒゲの未亡人の休日」 (2002/5, subtitled "Les vacances de la veuve moustachue"), but it was the first time I saw them live.
The concept is some sort of improvised one-man live musical, of which the story line is thought-up and acted spontaneously by Kishino You-ichi as the widow with an impressive moustache. She sings humourous songs about her lonely life, and strings the songs together with on-the-spot thought-up tales.
Gary Ashiya, who's mainly a soundtrack composer, listens to the widow's tales and plays piano accordingly. Apparently the only preparation needed for the show is the decision of the songs' order.
The show is definitely a must see, and I will surely go again to hear more tales and songs from the strange widow. :)
"hige no mibōjin on stage" is presented every month on the same day as the month's number (this time was 12/12) at Aoi Heya. January is off.
Picture taken from Kishino You-ichi's Web site.
Posted on December 14, 2004 at 14:08 | Permalink | Trackback (1) | Comments (0) | Tweet |
---
December 10, 2004
DJ event at Caramill (updated)
This Saturday there's a DJ event at Caramill (a nice zakka shop and café in Kichijōji), organized by Wonder Mall (which recently renewed its Web site). Anyone can bring in their records and mix for a while.
The last party in August was a lot of fun, so I'm thinking of going this time too. If you happen to be in the area, come have a drink!
Christmas DJ party at Caramill
2-13-4 Kichijōji-minamichō B01, Musashino-shi, Tokyo (map)
Tel/fax: 0422-76-5495
Saturday 12/11, approx. from 17:00 until 23:00
Free entrance, drinks ¥500
Bonus directions: JR Kichijōji north exit, walk down the street at the right of the Book-Off for a few minutes, Caramill's sign will be on your right (just a bit past Ballroom Records on the left).
Update (2004/12/12 00:40):
The event was fun! This time we were a total of 4 DJs so I only played a little bit. Here's some of what I played...
- Pops All Stars "Yellow Christmas"
- Pops All Stars "Holiday Company"
- Pizzicato Five "Strawberry Sleighride"
- Saint Etienne "Sylvie (Faze Action Friday Night Boiler Mix)"
- Grand Popo Football Club "Each finger has an attitude (TelePopo Mix by Telepopmusik)"
- Arling & Cameron "Here we go!"
- Crue-l Grand Orchestra "Time & Days (Harvey Re-master Mix)"
- Halfby "No Connection B-JR (DJ 440's Top Billin' mix)"
- Les 5-4-3-2-1 "Bus stop sur le trottoir"
- Chromeo "Me & My Man (Fynn Remix?)"
Posted on December 10, 2004 at 20:55 | Permalink | Trackback (0) | Comments (2) | Tweet |
---
December 8, 2004
3½ years later...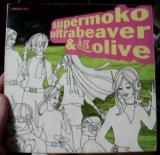 I think it was at Pizzicato Five's last live, on March 31, 2001 at Shibuya On Air East... Orangers were playing a DJ set, and this empty 7" jacket flew over the crowd and into my hand.
At the time I didn't know about Orange Records, so it ended there.
Today, when doing a search for Orange Records, I ended up at this page at Techno Pop Academy which says that there was a single featuring Yagura Kuniaki (Modern Choki Chokies' leader) and Yoshida Tetsuto (Orangers, programmer for Konishi Yasuharu, etc.) released, under the name "supermoko ultrabeaver & chō-olive".
Then a search of "supermoko" brought up... "that jacket!!"
So, over 3 years and a half later, I ended up wanting the record that matches that cool jacket. :)
Posted on December 8, 2004 at 23:45 | Permalink | Trackback (0) | Comments (6) | Tweet |
---
December 7, 2004
In The Bag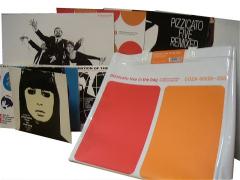 Yesterday I finally got an important item that was still missing from my Pizzicato Five collection, "In The Bag" (2000).
I was lucky to find it for ¥5000 (half its retail price) on Yahoo! Auctions, in very good condition. Since I've been in Japan I had come across it a few times, but it was usually over-priced. I'm now glad to have my own!
The vinyl bag contains 4x12"'s, 2x7"'s, stickers, and a booklet. The records contain rare analog cuts and exclusive remixes.
Posted on December 7, 2004 at 23:12 | Permalink | Trackback (0) | Comments (8) | Tweet |
---
December 5, 2004
Japanese Language Proficiency Test
Today I went to take the Japanese Language Proficiency Test level 2. It was my first time passing the test, at any level.
I can't quite tell whether it went well or not until I get my scores in mid-February.
There are three parts to the test: writing/vocabulary, listening, and reading.
I think I did ok in writing (which doesn't involve actually writing but just picking the correct answer, since the whole test is choice-based) and expect maybe between 60-70% (alright, that's not so good but it's above the pass mark), and I think I did quite well in the listening part, perhaps around 80-90%.
However, I had quite a bit of trouble in the reading part. The test began with long texts and I spent a while on these, and at the end I didn't have time to do about 10 questions so I picked randomly. Overall, the reading test was also pretty hard and I didn't have much confidence with a lot of questions, so this one is left to 運 (un, "luck"). I wouldn't expect scoring more than 40-50%.
So, adding up my estimates, I'll be either just above the pass mark (60%), or below... I'll know in 3 months.
Although it would surely be a waste of my money and time if I wasn't to pass, it's not like if the test was decisive for a job or something, I took it mostly for testing my skills (or the lack of) for myself, so I'm not overly worried.
Anyway, I surely feel like I still have a lot to go through in my learning of Japanese.
At least I'm glad this is over with. :)
Posted on December 5, 2004 at 19:45 | Permalink | Trackback (2) | Comments (12) | Tweet |
---
December 1, 2004
New diff feature in portal
I've added a new feature to my portal.
The portal is based on a module I call "monitor", which watches for updates of sites linked from it. There's a RSS feed available indicating the latest updated pages. RSS
Now since I'm probably about the only one using that RSS feed, I'm sure everyone is lost already. Anyway...
So, from now on, the RSS feed also provides a "Diff" link which displays a merged view of the new and previous versions' source, highlighting changes, therefore making it easy to see what has changed since last time (at least to those who can make something out of HTML).
Posted on December 1, 2004 at 15:51 | Permalink | Trackback (0) | Comments (4) | Tweet |
---
Kumazasa Jamboree
December already! Luckily for me it's still fall in Tokyo. :)
Since yesterday, there's a new net radio show MC'd by ex-Modern Choki Chokies' Isoda Osamu and Hasebe Novko, who are also a married couple.
Hear their hilarious ramblings in Ōsaka-ben, new original BGM, brand new songs, etc.
The show, Kumazasa Jamboree, will be up every friday [late] night on Yoshimura Tomoki's Daily Mimikaki variety site, and should also feature special guests.
Already a favorite of mine. :)
---
Update: mimi33.com is dead, but lately the show can be heard at 2219.jp.
Posted on December 1, 2004 at 08:39 | Permalink | Trackback (0) | Comments (1) | Tweet |
---