Blog - December 2005 Archives
December 2005 Archives
Index

.30 Escalator days


.28 Felissimo.fr


.25 Merry Christmas! / Joyeux Noël!



.23 Girls Punk Party report


.23 Mamido Burger revisited




.21 Kagurazaka rooftop


.19 Sushi manners


.16 Sin City Bar



.07 ic uc wc



.03 Christmas tree


.03 Chanter La Revue

---
December 30, 2005
Escalator days
Yesterday I met up with friend Alan in visit from the U.S., we first had made plans to go to Escalator Shop so we met in Harajuku at 7pm. However I had just heard that Cubismo Grafico, Miniflex and TGMX would be appearing at Apple Store Ginza from 7pm, talking about how they used Garage Band for recording the "Garage Land" album. Knowing Alan is a big Escalator fan I couldn't resist telling him even though it was a sort of sad news as we were already missing the show at that moment. He seemed very excited, and him being the guest I gave him the option to head to Ginza and try to catch even if just a few minutes, though promising nothing,... and that became the new plan.
So we hurried to Apple Store Ginza (not without a bit of trouble, as I'm not as a regular visitor as some others!) and got there at about 7:50, the show was scheduled to end at 8:00 and as we walked in the event floor Matsuda "Chabe" Gakuji (Cubismo Grafico) was already saying his thanks and closing the event... All of the large presentation room were filled with fans, so we stood at the back. They then proceeded to hand out flyers and stickers to everyone, so at least we got to see Chabe and the gang up close, the reward for the crazy race!
I was a bit surprised and happy that Chabe greeted me with 「久しぶり!」 ("long time no see!"), probably remembering me from when we saw Cornelius together years ago with common friend Jesper! Now I can rest assured that he'll recognize me from now on. :)
One of the reasons I was heading to Escalator Shop this week was to pick up the new Caede single "Maple Soap" out on Christmas day. I had reserved my copy last week as there are only 500 numbered copies, and the Web site said that the shop was planning to only stock 10 copies (at first they planned to stock none at all) aside from reservations. Today being the last day the shop was open before the New Year holiday, I rushed back to Harajuku after work to pick up the CD, and also to get a recent remix 12" single of Chromeo's "Needy Girl", with remixes by Paper Faces and Bloc Party.
At the counter I was served by label boss Naka Masashi himself, who somehow recognized me as a frequent visitor! He asked me to please come to their monthly party at Web (next is January 21st, featuring himself and Chabe), and gave me a limited edition Stikfas toy with the Escalator logo on it! I'll definitely try to catch the event, which I've been wanting to check out for a while, especially if my friend Jens gets back into town in time.
The Caede single is great, and features a very cool, softer alternate version of title song "Maple Soap". An album is to follow next year, and also new albums by Cubismo Grafico and Harvard, ... Yes, I love Escalator!
Posted on December 30, 2005 at 00:01 | Permalink | Trackback (0) | Comments (10) | Tweet |
---
December 28, 2005
Felissimo.fr
Lately I placed a first order at Felissimo, a catalog-shopping-style mail order service.
What makes it special is that it offers random color and design variations from a series that you choose. Ordering an item is at the same time a subscription to getting another item of the same series every month (it's guaranteed that you never get the exact same thing), though you can cancel at anytime. It didn't seem like a bad idea not to have to choose my clothes further than a general style idea, and prices also being relatively low (though the stuff is made in China) and designs attractive, I decided to give it a go.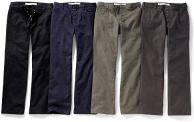 So a week or two ago I placed an order for "simple office style pants" for the good price of only ¥3900 (including taxes and shipping) from their .fr store, which offers clothes designed by Maurizio Galante and other designers.
Yesterday arrived a bigger-than-expected box containing the pants, and also about a dozen catalogs of the same company (which made for most of the box' weight).
The pants are themselves nice, slightly of a different style than I had in mind from the pictures seen on the site. I actually like that it's of a color that I probably wouldn't have picked myself, making possible new wardrobe matches. The only thing is that the size is a slight bit bigger than what I usually wear, not so much that it's too big for me to wear though. Maybe I would have given a smaller size a try, but shipping fees for returns are to be paid by the client, so it may not have been at my advantage especially if the smaller size was to be too tight.
Mainly for that reason, I unfortunately cancelled the subscription and I'll probably stick to buying my pants in shops for the time being. Too bad.
Oh and by the way, there are a few pictures of Kahimi Karie posing in the no.10 collection!
Posted on December 28, 2005 at 00:09 | Permalink | Trackback (0) | Comments (0) | Tweet |
---
December 25, 2005
Merry Christmas! / Joyeux Noël!
Since I'm not much into making cards or write wishes, this year too I made a quick recording to celebrate Christmas!
This is a bit last minute, but hopefully you can enjoy it while it's still time.
Glad en Mono (TYO½) "Noël blanc 2005"
MP3 Stereo 2m34s 44KHz 128Kbps
Stream (listen right now)
Download (keep a copy to play all day and every year)
Merry Christmas!!!
Credits
"White Christmas" melody by Irving Berlin.
The beat and bass line were sampled from New Castle's "Jazz Rock No.5" available on "New Castle no e.p", music by Kayama Kentarō, performed by New Castle.
Need more?
- Last year's "Medley de Noël"
- Glad en Mono
- New Castle "New Castle no e.p"
Posted on December 25, 2005 at 14:25 | Permalink | Trackback (0) | Comments (2) | Tweet |
---
December 23, 2005
Girls Punk Party report
Last Saturday I went to Marquee Night vol.7, of which the theme was "Girls Punk Party", focusing on art-punk girl bands. The excellent line-up made up for a great show that was fun from beginning to end! The regular party was held as usual at Shibuya Quattro, a smallish-medium (just the right size) venue that I like.
nisennenmondai / にせんねんもんだい
We arrived as nisennenmondai (the name translates to "Y2K bug") had just started playing. I hadn't heard them before though I think I remember seeing their name in Enban listings. The three girls (on guitar, bass and drums) played a fun and loud set.
Next, Kiiiiiii came on stage and gave one hell of a performance, even better than what I remembered from the Komaba Rock Festival last year. After almost forgetting to sing "We Are The World", they left without ever noticing the audience watching them, as goes their unique concept. I love their 7" EP, get yours while it's still time!
Metalchicks
And the name fits! The metal unit of Buffalo Daughter's Sugar Yoshinaga and ex-DMBQ's Yoshimura Yuka kicks ass! Over a subtle 505 backtrack, Sugar plays very heavy guitar while Yuka rams at her double-pedal. Yuka's drumming was much more interesting than the usual metal drumming, mixing in wacky breakbeats. Her powerful playing did incur occasional trouble as her double-pedal wouldn't stay hooked to the bass drum.
I'm ashamed to say so, but ages ago I used to listen to some metal, so this performance did strike a bonus nostalgic chord with me.
Closing the show, Buffalo Daughter took the stage and played a good variety of songs, starting with "I" and including "Psychic A-Go-Go", (I think) a cover of ESG's "Erase You", and also a long "303" jam. They also played a new song, of which the chorus went something like "I'm sometimes your lover", it will be included on their upcoming album to be released next April. The event's theme being "Girls Punk Party", Mooog Yamamoto seemed to feel a bit out of place. Ohno Yumiko played her MiniMoog and sometimes the bass, I always enjoy watching someone who can get the most out of a monophonic synth. I was also quite impressed to see how Sugar can perform so well in such different styles, earlier playing heavy metal and later some bossa nova and funky riffs.
This was the second time I saw Buffalo Daughter, the first time having been at Shibuya AX (a large venue) when the album "I" was released, and this time I enjoyed seeing them play in a smaller place. I was only a bit disappointed that they didn't play my favorite song "Mirror Ball", which they had played as an encore when I first saw them. The stage even had a nice mirror ball at the back, and it would have been just perfect. Oh well!
Posted on December 23, 2005 at 13:38 | Permalink | Trackback (2) | Comments (8) | Tweet |
---
Mamido Burger revisited
After my recent post about Mamido Burger, portal site The Foreigner - Japan asked me to write a bit more on the topic.
So here's my first (?) so-called article: "A burger for dessert?"
Posted on December 23, 2005 at 12:45 | Permalink | Trackback (0) | Comments (0) | Tweet |
---
December 21, 2005
Kagurazaka rooftop
Last Saturday we went to Kagurazaka and dropped by Kodama Gallery which held an exhibition of works by Higashi Arika.
There was access to the rooftop so I took the opportunity to take these few pictures.

Larger images (960x1280): 1 2 3 4
Higashi Arika's exhibition, titled "skin", goes on until December 24.
Kodama Gallery
Minato dai-3 bldg. 4F, 3-7 Nishi-gokenchō, Shinjuku-ku, Tokyo
東京都西五軒町3-7 ミナト第三ビル4F
(But don't even try going without a map!)
Posted on December 21, 2005 at 00:26 | Permalink | Trackback (0) | Comments (2) | Tweet |
---
December 19, 2005
Sushi manners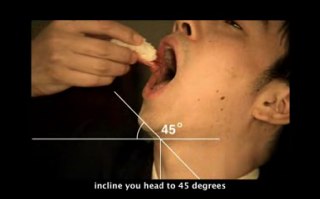 Everything you've always wanted to know about eating in a Japanese sushi shop, but were too afraid to ask.
Right here.
In this 8 minute documentary by Choi Style Productions.
Perfect with English subtitles.
Posted on December 19, 2005 at 21:58 | Permalink | Trackback (0) | Comments (10) | Tweet |
---
December 16, 2005
Sin City Bar
Sin City Bar in Aoyama, produced by Nomiya Maki! Aside from drinks and finger foods, there's also an Italian restaurant and daily sexy shows at 22:00, 24:00 and 26:00.
Unfortunately I didn't check out the inside this time.
Sin City Bar
Kita-Aoyama 3-5-12 B1F, Minato-ku, Tokyo (in place of Orbient/Lounge-O)
Posted on December 16, 2005 at 00:22 | Permalink | Trackback (0) | Comments (4) | Tweet |
---
December 7, 2005
ic uc wc
Tonight we went to NTT ICC to see ic uc wc: raster-noton + ryuichi sakamoto live (日本語). A few weeks ago, we applied for invitations for the show, and received those a few days ago. The invitation gave priority to see the show in ICC's small concert hall (450 people capacity) for the cheap price of ¥1000!
The show featured four artists from the German raster-noton label, namely alva noto (Carsten Nicolai), byetone (olaf bender), kangding ray and nibo, together with Sakamoto Ryuichi. Each of them sat at an individual small table, facing the audience, which held their laptop and a small mixer. On the wall behind was projected spectrum analyzer-like display of the final mix.
The music was, as expected, sort of experimental improvised clicks and cuts. I'm not particularly fond of the style, but I don't dislike it, and I sure don't mind seeing it performed live once in a while. This was definitely a good show, and the visuals being simple made it feel suitable to just close your eyes and pay full attention to the music's details.
It was also the first time I saw Sakamoto Ryuichi up close (well, about 10 meters), and I was very happy about that!
Posted on December 7, 2005 at 00:40 | Permalink | Trackback (0) | Comments (3) | Tweet |
---
December 3, 2005
Christmas tree
Already December! Christmas decorations have been popping up everywhere the last few days, and today we found this huge Christmas tree in Shinjuku NS building.
Now I'm about to set up our own Christmas lights. :)
Posted on December 3, 2005 at 19:29 | Permalink | Trackback (0) | Comments (4) | Tweet |
---
Chanter La Revue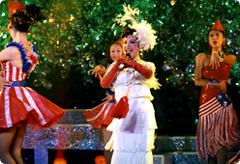 Last Saturday night we spent a beautiful evening at Shinjuku Theatre Molière watching troupe Mirai Gekijō's 14th annual "Chanter La Revue". Held in the small 186-seat smoky venue, the fun and sexy music and dance show features about 15 beautiful girls, led by Mizumori Ado. Ado-chan, made herself famous decades ago with a TV show on which she drew on a transparent acrylic board with both hands while singing.
The 1h45m show featured about 25 songs, from jazz standards to Miami Sound Machine's "Conga" and several versions of "We Will Rock You". For each song there was a different set theme and costumes. Throughout the show, dancers maintained some sort of continuity by regularly shouting a sweet "ya!" at random, and in one particularly funny scene where dancers wore cat outfits, this metamorphosed to "nya-!" (onomatopoeia for a cat's meow).
Ado-chan appeared for about 5 songs which she sung, her vocals ranging from her characteristic high-pitched voice to surprisingly low tones. Despite being over 65 year old, she was very energetic, and of course funny and entertaining.
That was a great evening!
The show goes on until this Sunday December 4, so it may still be possible to catch it.
(Photo from Mirai Gekijō's Web site.)
Posted on December 3, 2005 at 01:35 | Permalink | Trackback (0) | Comments (2) | Tweet |
---