Blog - October 2013 Archives
October 2013 Archives
Index
.27 Weekly revue: 2013 week #43 (October 19 to 25)
.19 Weekly revue: 2013 week #42 (October 12 to 18)
.12 Weekly revue: 2013 week #41 (October 5 to 11)
.05 Weekly revue: 2013 week #40 (September 28 to October 4)

---
October 27, 2013
Weekly revue: 2013 week #43 (October 19 to 25)

I spent all of last week in Hawaii! It was our first time there, and we had a great time. We were in Kailua for 4 nights and then in Waikiki for 3 nights. That included the wedding of a couple of friends (the main reason we went there).

I should be posting more about the trip in the coming days or weeks. Meanwhile here's just a quick update of the regular themes.

Music release news: Horie Hirohisa

Playlist: YMCK, Aira Mitsuki, Perfume, CAPSULE, hitomitoi, nakayoshi group, (((sssurrounddd)))
This week's videos:
Kyary Pamyu Pamyu "Mottai-Nightland"
CAPSULE "CONTROL" (short ver.)
blue marble "mimei☆sensō"
Posted on October 27, 2013 at 21:35 | Permalink | Trackback (0) | Comments (0) | Tweet |
---
October 19, 2013
Weekly revue: 2013 week #42 (October 12 to 18)

Food: - Paris s'éveille, Jiyūgaoka
- Train-themed curry restaurant Niagara, Yūtenji. This unique restaurant is full of train memorabilia which the "stationmaster" has been collecting for some 50 years. An electric train delivers curry plates to the tables. All passengers are given an original ticket.
- Tandoori rabbit at Tapir, Ōkubo

Music event: On Saturday October 12, I went to YMCK's "Family Days" release party at Daikanyama Loop! This year YMCK celebrate their 10th anniversary! This made me remember that I've been a huge fan since their quite early days, I first saw them live in 2004 and was blown away by their performance. Still today their shows always touch me and make me very happy.

This was their first ever "one-man" show and it was sold out. They played all songs from their new album, and so many of their older best tracks including ones from first album "Family Music" (2004) that I hadn't heard live in so long, such as "John Coltrane ..." and "Tetrominon". I was also very happy to hear one of my favorites, "Rain", which they movingly chained into "Raindrops falling on my head"..! The show also featured twin rappers P.O.P ORCHeSTRA who appear on one song of "Family Days". The show ended with "Magical 8bit Tour" (another great early track) and YMCK's theme, "Yellow, Magenta, Cyan and Black".

Exhibition: Went to Jiyūgaoka for a solo exhibition by graffiti artist ROUSOKU (aka Z¥S). The ROUSOKU moniker is used for calligraphy-style candle-shaped designs which are placed on various materials and situations. There was a workshop where you could use 5 original stamps to decorate a tote bag, which I did.
New music: I took advantage of my Canadian iTunes account to get the new CAPSULE album a week earlier than the Japanese release (it's available early worldwide, though Japan will get a bonus track). The concept was already intriguing enough, with the "CAPS LOCK" title and computer keyboard-inspired tracklist, and also the logo that went all CAPS. But the album itself is also a huge step in a very different direction. Less techno, more experimental, less vocals too. Opinions will vary, but to me this sounds very refreshing and I'm enjoying it!
Music release news: Vanilla Beans, Luvraw & Costa De Palma
Playlist: YMCK, Dorian, Perfume, CAPSULE, Towa Tei, ...
This week's video: Vanilla Beans "Please Me Darling"
World Order "Welcome to TOKYO"
Posted on October 19, 2013 at 02:01 | Permalink | Trackback (0) | Comments (0) | Tweet |
---
October 12, 2013
Weekly revue: 2013 week #41 (October 5 to 11)

Food: - Thai curry lunch at Puan, Nishi-Ogikubo
- Curry at Sharidesu, Nakano
- Mocha soft ice cream at Mikado Coffee, Tokyū Honten, Shibuya

Also did a bunch of random fun shopping in Nishi-Ogikubo! Passed by a small shop, Loupe, etc.

Music event: I went to Izumi Ookawara (Qypthone)'s "Salon de Musique vol.1" event at Saravah. It will apparently be a series, and this first show had sets by P.O.P ORCHeSTRA (cool twin rappers backed by a full band, this time accompanied by brass too! (clip)), Saigenji (a unique singer-guitarist, I love his solo guitar & scat style (live clip)), to close with Izumi's own great show (backed by Qypthone's Ishigaki Kentarō on guitar, a woodbass and drums). DJ was Masaru Takahashi.

Music release news: ya-to-i

Playlist: The Aprils, Les 5-4-3-2-1, Hair, capsule, etc.
This week's video: ya-to-i "tonaeru yo"
Posted on October 12, 2013 at 02:52 | Permalink | Trackback (0) | Comments (0) | Tweet |
---
October 5, 2013
Weekly revue: 2013 week #40 (September 28 to October 4)

Food: - Brasserie Gus, Kagurazaka
- Cheeses from Alpage, Kagurazaka
- Halloween cat ice cream at Baskin Robbins
- And lots of great food at home parties!

Music event: I went to Aira Mitsuki's last show, on September 29, at least the last before her announced hiatus. Aira was accompanied by her 4 dancers, and on stage were also her small Korg keyboard, her red SHS-10 strap-on keyboard, and a drum set.

The show was really great, filled with some 28 of her best songs (including most of her latest album "I'll Be Back"), some in shorter versions so that more could fit into the show. Towards the end of the show there was an awkward moment when she was telling her feelings to the crowd, and her mom (!) interrupted from the back, making everything really weird. The reason why she quit remains a mystery. Anyway I feel quite sad about her retiring, as I've followed her since quite early in her career and always enjoyed her music and shows.

Set list: I can fly / Mysteric / High Bash / make new world / twinkle twinkle / time machine / Knee High Girl / Colorful Tokyo Sounds No.9 / China Discotica / BARBiE BARBiE / Darling Wondering Staring / you know / I still love you / Butterfly / BAD trip (feat. Terukado) / Plastic Doll / HiGH SD Sneaker / Wonder touch / tell me / 321 / Robot Honey / Fantasy Candy / Train Train / Heat My Love / ??? / Summeeeeeeeer set
Encore #1: Yellow Super Car
Encore #2: Robot Honey (remix)

- Also dropped by event "Marché" at Organ b. with P5ML friend Don and his girlfriend. It was DJ Takahashi Masaru's event's 3rd anniversary, and also the last time with Sumire before she moves to Kyoto. Masaru played a back-to-back set with Hase Yasuhiro (Yume to Cosme).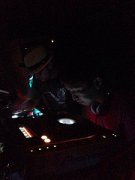 Playlist: "dakishimetai!", Negicco, Pizzicato Five, Kero Kero Bonito, Mark Robinson, Perfume, Takako Minekawa & Dustin Wong
This week's video: YMCK "sasetsu shite usetsu shite"
Posted on October 5, 2013 at 00:15 | Permalink | Trackback (0) | Comments (0) | Tweet |
---