Blog - June 2004 Archives
June 2004 Archives
Index

.28 Kimsnake & Company


.28 Maximum Joy closing!


.27 Swimming Mania


.18 iPod Celebrity playlists


.17 Dessert Company


.16 Swing Girls


.14 이박사


.13 Shimotsuma monogatari


.11 New agenda blog!


.10 J-Rock Wikipedia



.06 Mambonsai



.06 Machida risu en



.04 Petit Kanji bookmarklets


.03 Car crash from above


.02 Today's treat: Tarepanda gumi

---
June 28, 2004
Kimsnake & Company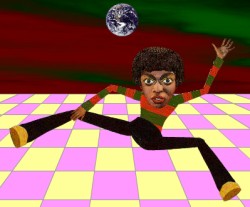 Some funky Flash music clips at Kimsnake & Company, a virtual talent agency.
I recommend checking out Mami, Funky Black Bros. and masa (the 2nd one).
Also some cool wallpapers in the bottom right corner.
This site actually presents the characters from a new TV show on BS Fuji called 無意味良品 (muimi ryōhin or "meaningless stuff", the name is a parody of Muji-ryōhin), which apparently presents useless products. It seems like it will regularly feature ex-Modern Choki Chokies members Hasebe Novko and her husband Isoda Osamu.
I'd love to check out the show but sadly our TV doesn't support the BS channels.
The show is on every Sunday at 21:00 (and it seems to replay on Thursday at 13:00 and Saturday at 16:00).
Posted on June 28, 2004 at 23:34 | Permalink | Trackback (0) | Comments (0) | Tweet |
---
Maximum Joy closing!

Maximum Joy, a Shibuya record shop that had an important name in the Shibuya-kei scene, will be closing on July 4th!
Until then everything is 50% off.
There will be a closing party featuring Cornelius, Kahimi Karie with Kanda Tomoki, Kaji Hideki, Naka Masashi, and more. It's already sold out though so I can't go.
I'll try to make it one last time before the end.
Update 2004/7/3 14:12
I went to check it out last night and there was still a lot of good stuff.
I got the limited edition Cornelius book "Cornelius no wakusei kengaku" (Amazon), some Readymade International vinyls I was missing, and a Blast Off Country Style (Teenbeat) 10".
Posted on June 28, 2004 at 22:32 | Permalink | Trackback (0) | Comments (4) | Tweet |
---
June 27, 2004
Swimming Mania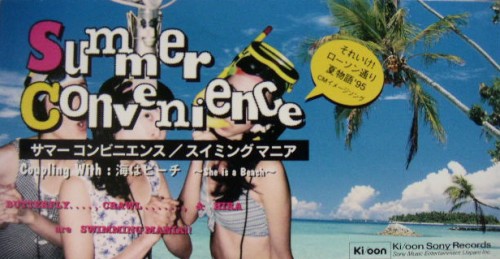 Today I received this single by Swimming Mania, called "Summer Convenience" (Ki/oon KSD2-1106), which I found on an auction site.
Swimming Mania is strange spin-off of Modern Choki Chokies. The single's liners and artwork make it all look quite anonymous, with only obstructed pictures of the three singers nicknamed Butterfly, Crawl, and Hira (Japanese for "breast stroke").
The back cover has this especially funny picture of the three singers in front of a mixing console.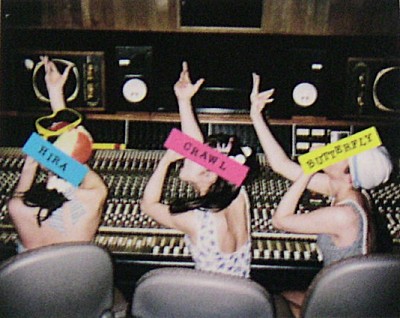 I had found out about this single by reading that it features Hamada Mari (lead singer of Modern Choki Chokies), and searching the net I found out that another one is Okamura Midori aka Mint Lee, a TV commercial music composer and Manual of Errors artist (she was in a band called Space Ponch with Kishino You-ichi. The third one remains unknown... I wonder if it could be another Modern Choki Chokies member.
The two songs included are very good, "Summer Convenience" was a TV commercial song for Lawson (convenience store) in summer 1995, and "umi wa BEACH -She is a Beach-" is same as one of my favorite Modern Choki Chokies' songs, "hebi was SNAKE -Heavy is Snake-", only with new beach/sea-themed lyrics.
I must now be getting pretty close to completing my collection of Hamada Mari's musical works. I know I'm still missing her "Pajama Tripper" single (1999).
Posted on June 27, 2004 at 01:25 | Permalink | Trackback (0) | Comments (0) | Tweet |
---
June 18, 2004
iPod Celebrity playlists
Apple has been publishing celebrity playlists lately in Japan, in promotion of the iPod and iTunes, and some interesting artists have been featured:
- Towa Tei "On-The-Go Nagano-Tokyo 2004 June" (listening to YMO individually)
- Sunahara Yoshinori "Ch2 Silent Music" (Aphex Twin, Fila Brazilia, Kraftwerk)
- Supercar "短期休暇を過ごす時・・・初夏" (tanki kyūka o sugosu toki... shoka "passing time during a short holiday... early summer")
- Takagi Kan "From Traktor Playlist" (Beastie Boys, 808 state!)
- Ōsawa Shinichi "My party shuffle"
Posted on June 18, 2004 at 14:56 | Permalink | Comments (1) | Tweet |
---
June 17, 2004
Dessert Company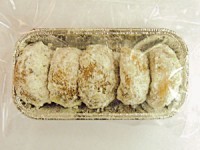 Dessert Company, the dessert shop owned by Museum of Plate's Tsukamoto Saiko, just had a site redesign recently!
I really want to drop by sometime and try either their peanut cookies or banana cake. Their speciality is however Chinese-style desserts.
The price is nice too, cookies and cakes are ¥250-280, and puddings are ¥350!
Dessert Company
6-9-6 Jingūmae, Shibuya-ku (maps)
Update 2004/6/25 18:08
Well Gregg has made it there and it seems like he enjoyed it! Now I definitely have to go very soon! :)
Posted on June 17, 2004 at 08:43 | Permalink | Trackback (1) | Comments (0) | Tweet |
---
June 16, 2004
Swing Girls
YAGUCHI Shinobu, director of the hit movie "Water Boys", has a new film coming out in September called "Swing Girls", and it seems pretty good!
This one is about high-school girls forming a big band in their rural town.
Starts playing on September 11.
Posted on June 16, 2004 at 13:33 | Permalink | Trackback (0) | Comments (0) | Tweet |
---
June 14, 2004
이박사
Just learnt a whole lot more about E-Pak-Sa at Fancy Mag!
Seems like they really went all the way to research info about this great Korean artist.
Jowajowajowa!
Posted on June 14, 2004 at 15:30 | Permalink | Trackback (0) | Comments (2) | Tweet |
---
June 13, 2004
Shimotsuma monogatari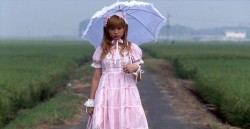 Today we went to see 下妻物語 (Shimotsuma monogatari or "Shimotsuma Story", Shimotsuma being a small town in Ibaraki prefecture), the new comedy starring Fukada Kyōko.
The movie is about Momoko (Fukada Kyōko), a 17-year-old living in Shimotsuma and who loves I0Ilta clothing, who becomes friends with Ichigo, a tough girl part of a group of modified-scooter-riding yankee girls called the Pony Tails.
The whole film is quite hilarious, mocking stereotypes of Ibaraki and country-side such as yankees (rednecks), yakuza getting rich selling fake brand items (Versach for instance), everyone wearing cheap clothes from Jusco, the large fields, and a bit of the pronounced accents. Very entertaining!
As we were waiting in line to see the movie, we saw some girls dressed up in I0Ilta clothes coming out of the previous screening, probably heading to their weekly Harajuku outing...
Update 6/14 16:52
The film will play abroad under the title "Kamikaze girls"(!?). (Google)
Posted on June 13, 2004 at 20:12 | Permalink | Trackback (0) | Comments (0) | Tweet |
---
June 11, 2004
New agenda blog!
I've started a brand new blog where I plan to occasionally announce upcoming music releases, club or live shows, movies, and other types of events that interest me in Tokyo.
I've been wanting to do this for a while, however I didn't want to clutter this main blog with announcements, since I prefer for it to remain some sort of diary.
More at the agenda...!
(also accessible by clicking "agenda" on the menu at the left)
Posted on June 11, 2004 at 15:47 | Permalink | Trackback (0) | Comments (2) | Tweet |
---
June 10, 2004
J-Rock Wikipedia

My friend Ted Mills started a few days ago a wiki (aka WikiWikiWeb) in English called J-Rock Wikipedia, which attempts to collect as much information as possible about past and current Japanese rock and pop (though not limiting itself to any genre) artists, labels and trends.
Over just a few days it has already grown a lot, and I can see it becoming a major reference over the next months!
A wiki isn't written by one person but by all its users. Anyone can edit pages and add new ones. So if you've got any facts to share about any Japanese artist, it's now your chance to write them down in everyone's encyclopedia of the topic!
Posted on June 10, 2004 at 11:25 | Permalink | Trackback (0) | Comments (1) | Tweet |
---
June 6, 2004
Mambonsai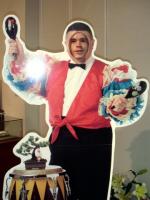 Today we went to check out Paradise Yamamoto's World of Mambonsai Exhibition at the Logos Gallery in Shibuya Parco Part 1.
Exhibited are a few dozen of full-size bonsai works by Paradise, most presented on congas, along with a lot of smaller works. All works are not only bonsai trees but also have tiny figures of people or other living creatures (animals, aliens, and even Ultraman) around them, making them a lot more fun to check out even for those who don't know much about the bonsai art.
Paradise is also there in person most of the time to answer people's questions and sign autographs! Although I had already met him and got his autograph before I couldn't resist to get another one, this time on a postcard of his "takoyaki nanbo mambo" bonsai (featuring a takoyaki stand with clients wearing kimono).
Pictures weren't allowed so I don't have anything to show, except for this picture of me in his mambo outfit. :)
The event goes on until Wednesday June 9th.
Posted on June 6, 2004 at 21:11 | Permalink | Trackback (0) | Comments (2) | Tweet |
---
Machida risu en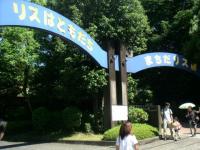 Today we went to 町田リス園 (Machida risu en, or "Machida Squirrel Garden" as a handwritten sign said). I had first learnt about that place sometime last year I think, when I was waiting for service at the post office and there was a video playing about some unknown attractions in Tokyo.
I was a bit curious about that place since then, and today we ended up making a small trip to Machida (a city in the south of the western part of Tokyo) to check it out.
The place was quite small and divided into two main areas, one with animals in cages or inside of fences, and the other which is an open garden space with supposedly hundred of squirrels living in piles of logs and small wooden houses.
The garden area was of course what seemed to be the most fun, however it seems like we didn't pick the best time to go there, because the squirrels were already full from being fed by visitors and therefore most were taking a nap where we couldn't see them. I was able to see maybe about a dozen running around.
The area with cages had squirrels from a few places in the world, and also rabbits, prairie dogs, marmots and turtles. You could buy food to feed most of the animals, but some cages, notably ones holding really fat prairie dogs, had signs saying they're on a diet so to not feed them. :)
So here are some pictures...
Prairie dogs, a fat one not letting anyone near the food, and a desperate one trying to escape by eating the cage



Turtle keeping all of that pumpkin to itself, European red squirrels, marmots




Last but not least, this big turtle was walking around with a message on its back saying not to touch it.



Click the thumbnails to view larger images.

Posted on June 6, 2004 at 01:28 | Permalink | Trackback (0) | Comments (0) | Tweet |
---
June 4, 2004
Petit Kanji bookmarklets
Some of you may already be familiar with my experimental site Petit Kanji which displays Pizzicato Five lyrics with ruby (hiragana annotation over kanji) and includes integrated English/Japanese and kanji dictionaries. Clicking on any kanji in the lyrics brings up the kanji look-up window.
Anyway, in the case you like the dictionary window and would like to use it when viewing other Web sites, it's now possible because I added bookmarklets! This makes it easy to look up Japanese kanji or Japanese and English words quickly anywhere on the Web.
Installation and usage instructions are on Petit Kanji's bookmarklets page.
Currently tested/supported browsers are Windows IE 5+, Mozilla 1.6+/Netscape 7.1+ and Mozilla Firebird.
* Opera also works but the positioning of the window is no good if you're using Opera's useful tabbed mode.
** Sorry, no support for Mac IE or Safari yet. :( Mac IE can't encode a string to Unicode URL entities, and on Safari I couldn't get the bookmarklets to work at all (perhaps because of security settings? I didn't investigate further yet).
Have fun!
The included dictionaries are EDICT and KANJIDIC, free dictionary data available at the Nihongo FTP Archive.
All dictionary data is copyright ©2004 James William Breen.
Posted on June 4, 2004 at 10:43 | Permalink | Trackback (0) | Comments (3) | Tweet |
---
June 3, 2004
Car crash from above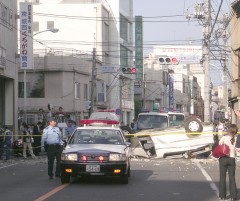 Today, pretty close to where I live, a car fell from a rooftop!
That roof is used as a parking, and apparently the driver went forward, through the fence, and down 3 stories!
Though no one died, it seems like the driver broke his arm, and a 11-year-old kid passing-by on a bicycle was hit severely on the head.
- Yomiuri on-line article
- Some pictures posted by someone (including the one shown here)
Posted on June 3, 2004 at 21:23 | Permalink | Trackback (0) | Comments (5) | Tweet |
---
June 2, 2004
Today's treat: Tarepanda gumi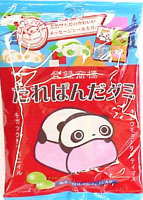 Every few days I buy some snack at the conbini in order to survive the afternoon. I usually go for chocolate, but today I got Tarepanda gumi. Tarepanda is a popular San-X character.
In general I'm not so fond of gummy candies (though I don't dislike them once in a while), but today I gave in because I like Tarepanda. :)
I was pleasantly surprised that these aren't as chewy and jelly-like as teddy bear gummies or such, and also they have a delicious taste of muskat!
The only disappointment is that the candies don't have any particular shape. I was expecting them to be shaped like the character. Oh well.
One bag (¥100) contains about 12-15 individually-wrapped gummies, and also includes a sheet of 4 tiny Tarepanda stickers.
Posted on June 2, 2004 at 18:03 | Permalink | Trackback (0) | Comments (3) | Tweet |
---