Blog - October 2004 Archives
October 2004 Archives
Index


.31 Evening in Asagaya


.29 Fishing in Shinjuku


.28 ↑↑↓↓←→←→BABA


.27 Earthquakes


.24 Bangkok index



.24 BKK #15: Soi Music Festival


.18 Google on your desktop


.17 Funny evening at Loft Plus One



.17 Plastics Sex live at Shibuya Eggman



.14 BBS: The Documentary


.10 A day in Ginza


.09 Typhoon 22号



.06 BKK #14: Food


.01 Sayonara CCCD!



.01 BKK #13: Suan Lum Night Bazaar

---
October 31, 2004
Evening in Asagaya
Yesterday we went to Asagaya to check out the Asagaya Jazz Streets. However it had been raining all day, so there wasn't as much jazz action as we had hoped for. The main attraction was a stage near the south exit of Asagaya station, but we weren't too much into what was playing when we passed, so we moved on.
One fun attraction was a human juke box, actually some guy with a trumpet in a large box. You could insert ¥200 and pick a song from the list and he would open a small window and play it right away. This was attracting quite a crowd.
Next we went to have coffee at Gion, a small and cozy kissaten where one of the tables' seats are actually swings suspended to the ceiling! We didn't get to try them though because other people were sitting there when we arrived. (Moblog picture)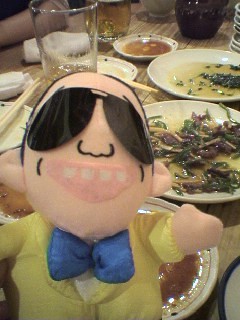 We then had dinner at Taiwanese restaurant Kōya with Tsugumi (PINE*am, Kofta) and Fukuta Takeshi (8-bits). Tamo-san even did an impromptu visit (the ¥30 doll, not the real Tamo-san).
We ate a variety of gyōza (cooked/boiled/steamed with prawns), stir fried beef with green pepper, and other stuff, all very delicious!
(Picture by Tsugumi.)
Posted on October 31, 2004 at 11:00 | Permalink | Trackback (0) | Comments (2) | Tweet |
---
October 29, 2004
Fishing in Shinjuku
This weekend our friend Edwige from Québec is going back home after a few years living not far from our place, so last night we met her for a last time.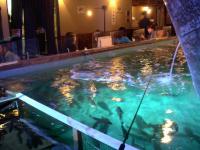 Since she had mentioned that she likes fishing, we took her to 釣り舟茶屋ざうお (Tsuribunechaya Zauo), a concept izakaya from Kyūshū of which the Tokyo location is at Washington Hotel in Shinjuku.
The izakaya contains a large boat (-shaped structure, to be exact) in a pool with a lot of fish, and you can even fish your own fish! Fishing by yourself makes it much cheaper than ordering from the menu.
We first had some side dishes and then we went fishing and waited for a long while with no result. Actually I was close to catching something twice but they escaped.
Being hungry we gave up once and ordered more side dishes, but I was determined to get us a fish so I went back on my own and within minutes we had our meal! I fished a large snapper (鯛) and we had it cut into sashimi.
It surely was very good to eat the result of my own efforts, and it saved me about ¥1200 (¥2814 instead of ¥4000!). :)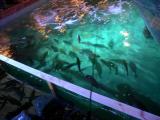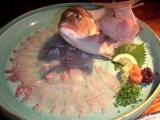 Click thumbnails for larger pictures.
That was a very fun outing and we ended up full for a good price.
Posted on October 29, 2004 at 08:17 | Permalink | Trackback (0) | Comments (0) | Tweet |
---
October 28, 2004
↑↑↓↓←→←→BABA
I have been playing Contra a bit lately, another old favorite Famicom game, and tonight I suddenly remembered the cheat code to get 30 lives!
I probably hadn't used it for about 15 years, but I still knew it, even though my memory isn't so good generally. :)
Up Up Down Down Left Right Left Right B A B A
Posted on October 28, 2004 at 00:08 | Permalink | Trackback (0) | Comments (6) | Tweet |
---
October 27, 2004
Earthquakes
According to this page, there have been 47 earthquakes in the last 5 days, most of them right in Niigata prefecture, some very strong (we just had one of strongest so far, which even felt strong here in Tokyo) and causing terrible damage.
I hope this will stop soon...
Posted on October 27, 2004 at 11:30 | Permalink | Trackback (0) | Comments (4) | Tweet |
---
October 24, 2004
Bangkok index
This is an index of my entries about our trip to Bangkok, Thailand from September 4 to 12, 2004.
#01: The Atlanta
#02: Weekend market and Siam
#03: BTS SkyTrain
#04: Chao Phraya Express Boat
#05: Wat Pho and the Grand Palace
#06: Taxis
#07: Anatomical museum at Siriraj Hospital
#08: H1 Urban Complex
#09: Fruits
#10: Thai massages
#11: The Metropolitan
#12: Dairy Queen
#13: Suan Lum Night Bazaar
#14: Food
#15: Soi Music Festival
Posted on October 24, 2004 at 01:21 | Permalink | Trackback (0) | Comments (2) | Tweet |
---
BKK #15: Soi Music Festival
When we planned our trip to Bangkok, we had no idea about Soi Music Festival. It's our friend Mai who made us realize that we had picked just the right time to be able to be able to see Cornelius, Spank Happy live, and also Thai(-based) artists like Futon, and many more. What a coincidence!
This ended up being one of the most fun parts of our trip.
The festival's live shows were held at the cool theatre House located on RCA, where we had seen the great "Super Size Me" a few days earlier.
The coolest thing is that in Japan it normally costs about ¥6000 to only see Cornelius in Tokyo, but Soi Music Festival in Bangkok was only 501฿ (not even ¥1500) per night, and Cornelius was even playing both nights!
Day 1 - House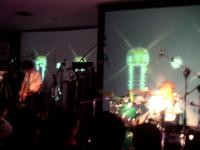 On the first day of Soi Music Festival we went to House and saw some Thai artists followed by Cornelius' great set, accompanied by Araki Yūko (aka Migu).
Cornelius performed a few songs from several of his albums, but the coolest of his show was certainly his live video mixing using images from Thai TV and also clips of the audience being filmed live! The sound from Thai TV remained and was used to make a unique result, but additionally there was a Cornelius beat. This reminded me a bit of Coldcut, although Cornelius' performance was probably using a lot more random clips.
Cornelius' set went as follows (approximately):
- live mixing of video from Thai TV and audience
- Eyes (viewable online at The Big Idea)
- I Hate Hate
- Drop
- Count 5 or 6
- Brand New Season, featuring a theremin solo performed by a random person from the audience (their hand controlled by Cornelius)
- Star Fruit Surf Rider
Day 1 - Met Bar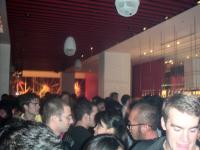 After then, we got back to our hotel, The Metropolitan, and as we had heard some hint that there would be an after-party at the hotel's classy Met Bar. We quickly dumped our stuff in our room and headed there.
Met Bar was really packed, and the live shows hadn't started yet, so we had a few drinks at the bar. Unlike anywhere we had been in Bangkok so far, the drinks were quite expensive, similar to Tokyo prices.
Then, someone tapped my shoulder and asked me to go with him closer to the stage, and... there was Cornelius, and also Migu and friends! The person who had caught my attention was Susukita-san of the defunct Maximum Joy, who remembered seeing me at his shop (and who I didn't recognize right away).
I had the chance to talk a little bit with Cornelius, but being so surprised I could hardly find my words and of course it's only later that I remembered all what I'd have liked to ask him. Nevertheless it was a great pleasure to meet him after all these years of admiration!
They left their spot before the shows started, except for Susukita-san who watched the whole show with a lot of enthusiasm.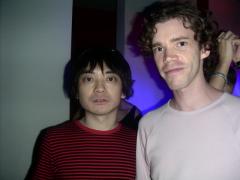 First to play was Futon, a Bangkok-based band with members from Japan and the UK. Futon's very energetic and fun set included a cover of The Stooges' "I Wanna Be Your Dog" (which I coincidentally just saw being performed by Plastics Sex a few days ago) and many original songs, all very fun and sort of 80's sounding with a club feel.
We had the chance to talk a little with Momoko after the show, who we didn't know was Japanese until then.
Next on stage was Spank Happy. I heard that the female singer was supposed to be the new Dominique, but she apparently couldn't make it and was replaced by someone else who had never been on stage. Spank Happy's shows are all lip sync anyway, so it doesn't matter so much.
They played a few songs from their album "Vendôme, la sick kaiseki" (Amazon) such as "Chic", David Bowie's "Fame" and Olivia Newton-John's "Physical", and also several songs I didn't know (either older songs or new ones). Kikuchi-san was controlling the CDJ player, and sometimes did some scratching in order to skip the end of a long-ish track without cutting it abruptly.
That night, to go from that cool club to our room, all we had to do was take the elevator! :)
Day 2 - House
The next day we headed for House again for the 2nd night of Soi Music Festival.
We saw a few Thai bands again, then Futon, Spank Happy once more.
Then was a special unannounced performance of Spank Happy's Kikuchi Naruyoshi on saxophone with Ohno Yumiko, playing improvized jazz.
Last but not least was Cornelius again, doing the same set as the previous night but using different images from Thai TV.
This time our friend Mai who we had met at the beginning of our trip was able to make it, so we were able to say goodbye properly.
Soi Music Festival continues in Tokyo at the end of the month.
This was also our last night in Bangkok, so we went back to the hotel not too late. We packed and slept for a few hours until about 4am, since our plane was at about 7am.
This entry concludes the series about our trip to Bangkok.
Posted on October 24, 2004 at 00:44 | Permalink | Trackback (0) | Comments (8) | Tweet |
---
October 18, 2004
Google on your desktop

Google has finally released its rumored Google Desktop, which indexes your files and is supposed to make it easier to find what you're looking for by using Google's search algorithms on your own stuff.
The interface is pretty much like Google's, and it's a bit of a thrill to see your emails, files and recently visited Web sites (including a cache which lets you see old versions of pages you've seen!) show up when you type in keywords.
The thing also doesn't seem to be a privacy concern. The application runs as a local Web server on port 4664 (get it? "GOOG" in phone keypad alphabet), which can only be seen locally. Your data is all indexed locally and searched through using the local application.
There is an option to send "non-personal usage data and crash reports" to Google but it's off by default.
So far Google Desktop is only available to Windows XP and 2000 SP3 users.
Via tarosite.net
Update (10:53): ... and the searching is damn fast! This is no Windows file search joke.
Posted on October 18, 2004 at 10:09 | Permalink | Trackback (0) | Comments (5) | Tweet |
---
October 17, 2004
Funny evening at Loft Plus One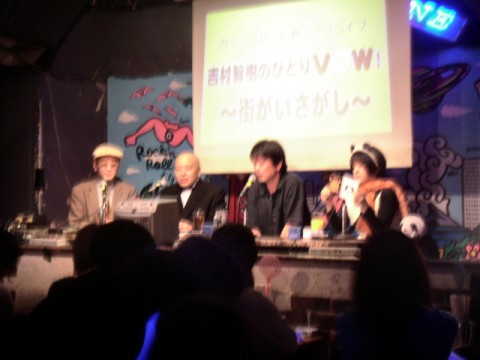 Tonight we went to Loft Plus One in Kabuki-chō to see writer Yoshimura Tomoki's event "hitori VOW! ~machigaisagashi~", featuring ex-Modern Choki Chokies members Hasebe Novko, Isoda Osamu and Philip-kun.
The event was a comedy talk show mostly making fun of silly/stupid shop signs found in Japan. A shop sign was shown on the screen, and the members then discussed what was funny about it.
This all went on for about 3 short and hilarious hours, with just a little break for customers to eat, drink and chat (Loft Plus One is also an izakaya).
If you can read Japanese, have a look at Yoshimura Tomoki's "街がいさがし" blog for some examples.
As for me, I can't say that I got all the jokes, and my girlfriend kindly gave me hints once in a while when I looked like I wasn't getting a good one, but a lot of it was easy and really ridiculous!
Also, Philip-kun, the comic member of Modern Choki Chokies, did a few of his famous monologues that are featured on Moda-choki albums. He even first showed up wearing his original stage outfit! Being a big fan of Moda-choki and loving Philip-kun's comedy sketches, I was truly delighted! :)
Pictured, from left to right: ISODA Osamu, YOSHIMURA Tomoki, Philip-kun and HASEBE Novko (with Bun-tarō).
耳カキから来た皆様、日本語でOKですのでよかったらコメントを書いてください。
Posted on October 17, 2004 at 02:44 | Permalink | Trackback (0) | Comments (6) | Tweet |
---
Plastics Sex live at Shibuya Eggman
Last night I went to Shibuya Eggman to see Plastics Sex, the new unit of Plastics' Nakanishi Toshio (aka Tycoon Tosh) featuring Nomiya Maki (ex-Pizzicato Five), in an event called Night of Neanderthal.
My friend Miwa and I got there around 12:15, but although the event was supposed to start at 12:00 things were being delayed a bit and we had to wait until about 12:45 to get in.
First was Numanoid (aka DJ Tsuyoshi, of Joujouka/Madskippers) who did a fun DJ set. Then was Kujun Band, sort of improvized jazz with drums, guitar, trumpet, saxophone and bass.
I didn't really know what to expect of Plastics Sex, but it turns out that it's a revival band of the Plastics, also featuring Tachibana Hajime, and, while I can't tell for sure cause I'm not so familiar with the Plastics, I'd think that one or two other Plastics guys are also in the band (maybe someone can confirm from the pictures?)!
Female vocals are done by beautiful Nomiya Maki, and there's also a younger guy playing synth.
So, around 3am, all of the band except Maki got on stage. There seemed to be some technical problem with Tosh's guitar, and a white guy with very long hair, who was in the audience the rest of the time, came on stage to do some throat singing (reminding me of the great film Genghis Blues) with the rest of the band playing.
When everything had got back under control, the band played Velvet Underground's "I'm Waiting For My Man". Then Maki got on stage and sang several songs, I think mostly (if not all) Plastics. The songs I could recognize were "Robot" and "Top Secret Man". Then Maki had a little break and came back in a different outfit, holding a large black caniche, to sing The Stooges' "I Wanna Be Your Dog"!
My favorite member of the band has to be Tachibana Hajime (stage right) who looked really cool and funky, his face and glasses reminded me of Towa Tei. I also loved to watch Tosh's jumping and screaming, which made it a really entertaining show.
Plastics Sex should have an album released early 2005, which I'm looking forward to!
Also, Plastics albums "Welcome Plastics" and "Origato Plastico" have just been rereleased last month at the very cheap price of ¥1500.
Posted on October 17, 2004 at 00:20 | Permalink | Trackback (0) | Comments (10) | Tweet |
---
October 14, 2004
BBS: The Documentary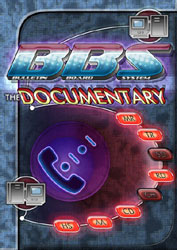 I've been keeping an eye for a few years on the Web site for "BBS: The Documentary", which has been promising a DVD set of interviews with BBS SysOps, protocol inventors, fanatic users, ANSI art groups, etc., more or less 20 years after the big BBS boom in the 80's.
Having been a heavy user for many years back then, and also part-time SysOp/Co-SysOp of small BBS's (my dad was also SysOp of a larger one that ran for several years), I have a lot of nostalgic memories when it comes to BBS's.
Director Jason Scott (blog), the one man team behind this large project, has travelled all across the U.S. to talk with people who marked the history of BBS's.
In his words:
"BBS: The Documentary" is a 7 episode series about all aspects of the history of the dial-up Bulletin Board System, or BBS. 3 years in the making and the result of over 200 interviews, this collection puts in one convenient package a sense of the variety and wide-reaching effects of the BBS phenomenon. All in all, over seven and a half hours of material is included across the three DVDs.
After years of work, finally, the resulting 3-DVD boxed set is today available for pre-order! I've already ordered my copy.
Posted on October 14, 2004 at 11:55 | Permalink | Trackback (1) | Comments (11) | Tweet |
---
October 10, 2004
A day in Ginza
Today we had a fun outing in the Ginza area.
We first went to Tokyo station to eat at Paul, a French bakery where you can get all you can eat bread when having a meal. It doesn't seem to say anywhere that you can get all the bread you want, but when your basket is empty you just have to ask for more! Rather cheap way that guarantees to make you full. :)
The restaurant was quite crowded today though and the service wasn't so good. There were some delays and mistakes, and the probably-American couple next to us seemed particularly unhappy about their experience. Anyway it was still all very good!
Once full, we walked to Ginza and shopped a bit at Muji Yūrakuchō, where they are preparing a model house, as it seems that their next business will be to sell Muji houses. I bought a green cardigan (unusual Muji color).
We then passed by the police museum and stepped in to check out the old bikes and helicopter displayed. The place was really crowded with little kids, who are able to change into police clothing of their size to take pictures. The whole museum is free.
Our lunch having gone down a bit, we went to have cakes and coffee at Hidemi Sugino nearby. We were hoping to have their award-winning chocolate cake but, especially it being weekend, the place was rather crowded and most of the cakes were already sold out. We picked Brésilienne and Tropical cakes (moblog), which were great!
We then walked to Nihonbashi to check out the recently opened department store Coredo. Shops found there include the entertainment/interior/toy shop Garage, where can be found a large variety of fun stuff (Halloween stuff, the world's smallest TV set (1.5"), Meccano, remote-controlled dancing robots (moblog), robotized cats, and much more), Sony Plaza's Serendipity (a small department store in itself), and also many clothing shops and restaurants.
We bought some aromatized Belgian chocolate bars (dark chocolate with pink peppercorn, and milk chocolate with masala).
Finally we walked back to Ginza (moblog), checked out the new Barneys New York (pictures) that just opened a week ago. Very nice, but pricey of course.
After a bit more window-licking we went back home.
Posted on October 10, 2004 at 22:13 | Permalink | Trackback (0) | Comments (1) | Tweet |
---
October 9, 2004
Typhoon 22号
Today, typhoon #22 is hitting Tokyo late afternoon.
Yahoo! Weather says 暴風雨, which translates to "storm", though we've never seen this one show up even in really bad weather, so it will probably be quite strong!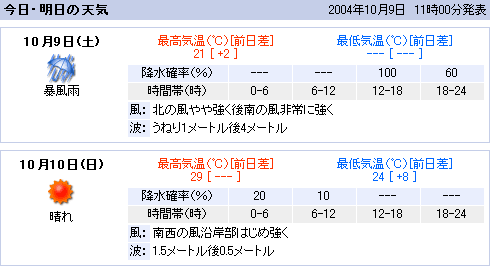 However, après la pluie, le beau temps ("after the rain, the sun shines"), and especially so in typhoon matters, so we should have great weather for the next few days.
Posted on October 9, 2004 at 13:57 | Permalink | Trackback (0) | Comments (1) | Tweet |
---
October 6, 2004
BKK #14: Food
One thing we love about Thailand is the food! Even in Tokyo we regularly eat Thai food. So here are a few of the places we enjoyed in Bangkok (not all Thai food though).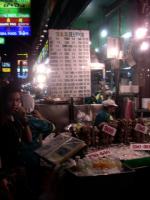 T & K Sea Food (aka Toy & Kid)
49-51 Phadung Dao Road (Chinatown), Tel: (02) 223 4519
T&K is a famous sea food restaurant in Chinatown, not far from Hualompong station. We had crab curry, fried rice, and deep fried shrimps. Cheap, delicious, and friendly staff!
This is a popular, sort of high-class restaurant. We went to the Sukhumvit location near BTS station Nana, a short walk from The Atlanta. We had som tam (papaya salad), green beef curry with roti, pad thai, and sticky rice.
The restaurant looked very nice, and the staff was too, although there seemed to be too many of them (probably more than there were customers at that time).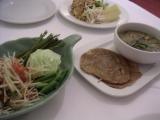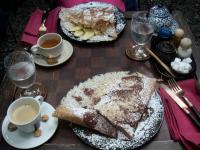 Crêpes & Co.
18/1, Sukhumvit soi 12 (BTS station Asok)
In a sunny mid-afternoon, after having been dumped by a crazy tuk-tuk driver about 4 times farther from our destination than we initially were, we went to have dessert at Crêpes & Co.
We had a chessboard-like table outdoors amongst the trees and vegetation. A friendly waiter brought us a can of Off in case we were to be bothered by the insects (we weren't, though). Although we could hear the conversations of other customers, we couldn't quite see them. This felt like a nice escape from the city, and we were served our delicious crêpes along with coffee and cookies.
Even though this was about as expensive as a whole meal at Anna's Cafe, it sure was worth it! A definite stop!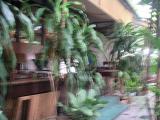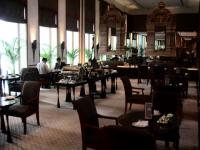 Chocolate buffet at The Sukhothai Hotel
13/3 South Sathorn Road
Located just a few steps from The Metropolitan where we were staying at, The Sukhothai is a large hotel that holds a chocolate buffet every Friday, Saturday and Sunday in its luxurious Salon just by the entrance.
That's right, all you can eat chocolates, cakes, ice cream, and also drinks (coffee, tea, and of course hot chocolate) and even some other food for when you get fed up with all the sweetness. All very delicious!
The chocolate buffet costs about 750฿.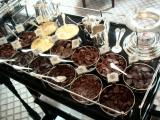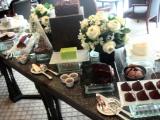 Click the thumbnails for larger images.
Posted on October 6, 2004 at 22:25 | Permalink | Trackback (0) | Comments (4) | Tweet |
---
October 1, 2004
Sayonara CCCD!

It seems like the MP3-loving consumer won the war.
Sony and Avex, the two main large companies releasing copy protected CDs in Japan, have both decided to stop the Red Book tempering. Avex clearly says that it has to do with the popularity of the iPod and similar devices.
Avex' new tactic to keep sales high will be to sell hybrid CD/SuperAudio CD (offering superior audio quality to those with a SACD player), and hybrid DVD audio/video (offering 5.1 audio plus bonus video), in effect from September.
Sony simply goes back to the good old compact disk that we love, fully in effect from November 17.
Hopefully all the others worldwide (not too sure what's happening in other countries) will follow their steps.
From now on may all CDs be rippable for our listening pleasure. Thank you for the music.
Avex press release (Japanese)
Sony press release (Japanese)
Music Liberation Front (Japanese anti-CCCD site where logo was taken)
Posted on October 1, 2004 at 10:30 | Permalink | Trackback (0) | Comments (12) | Tweet |
---
BKK #13: Suan Lum Night Bazaar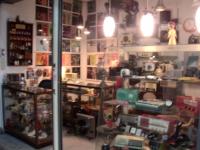 Another market we visited in Bangkok was the Suan Lum Night Bazaar, located close to the Lumpini MRT station. This market was a lot more comprehensive than the Chatuchak weekend market, especially since it's much smaller.
Most of the shops were selling all kinds of souvenirs, T-shirts and stuff, but some really nice shops did stand out! All located in a same corner were a few friendly shops selling antiques, old records, used or original clothing, etc., and all were quite interesting.
So if you go to this market, I strongly recommend that you look through all the alleys even if a lot of the shops seem to be the same old stuff.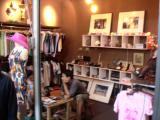 Click the thumbnails for larger images.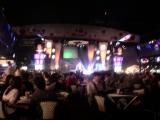 Also, there was some sort of festival going on with live bands and a large food court, all under a large tent just by the market. The food was cheap and good.
What kind of sucks about food courts in Thailand is that at most of them you have to check the price for what you want to buy, then go to a coupon counter and buy coupons, and then go back to the food stand and buy your stuff. Our guess was that maybe they don't want to touch money while preparing food, but still it's so inconvenient.
Unused coupons can be refunded though, so if you're used to the prices you could just buy a bit more than you'll need (most dishes are below 50฿) and then get a refund.
Posted on October 1, 2004 at 00:34 | Permalink | Trackback (0) | Comments (5) | Tweet |
---