Blog - October 2008 Archives
October 2008 Archives
Index

.31 Glad en Mono remixed!





.27 Momiji-ichi



.26 Tokyo from above



.26 arcorhyme live at Grand Cru (vol.7): report



.23 A week in music




.05 Kanazawa day 3



.04 Polymoog live at Apple Store Shibuya: report




.02 Kanazawa day 2

---
October 31, 2008
Glad en Mono remixed!
My very good friend Sam aka Cobalt z Frame has remixed a good old track by my unit Glad en Mono. Short and sweet, "Steel-drum-o-rama" is now ready for the dance floor! (Yes, but what dancefloor?!)
Steel-drum-o-rama (oriental mix)
Remixed by Cobalt z Frame
Stream
Download
The original: 02:47 (Steel-drum-o-rama)
Stream
Download
This and all other Glad en Mono tracks are available for free download.
Posted on October 31, 2008 at 01:04 | Permalink | Trackback (0) | Comments (0) | Tweet |
---
October 27, 2008
Momiji-ichi
On Saturday the weather was nice, we got out a bit early (by our standards) and went to Izumi-Tamagawa where was being held Momiji-ichi over the weekend. Momiji-ichi was a market-like event held in a big park. There with many stands selling food, craft, and also holding workshops. Many hundreds of people were there, even lining up before the opening. The public was mainly women, considering the LOHAS/eco theme, although there were many couples and also parents with young kids.
Upon getting there, we split ways to go line up at different shops. There were so many people that there were lines everywhere. I first lined up at a cheesecake shop called KUR@RI from Wakayama prefecture, which usually only sells online. It took over an hour to get the goods and I was close to losing patience, but eating their cheesecakes and cookies later at home they were delicious.
Meanwhile everyone around me was eating those curled sausages and I just had to get one later at Seijō-Shirota kōbō. Other highlights were some good bread shops such as cimai from Saitama, and this robot factory, a workshop for kids to make their own "robots" out of wood and plastic parts (I didn't join them though). :)
Later there was also music, and we enjoyed a full show by Kotringo, a pianist singer-songwriter who was previously produced by Sakamoto Ryūichi but recently released a self-produced album. She was great, and the atmosphere was just right to enjoy her music. Towards the end of the show everyone flew paper airplanes at the end of the song "hikōki-gumo".
While watching the show we were actually standing in line at a crêpe shop where each crêpe was cooked upon order, and took a good 5 minutes to serve. We barely went forward for maybe an hour and a half. The next show was by Takano Hiroshi who performed solo on guitar, lately better known as being part of pupa (who I saw in August at World Happiness). He performed solo on guitar. After a few songs we called it quits and left with no crêpe.
The event was quite seriously organized and they even released a CD compilation for it. Produced by Itō Gorō (of naomi & goro), it consists of covers and features achordion (who also played on Saturday), Kotringo, naomi & goro, tico moon and others. The title is "tabi to ongaku to," ("travel and music and,")

.
It was a nice refreshing day, except for the endless lines...!
Larger sizes and more photos at Flickr
Posted on October 27, 2008 at 00:26 | Permalink | Trackback (1) | Comments (0) | Tweet |
---
October 26, 2008
Tokyo from above
This week I had opportunities two days in a row to go up!
Two Indian people who were at my workplace for a short period will be returning to their country soon, and they wanted to see Tokyo Tower. So after work on Wednesday we walked down there, it's just about 30 minutes away. We went up to the first observatory at 150m. It was fun, but I always feel that the tower is better appreciated from below. :)
And on Thursday, our company was exhibiting in the press area of the Tokyo International Film Festval, and I got to go at a nice reception held at the 49th floor. Afterwards we went up to Tokyo Sky View which is yet a bit higher on the 52nd. The weather wasn't so good but still I could get some nice shots of Tokyo Tower.
Larger sizes and more photos at Flickr (see November 22 and 23)
Posted on October 26, 2008 at 17:56 | Permalink | Trackback (0) | Comments (1) | Tweet |
---
arcorhyme live at Grand Cru (vol.7): report
On Tuesday I went to arcorhyme's monthly dinner show at Après-midi Grand Cru. My friend Peter in visit from Australia also came along.
Like last month, there was a set by Love of Peace and Hope, the GS cover band of Takanami K-tarō together with The Phantom Gift's Sally Kubota (bass) and Charly Morita (drums). This one went first.
I especially really liked the last song they played, "jiyū ni aruite ai shite (Now the time for love)" by Sawada Kenji's band PYG, on which the three guys sang chorus that sounded really great. Go hear the original at YouTube. I'll have to pick that up on 7" sometime. :)
Then arcorhyme came on stage, and after one song performed just by the two, they were joined by Sally and Charly for the rest of the show! The big highlight was a brand new song called "code name=Lonely Heart", a ballad (if I recall right) on which K-tarō sings leads. I really hope we'll hear it again soon on a new release!
Set list:
Sawada Kenji's reijin / Candies' yasashii akuma / Chiaki Naomi's X+Y=LOVE / Hirota Mieko's kawaii uso / arcorhyme's code name=Lonely Heart / arcorhyme's Charade / arcorhyme's aoi neko
Peter is a big Pizzicato Five fan, he also loves the early Sony releases, and it was his first time he got to see K-tarō. Needless to say he had a great time. :)
The next edition should be on Tuesday, November 18.
Larger sizes and more photos at Flickr
---
arcorhyme "aoi neko"
Sawada Kenji "reijin"
Posted on October 26, 2008 at 17:40 | Permalink | Trackback (0) | Comments (0) | Tweet |
---
October 23, 2008
A week in music
I've been too busy to blog (how sad), but I've been to quite a bit of shows over the last week or so. So here's a summary of my recent outings.
Thursday, October 9 — naomi & goro
I had an excuse to leave work a bit early, and after getting my duties done I went to Ginza station just before 18:30 to catch a free show of naomi & goro. I had seen them in August at World Happiness, on the side stage, and they played some of the same songs to a large crowd packed in "Ginza no Oasis", an event space in the Hibiya line concourse. I liked the contrast of soft bossa nova with the noises from the busy station, people running to catch their train.
One unfortunate thing was that a station staff whose job was to tell people not not stand behind the yellow line. Instead of using some tact and telling those people quietly, he chose to scream at the top of his lungs. He must have got some very cold glances as after a song or two he got a bit calmer, even the band couldn't help but notice him.
Otherwise, a very nice show. :) Sorry for my bad photo.
Friday, October 10 — Sonore 10th Anniversary
I went to my friend Franck's label Sonore's 10th Anniversary held at SuperDeluxe. The event started at 19:30 so it was one of those days where I had to rush from work.
Hosaka Akane was playing first and I arrived just after she had started. She sat in the dark, playing a solo set of recent songs and a few older ones. A nice surprise was that she also sang some vocals on one song! A great show as always.
Next up was YMCK, who I had last seen at their Family Kanshasai in August. This time was a more down-to-earth set without so many toys, but it had been a long time since I could seem them so closely and even see Midori's footsteps. Their best hit of the show was when they played their cover of Claude François' "Cette année là" which the French crowd received very warmly. Midori and Yokemura even danced some of Cloclo's moves provoking a lot of laughter, those moved were carefully recreated in 8-bit fashion in their video.
Next was Baby Q, a group of about 10 doing eccentric contemporary dance, with twitching body parts, lots of running and falling and crashing against the wall. They were accompanied by video and music ranging from breakbeats to glitchy noise.
The stage was then set up for Asa-chang & Junray, surrounded by blacklight and with their mysterious blue mixer (a sort of beefed-up Buddha Machine) sitting in the center. They played tabla, other percussions and also trumpet and horn. I was mostly impressed by U-Zhaan's super-fast tabla play.
Last was Doddodo, a girl from Osaka with some samplers and a cracked voice. She played her gear while shouting loud rhymes, sometimes leaving the stage to run through the crowd. As I watched her I thought "gotta tell Digiki!" and then I looked over at the people dancing and sure enough he was there, of course. :)
All of these artists are set to perform at LEX 2009, a festival to be held in Nîmes, France next March.
Saturday, October 11 — GMT 2008 & Diesel XXX
On Saturday I met my friend Tsugumi at Makuhari Messe, it was my first time there (except that I had been at the nearby outlets). We were there for two things, but first to check out GMT 2008, a game music related event part of Tokyo Game Show.
We got there in time for a set by GhM Sound Team, a band of game music creators from Grasshopper Manufacture, who performed songs that they wrote for recent games. I knew none of them, but I liked the concept of game music being played by a full band. They were quite good too!
Then, I think there was a Tenori-on demonstration. That's also around then our friend Fukuta-san found us, he was also watching the show from the back.
Next on stage was YMCK! I had just seen them the night before, but I was definitely in the mood for more. They gave an awesome intro with a special song and video that they made for Tokyo Game Show. That was just great! The rest of the show went a bit in fast-forward as they tried to speak between each song but a technical problem moved them to the next right away. Great show anyway, and of course this audience loved them!
Asia Engineer were then on stage. I was a bit interested from their recent collaboration with Nomoto Karia, but even though they're sold as a rap group I was rather disappointed by the lack of rapping. They also talked too much. We sat down for most of it.
Next up was Scha Dara Parr! Now that's rap! It was the first time I saw them and they gave a kick ass show! The three were accompanied by Robochu of Dassen 3. I was really happy to hear a few songs that I knew from their latest album "CON10PO" (2006) that I love, such as "BD hatsugen" and "Disco System". They also played "Game Boy", an older song that they said they were only singing for this game-related event.
Last up was talent Nakakawa Shōko aka Shoko-tan, but we only stayed for about a song to see how cute she was and then we left.
On my way out I couldn't help but get a Scha Dara Parr T-shirt, like all the band's members were wearing. Really cool design of twisted katakana!
It was now about 21:00, all three of us went to eat at Tony Roma's at the mall near the station before Tsugumi and I headed to electro party DIESEL XXX just next door! Now that's hashigo!
---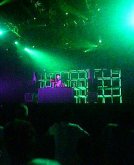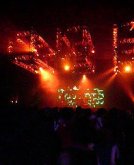 DIESEL XXX (the XXX stands for 30th anniversary) was quite fun. There were 3 large rooms where different DJs or bands were always playing, so when we got tired of one we'd go to another room. It being techno, sometimes all three rooms did sound quite the same, but there were some good and refreshing stuff.
We got there around 22:30 and first watched a few minutes of Gus Gus at stage 1 who I used to really be into, but my tastes have changed and I wasn't so much interested anymore, so we went to enjoy The Martinez Brothers next door.
Around 23:00 we got back to stage 1 to see Mr. Oizo who was perched (!) on a huge structure. It was the first time I saw him and only knew that hit song from way back (not sure if he played it that night, maybe not while I was around), but anyway he did a quite cool set, throwing in some 80's classics which he all transformed into his distinct style by a tweak of buttons. He was accompanied by really cool VJing. We found my friend Sylvain with who we met on and off for the rest of the night.
Next door we hung around James Murphy & Pat Mahoney (of LCD Soundsystem, stage 2) quite a bit. They gave a disco set, so passing from loud techno to that always felt like a breeze. It's around that time that we met Antonin, I was seeing him for the 2nd day in a row and finally got to talk to him a little bit.
In that room were also located some chill-out tents, large white and round igloo-types with many large pillows inside. I'm sure some people slept during the whole show. :) It was nice that they thought of a place to rest.
2manydjs then played on stage 1 around that time but I checked a few times and it was too crowded. It was also around that time that we noticed some violent ones too... drunks fighting and others groping girls. We didn't stick around long.
Later though Soulwax did a great set, playing some new wave tracks (of which at least some were covers) as a full live band that was a lot of fun!
And at last A-Trak got on stage 1 (4:30)!! I had been most excited about his set, but I guess my attempts were too high. Perhaps part of his set was dedicated to scratch routines, but the parts I saw were almost non-scratch except for the occasional 30 sec. He would have started his set with a good chunk of routines and he'd have kept me, but after half-an-hour of relatively normal DJing, we were tired it was time to take the train back home. Oh well. At least I got to hear "Say Whoa" which kicks ass!
Wednesday, October 15 — Freesscape
Sylvain and I met again, this time at SuperDeluxe. I was actually supposed to meet my friend Peter there too, but when we got there we realized that we got the wrong day. We were really there to see Morgan's Organ, musician Morgan Fisher's monthly improvised show, but that was going to be Thursday. We were really confused as to how we could both have got the wrong weekday, and meanwhile the singer of Freesscape, the band playing that night, came to kindly invite us to stay anyway at a discount, which we accepted.
The show was good, trip-hop-ish electro tracks with female vocals, and really nice VJing that consisted of some 3D computer graphics using 3 projectors. I was also happy that they used the Tenori-on throughout the show. I had seen it at a gallery, and also demonstrated at the GMT 2008 (above), but it was the first time I saw it used seriously as an instrument.
Also, as a really strange coincidence, Morgan Fisher, the guy who we first intended to go see, joined Freesscape on piano for a few songs. His playing was great, with parts really off-tempo and then getting back in the beat. I'll be looking forward to see his solo show sometime.
As for why we went on the wrong day, I thought later that it might have been because SuperDeluxe's calendar shows weeks that begin on Monday. Seeing the event right in the middle of the week I must have assumed that it was Wednesday. As a weak excuse, I believe that calendars with weeks that start on Monday aren't common in Japan.
Saturday, October 18 — Boy Meets Girl
My Australian friend Peter, who I couldn't meet at SuperDeluxe, came to Koenji for clubbing. The event was Boy Meets Girl, a regular Shibuya-kei DJ party that recently celebrated its 10th anniversary!
But first of all we went to Koenji Connection for a drink, the same place where I had DJ'd last month. Matsuno-san was DJing again and I was happy to also find friends Kanae and Mizue. We spent a little while there talking while listening to the good music.
Then we went to Club Roots for Boy Meets Girl. They played a great selection of Shibuya-kei related stuff and also 60's music, the latter that Peter knew a lot better than I did. Anyway pretty much each song made either of us go "oh!!" or "ah!!" :) All the people were very friendly too. We had a great time!
The next installment of Boy Meets Girl will be on December 20, and I was told that solange et delphine will play live! I'll have to check that out!
Larger sizes and more photos at Flickr (click the next dates for the rest)
---
There will be more soon...!
Posted on October 23, 2008 at 00:46 | Permalink | Trackback (0) | Comments (2) | Tweet |
---
October 5, 2008
Kanazawa day 3
September 24, day 3 (last) in Kanazawa.
We woke up and prepared to check out of our hotel. We still had complementary drink tickets from when we checked in so we used them to get coffee in the lobby. We left our luggage at the cloak and headed out. We first went for a bit of omiyage shopping. The station building is good for buying omiyage as it has pretty much anything, there's also a supermarket above.
We walked down to Kōrinbō for our first destination, another sushi restaurant that we had booked for lunch. This one is called Otome-zushi (乙女寿司, 4-10 Kiguramachi). The place is really well hidden, led to by a small path between a parking and another building. We were glad that we had searched for it the previous day. It seems like it's also hard to get in without a reservation. Here too the counter seats are the best, as you can watch the lead chef prepare each piece. Actually I think that if you were to choose a table, your sushi would be prepared by an apprentice instead.
Like at Komatsu Yasuke (see the previous day) the sushi is soft, though not quite as soft. Still it's better eaten with the hand. Of course it was all very delicious! One thing that was great is that the chef really listened to our preferences, and served us slightly different menus after having asked if there's anything we dislike. Great service, and great taste. :)
We were quite full, but just not that full, so our next stop was Marukaku, a gelato shop of the Malga Gelato brand based in Ishikawa pref.. The shop is located on Seseragi-dōri (2-8-18 Katamachi), and they serve original gelato with many local and Japanese-style flavors. One particular thing is that they serve ice cream in a monaka (crispy wafers made from mochi). We first had strawberry and hōji-cha flavors, and we got a sample of another containing cucumber and apple. That was really great so I went back to get a full-size of it.
Next we went for a walk again around Nagamachi-bukeyashiki-ato. This time we entered an old Japanese house named Nomura-ke (the home of Nomura family) that contains a truly beautiful garden. It's a very old house that's been converted into a museum.
There's a large garden that contains a pond with many nishikigoi (those expensive red and white carps). There are also old artifacts exhibited such as old coins (I liked the tiny square ones), and covers to hide nail heads, these were previously used in this house.
This next photo is of a street with a canal in Nagamachi-bukeyashiki-ato.
That was about it for sight-seeing. Our time of departure was also getting a bit closer but we went for some record shopping at Record Jungle (2-13 Fukuromachi) where I found a few 7"'s (Hasegawa Kiyoshi, Natsuki Mari, Toi et Moi, The Fascinations).
We also had small roll cakes at a shop called Weekday (3-14 Nishichō). And later while waiting for the time to leave we went to have one last coffee at collabon (1-14 Yasuechō), a cute café that also sells small objects of all kinds and also some music.
We ended our trip by buying some sushi (again!) bentō in the station building, that we enjoyed on the train.
Kanazawa was a very nice destination and I'd really like to go there again sometime! Most people recommend going there in winter, but it does get colder than Tokyo and it seems that they do get quite a bit of snow, so I'm not too sure. :) ("Aren't you Canadian!?")
---
Larger sizes and more photos at Flickr
Posted on October 5, 2008 at 23:17 | Permalink | Trackback (0) | Comments (3) | Tweet |
---
October 4, 2008
Polymoog live at Apple Store Shibuya: report
Tonight after work I dropped by Apple Store Shibuya to check out a mini-live by Polymoog (from Elektel). I was happy to find my friend Kanae-chan there as well and we watched the show together.
The show was similar to the one last month (at the event where I also DJ'd), but in addition to the SX-150, DS-10 and iPod Touch, he also used a new theremin from Gakken (otona no kagaku) that's going to be released just in time for Christmas. Dubbed "Theremin Premium"

, this one isn't of the usual "build it yourself" type, but it rather comes as a complete product.
He played Elektel songs, the original track he wrote for the SX-150, a new song that he wrote for a female French singer well known in Japan, and closed with "Moon Race", a song from the game Beatmania. You can hear a bit of this one in the video clip below.
As you can see, he was also accompanied by VJ Higuchi Yasuyuki (faction bleu). Very nice little show!
---
On my way there I went shopping at Ganban in the basement of Parco part 3, it's one of my new favorite record shops (mostly vinyl) as it's got a lot of good electro and hip-hop, very complete on Fool's Gold too. So I picked up A-Trak's new 12" single "Say Whoa" on Kitsuné (a track from his awesome recent iTunes-exclusive mix for Nike
), and also the latest from his label Fool's Gold, a new 4-song EP by Sammy Bananas of which all tracks are a blast.
I can't wait to see A-Trak next weekend at Diesel XXX! See you there. :)
Larger sizes and more photos at Flickr
Posted on October 4, 2008 at 01:34 | Permalink | Trackback (0) | Comments (1) | Tweet |
---
October 2, 2008
Kanazawa day 2
September 23, day 2 in Kanazawa.
We started the day by getting on the bus down to Nomachi where is located Myōryūji aka Ninja-dera™. The temple really has nothing to do with ninjas, but it's the fact that it's full of hidden rooms and stairs and even traps that got it nicknamed like that.
The temple looks quite normal on the outside, but actually it has a total of 23 rooms and 29 stairways! Back in the day temples were only allowed to have 2 floors, and this one looks to respect this from the outside, while it actually has 4! There are sliding doors that lead to two different places depending on the side they're open, and just plenty of tricks like that. The offertory box is also a trap that enemies could be led to fall into, and there's a well inside that's said to be a secret tunnel that led to Kanazawa castle. It was all really fascinating.
The temple visit is a guided tour, and they even provide an English book with the translated tour text. While my Japanese isn't bad, this was helpful for me to understand every trick in detail. Photos aren't allowed inside but I was sure to get the souvenir postcard set. :) A highly recommended stop to anyone who likes this type of stuff! (Be sure to place a reservation by phone a few days in advance at 076-241-0888.)
We then walked a bit around the area, in Nishi-chaya-gai, another old part of town, and Kōrinbō, a much younger district with lots of shops.
Around there is also a very nice street along a canal, named Seseragi-dōri, and there we found CD/clothing shop Rallye where I bought Lullatone's latest album. Later in the day when we passed again we also bought some cakes at Saint Nicholas.
But meanwhile, we went to have lunch at a famous sushi restaurant called Komatsu Yasuke (小松弥助) located on the 1st floor of Katamachi Apa Hotel. We sat at the counter, where an old man with some charisma prepares sushi for the customers. We ordered the fixed set, and even though at first he asked "is there anything you don't like?", it didn't change the menu, after serving me uni he said "Oh, did you say you didn't like uni?" Haha. :) We had about 10 each, and it all was truly delicious, probably the best I've had!
His sushi was very soft and delicate, ojiichan style, and had to be eaten by hand (no chopsticks). He precised for each whether they were to be eaten as is (because it already has some sort of sauce or salt) or to be eaten with soy sauce. I did a mistake once and dipped one that wasn't supposed to be, and he said "no shōyu!" with a smile.
Our stomachs full we went for a little walk just west of Kōrinbō, in an area named Nagamachi-bukeyashiki-ato, which is also an old area with many old houses, some with beautiful gardens that can be visited. The one below is free to enter.
Then we walked down to the 21st Century Museum, famous for its permanent exhibition of Leandro Erlich's swimming pool, a trompe-l'oeil installation that looks like a pool from above but below is actually a room where you can also go in.
For dinner we went to Grill Otuka (81-1 Urokomachi), another old restaurant that serves hanton rice, although theirs not only contains fried white fish but also fried shrimps. It was great too! Gotta love hanton rice. :)
After taking the bus back, we went to the an oden restaurant in Kanazawa station building, for which we had found some free drink and food coupon on a map from our hotel. That sure made the whole deal very cheap.
Stay tuned for the last of this 3-day trip. :)

Larger sizes and more photos at Flickr
Posted on October 2, 2008 at 23:05 | Permalink | Trackback (0) | Comments (5) | Tweet |
---