Blog - May 2005 Archives
May 2005 Archives
Index

.31 BOSS SE-70


.30 Shinohara Tomoe new home page!



.29 Himiko


.28 Steve Etō+Shinohara Tomoe+Kenken



.22 Rockin' in Yoyogi


.20 YMO promo 12"


.12 Giza 10


.10 New iPod!


.08 Orange Plankton Data Panik


.06 Feels like Monday


.04 Broken LCD: Help!


.03 oyasumi, Enban


.01 ASCII To HTML Entities

---
May 31, 2005
BOSS SE-70
Yesterday I dropped by Shinjuku Sofmap 3 (the Mac store), where they also sell used MIDI instruments and gear, and picked up a BOSS SE-70 for ¥7800, a good deal which Nick told me about last week.

The SE-70 is a powerful stereo effect box from the late 80's that contains dozens of different effects (delay, reverb, phaser, flanger, chorus, distortion, vocoder, etc etc.), all of which can be combined together. There are also over a hundred preset combinations. The interface is great too, the main knob and two parameter-switching buttons make it easy to tweak settings even while playing (well, depends what).
My friend and Glad En Mono band mate Raf used to own this in the early/mid-90's, and we used it for some recordings, and also in a grunge band in which I played drums.
It's great to have one of these in my hands again.
Next, I'm looking forward to picking up a small 4-channel mixer that I have sitting in a closet at my parents' home. On previous trips I had been hesitant to bring it mainly because of suitcase space concerns, but this time I'm determined to do so.
Glad En Mono recording using SE-70 reverb:
"(black) en reverb-o-rama (demo)" (Stream: Lo Hi / Download)
More at Glad En Mono's music page.
Posted on May 31, 2005 at 11:21 | Permalink | Trackback (0) | Comments (2) | Tweet |
---
May 30, 2005

Shinohara

Tomoe new home page!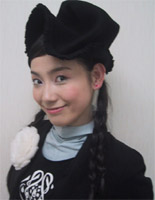 Shinohara Tomoe has a brand new official site that contains a lot of stuff! Plenty of pictures, a diary, a discography, you name it.
And on the links page, you'll find a link to my report of the Panikaraqs concert at Space Force last March! :) The picture on her 2nd diary entry was also taken by me last Friday.
I actually got to meet Tomoe after her show last Friday!! She was very friendly and down-to-earth, and even spoke much better English than I could have thought. What a great evening!
My biggest thanks go to my friend Nick (probably on a plane to New York now) without who this wouldn't have happened.
Posted on May 30, 2005 at 22:31 | Permalink | Trackback (0) | Comments (3) | Tweet |
---
May 29, 2005
Himiko
Today, after having a fresh sushi lunch in Tsukiji (the large fish market in Tokyo), we went for a ride on board of Himiko, the futuristic water-bus designed by Matsumoto Leiji, creator of Galaxy Express 999, Captain Herlock (aka "Albator"), and also the one behind Daft Punk's animated film Interstella 5555.
We boarded at Hinode port and went to the next stop, Asakusa. A ride on Himiko is only ¥300 extra compared to a ride on the regular water-bus (¥660+¥300=¥960 in this case), and is absolutely worth it! The ship's design is just so futuristic. Inside aren't rows of seats but rather some loungey tables on the sides, with a lot of space in the center.
The ride is commented by Galaxy Express 999's three main characters, who talk about facts on each of the passed bridges and also any building or sight of interest.
And last, a bit of Engrish.
Posted on May 29, 2005 at 01:56 | Permalink | Trackback (1) | Comments (7) | Tweet |
---
May 28, 2005
Steve
Etō

+

Shinohara

Tomoe+Kenken
Last night I went with friend Nick to Hatsudai Doors to see Steve Etō+Shinohara Tomoe+Kenken.
Steve played his HandSonic and red djembe, Kenken (first announced as "X" as no one apparently knew his name) played skillful funky bass, while Tomoe played MC-303, pianica, harmonica, and sang and danced. They played about 6 songs, including Tomoe's song "Blue" from her second album, "Megaphone Speaks", and a quiet cover of Cyndi Lauper's "Time After Time"! There was a lot of funny talk and member solos.
The event, titled "rhythmic metempsychosis" seemed to have a theme of improvisation and percussions. I caught two other acts (missed the first one because it started a bit early) which I enjoyed, Naitō Tetsurō (wadaiko) with Kanazawa Miyako (piano, of unit le*silo), and Naritomi Miori (vocals) with assimilate (drums).
It was my first time at Hatsudai Doors, and I found it to be quite a nice place. All drinks are only ¥300, much cheaper than the ¥700 often seen in other bars. It seems like the owners are themselves upset with the expensive prices at other bars and this is their answer to them. Being a short bike ride from where I live I will probably be going again.
By the way, Panikaraqs (Tomoe, Steve, Yuka Honda and Chikage) have an interview up on Roland's MC Club site. It happens that all electronic instruments the band uses are by Roland, and Yuka has also preferred Roland's synths since her Cibo Matto days.
Posted on May 28, 2005 at 21:43 | Permalink | Trackback (0) | Comments (0) | Tweet |
---
May 22, 2005
Rockin' in Yoyogi

Today as we walked from Shibuya to Harajuku, we were just in time for a performance by the Rockabilly Club. It was the first time I saw them.
Dressed and greased up as back in the day, these guys dance to loud rock'n'roll, and aren't afraid to mess up their leather pants by sliding a few meters on the ground.

Click the thumbnails for larger images.
Full size 1024x768 versions: 1 2 3 4.
And here's a collage of my favorite guys.
I didn't have my camera so I took these few wide shots with my mobile phone. Check out lil's much better pics from a few years ago.
Posted on May 22, 2005 at 18:18 | Permalink | Trackback (1) | Comments (3) | Tweet |
---
May 20, 2005
YMO promo 12"

Today I had this nice surprise in the mail: a promo one-sided 45rpm 12" containing Denki Groove's remix of Yellow Magic Orchestra's "Absolute Ego Dance"!
This record was sent randomly to some who bought "YMO Remixes 99-00 The Best" at Tower Records. :)
I've put up details at Discogs, the extensive electronic/jazz/hip-hop/rock database, which I've been enjoying lately.
Posted on May 20, 2005 at 23:15 | Permalink | Trackback (0) | Comments (3) | Tweet |
---
May 12, 2005
Giza 10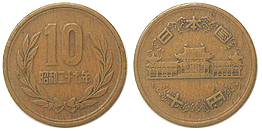 I often buy my morning ¥60 coffee by using six ¥10 coins, to lighten my change, and for the first time today the vending machine kept rejecting one specific ¥10. I first looked at the years and noticed that it was much older than the rest (Shōwa 27, or 1952), and, under closer inspection, that it had "giza" (dents on the side) while all recent ¥10 don't.
I had first heard about giza ¥10 on Chibi Maruko-chan, where Maruko found one and then started collecting them. So I also put mine aside for luck. :)
I heard somewhere (maybe on the same show) that they removed giza on ¥10 because it felt too much like ¥100, their size also being similar, and therefore confused blind people.
Apparently, some are real freaks when it comes to collecting them.
Posted on May 12, 2005 at 14:05 | Permalink | Trackback (0) | Comments (5) | Tweet |
---
May 10, 2005
New iPod!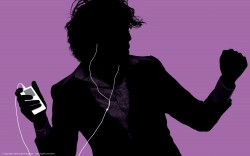 Today I got a new iPod! I got the 20GB 4th gen.
Lately I had been feeling in need of an upgrade from my 2-year-old 5GB 2nd gen of which the connectors were misbehaving and the battery life was getting a bit short.
I like the [not so] new thinner design, and that you can pick what you want to show up in the main menu, and also Solitaire! I'm not quite yet used to the click wheel, as I liked the good old analog spinning disc, but that's nothing to worry about. :)
Posted on May 10, 2005 at 22:10 | Permalink | Trackback (0) | Comments (5) | Tweet |
---
May 8, 2005
Orange Plankton Data Panik
Today I met up with friend Alan for a while, we had a walk through Harajuku and down to Shibuya. On our way, we passed by Yoyogi-kōen where many loud bands were performing. I didn't care for most of them, but, as we passed, one got my attention and we stopped to watch the rest of their show.
Orange Plankton looked familiar, as I had indeed seen them and read about them many times on the great Japan Live blog (such as this nice interview). It was my first encounter, and I was quite pleased with their music, happy piano pop. The band looked like they were enjoying themselves despite the loud entourage, and they did quite a fun show.
It seems like they perform there every Sunday from about 13:00 until 16:00.
Also, at Escalator Shop, I picked up the new and first Data Panik release, a numbered 7" single limited to 500 copies (I got 222!). Data Panik is all three of Bis, back this year as a brand new unit! And it sounds great!
Order the 7" while it lasts, or get the two songs as MP3s for £0.99 each.
Also check out Manda's Flickr account for great pictures including ones of a recent Japan trip.
Picture from Manda's Flickr.
Posted on May 8, 2005 at 23:08 | Permalink | Trackback (0) | Comments (8) | Tweet |
---
May 6, 2005
Feels like Monday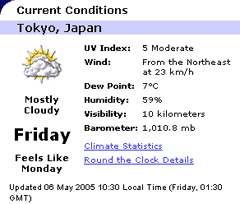 Golden Week always makes me a bit confused, because it usually means working just a few days in a week of national holidays.
This year we had midori no hi last Friday, and then three holidays from Tuesday to Thursday this week (Constitution Day, "Between Day" and kodomo no hi).
In consequence, Monday felt a bit like Friday, and Tuesday to Thursday felt like a long weekend. Now it's Friday and it feels mostly like Monday, but may feel a bit like Friday at the end of the day, and then it's the weekend.
The final result will probably be next week feeling very very long, though I may feel a bit more refreshed than usual (hopefully!).
Posted on May 6, 2005 at 11:23 | Permalink | Trackback (0) | Comments (0) | Tweet |
---
May 4, 2005
Broken LCD: Help!
I messed up the small screen on a beloved piece of electronics! Arrrgh.
Everything is fine except for the LCD. Anyone has a clue if the LCD only can be replaced? If so, what is this called, and is it easy to get one?
In case this can help, the back of the LCD says "00-0280".
Any hints greatly appreciated!
Posted on May 4, 2005 at 22:53 | Permalink | Trackback (0) | Comments (7) | Tweet |
---
May 3, 2005
oyasumi, Enban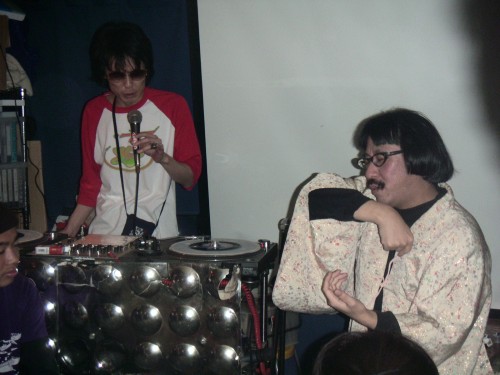 Last Saturday was the last all-night event at Enban, as it was the last day of one of the bosses, Nagata Kazunao (Transonic, Fantastic Explosion), who calls it quits after taking care of the place every night for a few years.
We went to the last event, "Giragira Night" featuring Kishino You-ichi (hige no mibōjin/La veuve moustachue), Himitsu Hakase, Yoshida Tetsuto (Readymade, Orangers, Fantastic Explosion), Tokiwa Hibiki (TMVG), and more, and it was a lot of fun!
Pictured are Himitsu Hakase singing enka, accompanied by Kishino You-ichi dancing.
While knowing that Nagata-san was quitting, we were under the impression that it was the last Giragira Night while the other night events would continue, but today I just realized that it was the end of it all, how sad. Just as I had started to hang out there occasionally.
Fortunately, Enban remains as a café, CD shop and also still hosts events in the evening, but no more "Hoi!" or "Video juku" or ...
Posted on May 3, 2005 at 00:12 | Permalink | Trackback (0) | Comments (0) | Tweet |
---
May 1, 2005
ASCII To HTML Entities
I've made a small application that replaces high-ASCII characters (byte 128 and higher) in text files (8-bit ASCII) to the corresponding HTML entities. This may sound silly as this is a standard feature of most HTML editors and even some text editors, but the problem it intends to solve is beyond simple text replacement.
Using Japanese Windows makes it impossible for me to edit ISO-8859-1 (US-ASCII) files containing high-ASCII characters (such as accentuated characters) in a regular text or HTML editor, as all of these end up as garbage, combined with the next character to form kanji. The same problem also certainly exists on Chinese and Korean systems, and the same way it may be impossible for Cyrillic systems to comfortably edit ISO-8859-1 files, for example.
This application opens HTML and other text files as if they were binary, and reads them byte-by-byte, instead of character-by-character like text editors do. Any byte of a 128+ value is then converted to the corresponding HTML entity.
Posted on May 1, 2005 at 14:30 | Permalink | Trackback (0) | Comments (0) | Tweet |
---