Blog - February 2004 Archives
February 2004 Archives
Index

.26 Crazy bicycle drivers


.24 komaneko


.17 Fukawa Ryō



.15 Vertical parking



.15 Toilet music


.15 Valentine's Day illustrated


.14 Valentine's Day!


.09 Miniature yatai




.09 Meiji-kōen flea market and Harajuku




.08 Latin Panic! Ah... UGH!



.05 Anime theme CDs, 2nd series


.03 Rogue

---
February 26, 2004
Crazy bicycle drivers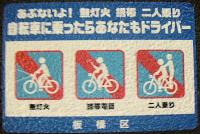 "Be careful!... Light off, mobile phone, double riding.
If you're riding a bicycle, you too are a driver!"
... says this sign printed on the sidewalk in front of a bicycle parking in Itabashi-ku.
These are some typical bicycle riding public threats in Japan. I found these images quite funny since they're not something you'd see in every other country, though they reflect reality here.
Other bad bicycle habits seen regularly include smoking, old farts ringing their bell non-stop, and also mothers riding with 2 or 3 kids on board.
Not to mention that most people ride on the sidewalk so walkers have to watch their back for coming bikes.
Posted on February 26, 2004 at 23:07 | Permalink | Trackback (0) | Comments (4) | Tweet |
---
February 24, 2004
komaneko
Last weekend we went to see Lars von Trier's Dogville, which I enjoyed a lot! I thought that it was quite original in many ways. Even though it's about 3 hours long, it was an enjoyable watch and kept me captivated the whole time.
(Dogville: official site, U.S. site, Japanese site, IMDB.)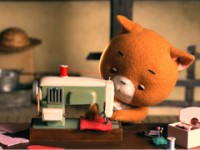 Before the main feature, a cute stop animation short film called komaneko (either means "coma cat" or "film-frame cat", let's go for the latter) was shown.
It shows a cat (though I wouldn't have guessed if it wasn't for its name) making itself a doll, and is accompanied with cute music too. This was apparently the first of a series of which the rest will be featured later in theatres, I sure hope to catch more of it!
It's currently only playing at Cinema Rise in Shibuya.
More pictures on the staff notes page, click the numbers below "Back Number" on the left side.
Posted on February 24, 2004 at 23:39 | Permalink | Trackback (2) | Comments (0) | Tweet |
---
February 17, 2004

Fukawa

Ryō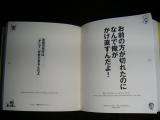 Today I received in the mail this Fukawa Ryō book, which I bought on Yahoo! Auctions. It's called "hitonchi de jūden sun na yo!!" ("Don't you charge up at someone else's place!!") (2001, 416 pages).
I had seen a similar book of his at a café once and lately I wanted to get one really bad.
It consists mostly of one-liner jokes, and includes English translations (though many aren't quite as funny in English). The bottom of each page includes extra thoughts in small print.
The one-liners are all things said by one person to another about something they should be ashamed of.
This book reminds me of kanashii toki, which Jean gave me on my birthday last year.
I like this kind of book since it can help me memorize some new vocabulary while being a fun read.
Posted on February 17, 2004 at 19:01 | Permalink | Comments (5) | Tweet |
---
February 15, 2004
Vertical parking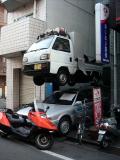 Also interesting is this 2-level parking I saw the other day in Kōenji.
Most likely a consequence of lack of parking space.
Some must be getting tired of this system because the car below has a "for sale" sign. Until anyone buys it, its poor owner has to drive out every time the upper truck wants to leave (after having disturbed the red scooter of course).
Posted on February 15, 2004 at 21:49 | Permalink | Trackback (0) | Comments (2) | Tweet |
---
Toilet music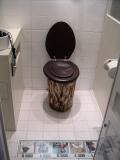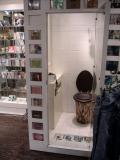 Today we went to Kichijōji for some shopping, and we came across a fashion shop called "être au point" which also sells CDs, and the listening booth to preview is a full-fledged toilet imitation, complete with ceramic.
You enter the small room, sit on the toilet, close the door, put on the headphones and push the buttons to select what you want to listen to.
Meanwhile, passersby can watch you through the windows... and probably can't resist imagining what you look like when having a turd.
Nevertheless an interesting concept!
être au point (e·a·p)
Renga-kan Mall 1F, 1-8-5 Kichijōji honchō, Musashino-shi (Map)
武蔵野市吉祥寺本町1-8-5 レンガ館モール1F
Posted on February 15, 2004 at 21:36 | Permalink | Trackback (1) | Comments (6) | Tweet |
---
Valentine's Day illustrated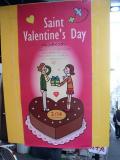 A bit late, but I wanted to share this picture of a poster illustrating Japan's image of Valentine's day.
In Japan, Valentine's Day is for girls to give presents to boys, and not only their loved ones but also all old jiji (old guys) at work, and it's not reciprocal at all...
Actually, reciprocity comes one month later, on March 14, and is called White Day, when guys are expected to return gifts, usually not chocolate but cookies and that type of stuff.
Posted on February 15, 2004 at 21:14 | Permalink | Trackback (0) | Comments (1) | Tweet |
---
February 14, 2004
Valentine's Day!
Happy Valentine's Day!
I got some wonderful chocolate cake last night, which was finished at breakfast this morning, and I still have enough chocolate for the weekend from girls at the office.
Life is good!
More readings and ramblings at Kinki's.
Posted on February 14, 2004 at 13:33 | Permalink | Trackback (0) | Comments (0) | Tweet |
---
February 9, 2004
Miniature yatai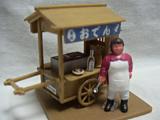 Today, on my daily stop at the conbini, I picked up this miniature oden yatai. A yatai is a small food stand on wheels, they're often located in front of train stations. Unlike the ones from this series though, these days most are built on a truck instead of being pulled by man power. If you go to Asakusa though you may see ones like this.
Oden is, according to my dictionary, "Japanese hodgepodge", basically all kinds of stuff (eggs, daikon (Japanese radish), tōfu, ...) in some kind of soup. Taste varies... I know for sure I wouldn't have oden from a yatai.
Actually oden yatai isn't quite common, so I was a bit disappointed with my pick. I'd have prefered to pick some yatai that's more frequently seen. The ones I see most on my usual route are for yakiimo (sweet potato), rāmen, and takoyaki, ...
The series includes yakitori, yakiimo, rāmen (don't you need one, Jean?!), and bells. I'm not planning to collect this series though. :)
Posted on February 9, 2004 at 22:47 | Permalink | Trackback (0) | Comments (7) | Tweet |
---
Meiji-kōen flea market and Harajuku
Today I met Jean-Robert once again, to guide him and his friends to a flea market held in Meiji-kōen (near Sendagaya station on Sōbu line). With him were Melleny Melody, a performer/artist/producer/label owner from Toronto, and also a couple of colleagues who live in Montreal.
We got to the flea market around 13:30, and looked through stuff until about 15:00 when it was closing. Sadly nobody could find much stuff to their taste, and at a price they were willing to pay... Melleny was tempted by some QP dolls (similar to these) and Peko-chan dolls, but they ended up being antiques at rather exorbitant prices.
I managed to recommend a few CDs of Japanese artists (Modern Choki Chokies and Crazy Ken Band) to Jean-Robert.
Then we took the train to Harajuku to check out the goth/l0lita event that takes place on the bridge in front of Meiji jingū. I had been to Harajuku on a Sunday many times and seen some of those girls, but it was the first time that I went over to that bridge. It was fun to walk around the bridge, not in a way much different than at the flea market earlier, and watch the girls posing for anyone with a camera.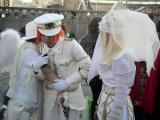 Click the thumbnails for larger pictures.
For more pictures like these, have a look at the people page on my friend Chris' Photokyo site.
Posted on February 9, 2004 at 00:09 | Permalink | Trackback (0) | Comments (23) | Tweet |
---
February 8, 2004
Latin Panic! Ah... UGH!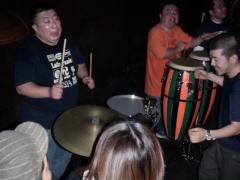 I had a quite busy weekend!
Yesterday evening, we went to Jean Snow's for a fun sukiyaki party. We chatted all evening while listening to Jean's music selection, and we also watched a Fukawa Ryō video I had brought.
After getting full, the night was still young and I had planned to meet a fellow Montrealer of the music scene, who was in Tokyo for a week, for promotion and meet-ups with Japanese labels. His name is Jean-Robert Bisaillon and he's the founder of SOPREF (Société de promotion de la relève musicale de l'espace francophone), a non-profit organization helping out independant artists.
We met up in Shinjuku and went to Oto, where was being held Latin Panic! for the last time. Latin Panic! is Paradise Yamamoto and Comoesta Yaegashi's recent unit, bringing back mambo hits and putting them in a club context, a combination that sure works for me! When I was little, my parents used to listen (and also play) a lot of songs that fall in the mambo, cha-cha and similar categories, so I know a lot of the songs that they spin.
The event had the two members and a few helpers taking turns on turntables and live percussions, giving a quite entertaining show. The club being tiny, percussions were placed on a side of the dance floor, between columns of speakers, inches away from the enthusiastic dancing fans.
I was very happy to hear "Pachinko" (the hit original song by Tokyo Panorama Mambo Boys, Paradise and Comoesta's 90's mambo unit), and also to see the hilarious moves that go with the lyrics.





Click the thumbnails for larger images.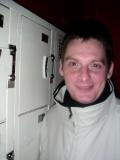 While chatting with Jean-Robert, I found out that he was a former member of French B, a band mostly active in the late 80's/early 90's. I remembered hearing the band's name, and also certainly seeing their videos on MusiquePlus, but it's only later when I searched the Web and heard a sample of their hit "Je m'en souviens" (click the speaker for a short clip) that I realized having heard the song spinning a lot back then!
Later in the evening, I had the chance to talk with Paradise Yamamoto a little bit, and I told him that I really want to eat gyōza at his Ogikubo restaurant, 餃子王 (gyōzaō, "gyōza king"). I mentioned that I am subscribing to newsletter and told him my name, and he surprised me saying "ah, you're from Nakano right?" (the form to subscribe to the newsletter provided a space for comments where I had mentioned where I live)!
He was very nice and autographed my CD, drawing a cute caricature of himself and also a "gyōza member card", numbered 00001! Now I just have to find out whether it really allows me access to his member-only restaurant...!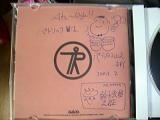 What a nice evening!
Posted on February 8, 2004 at 21:48 | Permalink | Trackback (1) | Comments (8) | Tweet |
---
February 5, 2004
Anime theme CDs, 2nd series

This week I found in conbinis the second series of anime theme 7"'s rereleased as CDs!
This time we get Ultraman, Mazinger Z (a pre-Goldorak (aka Goldrake, Grandizer) series of the same author, Nagai Gō, who also wrote Cutey Honey), akage no Anne (Anne of Green Gables), and other stuff.
About a month ago I successfully completed the 1st series (started then) by trading doubles on the Time Slip Glico trading BBS.
なつかしのヒーローとヒロインヒット曲集 第2弾 (natsukashi no HERO to HEROIN kyokushū dai2dan (Nostalgic heros and heroins song collection 2nd series))
Posted on February 5, 2004 at 16:47 | Permalink | Trackback (0) | Comments (2) | Tweet |
---
February 3, 2004
Rogue
Today I was reading something and came across the word "rogue", which reminded me of an old text-based game, of that name, which I used to play on the computer (a Radio Shack/Tandy TRS-80 Color Computer) when I was little, in the mid-80's.
I then searched the net for something similar that I could play, and I found Rogue Clone (a DOS clone, the download is only 60K!) at SourceForge! It's quite identical to the original as I can remember it!
you hit  the hobgoblin hit
 
       -------------       #############
       |           |       #           #                      #
       |           +########           #                      #
       |           |                   #                      #
       -----+-------                   #                      #
        #####                          #                      #######
      --+-----                         #             ---------------+-------
      |      |                         #             |                     |
      |      |                ---------+---- ######

H

@

+              %      |
      |      |                |            +##       |                     |
      |      +################+            |         |                     |
      -----+--                ---------+----         -----------+-----------
           #########                   ##                       #######
                   #                    #                             #
      -------------+---       ----------+----------            -------+---------
      |               |       |                   |            |               |
      |               +###    |                   |            |               |
      |               |  #    |                   |            |               |
      |               |  #####+                   |            -----------------
      |               |       ---------------------
      -----------------
Level: 1  Gold: 25     Hp: 18(21)   Str: 16(16) Arm: 4  Exp: 2/13
Rogue is a sort of RPG/action game. You have to fight monsters, collect gold and increase your strength and experience. What's cool about it is that levels are random-generated, so you'll never play a same level twice.
A level starts with you (@ character, in green for your viewing pleasure) in a room, and you have to find ways to the other rooms. + is a door, # is a corridor, % is a staircase to the next level, and all letters of the alphabet are monsters of all kinds (see H, the hobgoblin, featured in red).
Even though it may seem simple, it's quite addicting! Now I'm off to play some more... :)
Posted on February 3, 2004 at 22:16 | Permalink | Trackback (0) | Comments (2) | Tweet |
---