Blog - July 2017 Archives
July 2017 Archives
Index
.30 Weekly revue: 2017 weeks #29-30 (July 15 to 28)
.16 Weekly revue: 2017 week #28 (July 8 to 14)
.09 Weekly revue: 2017 week #27 (July 1 to 7)
.01 Weekly revue: 2017 week #26 (June 24 to 30)

---
July 30, 2017
Weekly revue: 2017 weeks #29-30 (July 15 to 28)

Travel: Last week was a short trip to Taipei (Taiwan) for summer vacation! That was a lot of fun and we had a lot of good food, such as a dinner at restaurant Mume, General Tso's chicken at a restaurant founded by its inventor, and breakfast at Hua Shan Market. Highlights included flying on a Sanrio plane (Eva Airways), going to visit to mountain village Jiufen, and meeting several cats. See more photos at Flickr.

Other food: - Poulet yassa at Los Barbados, Shibuya
- Curry at the newly opened Kyūyamtei in Shimokitazawa
- Fish head curry at Shake Stand, Daitabashi
- Negura & Indo Fujiko collaboration plate at the Yamato-chō Hachiman-jinja Bon-odori

Music events: - On July 21 was a special free event at Trunk Hotel in Shibuya. It was a launch party for the latest issue of art magazine Nero, for which Sean Lennon was in town! The event had BGM selected by Cornelius, featured DJ sets by his son Milo Oyamada and also YYOKKE & YAKK (ex-Harvard), and live sets by Maika Loubté and DYGL! There was also a surprise performance by Sean and French artist SoKo, of a new song they recently made together, after which SoKo DJ'd.

Maika Loubté set list: Le gong / Universal Metro / (New song?) / Candy Haus / Skydiver / You & I

- Kishino You-ichi's annual Bon-odori at Yamato-chō Hachiman-jinja. Many people were dancing and the mood was very pleasant! Curry shops Negura and Indo Fujiko had teamed up for a special curry plate, and there were also record shops and others with stands.

Music release news: Negicco, Wakita Monari, Denki Groove, Manon

This week's videos:

Wakita Monari "nakimushi Revolution" (Produced by Nishidera Gōta)

Manon "Beat the Bad Luck" (Produced by Yuppa (HNC))

Posted on July 30, 2017 at 20:44 | Permalink | Trackback (0) | Comments (0) | Tweet |
---
July 16, 2017
Weekly revue: 2017 week #28 (July 8 to 14)

Food: - Ice cream at Tomihisa Ice Cream, Shinjuku
- Chocolate ice cream at À tes souhaits! Glace et chocolat, Kichijōji
- Kokutō, karintō and shiso cream chesse ice cream at Japanese Ice Ouca, Ebisu
- English muffin ham sandwich, fish & chips, etc. at Bespoque, Higashi-Nakano

Music event: I went to see Cornelius!! It was the 2nd and last day of his "Mellow Waves Release Party" series at Liquidroom, Ebisu. I stood about 10th row near the center, right in front of Cornelius! His show was preceded by a DJ set by Takimi Kenji (Crue-L Records), which was really good (though maybe a little bit long, as it lasted a whole hour and we were getting hungry for the main dish).

Cornelius' band featured Horie Hirohisa (Neil & Iraiza) on keyboards/guitar, Araki Yūko (mi-gu) on drums, and Ohno Yumiko (Buffalo Daughter) on keyboards(Moog!)/bass. All also sang! The show had about 4 songs from "Mellow Waves", maybe I'd have a liked to hear a few more, but there were also several from previous albums back to "Fantasma". With the recent "Fantasma" world tour that didn't come to Japan I sure hoped to hear some of that, so I was very pleased! The show was a great retrospective of Cornelius' catalog since the time I got addicted in the late 90's, and also a showcase of some of the best latest songs, which are definitely tour de force level in terms of being played live by humans. The non-stop set (!), barely stopping for more than a few seconds between the songs for the members to take a sip of water, closed with "If You're Here" which was just outstanding! The whole show was sync'd with video and onstage lights.

This is the set list according to my memo scribbled in the dark. (A song or two could be missing.)

Set list: Sometime / Someplace (いつか / どこか), Breezin', Helix / Spiral, Drop, Point of View Point, Count Five or Six, I Hate Hate, Wataridori, In a Dream (夢の中で), Beep It, Fit Song, Gum, Star Fruit Surf Rider, If You're Here (あなたがいるなら)
Encore: Seashore And Horizon

After the show I dropped by gallery Kata above the venue, which had original artworks used in the album and singles. All were created in the 70's by artist Nakabayashi Tadayoshi (now 79).

Music release news: Learners, Charan-Po-Rantan, lyrical school, The Aprils, hitomitoi

This week's video: lyrical school "natsuyasumi no Baby"

Posted on July 16, 2017 at 19:33 | Permalink | Trackback (0) | Comments (0) | Tweet |
---
July 9, 2017
Weekly revue: 2017 week #27 (July 1 to 7)

Food: - Dhindo set at Nepal restaurant Purja Dining, Sugamo
- Chicken curry set at momo no mi, Suidōbashi
- "Noir" (forêt noire) cake at Très calme, Sengoku
- Coffee ice cream at Matsuki, Nakano

Music event: I went to an awesome event held by Grand Gallery, titled "Home Party". It was held at venues Unit/Unice/Saloon in Daikanyama, all of which are connected together. There were a lot of bands and artists performing, with a busy schedule that had me almost running between the venues to catch as many as possible. :)

I first went to Unice where I caught a bit of Chabe's DJ set, which was followed by a 3-piece set by Nakatsuka Takeshi (guitar, saxophone and vocals), which I watched while eating green curry by Abe Kumiko.

I then ran downstairs to Unit for a dreamy set by Jintana & Emeralds. Guitarist Kashif was absent but replaced by a keyboardist. They played songs including "Honey", "Emerald Lovers", "Runaway", "Moon" and "futari no natsu".

After having some more food at Unice, a generous plate of roasted pork, I went back to Unit and watched T-jiros, a duo of just guitar and bass, who gave a rocking good show.
Then was a show of The Scooters, who were absolutely awesome! They played a selection of their most popular songs, and also many from their recent singles. Their powerful sound that I love made me dance the most of the whole evening. :) I had such a great time!
Set list: (Love Is Like a) Heat Wave (Martha And The Vandellas cover) / Dancing in the Street (David Bowie & Mick Jagger cover) / I Believe In Miracles (Jackson Sisters cover) / Young American (David Bowie cover) / Hang On In There Baby (Johnny Bristol cover) / Make You Mine (Honey & The Bees cover) / Shout (Isley Brothers cover) / Tokyo Disco Night (Original)
After catching a glimpse of Nakano Aya at Saloon, which was quite crowded, I went back to Unit and enjoyed some live dub by Kodama Kazufumi Dub Station Band. Kodama Kazufumi is an ex-member of Mute Beat. I enjoyed their show quite a lot, and was quite impressed by keyboardist Hakase-Sun, an ex-member of Fishmans. Then at Unice I caught a bit of Sokabe Keiichi's show, but then had to run back to Unit.
The last to play there was Yann Tomita! It was my first time seeing him. He played a set using mainly modular synthesizers and some samplers. He was accompanied by three rappers and a VJ. The music went from very abstract sounds, with some deep frequencies I'm sure I had never heard before, to sometimes dub beats accompanied by some rap. That was a set impressive for the ears and eyes.
I then got to hear a little bit of city pop singer Natsu Summer, at the small Saloon which was again rather crowded (I couldn't see much at all). Her first album was just about to be released the next day. And although there was still much more DJs who were going to play later in the night, it was time to go home...! Still, what an amazing event!
Music release news: Natsu Summer, Mira Parameter, Manon
This week's videos:
Manon "xxFANCYPOOLxx" (produced by Yuppa (HNC)!)
Cornelius "In a Dream"
Posted on July 9, 2017 at 00:56 | Permalink | Trackback (0) | Comments (0) | Tweet |
---
July 1, 2017
Weekly revue: 2017 week #26 (June 24 to 30)

Food: - Dinner at Matsuki, Nakano
- Lunch at Gastro Pub Augustus, Shibuya

Exhibition: Went to see street artist ESSU's exhibition at Diginner Gallery Workshop in Jiyūgaoka. There were several new big pieces and sculptures, with an impressive large 3D artwork, the type where things appear and disappear when looking at it from another angle.

New music: This week was the release of Cornelius' new album "Mellow Waves"! I've been listening to it a lot since, and it's great! Actually I also got the Cornelius x Idea design book (which comes with non-album track "Surfing on Mind Wave pt.3"), and Sound & Recording magazine (which has downloadable remixes by Sakamoto Ryuichi and Hosono Haruomi). Now I really can't wait to experience this live just in a few weeks!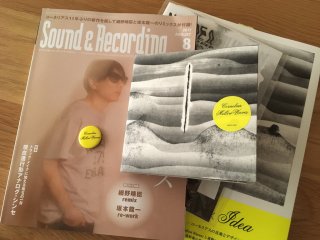 Music release news: Tamaki ROY, Inoue Honoka, STE (Sunaga t Experience)
This week's videos:
Félix Dyotte ft. dahlia "Iki O Tsuitara"
This is a special collaboration of Québécois Félix Dyotte and Japanese dahlia! Bravo!!!
A must hear & watch! :)
Tamaki ROY "furukotobumi"
Posted on July 1, 2017 at 12:20 | Permalink | Trackback (0) | Comments (0) | Tweet |
---