Blog - November 2016 Archives
November 2016 Archives
Index
.27 Weekly revue: 2016 week #47 (November 19 to 25)
.20 Weekly revue: 2016 week #46 (November 12 to 18)
.13 Weekly revue: 2016 weeks #44-45 (October 29 to November 11)

---
November 27, 2016
Weekly revue: 2016 week #47 (November 19 to 25)

Food: - Dinner at 37.2℃ (Nanadonibu), Roka-kōen
- Gyōza at Fujiiya, Suidōbashi
- "Son of the Cheese" grilled cheese sandwich at Buy Me Stand, Shibuya

Music event: - On Wednesday I caught a bit of the "Switched On!" event in Kichijoji, organized by Dr. Usui ((M)otocompo). As always at his events, the line-up was impressive. I'm glad I got to see Genius, The Lady Spade, The Aprils, Cutie Pai, and also Dr. Usui-produced idol group "ikoku no Palpitante"!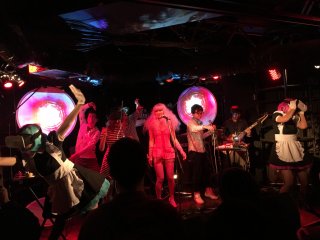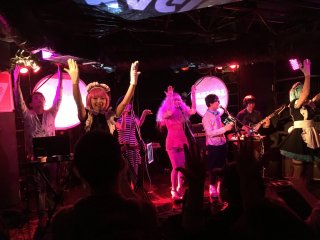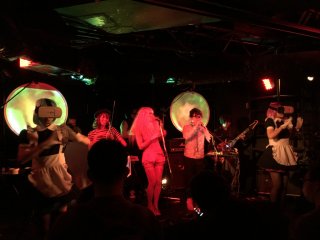 The Aprils feat. The Lady Spade
The Aprils (partial) set list: ki-ra-me-ki Moon Diver / Cosmo '80s / Discotheque Murder (Motocompo cover) / C.Disco (CTO LAB. cover) / Magical Girls feat. The Lady Spade / Horror Survivor feat. The Lady Spade (& zombie Taichi) / ..
Music release news: Okada Tohru, sugar me, Cutemen, Negicco
Playlist: Vanilla Beans, (M)otocompo x Kit Cat, frenesi, Metafive, Agata Morio, Genius
This week's video: Okada Tohru "shikkari! Dynamo! tanomu zo! Battery!"
Posted on November 27, 2016 at 15:14 | Permalink | Trackback (0) | Comments (0) | Tweet |
---
November 20, 2016
Weekly revue: 2016 week #46 (November 12 to 18)

Food: - Sri Lankan food at Cafe Lolita, Yoyogi
- Carrot cake at Buik, Minami-Aoyama
- Lamb meat, etc., at Ajibō, Kanda
- Annual oden at Tapir, Shin-Okubo

Music events: - I went to Nomiya Maki's annual show at Billboard Live Tokyo! This year the theme was "soundtrack Shibuya-kei", mainly covers of songs heard in movies or TV that inspired Shibuya-kei artists. That was a wonderful show! The song selection was great! I was especially moved by a version of "T'en va pas" (as sung by Harada Tomoyo with Japanese lyrics by Ōnuki Taeko). It was also a great flashback to hear "Topless Party", featured on Maki's solo album "Miss Maki Nomiya Sings"! ... and the Pizzicato Five medley of course! I sure hope this will be released on CD like the previous years' shows.

Set list: Tokyo wa yoru no 7ji (Pizzicato Five) / Chanson des Jumelles (from "Les Demoiselles de Rochefort") (Michel Legrand) / Love Squall (from "Lupin the 3rd") (Sandra Horn aka Sandii) / Melody Fair (from "Melody") (Bee Gees) / T'en va pas (from "La Femme de ma vie") (Elsa) / kaitou Ruby (from "kaitou Ruby") (KOIZUMI Kyoko) / Topless Party (from "Sweden: Heaven And Hell") (Piero Umiliani) / Go Kart Twist (from "Eighteen in the Sun") (Gianni Morandi) / 7 uomini d'oro (from "Seven Golden Men") (Armando Trovajoli) / koi to Machinegun (Flipper's Guitar) / Rouge no dengon (from "Kiki's Delivery Service") (ARAI Yumi (Yuming)) / Un Homme et Une Femme (from "Un Homme et Une Femme") (Pierre Barouh & Nicole Croisille)

Encore (Pizzicato Five medley!): konya wa Boogie Back (Scha Dara Parr cover) / Tokyo wa yoru no 7ji / À Tokyo (Afternoon At The Cafe) / Happy Sad / Baby Love Child / Twiggy Twiggy / Weekend

- I went to see Agata Morio's in-store event at Tower Records Shibuya's Pied Piper House (5th floor), in promotion of his new album "kindai Rock" out on that day. There was a talk show also featuring Pied Piper House's Nagato-san, and Suzuki Sōichirō (of World Standard, who sound-produced the album). Although it was just supposed to be a talk show and autograph session, he added in a mini-live show! Accompanied by Suzuki-san, he sang two songs from the new album, and also "boku wa tenshi janai yo".

Set list: Rosetta no keikoku / kaero kana, yozora o. / boku wa tenshi janai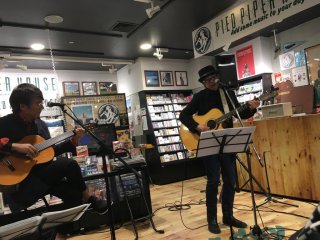 New music: This week was vinyl week! I got La veuve moustachue's new LP (a kind of updated version of the mini-album from 2002, with twice more songs), and also Hirayama Miki's "mayonaka no Angel Baby" (a newly recorded version produced by Groove Unchant and Arai Toshiya, plus a remix by Comoesta Yaegashi). I had also been looking around for Chikada Haruo's "hoshikuzu kyōdai no densetsu", an 1980 album that was later made into a movie of the same name. All great stuff!
Music release news: Wakita Monari, La veuve moustachue, lyrical school, "Japanese Sounds" mix CDs, Agata Morio
Playlist: Fujin Club, Emerson Kitamura, Nakatsuka Takeshi, Pizzicato Five, Tarte Tatin, hitomitoi, Chikada Haruo, etc.
This week's video: Wakita Monari "In The City"
Posted on November 20, 2016 at 13:27 | Permalink | Trackback (0) | Comments (0) | Tweet |
---
November 13, 2016
Weekly revue: 2016 weeks #44-45 (October 29 to November 11)

Food: - Salmon curry, sheep tongue curry and deer ham with grape sauce, with pumpkin basmati rice, at Tapir, Shin-Ōkubo
- Takoyaki at the flower shop snack, Mag by Louise in Yoyogi-Uehara
- Kerala home style curry at South Park, Asakusa
- Einspänner (Wiener coffee) at Café Bach, Asakusa

Movie: - I went to see the premiere of "The Brand New Legend of the Stardust Brothers" (「星くず兄弟の新たな伝説」) at the Tokyo International Film Festival! The movie is directed by Tezuka Makoto (son of Tezuka Osamu ("Astro Boy")), and it's related to his own 1985 movie "The Legend of the Stardust Brothers". That's right, a revival 30+ years later! The movie is a rock musical with a sci-fi twist, the Stardust Brothers head for the moon where they'll try hard to become superstars...!

I actually had the great chance to take part in this movie as an extra, almost a year ago, and it was really a great experience! I was so happy to finally see the result on the big screen! I do certainly appear for at least a few seconds, and even got my name in the end roll! :) The movie and the music were fantastic, but yet the best for me is that the movie also features Nomiya Maki who sings a brand new song! :)

Despite it being shown at the film festival, the movie still has a long way to go to make it to theaters because it's an independent production. It might take up to a year or so, and at this time promotion funds are being collected via crowdfunding (check out the trailer at this link!). I look forward to when I can see the movie again, and I hope you will too. Of course I'll announce it again when the time comes.

Also shown that night (it was an all-night screening event) were "DDT: Dramatic Dream Team!! -We are Japanese Wrestlers!-" directed by Matsue Tetsuaki and "hentai da" directed by Anzai Hajime.

Music event: - I went to Especia's release party for the analog edition of latest EP "Mirage". It was my first time seeing the idol group in its latest formation, as they're now three girls (Haruka, Erika and Mia) and their sound on that latest EP seems to have been heading into a more jazzy direction. They were backed by a back-band of six (guitar, bass, keyboards, sax, drums and percussions) consisting of their main producers Hi-Fi City. That was a very good show! Their brand new clip for the song "Nothing" was also shown for the first time. Watch it below!

Also playing was Dorian! It had been a while since I had seen him do a MC-909 set. That was a very techno one too, a big contrast when compared to latest album "Midori". By the way Dorian made the track for a very cool clip of a factory that makes screws! Check it out below! The song is available on OTOTOY!

Music release news: Hoshino Michiru, Taketatsu Ayana, Record Day 2016, METAFIVE

This week's videos:

Especia "Nothing"

Dorian "ASAI NEJI"

Posted on November 13, 2016 at 23:38 | Permalink | Trackback (0) | Comments (0) | Tweet |
---