Blog - October 2003 Archives
October 2003 Archives
Index

.28 Free ticket


.28 Dairy Queen


.26 TAKANAKA Masayoshi madness!


.23 i-Radio


.22 Night in Bruxelles



.20 Bran Van 3000 on TV!


.15 Earthquake



.13 Antwerp




.12 Okinawa fair and sushi


.06 Bike ride



.04 No dog shit


.03 Albert Cuypmarkt

---
October 28, 2003
Free ticket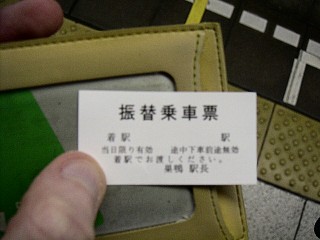 Every morning I ride Saikyō line from Shinjuku to Itabashi. Being one of the most crowded lines in Tokyo, it's quite common that it gets late or stuck.
This morning there was a suicide at Kita-Akabane station (Yahoo! News (in Japanese)), and the line was stopped for about an hour.
When Saikyō line stops, the only way I can get to work by train is to ride Yamanote line to Sugamo, and switch to my usual subway line to destination. Having train passes from home to work, if the train is ever late or stopping for a while, I can switch elsewhere and get this ticket at the exit, which allows me to ride the extra for free.
Just gotta ask, and you can easily save a few hundred yen!
Posted on October 28, 2003 at 00:26 | Permalink | Comments (2) | Tweet |
---
Dairy Queen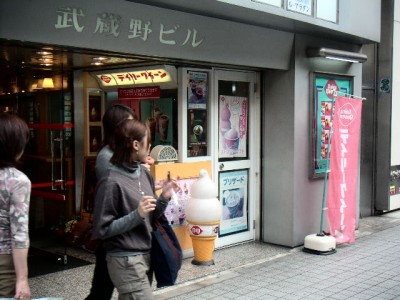 Dairy Queen is also in Japan!
About once a week I stop at the one in Shinjuku, located in Musashino building (Shinjuku 3-27-10), facing the My City department store at the East exit.
I just can't resist having a good old Blizzard once in a while!
Posted on October 28, 2003 at 00:16 | Permalink | Comments (9) | Tweet |
---
October 26, 2003
TAKANAKA Masayoshi madness!
Today I came across a closing record store which was having a crazy sale. You could fill up a box with as much as would fit in... for 1000yen!
Unfortunately, the plunderers had already passed so there was not much interesting stuff left, but the large section of TAKANAKA Masayoshi vinyls seemed about untouched! I was able to pick up a good pile of his old albums.
- An Insatiable High (1977)
- Brazilian Skies (1978)
- Jolly Jive (1979)
- T-Wave (1980)
- Finger Dancin' (1980)
- Alone (1981)
- Ocean Breeze (1982)
- Saudade (1982)
- Horizon Dream Vol. 2 (1982)
- Can I Sing? (1983)
- natsu zen kai (1984)
- Traumatic (1985)
- Jungle Jane (1986)
- Rendez-vous (1987)
TAKANAKA Masayoshi is a famous Japanese guitarist. If you don't know him read this English biography.
Posted on October 26, 2003 at 02:41 | Permalink | Comments (19) | Tweet |
---
October 23, 2003
i-Radio
I'm listening to Yukari Fresh's Radio Active Man Internet radio show now, for the first time!
To play, click the "Play" button near the top of the page.
The current issue features Clear, the new unit of MATSUDA Shōgo (formerly American Rock) of which the new album "Duel" will be released on Escalator Records on November 7.
You'll find other cool radio shows at i-Radio, such as ones by Neil and Iraiza, KATŌ Noriko, Polysics and many others.
Posted on October 23, 2003 at 21:33 | Permalink | Comments (0) | Tweet |
---
October 22, 2003
Night in Bruxelles
(Slowly but surely...!)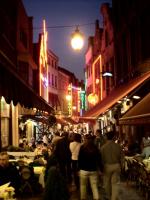 On September 16 we went through Antwerp and then arrived in Brussels early evening.
We dropped our stuff at the hotel and went straight to rue des Bouchers to have moules (mussels) for dinner (another great recommendation of my friend Simon-Pierre)!
I had never seen so many restaurants specializing in moules! Choice certainly wasn't lacking. Most restaurants were quite packed and had someone outside trying to convince passer-bys to come to theirs. We had no clue which would be best, so first we decided to check prices, also all too similar, and try to find a good deal.
Approaching the end of the restaurant area of the street, we found a calm restaurant where no one was harrassing passer-bys (and (therefore?) there were almost no customers), Chez Karim. We each had a large pot of moules, with fries of course! We were really full when we got out of there.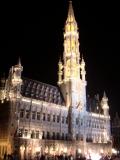 Later in the evening, we walked down to Grand-Place (Market-Square). We didn't quite know what it was about, but it seems like we got there just at the right time since the sight and sound show began just then. Grand-Place's impressive city hall is then lit up with colorful lighting synchronized with classical music.
Click the thumbnails for larger images
Posted on October 22, 2003 at 19:56 | Permalink | Comments (0) | Tweet |
---
October 20, 2003
Bran Van 3000 on TV!
What a good surprise!
A new Nissan commercial on TV here uses Bran Van 3000's "Go Shoppin'"! Yeah!!
Go Montreal! :)
Posted on October 20, 2003 at 00:05 | Permalink | Comments (0) | Tweet |
---
October 15, 2003
Earthquake
Whoa, we just had an earthquake. It seemed pretty strong here on the 4th floor.
It seems like it was of magnitude 3 on the Japanese scale (approximately 4.3 on the Richter scale, or 4 on the Mercalli scale [ref #1] [ref #2]).
This is the description of a magnitude 4 earthquake on the Mercalli scale:
"Dishes rattle; standing cars rock; trees shake. Most people indoors feel movement. Hanging objects swing. Dishes, windows, and doors rattle. The earthquake feels like a heavy truck hitting the walls. A few people outdoors may feel movement. Parked cars rock."
(Source: http://www.il-st-acad-sci.org/kingdom/geo1001.html)
Update 18:38
Seems like it was a 4 on Japanese scale (and 5 on Richter scale), in Saitama, Chiba and Kanagawa.
Quake jolts Tokyo, vicinity (Japan Today)
Posted on October 15, 2003 at 16:43 | Permalink | Comments (3) | Tweet |
---
October 13, 2003
Antwerp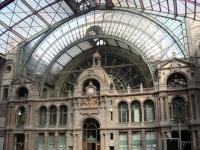 On September 16 morning, we took the train to Antwerp, Belgium. Antwerp is in the Flemish part of Belgium, Flemish being one of Belgium's official langues.
As far as I could find out, the Flemish language is very close to Dutch (the Netherlands' language) and the different name is mostly a nationalist issue (interesting info in this thread). In Antwerp, although most signs are in Flemish, people in shops all seem to also speak French (and also English), so it was no problem getting around.
We only had the afternoon to visit Antwerp because we then had to head off to Bruxelles where we had booked a stay. In order to use the short time wisely, we set our priorities straight: chocolate (for me), fashion (for Tomoko), patates frites, and waffles. Tomoko had done some research and had addresses of several shops in all categories, so all we had to do was find them. I had printed a few maps from the useful Antwerp site, and we also found maps at several places in the city.
Our first view of Antwerp was Central Station which was really beautiful (pictured above). Central Station is located facing De Keyserlei street, so we walked on De Keyserlei, Leysstraat and Meir down to Groen Plaats, and then walked around this axis.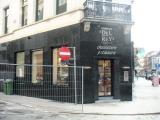 Belgium is the kingdom of chocolate and praline! I had never seen so many chocolate/praline shops!
We decided to try as many as possible, so we entered all of the ones we saw in Antwerp and bought at least two chocolates at each, usually costing about €1 for 2, which is incredibly cheap compared to the prices some of the same shops charge in Tokyo (where prices over 300yen a piece is common), so we had a real feast!
We had Del Rey, Galler, Godiva, Léonidas, Neuhaus, Pierre Marcolini (where I also ate delicious chocolate ice cream), ...!
To take back home I bought a variety of Léonidas bars, a bunch of Côte d'Or bars (that my friend Simon-Pierre in Montréal had recommended), some Kinder bars that I had never seen before (I only knew of the Kinder Surprise eggs which are widely available in Canada and Japan, but I also saw these other bars elsewhere in Europe and also in Hong Kong), and also some Meurisse Zero bars (chocolate best eaten cold) that I've always loved.
Then we went to eat some fried potatoes at Frituur N°1, a stand-style restaurant with indoor tables Tomoko had found about on the net. We had fries with mayonnaise and curry mayonnaise, and Tomoko had some Belgian beer.
Later we also had a delicious waffle at Belgaufre!




And now some more pictures of Antwerp!







Click the thumbnails for larger images
We left for Brussels late afternoon...
(Sorry about the slow pace with the details of our trip, I'll try to speed up a bit!)
Posted on October 13, 2003 at 13:55 | Permalink | Comments (5) | Tweet |
---
October 12, 2003
Okinawa fair and sushi

Today we had a rather lazy day. We woke up quite late because we went out clubbing to Oto in Shinjuku, where we saw MATSUDA "Chabe" Gakuji (Cubismo Grafico), Mansfield, and a secret NOMOTO Karia live!
I took the picture to the right on our way back around 4am. The moon was shining right between two tall buildings.
So today we just went around Nakano by bike, and found by surprise an Okinawa fair (Okinawa is Japan's most southern island) being held in front of Sun Plaza. There were a few dozens of kiosks selling Okinawan goods and food, and also a bit of American food, like Spam(!), because Okinawa was occupied by the U.S. from 1945 to 1972.
Tomoko had shima-dōfu ("island tōfu") and I had ika hirayāchi (Okinawa-style okonomiyaki with squid). It was delicious! There was also live Okinawan music being played.




At the end of the afternoon, we went to Otaru zushi, a kaiten-zushi near Ochiai station (in Shinjuku-ku, on Tōzai line). Kaiten-zushi is a type of sushi restaurant where sushi plates spin on a circular belt, so that customers can pick up what they want without having to order. It's however possible to order specific plates.
At most kaiten-zushi the chefs are located in the center of a circular counter, so that customers can order directly. However at this place the chefs are located at the way back, and orders can be placed using an intercom located in front of you. It's an interesting concept however I haven't tried ordering through the intercom yet since I was satisfied with what was passing by. :)





Click the thumbnails for larger images
Posted on October 12, 2003 at 01:01 | Permalink | Comments (2) | Tweet |
---
October 6, 2003
Bike ride
Last Saturday we had a quite nice bike ride. We rode through Ikejiri-ōhashi (Meguro-ku), Sangen-jaya (commonly called "Sancha", in Setagaya-ku), Shimokitazawa (Setagaya-ku) and Hatagaya (Shibuya-ku) before coming back home early evening just in time as rain was beginning to pour.
In Ikejiri, we met Yūko (Tomoko's sister) for lunch just before she left for Thailand. We ate at The Globe, an interesting mix of a café/restaurant and an antiques shop. What's funny is that there are prices on everything: the sofa you're sitting on, the table you're eating on, each of the large number of chandeliers, and all other decorations.
At The Globe, I ate shephard's pie for the first time, and I can now tell for sure that although the English term for the popular Québec home meal pâté chinois is "shephard's pie", shephard's pie is definitely not the same stuff as it lacks one of the most important ingredients of pâté chinois: corn!
I'm still partial to the basic minced beef/corn/mashed potatoes pâté chinois (sample recipe in French), but the shephard's pie I had was also very good. :)
Then in Shimokitazawa, we shopped at Kaldi, one of our favorite food shops, which stocks imported food and where you always get free coffee at the entrance. I bought some instant Shinramyun (called Shin-ramen in Japanese), spicy Korean noodles that I love.
On our way back I did a bit of CD shopping, and I grabbed Doop "Circus Doop". Doop is a band from Amsterdam that was recommended to me by Erik. Haven't listened yet but I will soon. :)
Posted on October 6, 2003 at 12:24 | Permalink | Comments (2) | Tweet |
---
October 4, 2003
No dog shit
My friendly neighborhood has plenty of dog owners, and, in order to avoid having dog shit in front of their door, some people put a sign asking not to let your dog do its duties there.
Therefore I share with you my collection of pictures of these signs, in order of politeness (most polite first). The last one was taken at a house where there are about 5 such signs in front of the tiny entrance... Better be careful that your dog doesn't decide to stop over there. :)
And now a Parisian version. Cute, but expensive!


Click the thumbnails for larger images.
Posted on October 4, 2003 at 00:17 | Permalink | Tweet |
---
October 3, 2003
Albert Cuypmarkt
On the morning of our second day in Amsterdam, we went to Albert Cuypmarkt, which I think is the largest daily market in Amsterdam. The goods are mostly food (fish, fruits and vegetables, even penis-shaped chocolate) and cheap clothing. Tomoko found shoes similar to expensive ones she had been watching, at a bargain price.
Since we had arrived in Amsterdam, we had been seeing people with red bags saying "DIRK", and it was driving us crazy not knowing what it was. It turned out it was a supermarket, and we went there to buy some stuff we can't find back home: frites sauce (some type of mayonnaise), chocolate topping for toast, cheap coffee and spices, etc. We also got our own red Dirk bags which we had to pay €0.15 each.
We went back to Nieuwmarkt where we met my friend Erik (fellow p5mler and author of the useful ShibuyaLink Web site), who guided us around a bit. We first went to eat, and then saw an outdoor photography exhibit of aerial views taken all over the world, and then walked around Amsterdam for a few hours.
He brought us to Concerto and Get Records on Utrechtsestraat, where I bought Spy-Fi "The Shadow Knows..." (interesting Dutch band mixing all kinds of sounds), "Manos Arriba!" (Bungalow compilation of Mexican electronica) and Bertrand Burgalat "The Sssound Of Mmmusic".
In the evening we walked through the infamous Red Light District, and went back to our botel to get our stuff ready to leave to Belgium the next morning.





Click the thumbnails for larger images.
Posted on October 3, 2003 at 23:40 | Permalink | Comments (2) | Tweet |
---