Blog - January 2006 Archives
January 2006 Archives
Index


.30 Matsuken fan site


.28 Uma Japan


.27 A Man's Graveyard Production



.09 YMCK mini-live report



.09 Aspect ratio hell


.06 USB Radio

---
January 30, 2006
Matsuken fan site
For those who would like to learn more about actor Matsudaira Ken (and singer of his trademark Matsuken Samba), there's a new fan site in English and German! This year, Matsuken will be featured in a film titled "baruto no gakuen".
All the information you need, and more, at The Unofficial Ken Matsudaira Fan Site
Posted on January 30, 2006 at 22:37 | Permalink | Trackback (0) | Comments (1) | Tweet |
---
January 28, 2006
Uma Japan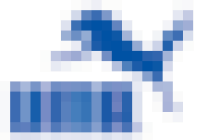 After having heard of the brand a while ago, and finally seeing someone with a UMA bag in the subway recently, we found some shops selling stuff by Uma Japan.
Uma Japan takes inspiration from logos of reknowned brands and turns them into their own original designs, such as UMA (horse) and NIKU (meat). The products aren't fakes, and don't pretend to be, but rather hilarious parodies.
Second House is a small shop in Yoyogi that sells a large variety of the goods (T-shirts, bags, socks, caps, ...), and there's currently a big sale going on until February 3. Check it out!
Posted on January 28, 2006 at 22:51 | Permalink | Trackback (0) | Comments (6) | Tweet |
---
January 27, 2006
A Man's Graveyard Production
On Wednesday night we went to a small theater in Shimokitazawa to see the two latest films of indies director Sugisaku J Tarō (aka LL Cool J Tarō)'s production unit, 男の墓場 (A Man's Graveyard Production). The two yakuza-themed films shown were 「怪奇!幽霊スナック殴り込み!」 (Horror! Ghosts raid at the snack!) and 「任侠秘録人間狩り」 (chivalry top secret man hunt(?)).
怪奇!幽霊スナック殴り込み!
Action takes place in a snack in Asakusa, where many customers can't help but fall in love with the young and beautiful mama, Yuki. No luck though, as they can only get love back from Mari who ruthlessly kills each of those to benefit from their insurance. The snack is soon haunted by the ghosts of Mari's preys, and they will finally have their chance to get some attention from Yuki by defending her against yakuza.
My favorite part of this film is probably when some zombie-ish guy (he can be seen at the top of the ticket pictured) travels almost naked through the night to go in turn take revenge on the ghosts. A fun, action-packed yakuza vs ghosts film.
任侠秘録人間狩り
Young desperate yakuza kins carry business in promising beautiful women to their client. The system is so that the client is given three days with a girl, and if he can win her heart during that time, he doesn't have to pay. Or so the client is told, as no girl is involved in the plan to extort money from the perverts.
Tables seem to turn when a strange client who seems to know too much shows up. Could he be yakuza himself, or maybe a cop?
---
One characteristic of the two low-budget films is that they featured a ton of actors, including many popular personalities from the scene. The ones that caught my attention were Yokoyama Ken (Crazy Ken Band), Paradise Yamamoto, Gyokō, Anzai Hajime (Tamori club), Yamada Gorō, and Ebisu Yoshikazu.
Yokoyama Ken was especially funny as he played himself in the snack flick. When a guy showed up to his office to claim money asking for some unknown name, he went "What!? I'm Yokoyama Ken! Crazy Ken Band! ii---ne!", and then when confronted being told that he's been going to that snack, he said that he doesn't go to snacks because he only drinks water and juice (true fact that he doesn't drink alcohol).
Paradise Yamamoto was an angry neighbor in the second film, he only showed up for a few seconds.
After the screening was a talk show featuring the director and several actors, including the zombie-ish guy in his film outfit. Ebisu-san was hilarious complaining that he wasn't paid and didn't even get free goods or tickets. Sugisaku-san then said that even the guy who designed the badges being sold had to buy his own.
The program is screened everyday at 8pm until February 3, at Cinema Artone in Shimokitazawa.
I can't recommend enough to get there early, we were a few minutes late for the door opening (19:45) and we ended up sitting on uncomfortable stools along the wall, instead of the cozy theater seats, and that for over 3 hours. The tilted floor didn't help to comfort either. So if you go, go early!
Posted on January 27, 2006 at 12:31 | Permalink | Trackback (0) | Comments (4) | Tweet |
---
January 9, 2006
YMCK mini-live report
Yesterday I went to see the YMCK mini-live at Tower Records Shinjuku. I got there about 10 minutes before the show began and had to watch from the back of the crowd with friends Alan and Miwa. The place was pretty full so I really couldn't see the band much at all except for Midori's occasionally raised hand while dancing, and of course the large screen showing their funny videos.
They performed most (all?) songs from their latest album "Family Racing", and ended the show with their theme song. I had heard several of the songs live before, played in shows before the album was released, but some didn't have finished video, such as "Go! YMCK Go!" that I had first heard at the KDDI Designing Studio. This one now had fun video featuring YMCK travelling the world to the cities they've been so far: Stockholm, Taipei and Bangkok.
The biggest surprise of the show was that Takahashi Meijin was there himself to sing his part in "Rock 'n' Roll Rendez-vous"!! Then he also sang his old hit, "Bug tte Honey"... in a YMCK version! That was way cool, and he was a better singer than I'd have thought.
Since I had bought my copy of "Family Racing" at Tower Records Shinjuku, after the show I stood in line to get a YMCK autographed card. Just before the stand where the three members were, Meijin hid behind a rack of CDs looking a bit shy. If he'd have come out I'd have loved to tell him that I played his game, 「高橋名人の冒険島」 (English title "Adventure Land"), in Canada when I was a kid.
When I reached YMCK's stand, Midori handed me the small autographed card and recognized me, as I had talked to her before at the release party for "Family Music". :)
That was a fun afternoon happening! I'll have to see them again live soon though, to actually be able to watch them perform the new songs and enjoy the whole in a regular club environment.
Go! YMCK Go!
Posted on January 9, 2006 at 13:40 | Permalink | Trackback (1) | Comments (6) | Tweet |
---
Aspect ratio hell
Lately, I've been digitizing video from TV occasionally, and yesterday I got to wondering about what video resolution is optimal for video capture from TV. I had been recording randomly to DVD-suitable 720x480 MPEG-2, without real plans to put the recorded stuff on DVD in the end, but even afterwards converting them to a more compressed format such as DivX.
My main concern that sent me searching was whether this resolution was dropping lines from the TV signal, but I ended up learning about a much more serious problem: a TV's "pixels" are rectangle, while a computer's are square. This means that a 4:3 ratio TV capture at 720x480 (pixel ratio of 4:2.6̄) will look stretched horizontally when displayed on a computer.
Without going any further, I'm directing you to this very detailed article:
Choosing the Optimal Video Resolution
In summary, only if your final and only output is to be DVD it's good to use 720x480, otherwise always use 640x480 or other 4:3 ratio resolutions.
Posted on January 9, 2006 at 12:26 | Permalink | Trackback (0) | Comments (5) | Tweet |
---
January 6, 2006
USB Radio
This is my fIrst blog post of 2006, so Happy New Year!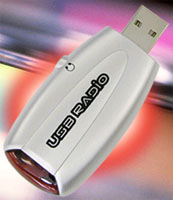 Having missed a few good radio shows lately, I looked up again what could be my alternatives to buying a stand-alone radio. I had eyed the iFM (for iPod) before but I couldn't find one easily at that time and also I wasn't too excited about the low bitrate recording limitation.
This time I found this USB FM radio, made by a Chinese company and sold in Japan by Thanko (original model number LUR-1001, Thanko model number USBRAD01). It seemed just perfect for my needs, and its features even include scheduled recording which could be very useful.
So yesterday I went and bought it at Yodobashi Camera (the brand doesn't seem to be carried by other major chains) where it's sold ¥2980. I tried it out and it does work as advertised, however I'm having a lot of trouble to catch a clear signal, though some stations are better than others (InterFM is ok, but NHK FM is pretty bad). The main problem is that the antenna is in the wire used to connect the radio to the sound card's line-in, but it catches a whole lot of noise whenever it's near the computer, electric cables or metallic stuff. Talk about a silly situation! There's also no possibily of using a different antenna.
My next plan is to get a USB extension cord, which hopefully my local Daisō (¥100 shop) has, and attempt moving the radio and antenna cable away from the computer... I'm crossing my fingers!
Posted on January 6, 2006 at 12:26 | Permalink | Trackback (0) | Comments (5) | Tweet |
---