Blog - February 2007 Archives
February 2007 Archives
Index

.26 Hawaii Five-0 tribute song


.25 Sneaky eMusic


.23 No Game Cube controller, no Game Cube


.22 The Pinchcliffe Grand Prix



.18 The Fascinations live report


.17 We're back!


.14 Tamagawa and Denen-chōfu


.13 QP under the bridge


.11 J Select


.11 Yoga debut



.10 Crazy Ken Band live report


.07 Wiimote cradle charger, yes!


.06 JLPT passed!!


.06 2010


.04 Pink tulips




.03 Tengu matsuri

---
February 26, 2007
Hawaii Five-0 tribute song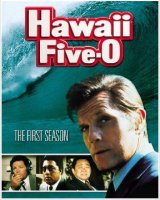 This one isn't by me but by a fellow P5MLer friend named Craig Little. He sent me this groovy track he made in tribute to TV series Hawaii Five-0. :) This also coincides with the DVD release of the 1st season (Amazon U.S.), it seems.
Craig Little "This is McGarrett" (2.8MB, 160Kbps MP3, 2m23s)
Stream or Download (Right-click to save)
Enjoy!
---
And while on the topic of music, I'd like to point out these two MySpace's that I had just been checking out and that I really like.
Cobalt z Frame, the new electronic unit of a very good friend in Montreal
Tokyo Flash, the new unit of Shinohara Tomoe with Kagami
Posted on February 26, 2007 at 23:44 | Permalink | Trackback (0) | Comments (0) | Tweet |
---
February 25, 2007
Sneaky eMusic
I had signed up with eMusic.com (no-DRM music download service) a while ago during a promotion offering free music downloads with no obligation, and then canceled my account. The free registration had asked for my credit card details, but nothing had been billed.
Today I received an email from them saying the following along with a "REJOIN eMUSIC NOW!" link.
This is a special limited-time offer for former eMusic trial subscribers. Renew your eMusic subscription today and for a limited time get 50 free downloads!* [snip] See below for full terms.
Click here for an image of the full email.
I did feel some interest to maybe join back, but didn't remember how much a basic account was, and a price was not to be found in the email (not in the small print "full terms" at the bottom either). So I went on and clicked the "REJOIN eMUSIC NOW!" link...
To my surprise, doing so brought me to my reactivated logged in member page (it had previously been canceled in a way that I couldn't even login anymore), with an activated subscription. Furthermore, checking my credit card statement online confirmed that they billed me! I was never shown the price I was paying or a confirmation page in this process.
Quite shocking!
I don't know if this is legal practice or not, but it sure is sneaky and very disappointing.
I have emailed their billing department to ask them to give me my money back and close my account again, or that I'd ask my credit card company to contest the charge that I never acknowledged. I'm now waiting for a response.
---
Update (2007/2/25 10:30): eMusic promptly refunded me and canceled my account. Thanks!
Posted on February 25, 2007 at 00:47 | Permalink | Comments (8) | Tweet |
---
February 23, 2007
No Game Cube controller, no Game Cube
The Wii has a feature that allows playing Game Cube games. I had been keeping that in the back of my mind, until today when I finally found a GC game I wanted to play ("RockMan EXE Transmission", aka "Mega Man Network Transmission") for cheap and bought it, but to my disappointment I then found out that the Wii only allows to play GC games when using a GC controller... that kinda sucks, I was sure my Classic Controller would do. :(
That to say, if anyone has a GC controller collecting dust, I'd be very happy to borrow it for a while. :)
Oh and I'm still quite addicted to Wii Sports, playing everyday or so! I have yet to want another Wii game, though that will change as soon as one will catch my attention, but so far I've been quite satisfied playing tennis, golf and bowling.
Last month Wii Sports had measured my "physical strength age" (体力年齢) to 56 year old, and today checking it again I got 25 year old! That's what I call improvement! :)
Posted on February 23, 2007 at 00:14 | Permalink | Comments (2) | Tweet |
---
February 22, 2007
The Pinchcliffe Grand Prix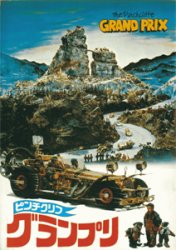 Last night I went to see The Pinchcliffe Grand Prix, a 1975 stop-motion animation movie from Norway (original title "Flåklypa Grand Prix")! This 90-min. film by Ivo Caprino takes place in a small Norwegian mountain village, where an ingenious inventor runs a bicycle shop.
When watching the news one day, the inventor finds out that an old worker had stolen his sports car motor design and became famous winning races without giving him any kind of credit. Furious (though his motionless face is always smiling :D), he decides to make a better car and win against him. The only problem is that he is very poor, his shop being at the very top of the mountain and therefore unpopular with those with a broken bicycle, but the solution is found when a rich Arabic oil company arrives in town and offers to become his sponsor.
All of the scenes have impressive details, and the final race is breathtaking, complete with sabotage and "dirty tricks", making this masterpiece surely enjoyable for people of all ages. Even though I never buy these, I couldn't resist getting the movie's pamphlet.
The movie is currently playing at Theatre N Shibuya with Japanese subtitles (some screenings are dubbed).
Posted on February 22, 2007 at 19:35 | Permalink | Comments (2) | Tweet |
---
February 18, 2007
The Fascinations live report
Last night we met up with friend Tsugumi and went to JZ Brat, a jazz bar located in a hotel in Shibuya, to see The Fascinations' first one-man show. I had seen them last month performing at Dahlia's release party and they were great, so I wanted to see them again.
JZ Brat being also a restaurant serving a bit of food, we got there a bit early around dinner time and had Caesar salad, penne arrabbiata and fish & chips. It was all pretty good, and the pizza on a neighbor table also looked good. A bit expensive but then again you're in a hotel, and service was excellent.
The Fascinations' set was much longer than last time and was divided in two sets (or you could say that there was an entr'acte), and included several songs from the newly released album "My Funny Vibraphone", such as "My Funny Valentine", "Someday My Prince Will Come" and a shocking 4-beat arrangement of "Take Five" (this one for encore). Also played was my favorite "Sail Away" (an original song that's the opening track of "color code"), as well as "Fascinated Groove", "L-O-V-E", "Lovin' You", and a lot more. Great set!
During the break, Tsugumi and I walked up to vibes player and band leader Watanabe Masami, with who we had talked briefly the last time, and we got our CDs signed! While at it we went around and got autographs from the four other members. I told drummer Miura-san that I used to play drums and that I really like his performance. He was very friendly and told us to not hesitate to talk to him again.
Posted on February 18, 2007 at 12:00 | Permalink | Comments (0) | Tweet |
---
February 17, 2007
We're back!
After a few hiccups (mainly missing images), the site is back to normal, I think. If you notice anything strange, please let me know!
Yesterday I moved the site to another host as my previous contract was getting close to an end and I didn't overly want to stay there.
This time I chose BlueHost.com which was recommended to me. It seems that reviews are good and that the connection is a bit faster than before (for me anyway).
I was quite surprised by the features BlueHost offers for the same price: 200GB of disk space and 2TB of monthly bandwidth. My previous host offered a reasonable 2GB of space and 60GB of bandwidth, limits that I never got close to reaching. I don't really have a use for such allowances, but this is just to say that it seems standards have been going up!
This does make me wonder how many clients they fit per server. It sure couldn't be many if everyone would use their 200GB of space, but probably few do.
The move went rather smoothly, except that Movable Type spit out some unneeded .htaccess files in all blog root folders, and that broke a lot of stuff until I went and deleted them.
A good thing is that the new host supports FastCGI, which can be used to make MT run smoother. Hopefully response time when posting a comment will be better than before.
Posted on February 17, 2007 at 10:50 | Permalink | Comments (4) | Tweet |
---
February 14, 2007
Tamagawa and Denen-chōfu
Some more photos from the Tamagawa and Denen-chōfu area.
1. 2. Right in the middle of Tamagawa were these fishermen sitting on stools!
3. A dam(?)
4. A sign where all the important red words have disappeared from sun exposure, good job!
5. Limit between Tokyo and Kanagawa prefecture
6. Sign on Maruko-bashi showing the way to Tokyo Ōta-ku and Kanagawa-ken Kawasaki-shi
7. 8. Mysterious lined-up pandas outside some house in Denenchōfu. A cute little girl kept repeating 「これパンダじゃない!これパンダじゃない!」 ("Look, aren't these pandas!!") as she passed by.
9. Denenchōfu symbol, ginkgo leaves
10. Sanrio's "Strawberry House" store in Denenchōfu
Larger sizes and more photos at Flickr
Posted on February 14, 2007 at 12:15 | Permalink | Comments (0) | Tweet |
---
February 13, 2007
QP under the bridge
On Monday we headed down to Tamagawa, on Tōkyū-Tōyoko line, to go see a large QP piece located under a bridge that crosses this river separating Tokyo and Kanagawa prefecture. This photo by Flickr user imoto had tipped me on this, and the author was kind enough to get back to me with directions on how to get there.
Photo by imoto, this links to the Flickr page
Crossing Maruko-bashi took us to a large field where many people were enjoying picnics, cycling and all kinds of sports, even American football.
Both Maruko-bashi and the bridge for Tōkyū-Tōyoko line have large walls sustaining them, these must be the dream of graffiti artists who want to write large pieces. Under the train's bridge, nearby the river, is located that great QP piece. Unfortunately we found that it has since been "damaged" by a bunch of untalented kids. Still it was nice to see it up close!
And here is one autostitched from 6 photos! It's best viewed LARGE at Flickr. (2MB)
Here are also a few other walls that got my attention. There are over 10 such covered walls under the two main bridges in that area.
Another QP trace, this one found in Den'enchōfu. While the town is very clean, this bridge showed some graffiti traces. All of them had been covered with blue paint, but this Q-chan was probably just out of reach.
Speaking of QP, lately he has been getting funnier. His recent tags are covered with a "privacy assurance seal" which can be removed by passersby to reveal jokes or naughty drawings. I found this intact one in Koenji, saying 「やめた方がいい」 ("You'd better stop!", re: peeling off the privacy seal). Of course I then put the seal back so that the next curious can enjoy it too.
I guess these two were also originally sealed the same way:
Posted on February 13, 2007 at 23:40 | Permalink | Comments (0) | Tweet |
---
February 11, 2007
J Select
I have been quoted in the February 2007 issue of magazine J Select, alongside fellow Canadians Jean Snow and Sonia Chow. The article is about blogging, with our hows and whys and also pros and cons.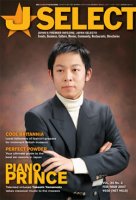 Check it out, even if just in a tachiyomi session. :)
Posted on February 11, 2007 at 21:09 | Permalink | Comments (4) | Tweet |
---
Yoga debut
Today I went to a yoga studio for the first time! I went to the recently opened Shinjuku-Gyoen studio of Tomonaga Yoga Institute, school that has a long history since being founded in 1978, unlike the many yoga places that have been popping up because of the ongoing yoga boom. I used their free lesson given to anyone who drops in for the first time. All you need to do is get there about 20 minutes before a class and bring a yoga mat or towel. (Classes are given in Japanese, so you're better off knowing body parts and that type of stuff.)
Until now I had been reluctant to try out yoga. I knew it has to be good for your body, but I didn't think I was quite flexible enough to get through. This morning I was still a bit hesitant but I'm glad I went. This place's classes are mostly aimed for beginners, all moves are rather slow and respect the capabilities of each. I realized that I could use that kind of stretching and exercises once in a while so I'll probably be going back.
Unlike some places which force you to become a member to attend, at Tomonaga you can drop in at any class (no reservation necessary) for a reasonable cost of ¥3000, which I'll probably doing sometimes. There are also better deals for those who want to go often.
Posted on February 11, 2007 at 19:50 | Permalink | Comments (1) | Tweet |
---
February 10, 2007
Crazy Ken Band live report
Last night was the Crazy Ken Band show I had won tickets to! This was a completely free show, sponsored by the New Days conbini chain to celebrate their 5th anniversary. This year is also CKB's 10th anniversary, and it was their first show of 2007. It was the first time I saw CKB live, though I'm familiar with their 5 latest albums.
The 12-piece band (and then some) took the stage at Shibuya AX for a show of 1½ hour, performing at least a dozen songs including several of their hits and also several from their latest album "Galaxy". They even played two encores (3 songs and then one song), leaving the audience very satisfied. Between many of the songs they often played commercial-like little ditties that announced "Crazy Ken Band, ii ne!!!", getting them bonus applause.
Lead singer and MC Yokoyama Ken is a great entertainer, living up to his image. He really has a great powerful voice and a funny character, telling some stories and joking with other members.
The band was very dynamic, most members having some funny tricks of their own. I especially enjoyed a solo part by guitarist Onose Masao, later joined by keyboardist Takahashi Toshimitsu who played a fast phrase on a small keyboard which he then threw over his shoulder, haha! Also towards the end of the show, Yokoyama Ken and another guy took turns striking a pose while standing on some spinning disc that the other rotated the disc, a hilarious sight.
As for the set list, I can't recall everything, but here are some songs that I remember: tenyawanya desuyo, Shock Hawaiian Shock, Honolulu BBQ, Koro, ta-su-ke-te, Mappila Rock (Mappila Bossa), and my favorite, Tiger & Dragon.
Aside from the new single "tenyawanya desuyo" to be released later this month, the super-productive band announced that they're preparing a new album to be released this year.
ii ne!!!!
Posted on February 10, 2007 at 09:51 | Permalink | Comments (3) | Tweet |
---
February 7, 2007
Wiimote cradle charger, yes!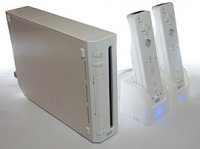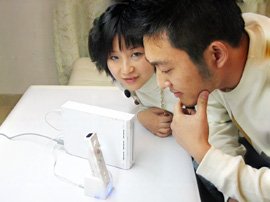 I was afraid that such a feature would only become available once a new version of the Wii comes out, but wacky gadget company Thanko has come up with a cradle-type battery charger for the Wiimote! It's simply called the USB rimokon Charger, as it plugs into a USB port in the back of the Wii. It will only ship at the end of February at the price of ¥3480 for one or ¥6480 for two, but pre-orders are being taken now with a ¥200 rebate off retail price.
It's important to note that this is far from being cheaper than getting rechargeable 単3 (AA) batteries like Eneloop, available at about ¥3000 for 4 with a charger. However it will certainly feel better to dock the wiimote rather than removing the batteries from its back and putting them in a charger.
A look at Thanko's product page is also worth it. They make pretty much anything you can think of that plugs into USB, and then some: USB warm gloves, USB warm slippers, a USB warm mouse, USB warm mouse pads, a USB radi... wait, that's my old crappy USB radio that can't catch a decent signal! (Let's give it to them, they're only reselling this product by some Chinese company.)
---
Some more searching revealed another economical option that looks very good, the Wii Power Station from UK's JoyTech, apparently coming soon at £19.97 ($39 or ¥4750). It can hold and charge two wiimotes, and even has pull-out trays to hold the nunchuks.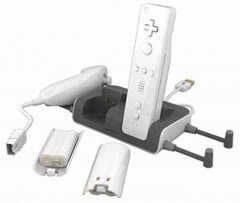 Now if I can find a shop that will ship this to Japan.
Posted on February 7, 2007 at 19:27 | Permalink | Comments (2) | Tweet |
---
February 6, 2007
JLPT passed!!
Today I finally got my result for the Japanese Language Proficiency Test level 2, that I had taken in December, and I passed!! And that with 80%!
Here are my full results:
Writing/Vocabulary: 76/100
Listening: 85/100
Reading/Grammar: 161/200
Total score: 322/400 (80.5%)
To me that's very satisfying, and I'm now done with level 2! Not that I'm ready to start preparing for level 1. I'll gladly take a rest from exams for a while. :)
Posted on February 6, 2007 at 23:43 | Permalink | Comments (27) | Tweet |
---
2010
Last Thursday I received my postcard telling me that my visa is ready, and this morning I went to pick it up. No surprises, but it was a lot of waiting. The place was much more crowded than 3 years ago. Either it's that there are more foreigners than before, or because it was a Monday and maybe Mondays are more crowded than other days (since there's mail on Saturday maybe).
09:05 - I arrive at the Immigration Bureau and quickly buy my stamps at the conbini (¥4000 for the visa renewal, ¥6000 for the multiple re-entry permit).
09:25 - After waiting for 20 minutes in line at counter A, I hand in my passport, the postcard and the ¥4000 stamp. Then I have to wait until it's ready, however my number is #98 and they're currently calling #35... While waiting, I fill-in the form to afterwards apply for a re-entry permit, and I avoid watching "fuyu no sonata" playing on TV.
10:35 - My visa renewal number gets called and I get back my passport with my new visa! I then head to the re-entry permit counter. I realize that before handing in my passport and my form I have to first take a ticket and wait about 115 numbers until my turn! (I should have got that ticket while waiting for my visa. Better luck next time.)
11:30 - My re-entry permit application number #360 gets called. Within a few minutes the permit gets added to my passport, and I'm out of here!
Once again I got a 3-year visa, so I'm now fine until 2010!
Next up will be my passport renewal in July this year... I'll once again have to go to the immigration to get my visa and re-entry permit transfered to the new passport. I'm not quite looking forward to going back there.
Posted on February 6, 2007 at 00:11 | Permalink | Comments (8) | Tweet |
---
February 4, 2007
Pink tulips
These pink tulips are the latest flowers decorating the kitchen.
Posted on February 4, 2007 at 11:45 | Permalink | Comments (2) | Tweet |
---
February 3, 2007
Tengu matsuri
Today after a great pizza lunch at La Piccola Tavola in Eifukuchō, we walked down to Shimokitazawa where is being held the Tengu matsuri throughout the weekend, celebrating for the 75th year the long-nosed god that protects the town. We watched the Tengu parade passing by the station's north exit at 3pm, so here are some photos of the event.
First, costumed people paraded from the right to the front of the station. Along came a small Tengu (person with a Tengu mask), and afterwards a large Tengu (huge Tengu sculpture).
Then, the costumed people threw beans to the large crowd which tried to catch them with bags or with their hands. Eating those beans is supposed to bring you good luck or such. I could only catch a single one because I was pretty far back.
The people and the small and large Tengu forced themselves a way through the crowd, part of which followed them along their route.
The street was then full of stomped bean remains.
Later, we went to the temple where the Tengu resides, 大雄山真竜寺 (Daiyūzan Shinryūdera(?), or 道了尊 (Dōryōson) as the locals call it), and we could have a closer look.
Larger sizes and many more photos at Flickr
Posted on February 3, 2007 at 23:02 | Permalink | Comments (2) | Tweet |
---