Blog - December 2014 Archives
December 2014 Archives
Index
.28 Weekly revue: 2014 week #52 (December 20 to 26)
.24 Weekly revue: 2014 week #51 (December 13 to 19)
.14 Weekly revue: 2014 week #50 (December 6 to 12)
.06 Weekly revue: 2014 week #49 (November 29 to December 5)

---
December 28, 2014
Weekly revue: 2014 week #52 (December 20 to 26)

I'm now on vacation for the end of the year! :) This week had a lot of eating and partying!

Food: - Salmon salad, chicken and quiche at Bespoque, Higashi-Nakano
- Chicken and world sausages at Sausage Style Hayari, Ebisu
- Black forest Christmas cake from Acacier
- and more great food at Christmas & Boxing Day parties, and at home :)

Playlist: The Lady Spade, frenesi, Ice Choir, Especia

Posted on December 28, 2014 at 22:08 | Permalink | Trackback (0) | Comments (0) | Tweet |
---
December 24, 2014
Weekly revue: 2014 week #51 (December 13 to 19)

The end of the year is coming, I've been busy, and a bit lazy. :) So here's last week's revue! Merry Christmas & Happy Holidays to all!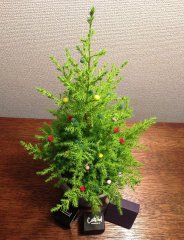 Food: - Special dinner at Tapir, Shin-Ōkubo: boudin noir, oysters, curry, etc.
Music event: On December 18 was Vanilla Beans' long awaited one-man show. I had bought my own ticket around March! It had been over two years since they did a one-man show, as they had focused on a series of band style shows (in events always featuring another band they chose) during that time, and this was their biggest so far, held at Liquidroom in Ebisu. This show had the first half idol/karaoke style, with the latter half backed by their great VaniBand. Young idol group Tokyo Girls' Style guested for two songs, and then the Supbeans joined for a song.
Their next album was also announced on that day, "Vanilla Beans IV" to be released on February 3rd (setsubun, a day that has to do with beans!). The limited edition will include a DVD of part of this show! Can't wait! :) Below is the set list.
1st set (karaoke + VJ):
Tokyo wa yoru no 7ji (Pizzicato Five cover) / sakasaka Circus / U love Me / koi no Theory / Baby Portable Rock (Pizzicato Five cover) / älskar dig / mō sugu triangle feat. Tokyo Girls' Style / Tokyo Girls' Style "memai" feat. Vanilla Beans / watashi... fukō guse (with Supbeans)
2nd set (with VaniBand):
Kids (MGMT cover) / Night on the Earth / Non-Section / koi no Sniper 007 / Subcul(ture) Girl madoka / Kiss wa me ni shite pō! / kitto ii fuchi / D & D / Choco Mint Flavor Time / Muscat Slope Love / uchōten Girl
Encore:
Please Me Darling / Nicola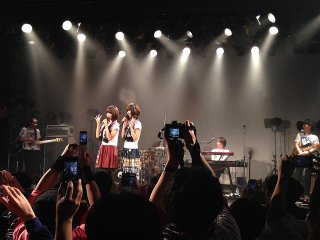 Music release news: Hicksville

Playlist: Towa Tei, The Lady Spade, Maika Leboutet, Mansfield, Vanilla Beans, Sunahara Yoshinori
This week's video: Nothing much, so here's a second one from my show the other day. :)
Glad En Mono "red" live at Koenji Connection
Posted on December 24, 2014 at 21:34 | Permalink | Trackback (0) | Comments (0) | Tweet |
---
December 14, 2014
Weekly revue: 2014 week #50 (December 6 to 12)

Food: - Chicken rice at Circus, Kunitachi
- Taiyaki at Wakaba, Yotsuya

Exhibition: Went to see street artist PUTS' exhibition at Kojimachi Gallery. PUTS' works often include cute characters, often with a "P" mark. There were about a hundred works shown in the small space, most already sold by the time we went.

Music release news: Negicco, jōdan hakushaku, Kojima Mayumi, NyoROBOtics, hitomitoi, Okada Tohru presents Ukulenica

Playlist: Nosa Reina, dahlia, Die Doraus Und Die Marinas, hitomitoi, Duck Sauce, Takahashi Yukihiro & Metafive

This week's videos:

Okada Tohru presents Ukulenica "Elephant"

Maika Leboutet "YAYUYO"

Vanilla Beans "uchoten Girl" wallet phone version

Funassyi meets Ozzy Osbourne!

Posted on December 14, 2014 at 12:07 | Permalink | Trackback (0) | Comments (0) | Tweet |
---
December 6, 2014
Weekly revue: 2014 week #49 (November 29 to December 5)

December 1st marked 14 years living in Japan! Yay!

Music events: - On Saturday (November 29) was event "ELEKTEL's Lounge vol.3" at Koenji Connection. I had the great pleasure to be invited as a guest DJ, and I took the opportunity to also play a few Glad En Mono songs on my old Concertmate-600 synth (a Casio MT-100 OEM). It was a lot of fun and I had some positive comments afterwards. This was my first time to play music live in Japan, hopefully not the last. :)

My DJ set was something like this:
- Naka Shigeo "Nocturne"
- Comoesta Yaegashi "Too much on my mind"
- Hosaka Akane "uchū no korisu-chan"
<live>
- Rodion "Solenoid (Original Mix)"
- Sugar's Campaign "Holiday"
- Kero Kero Bonito "Build It Up"
- Bakubaku Dokin "Beefsteak"
- Dorian "Onsen Holiday"
- playtime rock "GO!GO! Kikaradi-tan"
- "Lelemon no Theme" (by Hasebe Novko & Isoda Osamu)
- Pizzicato Five "Marble Index"
- Fantastic Explosion "Hope"
- Dorian "Nasty Ice Cream"

- Then on Monday, I went to see Ookawara Izumi (Qypthone)'s solo show at "Yagi ni, kiku?" in Daikanyama. Nevermind the calm café atmosphere, Izumi gave an energetic show, even pushing the tempo faster than usual. I had a great time! I also enjoyed sax-and-guitar unit Bossa Neko, and squirrel character Melody-chan (& friends) the event was about. Izumi plans to release a new song on iTunes in January!

Exhibition: Went to see "Otomo Yoshihide: Between Music and Art" at NTT ICC. The exhibition mainly features a large dark room with a white box in the center. Musician shadows are on projected on each side, and the according music is heard in the room. Kahimi Karie is one of them.

Food: - Gobi 65, onion cheese pakora, garlic mushroom mutton curry and black chana rice at Cochin Nivas
- Pizza slices at Pizza Slice, Shibuya
- Mince meat cake, brownies and molasses breadman from Sunday Bake Shop

Music release news: P.O.P, Sugar's Campaign, EmiLy, Reina & The Blue Valentines, Maika Leboutet

Playlist: Taketatsu Ayana, The Lady Spade, Prince, Sugar's Campaign, Hoshino Michiru Meets The Scooters, Maika Leboutet, P.O.P, Ice Choir

This week's video:

Glad En Mono "Glad En G (仮)" live at Koenji Connection
(One more here, and the whole show on Ustream here)

Maika Leboutet "Open Me"

Posted on December 6, 2014 at 21:47 | Permalink | Trackback (0) | Comments (0) | Tweet |
---