Blog - August 2005 Archives
August 2005 Archives
Index


.31 Train station apparatus


.30 Ishibashi for ¼" cords!



.30 Usagi-chang Night Fever!! vol.0003



.29 Kōenji Awa-odori 2005



.28 Comme des Garçons media



.28 Construction robot


.27 Bubble-B


.26 New gaijin card


.25 Linda Linda Linda


.18 Qypthone "Qypthone Episode 1: Qypthone Early Complete"


.17 Shopping bag


.13 Takimi Kenji and Fran-key



.12 NYC #1: Times Square


.12 iFM


.07 MeBox


.07 Sometimes wishes may come true

---
August 31, 2005
Train station apparatus
Saikyō line departing Itabashi station in the north direction (taken from the west exit). A bunch of old rusty signalization gear can be seen.
Posted on August 31, 2005 at 14:21 | Permalink | Trackback (0) | Comments (0) | Tweet |
---
August 30, 2005
Ishibashi for ¼" cords!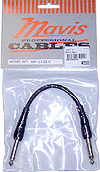 I may be late at getting a clue on this, but I feel the need to share my enlightenment.
Looking for cheap ¼" cords (for guitar, etc.)?
Go! to! Ishibashi!
The other day I went to the Shinjuku location to have a quick look for short (50cm or less) cords and amidst the pricey high quality ones (¥2000~) I had seen some at about ¥500, which I already thought were cheap.
But when I went back yesterday to actually buy (I needed to do some measurements at home first), I looked more thoroughly and found cords of their own brand at ¥200-350, and also available in blue and red!
I also found 3m Ibanez cords on sale for ¥450-550! So damn cheap!
Unfortunately they didn't have RCA extension cords, which I also need and am still looking for. My local Daiso (¥100 shop) may have what I need.
Posted on August 30, 2005 at 11:29 | Permalink | Trackback (0) | Comments (0) | Tweet |
---
Usagi-chang Night Fever!! vol.0003
Last Saturday was the great annual Usagi-chang Night Fever!!, which was being held for the third time. I went with friends Miwa and Haruna.
Once again I feel that the label has outdid itself with a fantastic line-up. While it would be usual at an all-night event that people get there late and leave early, the place was packed from start to finish. Putting Aprils first and YMCK last was sure a good tactic, though most of the acts were really great and I couldn't help but excitedly look forward to the next while enjoying each of them.
The small venue, Marz in Kabukichō (Shinjuku), where the event has been held every year so far, had a main stage and also a mini stage, set up in front of the DJ booth on the side. The live shows alternated between the two stages with no waiting time in-between, or only for some occasional funny entertainment by Inocchi☆ (this year too claiming he's the label's boss, to all newbies' confusion) and Young Tongue's Kei.
Aprils first took the stage around 12:30, Imai and Iguchi wearing yukatas. We got to hear a bit about their recent trip to Taiwan where they performed at the Formoz festival (YMCK was also there, oh, and so was William!), telling how their beloved red keyboard went defective and wouldn't switch sounds anymore. We also got the large Gloomy panda which didn't manage not to cause a bit of damage, as on his way to his designated spot he smashed the poor red synth to the floor (it's a tough life!) which still seemed to work alright. :) They played a version of "sekai o koete" feat. Tetrapletrap-F, in which he's said to speak some Chinese in his video part.
Their set was very similar the one at their release party last month, though a bit shorter.

Larger images (1024x768): 1 2 3
The girls are cute, and were also wearing yukatas, but unfortunately I'm not so much into the gabber-meets-cute-vocals concept. I like their new site though, and find it funny that the members' names are Zach, De-La and Rocha. I'll sure give their upcoming album a spin (if it does ever come out).
Girl-boy club pop unit from Nagoya. Not so much pico-pico sound and they didn't seem too sure they were at their place, but it all went fine! They sort of remind me of the most pop years of Les 5-4-3-2-1 ("La Ronde"). They seemed to be having fun and left me with a good impression. The live guitar's sound was EQ'd too low though and I wished it could have been heard more clearly.
Singer Yoshimi was cute and wore the same dress (and wings) as on their recent "fairy e.p.".
Did they always rock like this? When I think of macdonald duck eclair, I think of cute, rather quiet pop songs, and I am sure I distinctively remember hearing and understanding singer Michi's whispered but well-pronounced French lyrics before. But this time the sound was drowned in Futamata-san's heavy guitar noise. Not that's a bad thing at all though, the show was great, and the sound was very good except maybe that Michi's voice could have been a bit louder.
EeL sure gives one fun crazy show! This was the second time I saw her, last time being a year ago at the same event. This time too, she had a big crew on stage, most of which just seem to be hanging around (such as new member "Monolith" who was worth a mention for some reason), while guitarist, drummer, maybe the synth guy, and herself are the only ones really getting busy. This time she also looked like a real rocker with her recently permed hair, and that's exactly what she did: rock! Probably the show with the most audience reaction of the whole night, even though she's from Kansai she does have a real fan base in Tokyo (some guy shouted repeatedly asking her to come over more often).
The show involved a lot of stuff-throwing, including records, a guitar cord, fake cash, a large U.S. flag, much more stuff that I can't recall,... and Miwa who was next to me received a bowl of instant Kitsune Soba that landed on her shoulder. It became my lunch the next day, thanks to EeL and her crazy posse! :)
Near the end, some people from the audience climbed on stage and it was then true madness!

Larger images (1024x768): 1 2 3 4
MissWonda was my most anticipated show of the evening. Mika looked beautiful and so did the stage, with nice lighting and video. Most songs from the album were performed, plus another beautiful one, I think all in French, which hopefully will surface somewhere soon.
All I have to complain about is that I'd have liked a bit more live instruments (I'm not sure the synth/iBook guy was really doing anything, and Mika's live voice was barely audible behind the effected pre-recorded vocal track). Especially the acoustic guitar was very welcome though.
Nevertheless I was pleased visually, and it was great to experience MissWonda's adult-pop-with-a-pinch-of-pico-pico songs in a club atmosphere.

Larger images (~1024x768): 1 2
The instant MissWonda's last song ended, a voice from the mini stage went "Would someone teach me how this thing works!!!"
Hazel Nuts Chocolate, aka Yuppa-chan, was in the house for a short but lively performance, alone with the dreadful DJ equipment. She gave the audience a choice between "1) a talk show, 2) a listening session of her upcoming album, 3) a live show", needless to say nobody would have had enough of #1 or #2, but she was surprised that nobody raised their hand to these two even as a joke.
So she sang about 3 songs from her upcoming album "Cute" while ex-member Wanda, who seemed to be very drunk, fooled around with the mixer.
I'm getting to like Henachoco more everytime I see her, and the new songs sound great! I'm now definitely looking forward to her new album out in two weeks.
Larger image (1024x515)
Always a new trick or two in their bag: Midori had a red dress with black vertical stripe that I don't remember seeing before; in the middle of a song (when Midori messes up with the guys' instruments) Yokemura removed the cartridge from his Famicom and blew into it; and... Nakamura cut his hair! I think he looks better with short hair.
Of course they gave a great show like always. No song I hadn't heard before, but the count of songs that I've heard live but haven't been released yet is at about 5! MC Inocchi☆ said if we're lucky we may have a new album before the end of the year. They can't keep us waiting much longer.
Larger image (1024x768)
The event left me with MissWonda's great "Arabesque" stuck in my head for the whole next day.
MC's Inocchi☆ and Kei called all [remaining] artists back on stage and closed the night the usual way, shouting "Usagi-chang Night?" and the audience responding "FEVER!!!" with a fist in the air. chotto dasai,.. but it feels good inside. :)
Update (13:18): A picture of the "fever" moment can be seen in label boss Aki-san's diary.
Larger image (1024x768)
---
Unfortunately, this great night ended with shock and sadness, as I walked back to where I had left my dear Chevrolet bicycle just to find out it had been stolen!!! And I thought this place along the west side of the tracks would be safer than Kabukichō...
So instead of a quick ride home to be in bed about 6:00, I spent a while at the kōban with a half-asleep policeman, filling a form and then stamping my fingerprint all over it (as I had done previously in a similar incident), and then I took the train home around 6:40.
Next, I'm about to start a "where's my $'#)!"'$ bike!?" club with Digiki!
Whether my bike will come back or not, I don't know for sure, but I sure don't have much optimism at all. So I better start looking for a next one, until when I'll ride the old rusty orange folding bike...
Posted on August 30, 2005 at 10:05 | Permalink | Trackback (1) | Comments (11) | Tweet |
---
August 29, 2005
Kōenji Awa-odori 2005
Last weekend was Awa-odori, large dance festival held every year in Kōenji, a short walk from home. This time we got there pretty late, around 20:30 or 21:00 maybe, so we could only catch a little bit of action. So despite Roy's FAQ, we went very randomly, actually along our usual route from Shin-Kōenji to Kōenji station.
We were lucky though, because we got to see Edokko-ren, Roy's #1 recommendation! I was also happy to see a yūbinkyoku-ren, since I'm a bit of a postal service otaku. :)
Unfortunately no sign of Microsoft-ren, which I believe did their thing before we got there, or elsewhere.

Larger images (1024x~768): 1 2 3 4 5 6 7 8
The festivities ended around 21:30, and not yet having eaten dinner properly yet, we headed for Chopsticks, a tiny Vietnamese restaurant north of the station, where I had my best pho ever! (Boris, you want to check out that place!)
Posted on August 29, 2005 at 22:38 | Permalink | Trackback (0) | Comments (7) | Tweet |
---
August 28, 2005
Comme des Garçons media
We went to see "An exhibition of Comme des Garçons for Comme des Garçons", featuring cool publicity by the clothing brand since it was founded in the 70's. The eccentric brand's flyers and posters, announcing events and collections in Tokyo, Paris and elsewhere, are all very arty and interesting.
The free exhibition is held at the 1st floor of Shinjuku Park Tower until August 31st.
Posted on August 28, 2005 at 22:52 | Permalink | Trackback (0) | Comments (0) | Tweet |
---
Construction robot
Back with one of my favorite photographic subjects... This guy was on Ōmekaidō at the Nakano-sakaue crossing yesterday.
Posted on August 28, 2005 at 20:15 | Permalink | Trackback (0) | Comments (2) | Tweet |
---
August 27, 2005
Bubble-B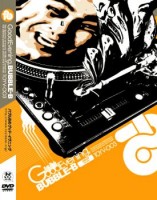 Being quite into Fantastic Explosion lately, a unit that performs techno/breakbeats music with synchronized video, I had been curious about member Bubble-B's solo works, and the other day my friend Fukuta-san confirmed that I should definitely check out his DVDs. So I went and picked up "Good Evening", and it is truly great!
Bubble-B's art is both audio and video. While the audio on its own may be a bit too techno-ish for my taste, the mix with video is perfect and absolutely hilarious. My favorite tracks of "Good Evening" are ones that use old Japanese TV commercials' audio and video and turn them into crazy techno videos.
I can certainly imagine this being played straight at parties or just even as background mondo video.
Posted on August 27, 2005 at 10:08 | Permalink | Trackback (1) | Comments (0) | Tweet |
---
August 26, 2005
New gaijin card
Today I went to pick up my new "alien registration card", which I had applied for a few weeks ago.
When applying for the renewed card I had to sign, and today when picking up I was asked to sign again. The person then compared both signatures closely (more than you'll ever see a shop clerk verifying your credit card signature) and said "They're not quite identical. Could you sign once more?", trying to hide my former signature from my sight.
Now it's not like they were completely different, they truly were almost same except maybe the "k" was less pronounced this time or something like that. I don't know for everyone, but my own signature is very unlikely to be perfectly identical twice. It can certainly slightly depend on my mood, the pen, the surface, etc...
Luckily, the second time worked. What a relief!
Next time is in 2010!
Posted on August 26, 2005 at 11:05 | Permalink | Trackback (0) | Comments (15) | Tweet |
---
August 25, 2005
Linda Linda Linda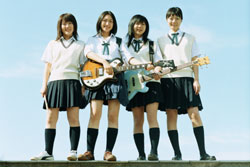 Last weekend we went to see "Linda Linda Linda", a film about 4 high school girls who form a cover band at the last minute for their school's year end festival.
Four friends were first intending to play original songs at the festival, when the guitarist broke her finger.
The three others, not wanting to do nothing, decide to instead play cover songs by 80's rock band The Blue Hearts (mainly "Linda Linda" from which the film inherits its title). When desperately looking for a singer, they end up recruiting the school's exchange Korean girl (Bae Doona, who I had seen before as the Sadako part in "The Ring Virus", the Korean remake of "Ring") who doesn't have many friends and only barely speaks Japanese.
The fun lighthearted film follows them as they do their best to get their sound tight in time for the closing day's rock show, despite some problems, and while also dealing with their other responsibilities at the festival.
The film contains a split-second appearance by Denki Groove's Pierre Taki.
Update (2006/2/22): The DVD is now available in Japan! (Region 2 NTSC, Japanese language, no subtitles)
Order: Amazon (currently 20% off), HMV (currently 20% off when buying 3 DVDs)
Posted on August 25, 2005 at 10:51 | Permalink | Trackback (0) | Comments (2) | Tweet |
---
August 18, 2005
Qypthone "Qypthone Episode 1: Qypthone Early Complete"
Qypthone have a new compilation album out soon which includes all remastered songs from their 3 first mini albums: "Qypthone", "Organic Sound Theatre" and "Modernica In The House!", plus previously unreleased bonus tracks.
Qypthone "Qypthone Episode 1: Qypthone Early Complete"
Long Happiness HRAD-00006
Out 10/12, ¥2730
Order: Amazon, HMV, Tower
(Track list and artwork to be added when available.)
Posted on August 18, 2005 at 10:28 | Permalink | Trackback (0) | Comments (0) | Tweet |
---
August 17, 2005
Shopping bag
A quick look in my shopping bag yesterday...

MissWonda "Wonderful Tangent"
With her whisper voice reminiscent of K.K. and Dahlia, and while being 100% pico-pico electro pop (on the UK electro pop/new wave side), MissWonda seems to me like a first attempt from Usagi-chang Records to appeal to a more general audience. The well-paced great album will hopefully catch the attention of many who haven't yet jumped on the Usagi-chang train.
I picked it up at Tower Records to get the bonus CD-R which includes a beautiful video for "Arabesque" and also 5 remixes.

Chromeo vs. Daft Punk "Robot Rage!"
The title says it all: Chromeo "Rage!" × Daft Punk "Robot Rock" = "Robot Rage!". White label one-sider goodness. Found ¥1299 at Spoonerizm in Nishi-Shinjuku.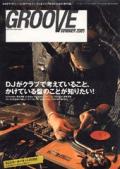 "Groove" magazine (Summer 2005)
Includes: a busy day in the life of Sunaga Tatsuo and a DJ set list, Konishi Yasuharu's collection of vintage 7" carry cases, and a VJ startup guide.
Posted on August 17, 2005 at 10:59 | Permalink | Trackback (0) | Comments (0) | Tweet |
---
August 13, 2005

Takimi

Kenji and Fran-key
Tonight I went to see Takimi Kenji, owner of Crue-L Records, who was DJing at the just opened Apple Store in Shibuya.
New Crue-L artist Fran-key, whose first mini-album "Ecstacy Romance" just came out last week, also played live electronics on two of his songs, while Kenji DJ'd.
It was the first time I saw Takimi Kenji. He did a great set, up to my expectations. He kept beatmixing even though it didn't sound like he's too good at it, even adding beats from another record in the middle of songs. I liked that it gave the feeling that he was just having fun with it.
I've become a pretty good Crue-L Records fan over the last years, while I knew nothing about the label before. The label started out in the early 90's. In the center of the Shibuya-kei scene, it introduced artists such as Kahimi Karie and Love Tambourines.
Recently it's become a very house-oriented label, which a sort of dark and slow sound that I like.
Some of my favorites from the label are early Museum of Plate (when it was a band with ties with Wack Wack Rhythm Band), Arch, and any Kobayashi Miyako, Love Tambourines, Crue-L Grand Orchestra I and II, compilations "Motley Crue-L House", "lateearlydaynight" and "This is a label".
As for Apple Store Shibuya, I was expecting something a bit bigger... There are only two floors, and while I expected the live shows happening this month to be held in a sort of presentation room like the one in Ginza, well there's none, the shows are held on the first floor.
It's still better than only having one store in Ginza, which wasn't too convenient for me, and I'll probably be going there again soon to get my iFM when it comes out. :)
Posted on August 13, 2005 at 00:18 | Permalink | Trackback (0) | Comments (5) | Tweet |
---
August 12, 2005
NYC #1: Times Square
Our trip started in New York on July 21, and like any tourist I couldn't help but take some pictures in Times Square.

Large images (1024x768): 1 2 3
We stayed at the very nice 2000-opened Muse Hotel just nearby on 46th street. The hotel was great and the location very convenient. Staff was alright, the guy who received us when our SuperShuttle arrived was especially very friendly and helpful.
The SuperShuttle to get there was a bit troublesome though. We had booked on their Web site, which said to use the phone provided at the airport to call up the driver. I'm certain I was told to go outside and wait for the van, but after waiting for 20 minutes, finding a SuperShuttle van with no driver, and returning back to call once again to see what was up, I was then told that we needed to stay just by the phone and that the driver would come to meet us... So we waited another 20 minutes until a driver showed up.
Our driver seemed to be a nice guy and was singing along to his bluegrass CDs most of the ride, which was fun.
Posted on August 12, 2005 at 12:05 | Permalink | Trackback (0) | Comments (2) | Tweet |
---
iFM
Updated 2005/8/18 9:35 (see below)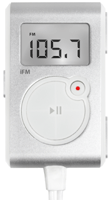 I'm a bit excited about the upcoming iFM iPod gadget by Griffin Technology.
iFM is:
an FM radio receiver;
a recorder (both for the radio and also from a built-in mic);
a backlit remote control.
Since I've been in Japan, I never had a decent radio receiver so I've pretty much never listened to radio although I've often wanted to, especially shows such as FPM's Sound Concierge (Tokyo FM Tuesday 22:00~22:55) and Live Beat (NHK FM Wednesday 23:20~24:20). Now is the time, well as soon as this comes out.
Only $49 USD on preorder from Griffin. Surely it will also make its way to Japan. Out this month!
---
Update (2005/8/18 9:35): Unfortunately, I am told that because of an iPod limitation, the recording can only be done at 8kHz 16-bit mono. The format is WAV.
"This is actually determined by the iPod itself. The software on the iPod that actually handles the recording is part of Apples iPod software, and external recording devices have no real control over this." — Griffin Technology Technical Support
Posted on August 12, 2005 at 11:41 | Permalink | Trackback (0) | Comments (4) | Tweet |
---
August 7, 2005
MeBox
Today this box became a great belated birthday gift. Called MeBox, it appears to be made for magazines and other stuff, but also happens to fit records just perfectly! It was about time to find a replacement to some of my beautiful but deteriorating Readymade shopping bags (wonder if Konishi-san still has spares?), and this is it!
The cool feature about these is that the front has a grid of 11x7 removable dots, which can be used to mark it with your own design!
The box' instructions do say that it's made to hold up to 10Kg, so it's a bit at your own risk to fill its 42cm depth with records (can fit about 100, which may weigh 25Kg), but so far no bad surprise when lifting it.
I found no info on the Web about these, so they must be new. They're made by Leadworks of Entrex Inc. (Japan), and they're sold at least at the interior shop at Nakano Broadway B1F. :)
I could tell you what my dotted design says, but I'd prefer to wait and see who will figure it out first. :)
Posted on August 7, 2005 at 22:52 | Permalink | Trackback (1) | Comments (6) | Tweet |
---
Sometimes wishes may come true
I just got back today from a trip to Québec via NYC, and found this comment by Bran Van 3000's James Di Salvio himself, answering my wish for new music and leaving me very, very hopeful:
hi this is James from BV3, i somehow stumbled on your site and was inspired by the wish for a new album. the last few years have been spent trying out all kinds of things and, just recently, it has been studio time... so yes... definitely new music... thanks and essence... James

Posted by James Di Salvio on July 31, 2005 at 02:12
Yeah!!! :)
More later about the trip.
Posted on August 7, 2005 at 02:47 | Permalink | Trackback (0) | Comments (6) | Tweet |
---